The best 3 free tools to convert MP4 files to VOB
Although a lot of people argue that the age of DVDs is over, if we look at the statistics, we'll know that they are still widely used. The fame is not necessary from the sales of shows and video games on DVDs, but also from the fact that a lot of people prefer to convert MP4 to VOB DVD to transfer their data, mainly videos. It has a lot of applications and you may also find yourself needing it. For that, you need to know of various tools that can convert MP4 files to VOB format.
Here in this article I will introduce you 3 free MP4 to VOB converters. You can read the descriptions and follow the easy steps.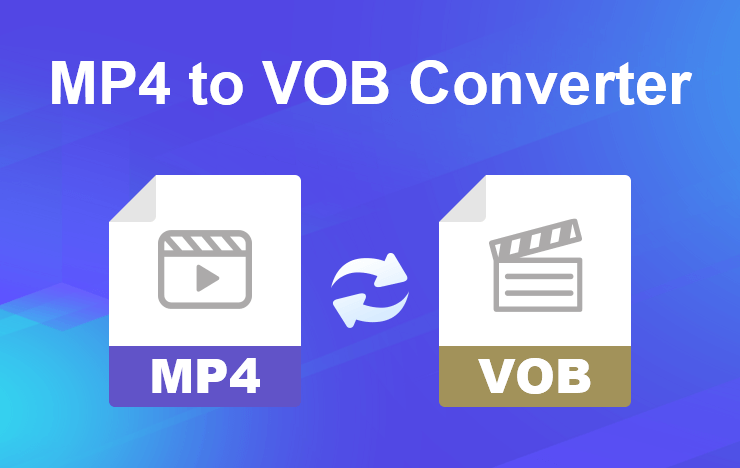 1 ToolRocket Video Converter
ToolRocket Video Converter is a desktop tool that can be downloaded for free. It provides you with a lot of services concerning the videos, which includes editing and manipulating them. With this tool, you may not be in need of anything else when it comes to videos, because you can perform typically any task using the features provided in the video converter.
Features of ToolRocket Video Converter
Amongst many others, here are some of the features that ToolRocket video converter provides you with:
• Video merging – You can combine multiple videos with this tool.
• Video Conversion – There are a lot of options for you to convert videos in ToolRocket. You can convert MP4 to VOB and vice versa, and you can also convert to mp3 formats. Actually, it supports a range of video formats. With this, you are able to convert videos to popular formats or for your portable devices.
• Cropping and fragmentation – This is an interesting feature of ToolRocket that will allow you to crop the screen of a video for different screens.
• Video optimization – You can adjust video brightness, contrast, saturation, and hue. It also allows you to add a filter to the video.
• Video compression – Compress your video file to smaller size by setting the compression rate or defining the output file size.
Steps-by-Step Procedure to convert MP4 file to VOB format
Here's what you must do to convert MP4 to VOB using ToolRocket video converter
• You have to start the tool by selecting it on your desktop by double-clicking it (on Windows).
• You will get a lot of options, but on the first option, you'll see "Converter" written. Select that.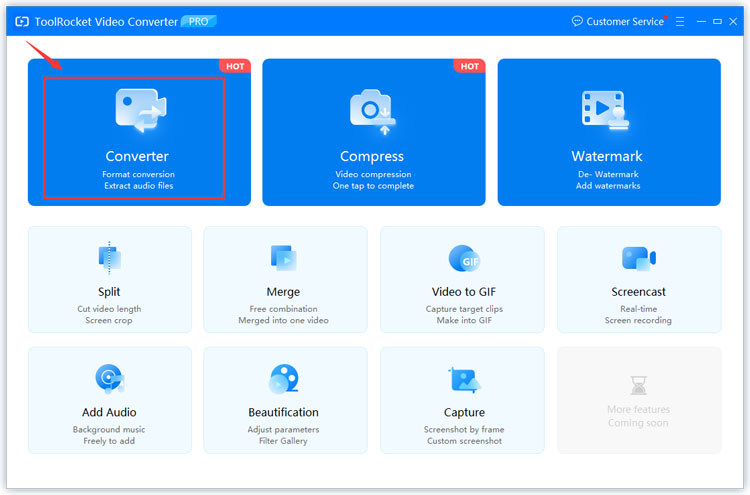 • A new page will open, through which you should add the MP4 file to the tool.
• The tool will automatically read the file type. Since it is MP4, you will see "MP4" written there.
• Now you have to tell which format you want to convert the MP4 video to. Select the drop-down menu and choose VOB.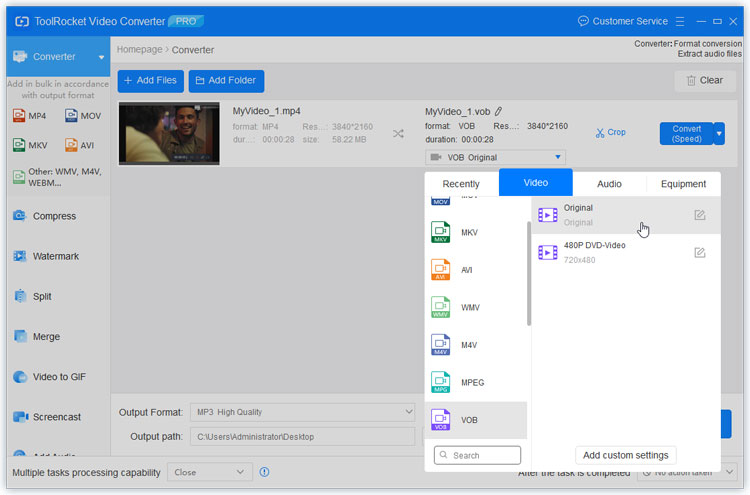 • Finally set the output path, after a little processing, your video will be successfully converted.
2 HandBrake
Just like ToolRocket, HandBrake is another free online tool that can be download on your operating system. The process of conversion on this tool is quite easy too, however, a lot of options can make it generally confusing. Nevertheless, this is one of the most reliable tools you may find online.
Steps-by-Step Procedure to convert MP4 file to VOB format
• First, you have to launch the handbrake tool so you can start your conversion process.
• Go to the destination file from the tool, and choose the MP4 file you wish to convert.
• Now you have to load the serato preset. In this step, you have to select the presets in your sidebar to choose the appropriate conversion you need to make.
• Next, choose the destination you want to save the converted file to.
• Select "convert". After a little processing, your video will be converted.
3 CloudConverter Online MP4 to VOB Converter
Steps-by-Step Procedure to convert MP4 file to VOB format
• Visit the cloudconvert website.
• You will see an option with 2 drop-down menus, 1 of destination and 1 of the source. In the source choose MP4, and in the destination (i.e., the second one) choose "VOB".
• Select the option "Select File" and choose an MP4 file from your system to convert.
• Convert the video after it has fully uploaded.
• Download the converted video to your system, which will be in the VOB format.
4 Frequently Asked Questions about MP4 and VOB
Download the converted video to your system, which will be in the VOB format.
Question 1: How do I convert MP4 to DVD for free?
You can find a lot of tools online to convert MP4 to VOB DVD. Some would be free, while others would be paid. You should find a way to convert MP4 to VOB free software, like ToolRocket Video Converter.
Question 2: Can VLC convert VOB to MP4?
Yes, VLC can convert a VOB file to MP4. All you need to do is to play a VOB file, then you need to select the top left-most tab on VLC labeled "Media". From there you can go down and select "Convert/Save". The other way of doing this is to simply press Ctrl & R, to convert directly.
Question 3: How do I combine VOB files to MP4?
You will find a lot of tools online that can help you combine various VOB fragments into a single MP4 file. All you have to do is add and order the fragments, and those tools will combine them together automatically after a little processing. One tool that may be of help is "aepdvd fast DVD Ripper".
Question 4: What format do DVD players read from a USB?
Most DVD players read the MPEG-2 format from a USB. There may be slight variations depending on the type of DVD, USB, or the scope of work being done.
5Conclusion
From what we discussed above, it's clear that you can always convert MP4 to VOB with free software. However, the real challenge will always be to decide which tool you should use to convert the MP4 file to VOB format. The ones we have discussed are good, and a lot of others on the internet are pretty good too. However, if you want our recommendation, we'd always go for ToolRocket Video Converter. And if you want to edit the original video file, you can use the MP4 video editor function of it. This is one safe and reliable software, that will provide you with the fastest and optimal conversion. Barely any tool would be better to convert MP4 to VOB for DVD.