How To Convert MOV to MP4 in High Quality For Free
The MOV video file format is one of the most popular video formats you can find around the multimedia world. Although it is supported by both Mac and Windows operating systems, it may still have compatibility issues with some devices and media players. As such, you may sometimes need to convert from MOV to MP4 to be able to use the videos on such devices.
But most times, the main issue is not even in the conversion, because there are many tools and methods for that already. One of the major challenges of file conversion is how to maintain the file quality across different formats. In this article, we will show you various ways to convert MOV to MP4 without losing the high quality of the video.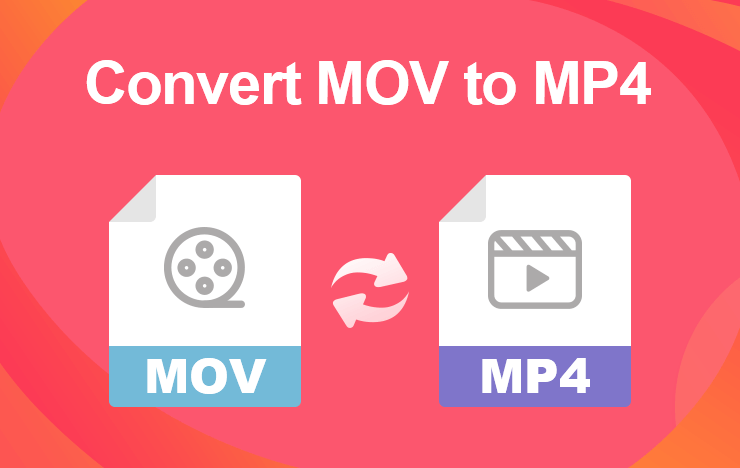 1 Why Do You Need to Convert MOV to MP4
Wider Compatibility: While the MOV video format works best on Apple devices, you may encounter challenges using it on other platforms. For instance, devices such as Android smartphones, PDAs, and PSP still have compatibility inconsistencies with MOV.
But MP4 videos can be played on almost every device that supports multimedia files. It is the most widely used video format according to the IEEE Computer Society.
Smaller File Size: MOV video files are notable for their high quality and consequently, their large file sizes. Unlike MOV, MP4 files are usually smaller in size even with their high video quality. Its lossy compression mechanism also ensures it retains maximum quality even after file compression.
Suitability: Because of its high flexibility and smaller size, MP4 file format is more suitable for most online video-supporting sites such as YouTube, Tumblr, etc. It is also best for uploading video content on social media platforms such as Facebook, Instagram, etc. The smaller size also means it takes much lesser time to upload and download.
2 How Do You Convert MOV to MP4 Without Losing Quality
There are many available options for converting MOV videos to MP4, both online and offline. While some of the video converters are free, many of them are paid services. Of course, the paid services usually offer more advanced options for file conversion.
So you may decide to either convert your videos directly online or download the conversion application for offline use. With our focus on maintaining high quality after conversion, let us consider some of the best online and offline MOV to MP4 converters.
#1. ToolRocket Video Converter
ToolRocket Video Converter stands out as one of the most versatile MOV to MP4 converters in the market today. It also allows for the conversion of high-quality videos such as HD 1080p and 4K UHD for free
Beyond being a video converter, ToolRockect is a video editor you can easily use to optimize your video. Using it is as simple as the following steps:
Step 1: Click on the "Free Download" button below to install and run it on your computer.
Step 2: The interface of the installed ToolRocket Video Converter is easy to navigate. Select "Converter".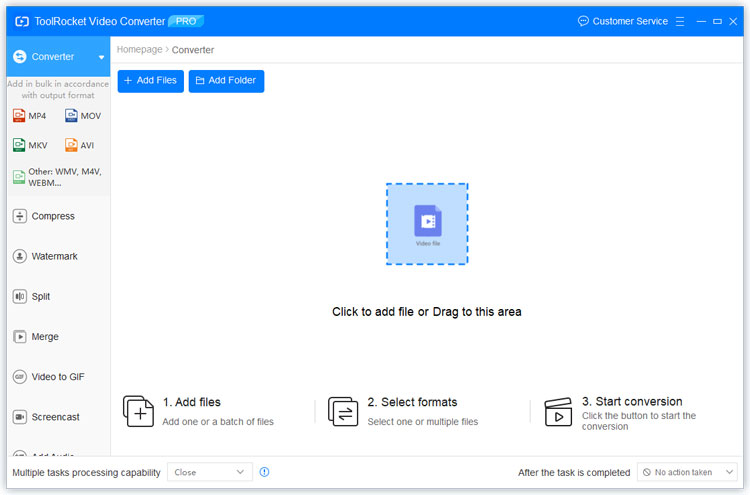 Step 3: Click the "Add Files" button to import your MOV video into the program. It will be displayed in the file list.
Step 4: Select "MP4" as the output format by opening the drop-down list of output format.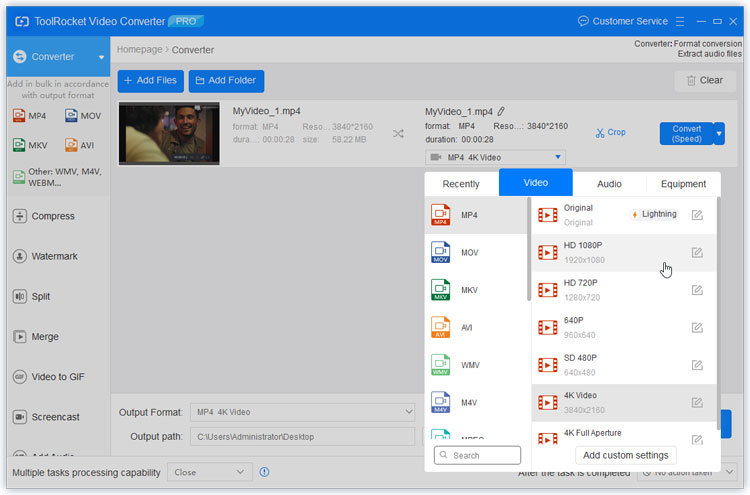 Step 5: Set the output directory for the MP4 file and click at the right bottom corner on "Convert All" to convert the MOV file to MP4 format.
In fact, ToolRocket Video Converter is also a good 4K video converter that helps you convert 4K videos to 1080p and so on.
#2. VLC Media Player
VLC is one of the most popular media players for both Mac and Windows users. It can play a very wide range of media files, both audio and video. But it will also interest you to know that you can easily convert MOV to MP4 using the VLC media player.
Step 1: Visit the VLC download page to download and install the VLC media player.
Step 2: Click on the Media menu and click on "Convert and Save".
Step 3: On the right-hand side, click the Add button or drag and drop to upload the MOV.
Step 4: Click on "Convert and Save".
Step 5: Set the target format to MP4 and make other necessary settings such as file destination.
Step 6: Click Start to begin the conversion process.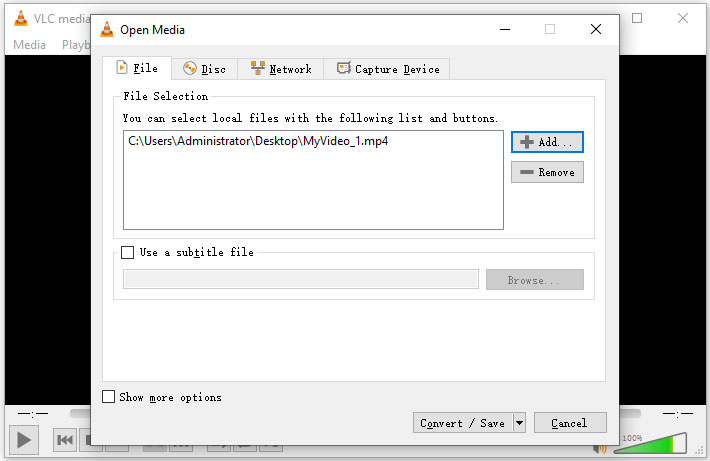 #3. Handbrake
Handbrake is an open-source video converter that is available on different platforms, including Linux, Windows, and Mac OS. Apart from MOV to MP4 conversions, Handbrake can also convert among an array of other video formats. To get started:
Step 1: Visit the Handbrake website to download the software.
Step 2: Choose the option best suited for your operating system and commence the download.
Step 3: When the download is completed, run the installation package.
Step 4: Installation typically takes a few minutes.
Step 5: Run the installed Handbrake software and follow the intuitive instructions to start your MOV to MP4 conversions.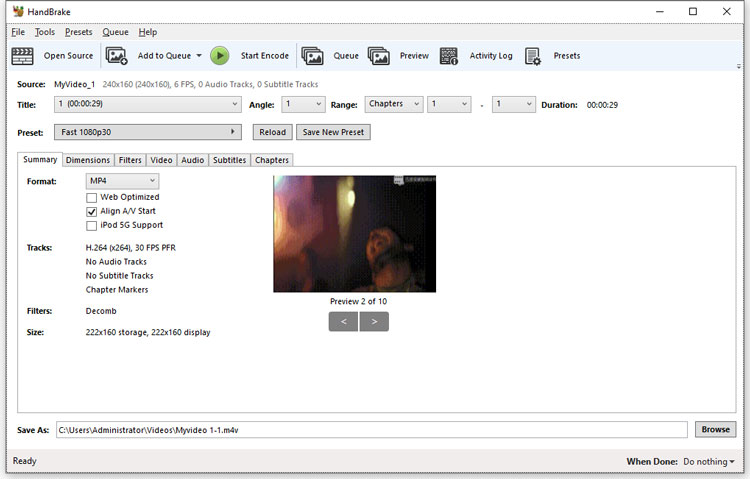 #4. PDF2everything
This is a free and easy-to-use online tool for MOV to MP4 conversion. It not only works with the most popular video formats; it also allows for audio and image conversions. Interestingly, you can also convert video formats including MOV, MP4, etc. Its conversion speed is quite superb, and the whole conversion process can be summarized in three easy steps as follows:
Step 1: Open the MOV to MP4 online converter page.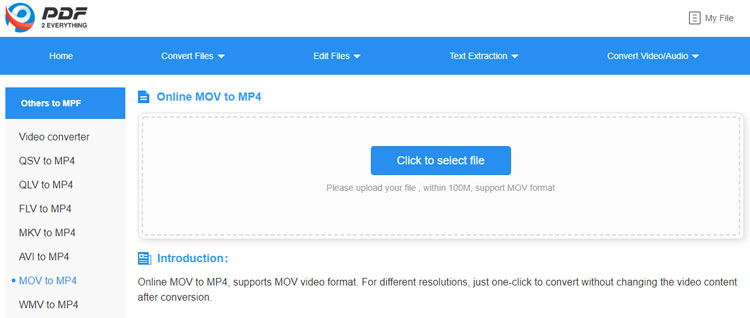 Step 2: Choose the option best suited for your operating system and commence the download.
Step 3: When the download is completed, run the installation package.
#5. Zamzar
With a sleek and intuitive design, Zamzar allows you to convert MOV to MP4 online with just a few simple clicks. It is a free online service, and you can also convert other file formats such as JPG to Word, etc. To use the Zamzar online converter, follow these simple steps.
Step 1: Open the Zamzar MOV to MP4 conversion page.
Step 2: Click on Add Files to upload MOV. You can also supply the URL if the video is an online file.
Step 3: Click on Convert Now. When the conversion is complete, click on Download to download the new video.
3 Conclusion
Converting video files is not just about getting them from one format to another. You have to also ensure that the loss in quality after conversion is reduced to the barest minimum. With the methods and steps above, you can rest assured that your video high quality is intact as you convert your videos from MOV to MP4. And with ToolRocket Video Converter, you can also make a GIF from a video.
4 FAQs of converting MP4 to OGG
Question 1: How do I convert MOV to MP4 for free?
With desktop programs such as ToolRocket Video Converter, VLC, HandBrake, and online tools such as PDF2everything, Zamzar, etc., you can convert MOV videos to MP4 easily for free. Just import the videos to the application, and confirm MP4 as the output format, you can get the video converted to MP4 conveniently.
Question 2: Can VLC convert MOV to MP4?
Certainly, VLC is not only a media player but also a video editor. After adding the MOV video to the software, you can change it to MP4 by editing the video encoder.
Question 3: Can you convert iPhone video to MP4?
iPhone supports video formats such as MP4, AVI, MOV, WMV, etc. If you want to change the format of your iPhone video, you can first transfer it to the computer. Then, you can use the 5 tools that are recommended in this post to convert the video to MP4.