3 Methods: convert WMV to MP4 on PC or Mac
WMV is a video format compressed with Windows Media compression and contains a video encoded with Microsoft's Windows Media Video. WMV was originally used for Internet streaming applications, but with firmware upgrades it has also gained adoption for HD DVD and Blu-ray Disc.
On the other hand, MP4, also known as MPEG4 is mainly a video format that is used to store video and audio data. It can also store images and subtitles. It is generally used to share videos over the internet. MP4 has the power to embed any data over private streams. Streaming information is included in MP4 using a distinct hint.
Let us now discuss three methods to convert WMV to MP4.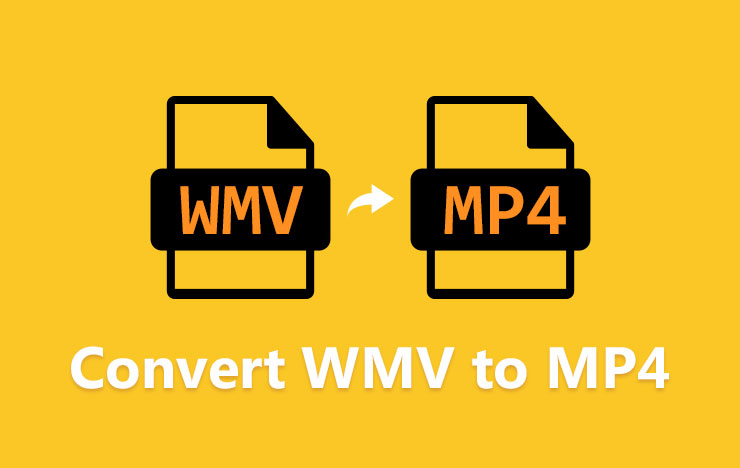 Method 1: Convert WMV to MP4 Using Tool Rocket Video Converter
ToolRocket Video Converter is extremely intuitive. The interface is user friendly and very easy to manipulate. Tool Rocket provides built-in support for almost all the devices of Apple, Samsung, Huawei, Oppo, and Vivo. The advanced algorithms ensure accurate dimensions upon compression. It offers staggering 4K video compression coupled with video editing tools to ensure accurate resolution, bitrate, audio sample rate, etc.
It is a useful software that can convert various formats. Some of the supported formats are MP4, MKV, MOV, AVI, M4V, WebM, FLV.
Ease of accessibility is one of the hallmarks of this application and it becomes quite obvious right from the beginning of the launch. ToolRocket Video Converter supports upto 4K video conversion. You get the flexibility to manually adjust the resolution, bitrate, framerate, and audio to achieve the best possible results.
Main Offerings
• Video conversion from one format to another without loss of quality.
• Support for multithreading for lightning fast speeds.
• Video compression tweaks with advanced tools.
• A built-in screen recorder for creating tutorials.
• Completely free editor and video converter with features offered only by premium solutions.
If you are looking for a video converter that can handle many input formats, ToolRocket Video Converter is your go-to software. It is packed with extra features allowing you to perform numerous operations on your MP4 video.
Let us now discuss how to convert WMV to MP4 using this freeware. First please download and launch the software on your PC.
1. Select "Converter". Import the WMV video into the software interface.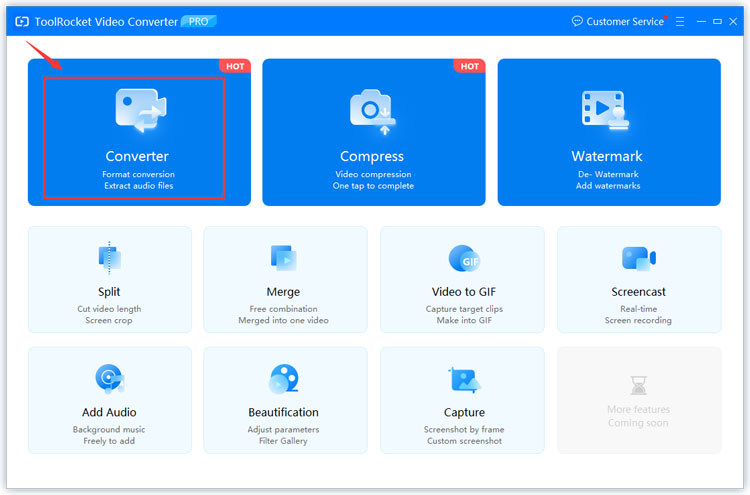 2. You will see many video formats to choose from by "Output Format". Select MP4. When you select another format such as MOV, you can also convert the WMV file to MOV.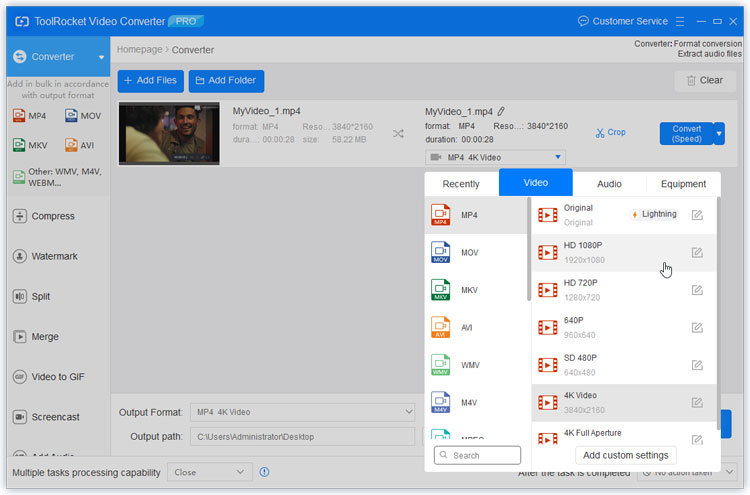 3. If you wish to edit the WMV video, you can edit it using the cutter and optimizer tool.
4. Once satisfied with the changes, click the "Convert All" button. You will see the progress as the WMV converts to MP4. Once done, open the output directory, and you will see the MP4 file.
Method 2: Convert WMV to MP4 Using PDF2Everything
PDF2Everything is a free online tool that provides a lot of services related to PDF manipulation and optimization. You get the freedom to merge, split, encrypt, decrypt, change the password, extract an image from PDF, and many more features you can just think of. The advantage of using an online tool over a downloadable software is the flexibility without bloating the storage.
However, this website is extremely versatile and even offers video manipulation activities. The algorithm ensures that the quality is not compromised during the compression process. If you desire conversion of video formats, the software will amicably convert the video without any loss of quality. You also get 24 hours of cloud storage, which automatically deletes after the elapsed time to prevent lapse. This is a handy feature as you can download the converted file multiple times or even send over the link.
Let us now discuss how to convert WMV to MP4.
To convert the video, follow these steps:
1. Head over to PDF2everything.
2. Select "video converter" from the list and enter your desired file by clicking "Click to select file." The file size must be less than 100 MB. Almost all video formats are supported, including MP4, MKV, MOV, AVI, VOB, etc.
3. Select the parameters from below the uploader.
4. From the box below, select the MP4 format as the output.
5. Click "Start Conversion." Upon Completion, download the converted file.
Method 3: Convert WMV to MP4 Using HandBrake
HandBrake is a multi-purpose video converter. The developers of this software made sure that it is equipped to both rip as well as convert video files. It supports a wide spectrum of devices for its conversions.
HandBrake is useful for converting video from various formats quickly and easily. It can convert any video from TV shows and Blu-ray discs into file formats for your iPhone, iPod, etc. on PC and Mac.
You can also control settings for frame rate, codecs, and audio handling.
Users can convert video projects with a single click. Let us now discuss how to use this software.
1. Download and install HandBrake.
2. Click "Source" and locate your video_TS folder contents using the pop-up menu. Open in HandBrake.
3. Choose which chapters you want converted, including setting MP4 as output format.
4. Click "Browse" under the "Destination" heading to choose your output file's destination after conversion.
5. Click "Start" to begin the conversion process.
Frequently Asked Questions of converting WMV to MP4
Question 1: Can Windows Media Player convert WMV to MP4?
Yes. The Windows Media Player is equipped to convert WMV videos to MP4. However, better options are out in the market that can help with the same task.
Question 2: Does Windows 10 have a video converter?
Not really. It has a built-in video player – Windows Media Player, as well as a DVD player for Windows 10. You will have to download an external software for this purpose.
Question 3: How do I open a WMV file in Windows 10?
Using the built-in Windows Media Player. You can download an external media player such as VLC for this purpose also.
Question 4: What video format is most universal?
MP4 is the universal video format. It is supported by almost any video device on the planet. It is better.
Conclusion
In this article, we discussed three popular methods for converting WMV to MP4. Depending upon the needs and circumstances, you can choose the one that ideally fits your circumstances. Tool Rocket Video Converter is ideally one of the best options that can cater not only to this format of conversion but any conversion in general.