Any Video Converter Review and Alternatives for Windows
You just stumbled upon a song on Youtube, and you want to download the audio to your computer, so it stays safe with you. Or you found a motivational video on the internet, which you plan on downloading and showing to your colleagues in your presentation tomorrow. Or suppose you want to record your rental DVD because you cannot watch it, too busy with work. We have all been through such a point in our lives where we had to download a video off the internet or convert it to another format, and it was troublesome. Recently, with the introduction of converter software and apps, this has become much easier. Any Video Converter is easy to use and diverse software that we will be reviewing in this article.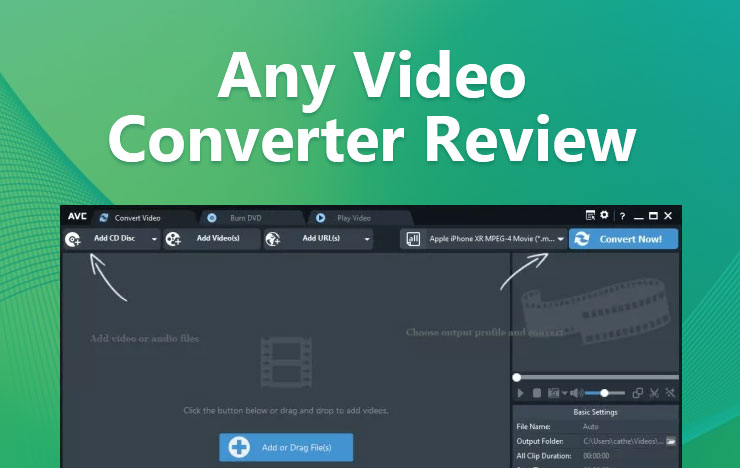 1Features of Any Video Converter
The Any Video Converter is a PC/ laptop application that lets you convert any video to mp3, download online videos, convert DVD, record videos, and edit them too. It is supported by and functions on Windows 7, 8, and 10. You will need at least 70-75 Mb free space on your hard disk and 512 Mb RAM' to install the app properly. The software comes in three main types: Ultimate, Pro, and Free, with increasing quality features to every kind.
1. Any Video Converter Freeware:
• This version of the software is free to download and use for everyone. So you can easily convert videos to and from any format with zero costs.
• The software acts as a CD ripper, too, meaning you can extract audios from CDS also.
• Similarly, it also rips audio tracks, background music, etc., from videos and converts videos to audio.
• You can download videos and music from YouTube, Dailymotion, Niconico, Metacafe, Howcast, Facebook, Vimeo, Soundcloud, VEVO, and many other sites, convert them to any format, and also burn them to DVD.
• It helps you in compressing a video file at a better visual quality than most.
• The video editing features let you trim unwanted parts, split a video, crop the black edges, rotate, and add effects. You can set the frame rate and quality to whatever you desire.
2. Any Video Converter PRO:
Apart from all the features the Freeware version offers, the PRO type also gives you:
• A built-in video and audio player supports all video, audio, and DVD files, so no need to waste extra space in your laptop downloading a media player.
• The option to extract audio from videos and CDS and select the audio codec, audio channel, lyric, and tag settings according to your choice.
• HTML5 video with embedding code done for HTML pages.
• MP4 Fast start option through which you can upload MP4 videos to online video-sharing websites and stream MP4 videos.
• Faster conversion speed as the PRO version supports NVIDIA, AMD, Intel QSV, and other graphic cards.
3. Any Video Converter Ultimate:
The Ultimate version of the converter is the most recent and comes with the most diverse range of features and choices to make your experience as good as ever.
• You can convert your DVD videos to different audio and video formats.
• The app gives you the chance to record full online streaming videos, rental videos, and any other un-downloadable videos.
• You can create DVD movies with DVD movie menu templates provided free in the Ultimate version.
• You can convert, edit, and download videos in a batch; multiple at a time.
All three versions of the Any Video Converter for PC Windows give you a perfect experience and help you download and convert your videos amongst much more, which is why you should go for the Any Video Converter download.
2Steps to Convert Videos using Any Video Converter
Using the Any Video Converter software, you can easily convert your videos by following these three simple and easy steps.
Step 1: Select the "add video" option to load the video file you want to convert.
Step 2: Click "output profile" button to choose the format for the converted video.
Step 3: Convert your video by clicking on the "convert now" button.
3Any Video Converter Alternative: ToolRocket Video Converter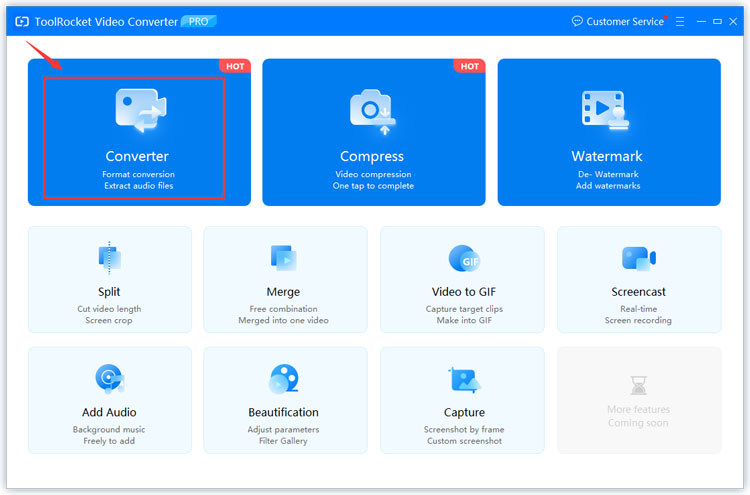 Apart from the Any Video Converter, you can also try ToolRocket Video Converter. Similar to the Any Video Converter, this can also convert between various formats, edit your soundtracks, and edit your video clips. You can import videos from all sorts of devices, including iPhone, iPad, Samsung, Huawei, and other android and iOS operating devices. Like the Any Video Converter, you can record online videos or rental videos at a much higher quality.
For editing videos, it lets you split them, crop them, add watermarks, and even remove watermarks from online videos you download. All the traditional video editing effects, including RGB effects, hues, and transition features, are present. You can add your favorite soundtrack to them, merge your video clips, and edit them to your satisfaction.
Download this software for a fantastic video converting and editing experience from here.
4FAQ for Any Video Converter
1. What formats does Any Video Converter support?
The converter supports all primary formats for output and input videos, including MP4, MPEG, AVI, WMV, MKV, HTML5, etc. For audio input and output, the converter supports M4B, WMA, APE, AAC, AC3, M4A, OGG, and MP3.
2. How does the Any Video Converter do high-quality conversions and compressions?
The HEVC causes the video to compress to half its size while maintaining its high quality. The high-quality conversions are with the Graphics Processing Unit of the AMD graphics card and the Intel graphics card's CPU.
3. What is the price of Any Video Converter?
Any Video Converter comes in three versions as discussed above: the Freeware is free of cost and can be downloaded by anyone, the Pro version costs $39.95, and the Ultimate version costs $49.95.
4. What quality videos do ToolRocket Video Converter support?
The Video converter supports 4K UHD and 1080p HD videos. So you can easily upload your 4K converted videos to your 4K video player and have a high-quality entertainment session.