How to extract audio file from video with 3 methods
You will find yourself in a lot of situations where a video is irrelevant for you, but you need the audio. While keeping the video is okay in many scenarios, in certain situations, it can become a hassle since you have to compromise a lot of hard-disk space, or the processing time may get long. In such a case, you will need software that can extract audio from video.
It should be noted that not all audio extracting software is accurate, feasible, and beneficial. You need one that can extract audio from video perfectly devoid of any bugs and inconsistencies. Here are some of them that you can use, particularly the first one. You can choose one you like and follow the easy steps.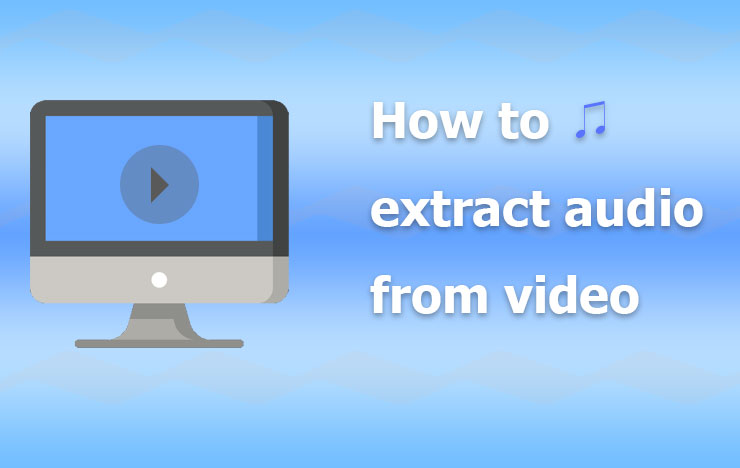 1 Extract Audio from Video with ToolRocket Video Converter
ToolRocket Video Converter is an efficient software that you can download online for free and use to manipulate videos, especially by converting them into different formats. As we know, in general, extracting audio from video requires you to convert it into formats such as MP3, M4A, WMA, WAV, a file format that stores data in the format of audio-only, while removing the video from the file of any format.
The process of extracting audio from videos using ToolRocket free vdieo converter is very simple. It will take just a few clicks, a couple of minutes of wait, and voila, you will have an extracted audio right at your disposal. However, do not that the original file will not be harmed in the process, so you will have both the video file and the extracted audio file.The process of separating audio from video via ToolRocket video converter is as follows:
Step 1: First, you have to download, and double-click on the ToolRocket Video Converter icon to launch the software.
Step 2: Once the software is launched, you will see an interface that will provide you with a variety of options, i.e., ways that you can manipulate the video files.
Step 3: However, since we need to extract audio from the video, we are concerned only with the file conversion option. It will be the first option on the interface since it is the main purpose or function of the ToolRocket video converter software.
Step 4: You will be asked to choose a file for conversion. Choose any type of video file from your hard-drive that you wish to convert.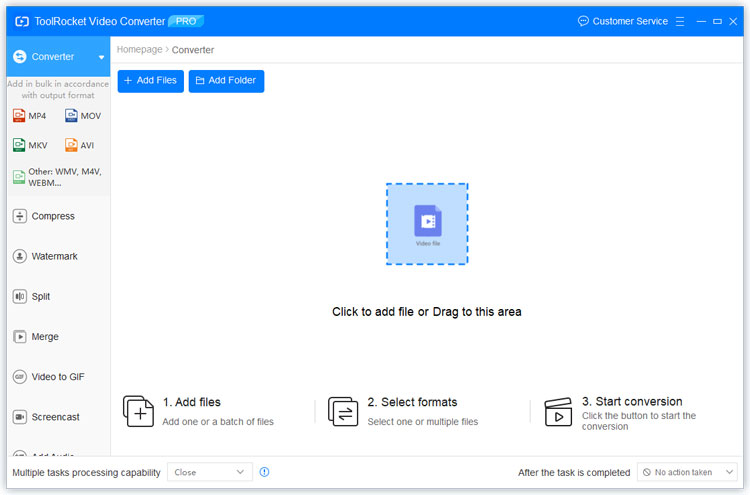 Step 5: Now, you will be asked which file you want to convert your video file to. In this case, you should choose the option to convert to an audio format, as it is a purely audio format and will discard the video.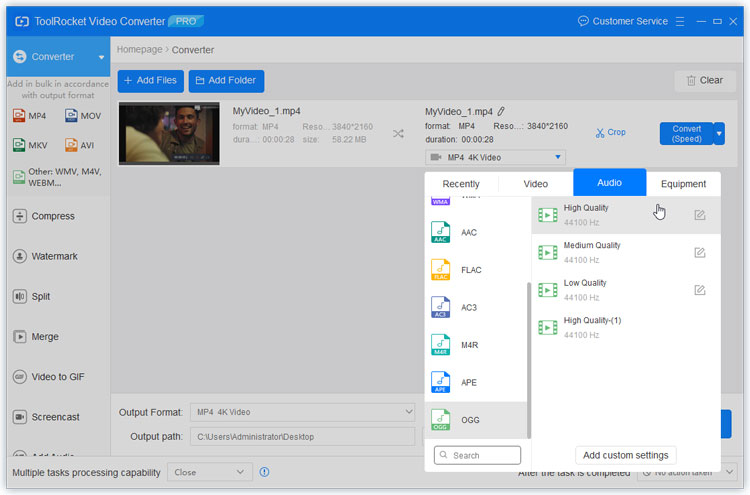 Step 6: Your extracted audio will be saved in a new file.
Step 7: You can now go into your hard-disk and launch that audio file.
Sometimes, just extracting the audio file is not enough since you may need it for another purpose related to file integration. You can access other tools in ToolRocket Video Converter for that. For example, compress a video file, convert video to GIF, record computer screen, cut/split video, crop video, etc.
2 Rip Audio from Video with VLC
VLC is also a good software that you can use to extract audio from video, i.e., to convert a video file to MP3. However, VLC has 2 distinct paradigms for that, each of which is unique in its own right.
Paradigm 1
Here's one way to do it:
Step 1: Turn on the video using a VLC media player. You will have a lot of tabs up.
Step 2: You need to choose the tab "Video".
Step 3: The first option of this tab would be "Video Track." Select it!
Step 4: Once you have done that, the very first option would be to disable the video.
Although you have a disabled video in this scenario, you haven't extracted audio from it. However, if you use VLC as a permanent software for listening, this will be the ideal method for you.
Paradigm 2
Paradigm 2 may be more real to your purpose:
Step 1: Once you have opened a video on the VLC media player, select the first tab, "Media".
Step 2: Next, you need to choose another option in "media" labeled "Convert/Save." You can do it automatically using 'CTRL + R' too.
Step 3: Click the "Add" button and import a video file.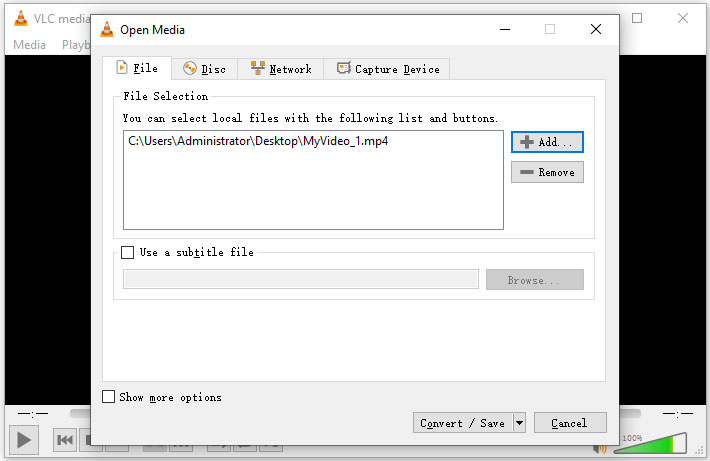 Step 4: Select MP3 or another audio format and hit the convert button.
Step 5: You have now successfully extracted audio from video.
3 Separate Audio from Video with Audacity
The process of extracting audio from video using Audacity is as follows, but you must install the FFmpeg library on your computer. Otherwise, the software can not open your video file.
Step 1: First, you have to launch the application or software Audacity.
Step 2: Now, you have to click the tab "File" and navigate to the file that has your video and press it open.
Step 3: Next, you have to again navigate using the file, but this time you have to press export.
Step 4: You will be given the option to "save" and a bar beside it. Press the bar and open it.
Step 5: Choose the option of MP3 on the bar.
Step 6: Now press "Save". This will save your video as an audio file.
Step 7: This is a very simple and conventional way of converting files from one format to another. Not only to MP3, but you can also convert this file to various other formats.
4 Frequently Asked Questions
Question 1: How can I extract audio from a video for free?
There are many ways to save audio from video for free. In this post, you have learned three ways to rip audio from video for free, using ToolRocket Video Converter, VLC Media Player, and Audacity. In terms of the operation, the software ToolRocket Video Converter is the most easiest program and provides lots of useful features. And the VLC Player is totally free and meets the needs of playing, editing, ripping media files. Audacity is originally an audio recorder software that also help you convert video to audio. But the interface of it is more complex.
Question 2: Can VLC extract audio from video?
Sure. In this article, we have shown you two methods to extract audio from video using VLC. You can deactivate the sound track or convert it by changing the output format.
Question 3: How do I extract audio from a video on my phone?
A video to audio extractor is necessary for saving audio from video on your phone. Extract Audio from Video for Android, Video to mp3 converter – extract audio from video for iPhone. These apps work well and are worth trying.
Question 4: How do I extract audio from an Instagram video?
For converting an Instagram video to audio format, an online tool will be helpful for you. Ig mp3 downloader(https://igmp3.download/) is a good one. Just enter the URL of the Instagram video, and click "Go" to extract the soundtrack from the video.
5Conclusion
For general purpose and majority cases, ToolRocket Video Converter will be an ideal video to audio extraction software for you. It's efficient and easy to learn and provides you with a lot of cool (and additional) features that you can make use of. And if you want to adjust the sound volume, you can also adjust the parameter in this software.