How to open VOB files on iPhone 12/11/XS/XR and more
Do you have a VOB file and want to play it on your iPhone device? As a matter of fact, the VOB format is not supported by the default video player on iPhone. If you want to open and play it on iPhone, you must find an alternative way.
In this post, I will show you an effective and easy way to open the VOB files on different iPhone devices, such as iPhone 12, iPhone 11, iPhone XS, iPhone XR, iPhone X, iPhone 8, iPhone 7 and so on. Now, let's get started.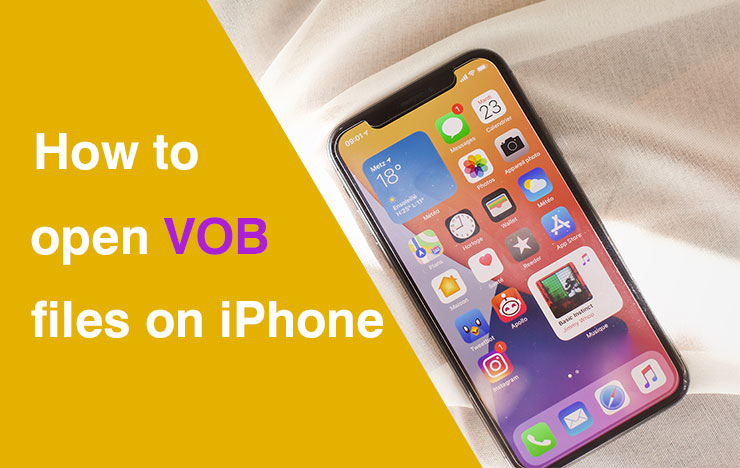 1 Change VOB video file to a supported format on iPhone
For video format changing a video converter is necessary. What's important is that you should choose one with high performance. If it is also free, that's really a treasure.
ToolRocket Video Converter is a free yet versatile video format converter that supports lots of formats including VOB, MP4, AVI, WebM, MKV, etc. It also supports profile setting by devices.
Not only you can convert your video but also you can enhance your video quickly by using its prime and stunning features.
In fact, the truth is absolutely so easy. When you open the software on your Windows computer, you may see different useful features. With one freeware, you can not only convert video/audio but also merge video, split video, rotate video, compress video, add watermark to video, convert video to GIF, record video, dub video, optimize video, etc.
Now, do you believe that it is a treasure?
Next, you can follow my steps and learn how to open VOB files on your iPhone.
Step 1: Add the VOB file to ToolRocket Video Converter
Download, install, and launch the ToolRocket Video Converter software on your computer. Select "Converter" to open the video converter. Drag the VOB file directly to the middle of the software.
Step 2: Choose an iPhone video format
Click the drop-down list of "Output Format". Navigate to "Equipment" > "Apple". Here you can choose one favorite and proper profile.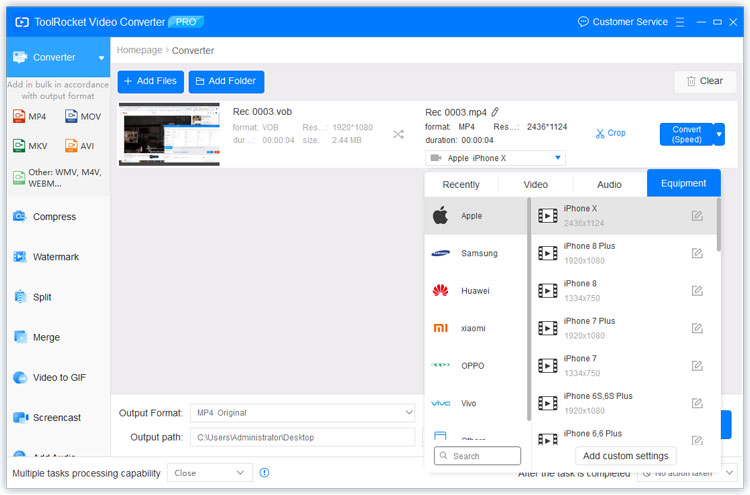 Step 3: Set the output path
Click the button "Browse" at the bottom of the software and set the output path.
Step 4: Turn VOB to the format already set
At last, click the "Convert All" button. Then it begins to convert the VOB file to the format that you set in Step 3. Once completed, you can open the folder to check the file.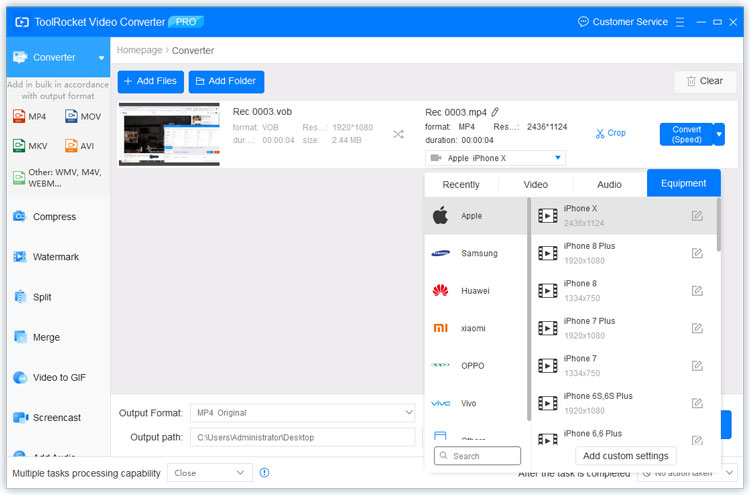 Step 5: Transfer the video file to iPhone
Now the file is located on your computer or laptop. To open it on your iPhone, you have to transfer it to iPhone. You can use iTunes or send it via Email to iPhone.
2 FAQs of opening VOB on iPhone
Question 1: What program will open a VOB file?
If you want to open a VOB file on PC, you can download a VOB player. Freeware such as Windows Media Player, VLC, GOM Player can help you open the VOB file. If you want to open a VOB file on your iPhone. You can first follow the steps in this post. Besides, you can also download VLC of iOS version.
Question 2: Can I convert VOB files to MP4?
Certainly. You can convert VOB files to MP4 using the freeware ToolRocket Video Converter. Just set MP4 as the output format, and repeat the steps above to convert VOB to MP4.
Question 3: How do I import a VOB file into iMovie?
While the VOB format is not supported by iMovie, you need to convert it to the supported format such as MP4, MOV, AVCHD, DV. The easiest way is to convert VOB to MP4, and there are many video converter software and online tools that support it. Certainly, if you use ToolRocket Video Converter, you don't need to worry about it. It can change VOB to MP4, MOV, AVCHD, etc.
3Conclusion
In this post, I have shown you an easy method to open VOB files on iPhone via ToolRocket Video Converter. Have you tried this freeware? And if you also change MP4 to VOB, it is also adoptable. Don't believe it? It's worth to try. If you are interested in PDF to other formats, WorkinTool can solve your problem.