How to convert MP3 to WAV – Three ways that you must know
Hey guys, do you have a problem of turning your MP3 file to the WAV format? Do you want to find a clear guide of converting MP3 to WAV?
In this post, I'm going to how you how to convert MP3 to WAV with 3 different methods. So you can make it according to the step-by-step guide easily.
Just keep reading.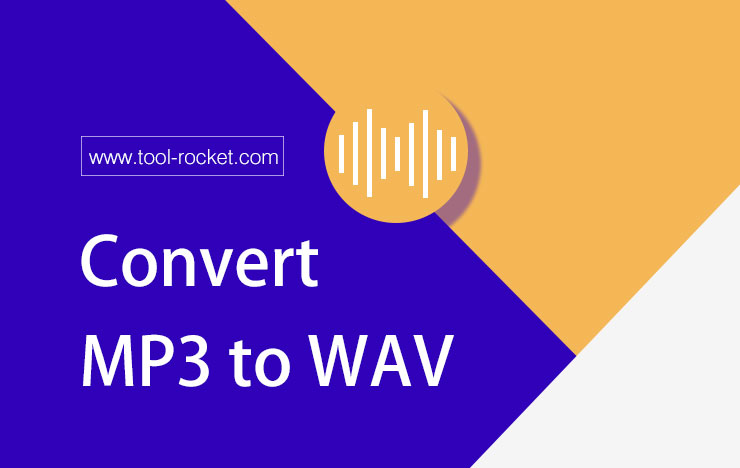 Method 1: Convert MP3 to WAV with ToolRocket Video Converter
ToolRocket Video Converter is a free video converter software on Windows computer. It is so versatile that you can convert almost all popular video and audio formats with just one click. Besides, it is also a video editor, video compressor, video merger, and video enhancement software. It would be very simple to convert MP3 audio files to WAV using ToolRocket Video Converter.
Now you can download it by clicking the button below and experience how to use it for audio conversion.
Step 1: Add the MP3 file to ToolRocket Video Converter
After downloading and installing the software, run it on your Windows 10, Windows 8 or Windows 7 computer. Select "Converter" on the interface. Then click the "Add Files" button or drag the MP3 file directly to the software to upload it. Once detected, it will be shown in the software.
Step 2: Select WAV as the output format
Click the drop-down list of "Output Format". Go to "Audio" > "WAV" to set WAV as the output format.
Step 3: Set output path
If you don't want to cut the MP3 file or adjust the audio volume, you can directly set the output path by clicking the "Browse" button.
Step 4: Convert MP3 to WAV
Finally, click the "Convert All" button to change the MP3 file to the WAV format. Once completed, you can open the target folder to play the file.
If you want to extract audio track from video, this ToolRocket Video Converter can also help you.
But if you want to try the second one, just continue to read.
Method 2: Convert MP3 to WAV in VLC Media Player
Although VLC is known by almost all people as an media player, it is actually also an media converter.
Now I will show you the easy steps to convert MP3 to WAV in VLC. If you have not installed the software, download it first.
Step 1: Launch VLC on your PC or laptop.
Step 2: Navigate to "Media" > "Convert/Save".
Step 3: Click the "Add" option to upload your MP3 file. Then confirm "Convert/Save" at the bottom.
Step 4: In the profile drop-down list, there is no WAV format. Click the "Profile edition" option and select WAV to create a new profile. Then click the drop-down list again to set WAV as the output format.
Step 5: Click the "browse" button to set the path of the destination file.
Step 6: Finally click "Start" to convert the MP3 file to the WAV format.
Method 3: Convert MP3 to WAV with PDF2everything online audio converter
In fact, if you only convert an MP3 file with a small size, you can also convert it to the WAV format with an online tool. PDF2everything provides online file conversion features, you can convert PDF, video and audio files for free. Follow the steps to understand how to use this online MP3 to WAV converter.
Step 1: Open the MP3 to WAV online converter.
Step 2: Upload the MP3 file by clicking the button or dragging it to the website.
Step 3: Click the "Start converting" button. After that, click the "Download" button to save it on your computer.
Notice: The converted file will be automatically saved to "My Files" for 24 hours. When over 24 hours, it will be deleted. So please download the WAV file on your computer after converting.
Conclusion
In this post, I have introduced three MP3 to WAV converters to you. Which one do you like best? Let me make a conclusion. If you have many audio and video files for processing, editing, and optimizing, ToolRocket Video Converter is no doubt the best one, particularly it is a freeware. And if you have only one or more files and don't often use it, an online tool or VLC is also a not bad option. Now do you know how to choose it?
Maybe you are interested in: