How to convert Excel to PDF for free? The best method worth trying
What is the best free way to convert Excel to PDF? Whether it is an Excel document or a PDF document, it is a file format that we can often come into contact with. Because it is easy to accidentally touch the keyboard or mouse when viewing an Excel document, which may cause the document to be modified inexplicably. So, many people want to convert Excel to PDF to avoid the modification of the document due to accidental touch.
But it is not so easy to convert the file format by changing the file extension name from .xls or .xlsx to .pdf. In order to turn your Excel spreadsheet to PDF, an Excel to PDF converter is necessary.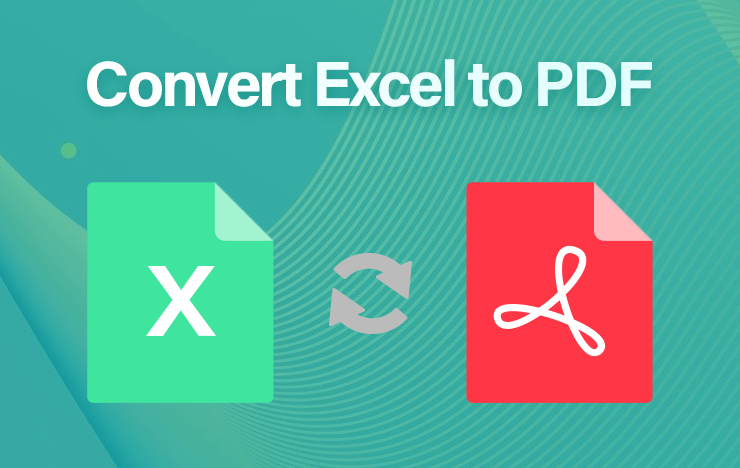 In this post, I will show you how to convert Excel files to PDF with original form easily. At first, you can download the Free Excel to PDF Converter on your Windows computer by clicking the following download link, or you can open the official website and download the software there. And be sure that the Excel documents are on your computer. Then, you can start converting it.
1 Step by step: Convert Excel to PDF
Step 1: Run ToolRocket PDF Converter, find "File to PDF" on the left side of the interface, and select "Excel to PDF"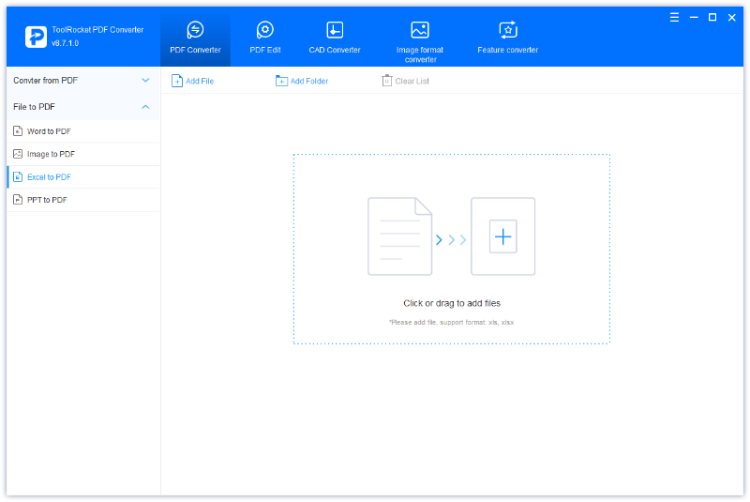 Step 2: Click "Add File" to select the Excel form to be converted, or you can directly drag the document to the selection box.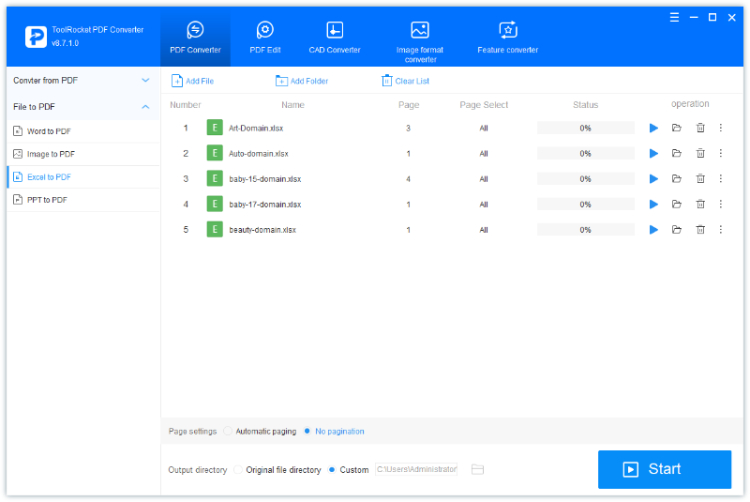 Step 3: Select the path where you want to save the file in the "Output Directory", and then click the "Start" button. The file will be converted automatically and saved on your computer.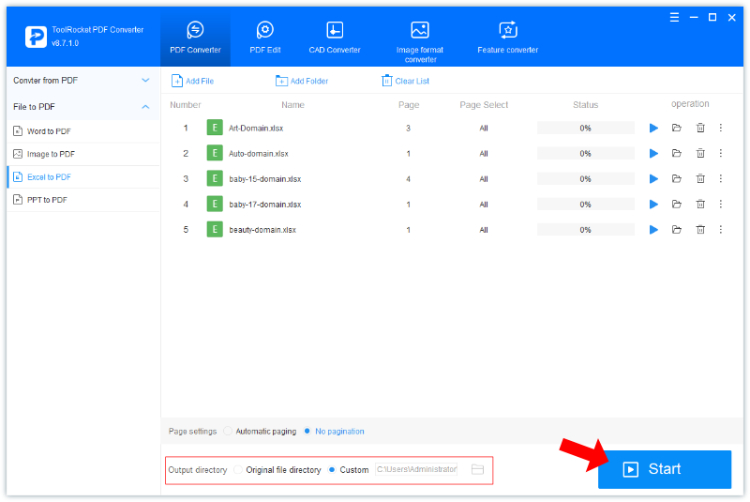 Step 4: After the conversion is completed, click "Open" to view the conversion effect.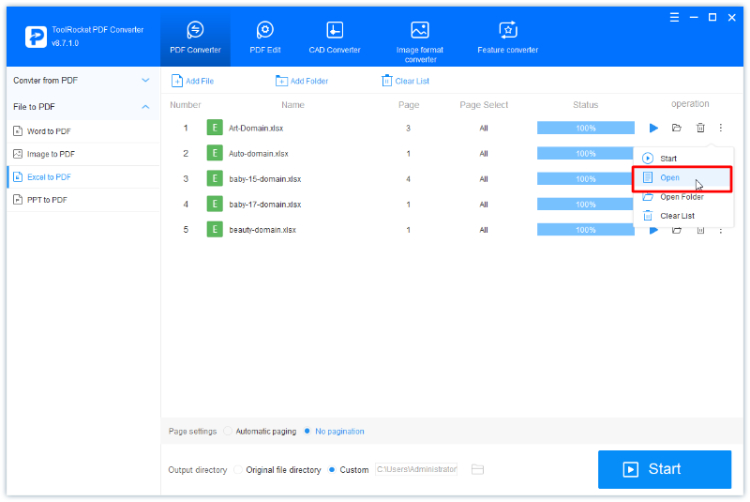 Above you have known an Excel to PDF Converter – ToolRocket PDF Converter. As a freeware, it provides professional and productive functions to convert various file formats, including PDF, Word, Excel, images, CAD, text, etc. Besides that, it is also a practical PDF editor that enables you to compress the PDF/PowerPoint/Word file size, encrypt/decrypt PDF, to delete or reorder PDF pages.
In fact, you can also use an online Excel to PDF Converter such as PDF2everything, ilovepdf, online2pdf or in Microsoft Office 2016/2010/2007 as well as other versions to save Excel as PDF. But it will not provide you personalized setting functions. So you can choose your favorite method according to your requirements.
And if you want to convert Excel to PDF on your mobile phone, you can install the PDF Converter app on your mobile. Below you can click and scan the QR code to view more details on Android or iPhone.
2 FAQs of converting Excel to PDF
Question 1: How do I convert Excel to PDF for free?
There are many ways to convert Excel to PDF for free. First, you can use a free Excel to PDF converter, such as ToolRocket PDF Converter. Second, you can use an online Excel to PDF converter, such as PDF2everything, ilovepdf, online2pdf, etc. Normally the online converters provide free file conversion. Third, you can download a free Excel to PDF converter app on Android or iPhone. As long as you upload your Excel documents, and select PDF as output format. Then you can convert Excel to PDF.
Question 2: How do I bulk convert Excel to PDF?
The freeware ToolRocket PDF Converter provides a batch conversion function. When you have several Excel files, you can upload them together into the software to turn them into PDF.
Question 3: How do I make Excel spreadsheets into one PDF?
If you have more than one spreadsheet, first you have to split them into several Excel files. Then upload them into the software ToolRocket PDF Converter that supports batch conversion. Then select "No pagination", and click "Start" to start to turn Excel sheets into one PDF file.
Question 4: How do you backup an Excel file?
In Excel, you can back up your files directly. Go to "File" > "Save As" > "More options". Then click the drop-down list of "Tools" > "General options". Check the box "Always create backup". Finally, confirm "OK" to finish the backup of your Excel file.