How to merge PDF files without compression and losing quality
When your boss sends you some important PDF documents, you need to organize those scattered files. So is there any more convenient way? Many people like to rearrange and put their files together. But how to merge PDF files into one?
Actually, it is not a complex thing. As long as you adopt a proper method, you can make it easily. In this post, I will show you different ways to combine multiple PDF files together on the computer or mobile phone.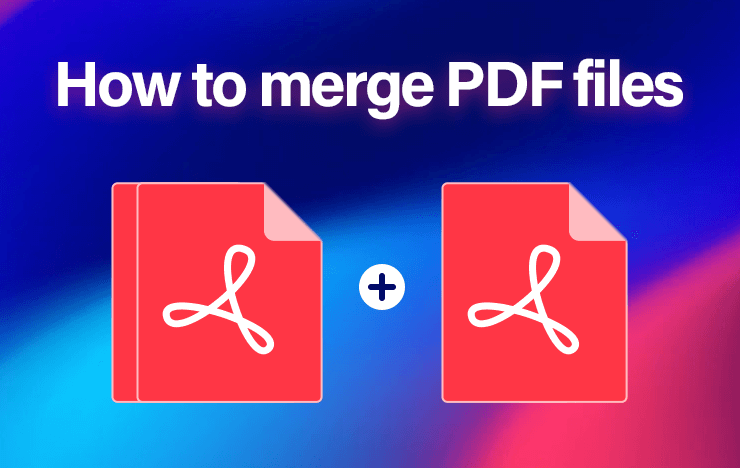 1 Merge PDF documents on Windows or Mac computer
In order to combine different PDF files into one file, an effective PDF merger is essential. ToolRocket PDF Converter is one of the best free PDF converter and combiner. With this, you can put two or more PDF files together with original size. Follow the steps and learn how to merge multiple PDF files into a single one.
Step 1: Download, install and run ToolRocket PDF Converter on your Windows 10, Windows 8 or Windows 7 computer.
Step 2: Navigate to the "PDF Edit" function, and select "PDF Merge". Drag your PDF files directly into the software, or click on the "Add File" button to import PDF documents. After loading, you can set the position of the document by clicking up or down.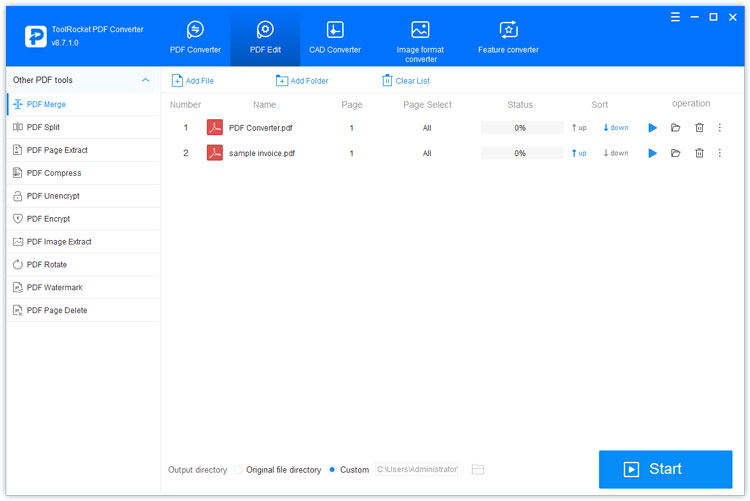 Step 3: At the bottom of the software, select the output directory for the combined file. Finally, click the blue "Start" button. Then, they will be merged into one document.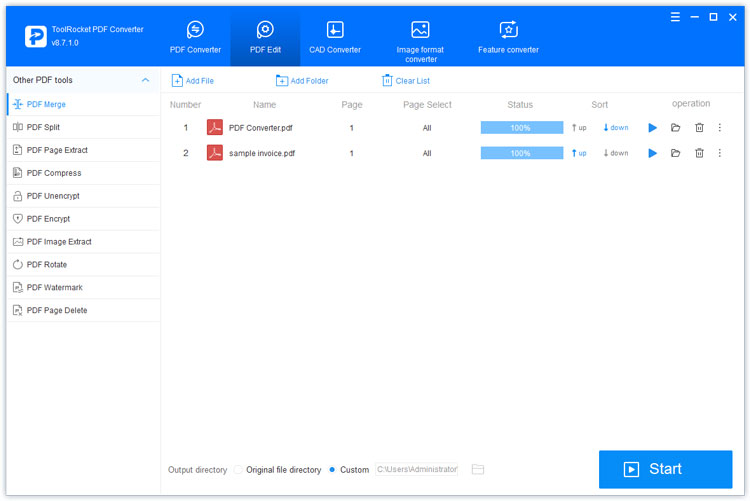 Tips
1. After you upload the PDF file, you can click the symbol of three point and select "Open" to preview the PDF document without installation of a PDF reader.
2. In the file list you can see how many pages a PDF file contains. By clicking on it, you can choose the page to convert.
Have you followed the steps to combine your PDF files? As a matter of fact, ToolRocket PDF Converter help you not only as a PDF joiner. If you want to split a large file into several smaller files, and to convert PDF to Word, Excel, PDF, images, etc. for free, you can make use of it.
But if you don't want to download any software or applications on PC or Mac, an online PDF merger will also be a good choice. Tools such as ilovepdf, smallpdf, PDF2everything are all user friendly and easy to use. More importantly, there are all free to use. Next, I will take PDF2everything as example and show you shortly the guide.
Step 1: Open the link of the official website: https://www.pdf2everything.com/. Go to "File Editor" > "Merge PDF".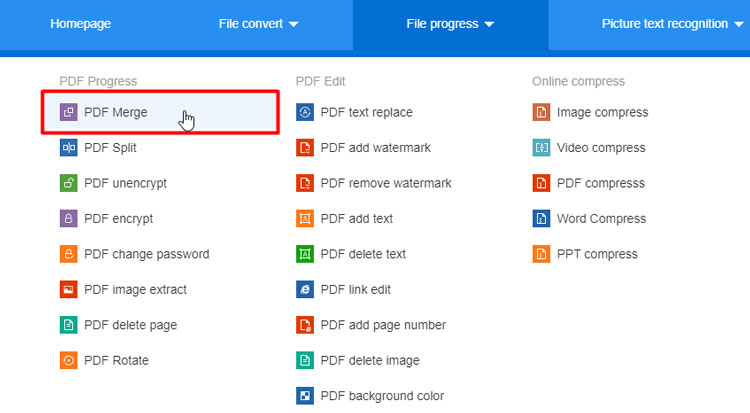 Step 2: Click the blue button and upload your PDF files. Be sure that the size of every PDF document should be less than 20 MB. If the file is too large, it will also have an influence of the loading speed, which will cause decreasing of the file process efficiency.
Step 3: Then, click "Start merging" to merge those uploaded PDF files.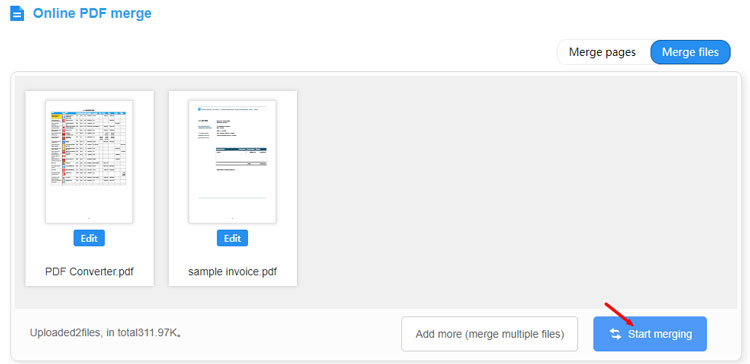 If this free online PDF merger fails to upload your PDF files and shows that they are password protected, you can first remove the protection with the help of "Decrypt PDF".
With this PDF2everything online tool, you can combine PDF files in Chrome/Firefox/Opera/Safari/Microsoft Edge and other browsers on Windows or Mac.
2 Combine PDF files on Android or iPhone
If you save your PDF files on your mobile phone, you don't need to transfer them to your computer and combine them on PC. As long as you download the ToolRocket PDF Converter app on Android or iPhone, you can simply accomplish it.
View in Google Play: https://play.google.com/store/apps/details?id=com.hudun.androidpdfchanger&hl=en_US&gl=US
View in App Store: https://apps.apple.com/US/app/id1424760349?l=en
As the operation on Android is same as that on iOS, I will take the operation on iPhone/iPad as example.
Step 1: Install and run the PDF joiner app on your phone. Select the function "PDF Merge" under "Document Operation".
Step 2: Tap "Add PDF File", and select the files to merge.
Step 3: Tap "Start merge" to put the files together.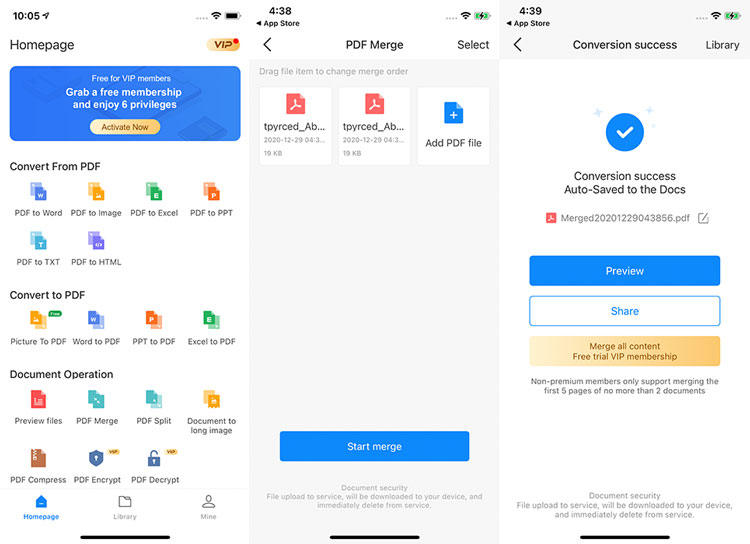 Conclusion
In this post, I have showed you how to merge different PDF files into a single one. For that, the tools such as ToolRocket PDF Converter, PDF2everything, and the app are very practical, secure and gratis. And if you want to convert PDF to PNG, JPG, Word, Excel, PowerPoint, these tools are also helpful.