How to Compress PDF Files and Make Them Smaller?
PDF is the most common format that we use in daily life to share and receive files. PDFs can be embedded easily in emails and attached along with any message, but the problem arises when files are too large to send. To avoid any errors, we compress the PDF file to reduce its size so that it can be shared conveniently. If you have to deal with large files daily, you have arrived t the right place. After reading this article, it will be a piece of cake for you to compress your PDF files conveniently and simply as we will explain to you about different methods that can be used. SO, let's get started.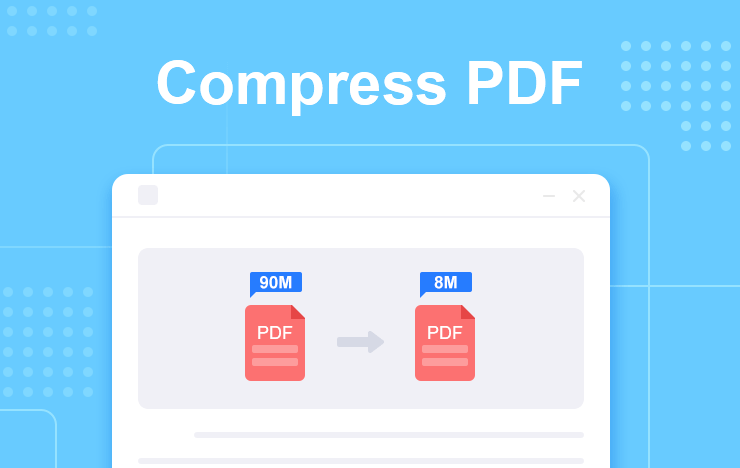 1Compress PDF with ToolRocket PDF Converter
If you want to compress your PDF to reduce its size, one simple and effective way is to use ToolRocket software as it is free to use software that can assist you in compressing your files in effortless and easy steps. It also consists of plenty of other features that can be utilized according to your own choice.
About ToolRocket PDF Converter
ToolRocket PDF converter is an all-rounder converter that helps you in converting your files into your desired format and compress them as per your choice. With the help of this amazing software, you can compress your files and convert them to other available formats. Here are some interesting features of the ToolRocket video converter.
FEATURES:
1. Easy to operate: ToolRocket PDF Converter is an innovative and all-rounder file converter because you can compress your files in one go without any hectic steps with the help of it. This converter is easy to use and understand as well.
2. Handling of files in bulk: ToolRocket PDF Converter is more suitable for converting and compressing your PDF files. This software can compress your pdf files in bulk too. You just have to drag and drop your files in the compressing window and enjoy get your file size reduced easily without losing its quality.
3. Quick and convenient PDF compression: To enjoy a better user experience, ToolRocket software allows you to convert common office files safely and compress them efficiently. If you are a person who has to deal with PDF files frequently, then this PDF converter is suitable for you. You can visit their website to know more about this software, or you can simply download it from here.
Steps to compress PDF
ToolRocket PDF converter is a helpful and easy to use software that will effortlessly convert and compress your PDF files without any trouble. Here are the steps to compress your PDF files easily.
Step 1: The first thing to do is download the ToolRocket software that is free to use for all the consumers. You can either visit their website or simply download the software from here.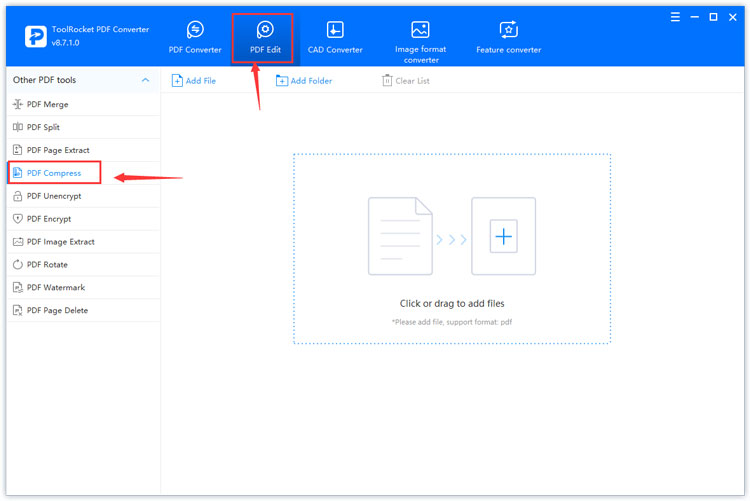 Step 2: After the converter is downloaded, you can install it in your system or device as it supports all available operating software. After installing it, you can now operate this converter successfully for file compression and modifications.
Step 3: When the software is installed, and you run it, an interface will appear with different options available in it. Click on the "Add Files" option or simply drag and drop the file to upload your PDF file to the interface. Your file will be uploaded in a few moments and appear in the converter.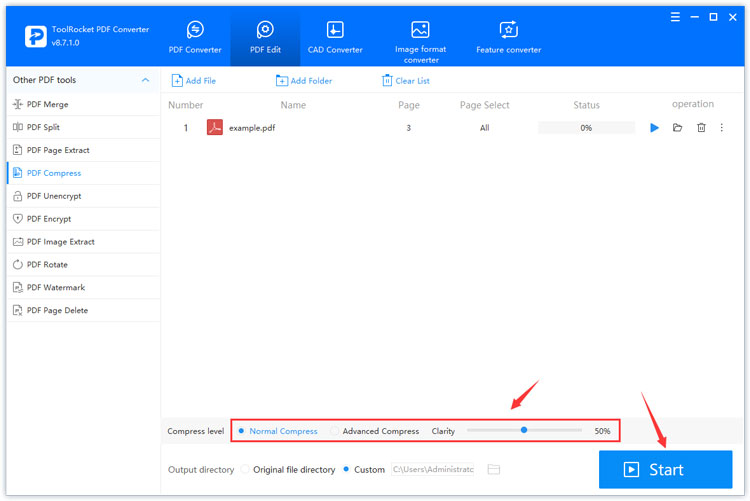 Step 4: After adding your PDF file into the converter interface, click on the "Compress" option available at the corner of the interface to compress it, after which you can save it on your computer.
2Compress PDF online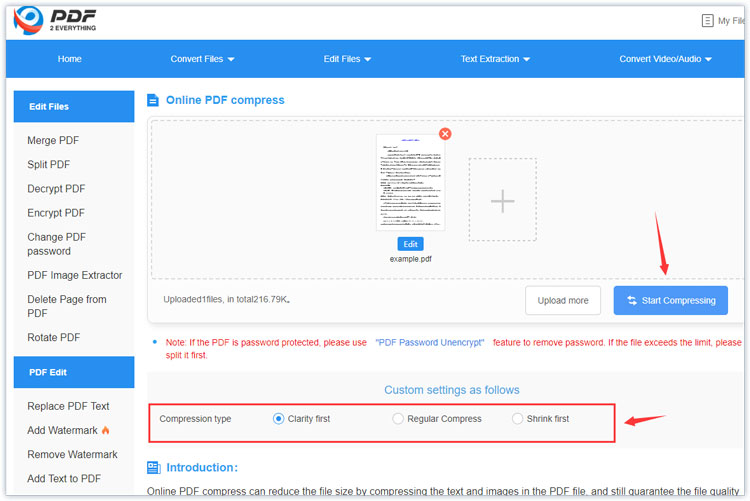 We know that PDFs are a common and convenient format as they are easy to store and can be attached to emails and documents easily. But sometimes, the size of the pdf is too much, and we need to reduce the size of the file so that it can be shared. For this purpose, you can use PDF2everything PDF converter, which is an online converter that can effortlessly compress your PDF file.
How to compress?
Compressing your PDF file with the help of PDF2everything is really easy. You simply have to land on their website, and an interface will appear. Click on "upload file" to add your desired PDF files you need to convert. After that, simply click on the "compress" option to get your compressed PDF file with reduced size.
Another feature offered by this software is that you can either get your files separately or simply merge them in a single PDF file to easily handle and store them.
This online compress tool also provides privacy features. The files that you upload on this website for conversion are safe and cannot be read by anyone. No one can get access to your files; They are 100% secure.
3Compress PDF on your phone
If you prefer to work on your phone more than using your laptop, you don't have to worry about finding your laptop or turning on your PC when compressing your files. Yes, you can compress your PDF files from your phone too. Simply download these apps from the play store and compress your files in one go.
Link:
2. iPhone
4FAQ about compressing PDF
1. What is PDF format?
The full form of PDF is Portable Document Format. It is basically an image format used for display of documents and graphics correctly irrespective of device, application or operating system.
2. What does compressing a PDF do?
The main reason for compressing PDF files is to reduce their size and make it easier to attach them with mails or other online channels. As such, you can compress a PDF file with any tool that allows you to choose the type of compression you want.
3. Does compressing a file reduce it's size?
Compression of file makes its size smaller, which gives us two main advantages. The files consumes less storage space, and they can be transferred more quickly when being sent between two devices without losing any data.