How to convert PDF to editable Word on PC/Mac/Android/iOS
When we download some files on the Internet, many of the files are in PDF format. In order to edit the content in a PDF content and organize the file, you can turn PDF into Word. Just a few days ago, a friend asked how to convert PDF to Word without losing format? Today, I will teach you some effective ways for that.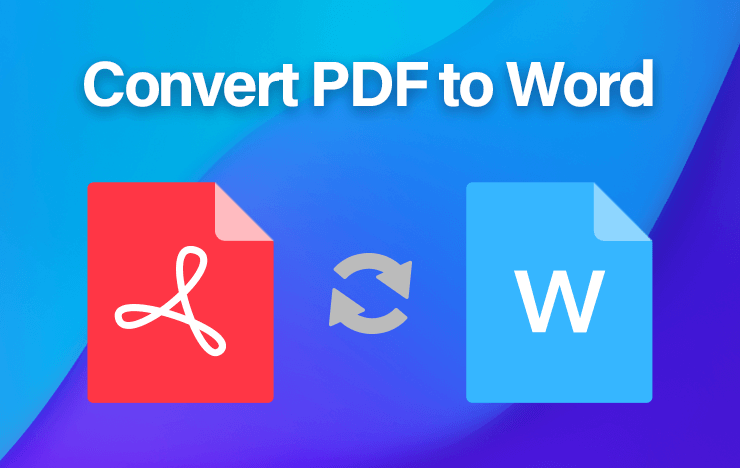 1 Convert PDF file to Word with a PDF Converter freeware
Have you once installed a PDF to Word converter program that requires subscription? After free trial it may request you to pay for the advanced functions. In this part, I will show you a powerful yet free PDF to Word converter – ToolRocket PDF Converter.
This software runs on a Windows computer. If you have a PC or laptop, you can download it freely and unlimited on it.
ToolRocket supports a variety of file formats including Microsoft Word. It enables you to transfer files from text or scanned PDF to Word or back easily. Below you can have a look at the main features of it.
Features
1. Supports file converting in multiple formats, including PDF to Word/Excel/PowerPoint/image/TXT/HTML, Word/Excel/PowerPoint/image to PDF, CAD to PDF/image/DWF/DWG, PDF to CAD, DWG to DWF, DWF to DWG, image to JPG/PNG/BMP/icon, Word/PowerPoint/PDF to long picture.
2. This software allows you not only to convert but also to edit PDF files. With this, you can split, or merge PDF files, compress PDF, extract text from PDF, rotate PDF pages, delete pages from PDF, encrypt or decrypt PDF, add watermark on PDF, etc.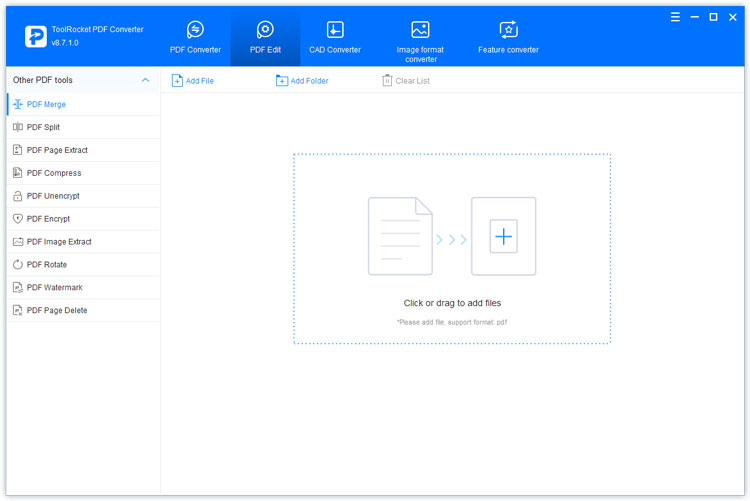 3. In addition, you can also extract text from a picture with the help of the OCR technology, save scanned PDF as Word, compress Word/PowerPoint.
There are two different options to convert export PDF as Word in ToolRocket PDF Converter. Would you like to have a try? Then, follow my steps.
Convert general PDF documents to Word
Step 1: After installation start the software ToolRocket PDF Converter. The default function is "File to Word", which we need.
Step 2: Drag your PDF document into the file box of the software or click "Add File"/ "Add Folder" to upload your PDF file(s).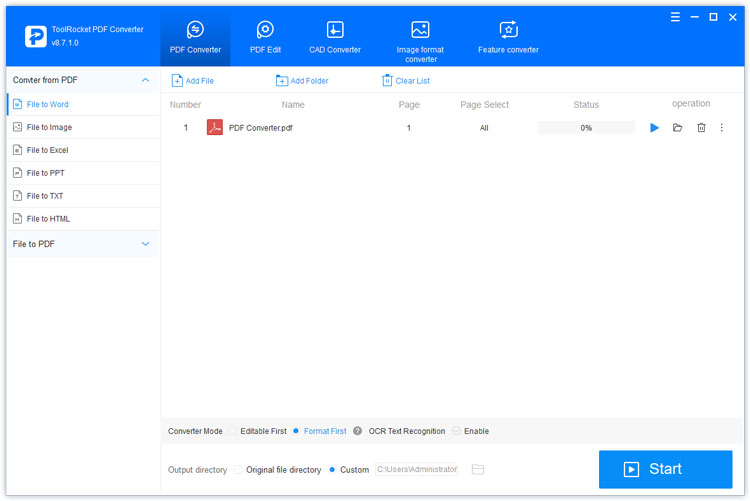 Tip: ToolRocket PDF Converter is a batch file converter. At one time, you can upload and convert more than one files, which simplifies the converting process and enhances the converting efficiency.
Step 3: Next, select a converter mode between "Editable First" and "Format First". If the PDF pattern is complex, you can choose "Format First", and if you just want to edit the content, you can select "Editable First".
Step 4: Next to the converter mode function, you can enable/disable the OCR Text Recognition function. It helps you recognize and extract text from scanned PDF image.
Step 5: Select "Original file directory" or "custom" to set the output directory. Finally, click on the "Start" button to change PDF format to Word.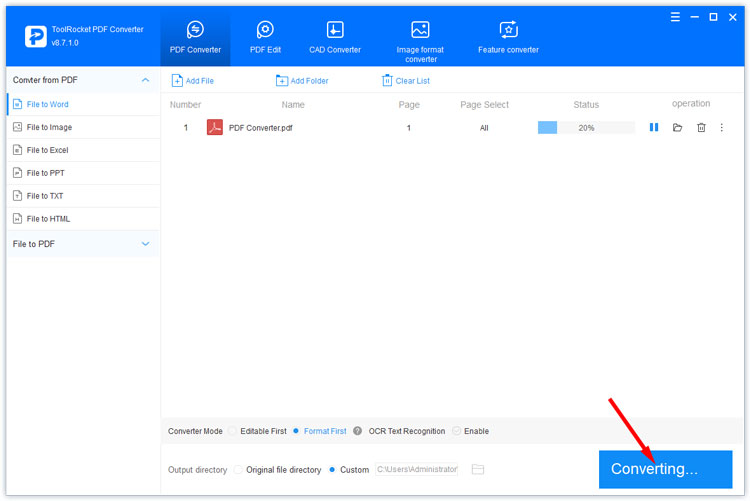 Convert scanned PDF image to Word
Besides that you can enable the "OCR text recognition" function, you can also follow the steps below for converting scanned PDF to Word.
Step 1: Run ToolRocket PDF Converter, navigate to "Feature converter". And choose "Scan PDF to Word (OCR)" under Special Features.
Step 2: Here you can drag your scanned PDF image directly to the file box or add it from the hard drive.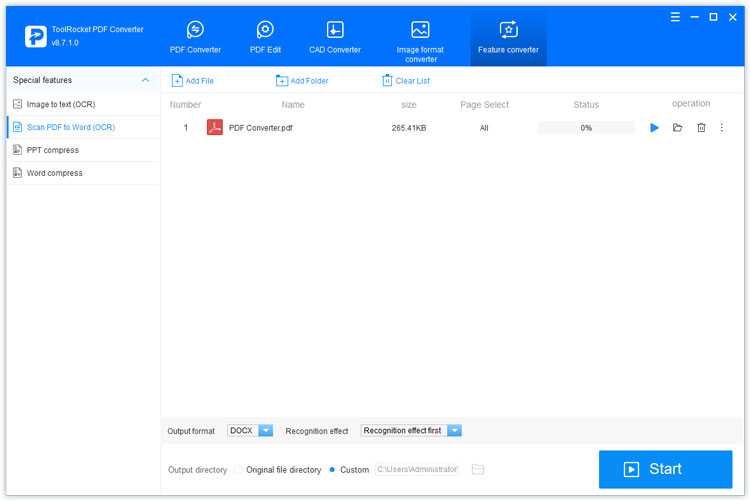 Step 3: Click the drop-down list from "Output format", select "DOCX" or "DOC". And at the same time, define the recognition effect, which depends on if you want to make PDF to Word remaining the formatting.
Step 4: At the bottom, set the output directory, and click "Start" to begin converting PDF to Word.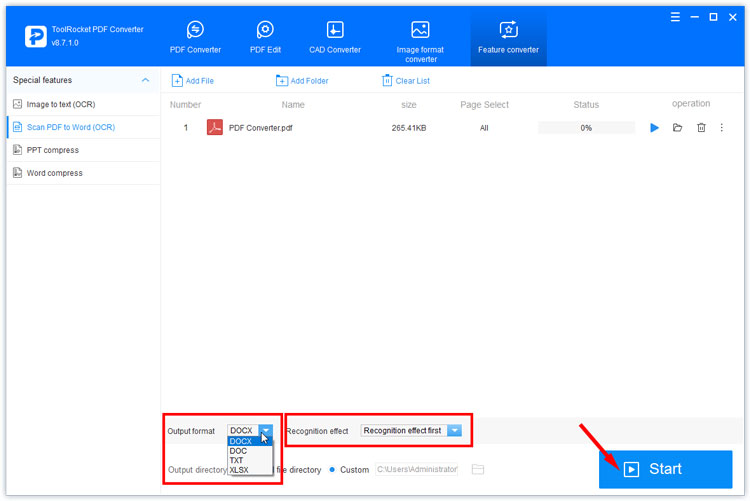 2 Convert PDF to Word document with an online tool
If you google convert PDF to Word online, you will find a lot of online tools. For converting PDF to Word, it's important to choose an easy, efficient, free online tool with less restrictions. PDF2everything is such a tool.
Step 1: Open the official website under the link: https://www.pdf2everything.com/. Select the first function "PDF to Word".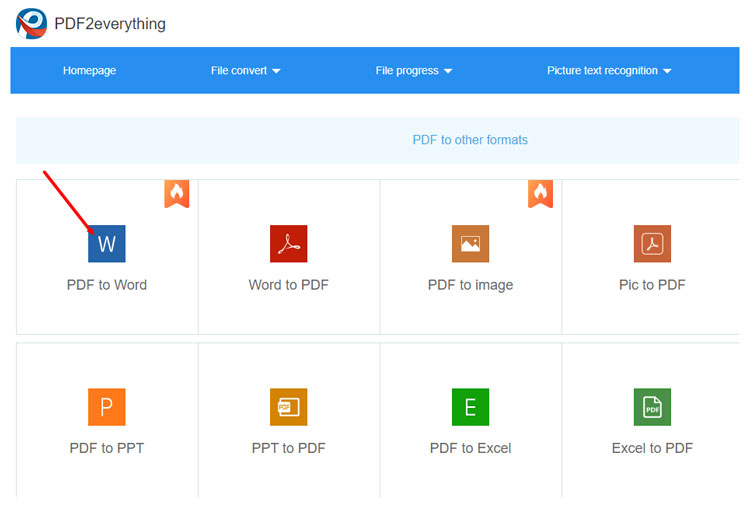 Step 2: Click the button in the operation box to import your PDF file into it. You can also upload more PDF files.
Step 3: Under the box you can select the page(s) to convert, choose a conversion format *.doc or *.docx. Then, set the conversion mode among Speed first, Edit First, or Layout first.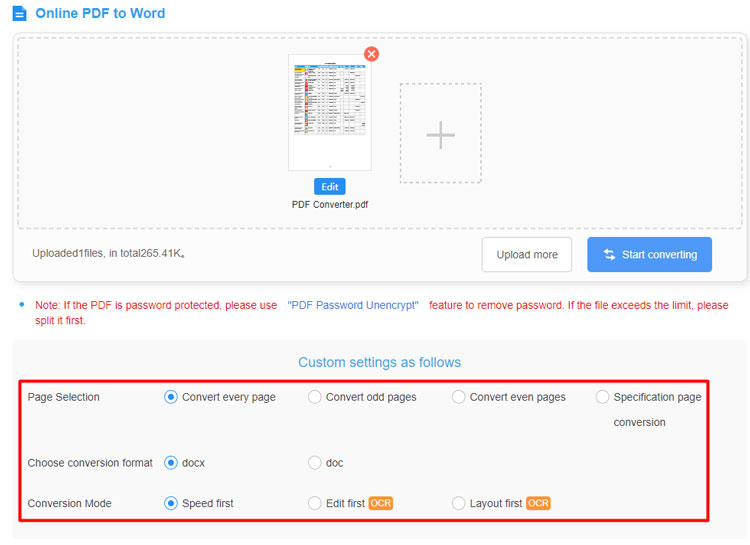 Step 4: After settings, click "Start converting". Finally, click "Download Now" to download it in your browser.
If you don't want to install any software or program, or convert PDF to Word on Mac, you can use this PDF2everthing PDF to Word free online tool.
3 Convert a PDF file to Word format in an iPhone/Android app
For putting PDF to Word, you can also conduct it on your mobile phone. ToolRocket studio provides the users a PDF to Word converter app on iPhone and Android. You can view more details of the app and download it in Apple Store or Google Play. After that, follow the same easy steps.
Step 1: Run the PDF Converter – PDF to Word app on your iPhone or Android phone. Choose the function "PDF to Word".
Step 2: Tap "PDF to Word" under "Convert From PDF". Then choose the PDF file from Recent folder or browser from the Files or iCloud.
Step 3: After selection, the PDF file will automatically converted into Word. And you can open it in the Pages, Microsoft Word, or WPS app.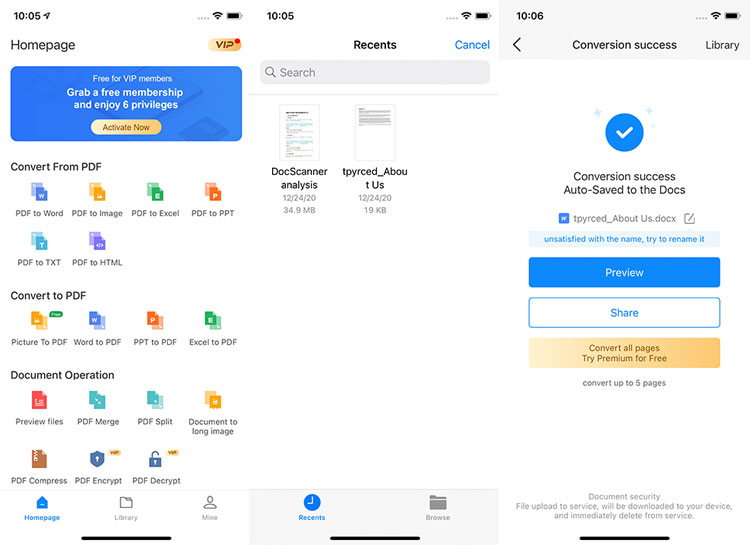 Conclusion
Above you have learned different methods to convert PDF to Word with 4 PDF to Word file converters. In fact, with these methods, you can not only convert PDF to Word, but also convert Word to PDF, Excel to PDF, image to PDF etc. With only one tool, you can simply transfer a file from or to other format.