Why and how to increase video resolution
Watching an old video on your device can be very boring, especially now that you have probably watched videos with higher resolutions. The truth is, some of the videos you enjoy now will probably look too boring for you in no time.
Remember, the content of the videos is not going to change, only that they may not be as clear as the videos that will be produced in the future.
However, one thing is certain and it is the fact that you can always increase the resolution of a video to soothe your taste. It means you don't have to watch a video made 10 years ago using the same old resolution.
With tools like ToolRocket Video converter and VidClipper Video editor, you can make every video look new. In this article, we are going to show you how to increase your video resolution.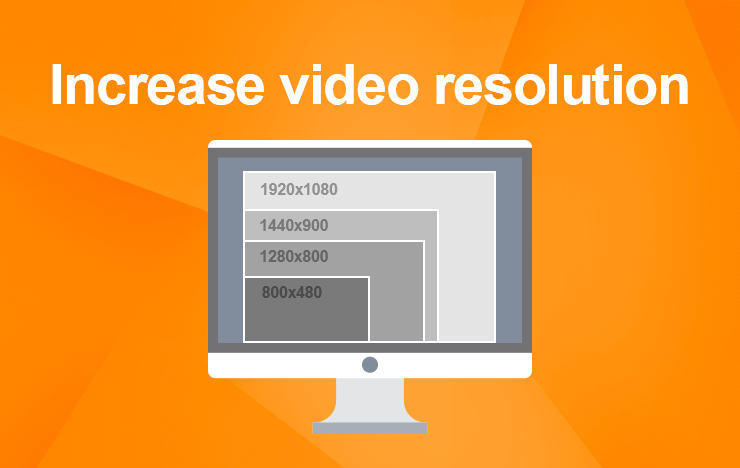 1 What is video resolution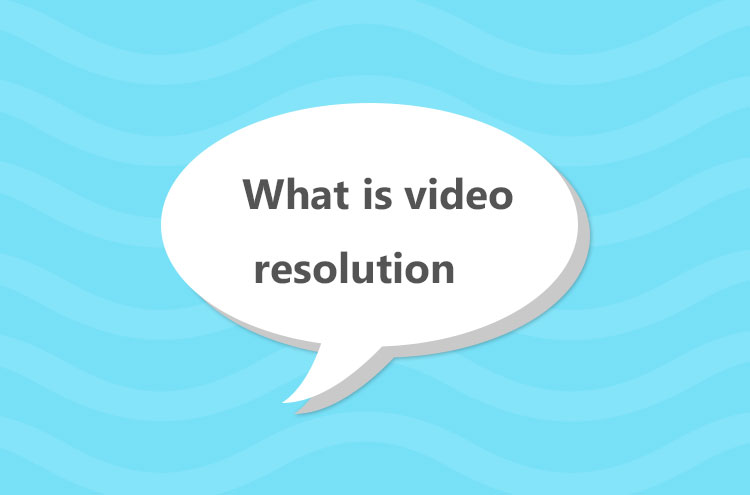 4320p: 7680×4320
In digital video, the resolution simply means the number of pixels that are displayed on your computer screen.
Technically, the word resolution can be used in two different senses. There is a spatial resolution on the one hand and temporal resolution on the other.
Spatial resolution is the width and height of the displayed image, which Is usually measured in pixels. It is the number of pixels contained in one frame. In digital parlance, spatial resolution is commonly used to define what video resolution is.
Nevertheless, tech experts believe that resolution can also mean the number of frames shown per second. This is generally known as temporal resolution, or 'resolution over time'.
2 Common types of resolution
There are different types of resolution for videos. Some resolutions are lower than others, while some offer more pixels than others. Here are some common video resolutions you'll see.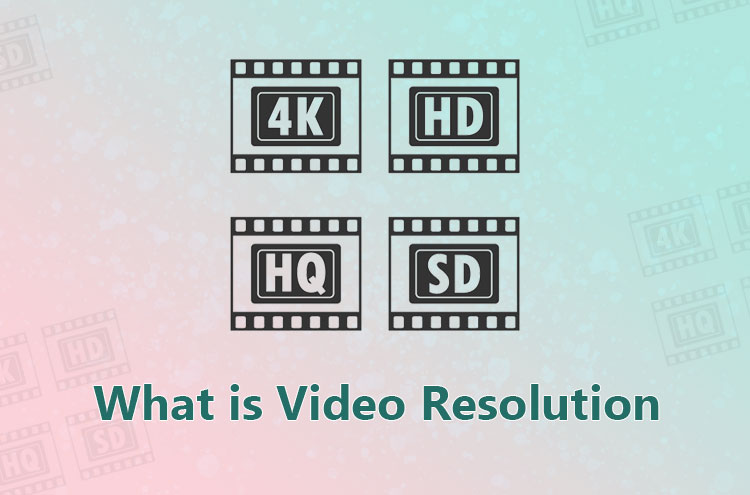 4320p: 7680×4320
This video resolution is popularly known as 8k or 4320p and you can only find them on expensive TVs like LG and Samsung.
8K is very expensive, but it is worth every penny. This video resolution produces 16 times more pixels than what you can get from the regular 1080p FHD.
2160p: 3840×2160
This type of resolution is common in digital televisions and the cinematography industry. 2160p offers four times the pixels found in 1080p. It is also known as 4k or Ultra-High Definition.
1440p: 2560×1440
1440p is popularly known as Quad HD resolution. You can find them on gaming monitors and recent smartphones.
This resolution does not offer much compared to 1080p, however, it produces four times the resolution you can get from 720p.
1080p: 1920×1080
It is usually known as FHD or Full HD resolution. You can get this on many HDTV high-definition videos with a widescreen aspect ratio of 16:9.
720p: 1280×720
This produces a lesser resolution compared to the others we have discussed. 720p is also known as HD-ready resolution.
Most broadcasts on television use 720p. This resolution may not be as clear as the others, but it does offer quality.
We have seen some of the common types of video resolutions that exist and we have shown you what to expect on the type of device you use.
3 Why should you increase your video resolution
The quality of a video will vary across different devices. Most often, you will need to change video resolution to fit the particular device you are using.
There are many ways to improve video resolution and in this article, we are going to be showing you how. It is important to understand that increasing a video resolution will not change the content of a video.
However, a higher resolution means that there are more pixels per inch. It means the video has more pixel information initiating the production of high-quality, crispy images.
When you change the resolution of a video, you are selecting the number of pixels you want each image to display. For instance, an image that contains 600 pixels will contain 600 pixels within each of the images.
4 Tools that help you increase video resolution
If you want to increase the resolution of a video, maybe to improve the video quality of an old video, you'll need the help of a video converter.
ToolRocket video converter and VidClipper video editor are two video resolution converter applications that can give you the best result.
#1. ToolRocket Video Converter
ToolRocket Video Converter is a professional multimedia format conversion software including, MP4, WMV, MOV, MKV, VOB, etc. You can even convert a video to GIF and save it on your computer.
With ToolRocket Video Converter, for instance, you can convert your video to any video format of your choice. This is a multimedia format conversion software that allows you to import your videos from devices like iPhone, iPad, Samsung, HTC, etc.
ToolRocket Video Converter allows you to change your video files into compatible formats, meaning you can change resolutions to soothe your device anytime. With this software, you can convert over 10 videos without sacrificing quality.
First, download it by clicking the button below, and launch it on your Windows computer.
Step 1: Select "Converter" on the main interface. Click "Add Files" to import your video in the software.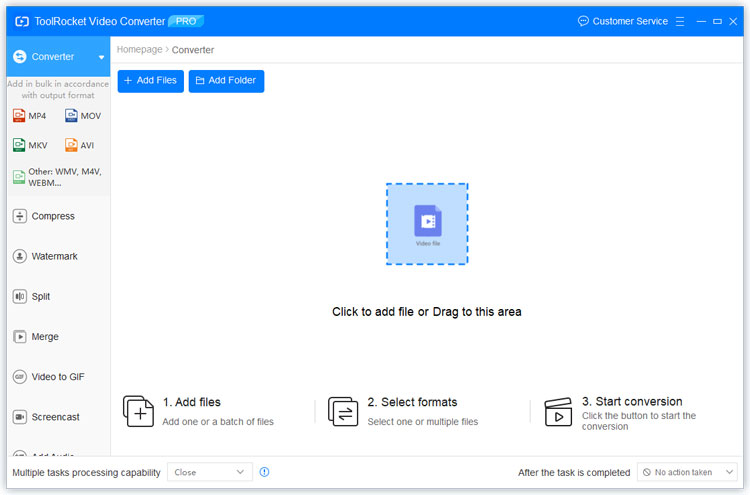 Step 2: Click the drop-down list of "Output format". Here you can set the video format. To open the video on almost all devices or applications, you can choose MP4 as the output format. At the same time, you can select one video resolution. It contains 4K UHD, HD 1080p, HD 720p, SD 480p, etc.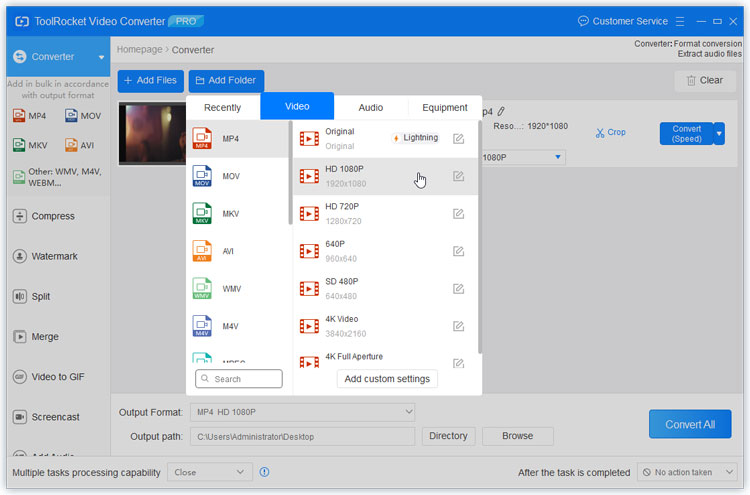 In fact, ToolRocket Video Converter is a 4K video converter that converts videos to 4K or export 4K videos as HD or SD format.
Step 3: Click the Browse button next to "Output Path". Set the output folder, and click "Convert All" to enhance the video resolution and save it on your computer.
#2. VidClipper Video Editor
This software VidClipper enables you to supports a list of video resolutions including, 1920*1080, 1366*768, 1280*720, 960*540, 852*480, 720*405.
If you are also trying to increase the resolution of a video on your PC, VidClipper works for windows 7/8/10. With VidClipper, you can increase the resolution of your video on different devices.
It works for most video aspect ratios. For instance, you can improve video resolution on 9:16 (vertical phone screen), 16:9 (standard screen ratio), 4:3 (traditional TV screen), and 3:4, 1:1 (Instagram).
To use VidClipper Video editor, you must first download and install the software. After that, increasing your video resolution is simple.
You just have to import the video you want to convert. Drag it to the video track bar. If you don't want to edit or cut the video, click on "Export".
Next, click the "Settings" button. Select a higher video resolution from the drop-down list. Finally click "OK". Now you can enjoy your video just the way you want it.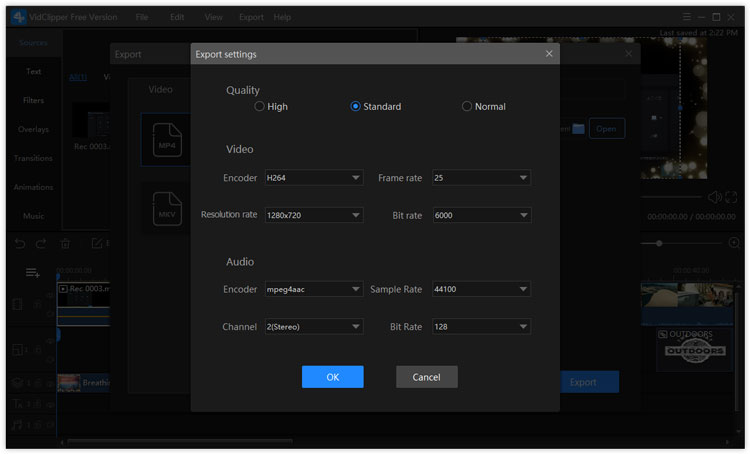 5 Frequently Asked Questions
Question 1: How to change a low resolution to high resolution?
Step 1: Download and install a video converter, preferably, VidClipper on your PC. Step 2: Add your videos to the converter. To do this, click the add media button and add the file. Step 3: Set the output format and resolution. Open the video and add your preferred format or resolution. Step 4: Convert the video. First, you need to save the video, then hit the convert button.
Question 2: How can I increase video resolution online?
Get a free online video converter. Some of these converters will require you to download their software, especially if you are using the software for the first time. Next, you can visit the website of the converter to add the file you want to work on. After that, choose the output format you want. Look for the edit icon to change the video resolution for free. Then, you click convert and choose the destination folder of the video.
Question 3: Can I convert low-quality video to HD?
Yes, you can easily convert a low video quality to HD with the help of a video converter. Download and install a video converter on your device to begin the process.
Question 4: Is there an app to enhance video quality?
Yes, some apps enhance video quality and they include Power Director (for android), Video Compress (for iOS), and VideoShop (for android and iOS).
5Conclusion
A video converter allows you to improve your video quality. With converters like ToolRocket Video Converter and VidClipper, you can make old videos look very recent. There is no more worrying about streaming a video with poor quality. All you need to do is to change the resolution to soothe your taste.