How to compress a video (incl. FAQs)
Reducing video size is one of the primary requirements of many users online or in general. They may want to know how to decrease the video size for their personal projects, save up space, or upload the video on social media applications like Facebook or Twitter that demand a smaller size.
The manual method to reduce video size is generally hard. While there are tools available online that claim to make video size smaller, they are usually scandalous or do the job imperfectly. Thus, we have gathered 3 such tools for you that work well, with a special focus on the first one.
Refer to the following methods on how to compress a video and make video size smaller: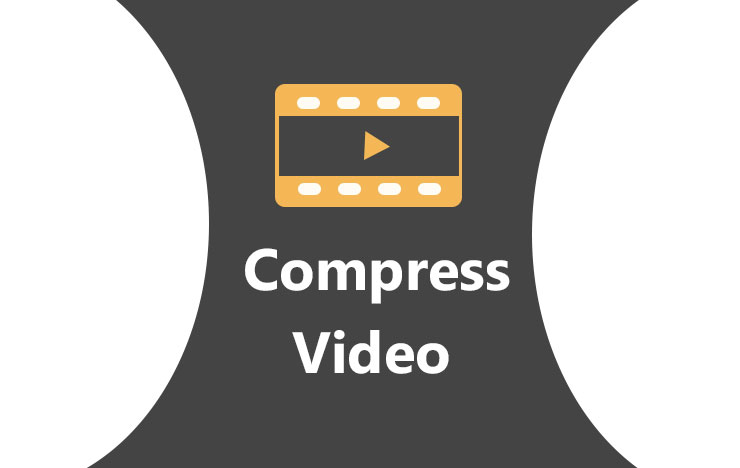 1 Compress video file with ToolRocket Video Converter
ToolRocket Video Converter is a free software that provides you with a lot of services. While we shall be focused mainly on compressing a video here, it should be noted that you can do a lot more with this tool, including converting videos to GIF and vice versa, editing, splitting, screencasting, and so much more. Below you will find the step by step guide on decreasing video size.
Follow these steps, and you will successfully downsize a video using ToolRocket Video Compressor:
Step 1: Download, and install it on the computer. Double click on the ToolRocket application to turn it on.
Step 2: You will get various options; you have to choose the option "Compress."
Step 3: Next, you will be asked to upload a video to the software for compression. Click the "Add Files" button to import the video from the computer.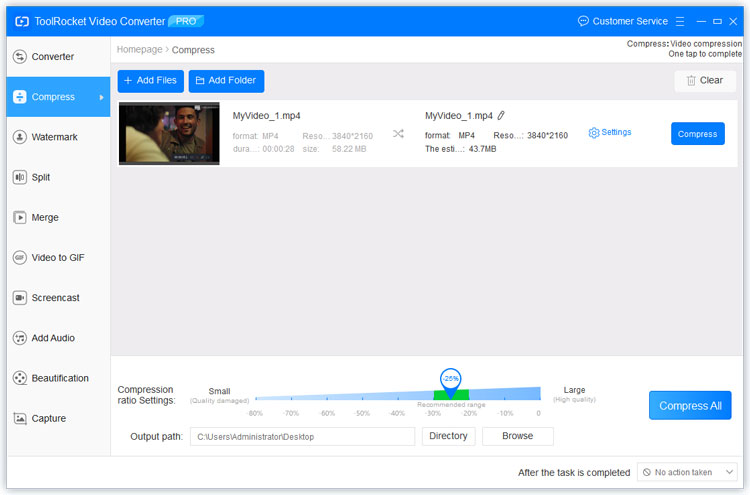 Step 4: Click the "Settings" button in the file list. There are basic and advanced compression settings available to you. With the basic function, you can drag the pointer to adjust the compression rate or define the output file size. With the help of the advanced function, you are able to set the video encoder, bit-rate, fps, etc. to make the video smaller.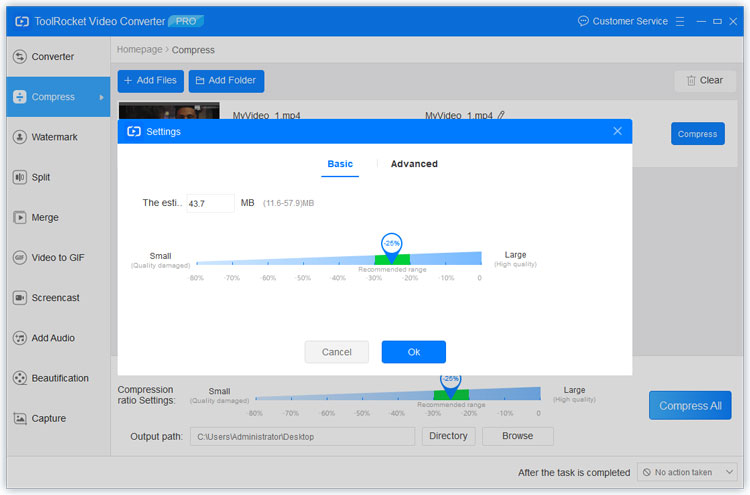 Step 5: Finally, click the blue "Compress All" button. With one tap, your video will successfully be shrinked. Now you can use that compressed video anywhere.
It should be noted that compression is not the only thing whereby you reduce video size. You can also do other things like video optimization, video cutting in this powerful freeware.
Other functions of ToolRocket Video Converter:
2 Reduce video size with HandBrake
Like ToolRocket, HandBrake is another downloadable tool that can be used to reduce video size without significantly diminishing its quality. Here's how you can reduce video size using HandBrake:
Step 1: Start HandBrake application by double-clicking on it.
Step 2: Select Source > Open File. Now go to the file where you have the video you want to compress.
Step 3: Below the file destination, you will see output settings. Make the output settings MP4 and check on the option "Web Optimized."
Step 4: You will have various taps further below. By default, the "Picture Tab" would be selected. You need to click on the Video Tab.
Step 5: Click on the appropriate Video Codec, preferably H.264(x264). Now press Start.
Step 6: Your video will finally be compressed.
This is indeed an efficient tool to reduce video size. However, as you may have already noticed, the methodology to shorten video size here by compressing it is considerably hard compared to the previous tool we discussed, aka ToolRocket Video Converter.
3 Make video smaller using PDF2everything online video compressor
If you are going to use PDF2everything to make videos smaller, you may not need to downsize it at all. After all, this online tool doesn't even support large-sized videos. You can only upload smaller videos on this software and manipulate/edit them according to your needs. Though, note that it is also free. Here's how to shrink a video using PDF2everything:
Step 1: You need to open the free online tool by entering the URL: https://www.pdf2everything.com/videocompress/.
Step 2: Next, select the option "Click to Select File" to choose a video on your hard-drive.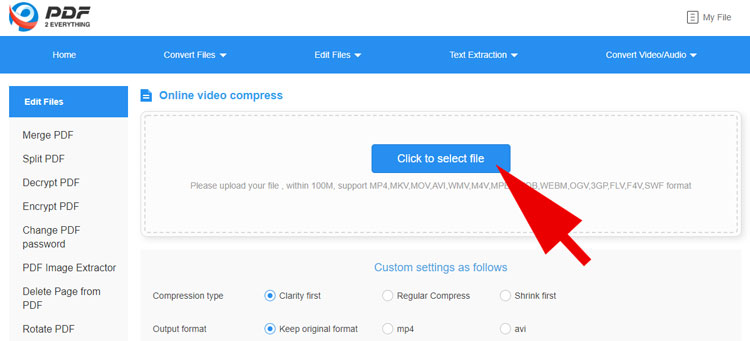 Step 3: Select the options below to check your compression preferences.

Step 4: Also, check an option in your output preferences if you want the original format, AVI, or MP4.
Step 5: Now, check the option "Start Compressing." Wait a couple of minutes to get your compressed video.
Step 6: As long as videos are of a smaller size or your compression is not serious, you will not have to compromise on the video quality. However, if you want to compress videos firmly, you will notice a diminishing video quality.
So far, we can see that ToolRocket is the best compressor among these.
4 Frequently Asked Questions
All reducing size requires is to segment the video or remove frames. It can be done with the ToolRocket Video converter easily. Other tools such as HandBrake, PDF2everything are also available.
Question 1: How do I reduce the file size of a video?
All reducing size requires is to segment the video or remove frames. It can be done with the ToolRocket Video converter easily. Other tools such as HandBrake, PDF2everything are also available.
Question 2: How do I reduce the MB size of a video on my phone?
You will have to look for a tool that can make video size smaller on mobile. While most applications work only for PCs, the ones we mentioned above may also work with mobile.
Question 3: How long is a 25 MB video?
Generally, it depends on the camera's quality. However, generally, you can fit up to 150 seconds in it.
5Conclusion
If you are looking to make video size smaller, we recommend that you use ToolRocket Video Converter. This tool is easy to handle and does a very good job. With it, you can reduce video size in no time. It can save a lot of time and the quality of the output will be better than other tools. And if you just need the soundtrack, it can help you convert video to MP3 and save it.