3 Fast Ways to Convert AVI to MP3 on Windows/Online
How to quickly convert AVI to MP3 format? Via the conversion of AVI to MP3, you can easily get the MP3 file, and then you can play it on iPhone, MP3 player and other devices. In order to facilitate you to convert AVI video to MP3 without destroying the content quality of the source file in the process of format conversion, you need to choose a professional format conversion tool to achieve it. This article will recommend 3 very professional and efficient AVI to MP3 tools, which can complete the conversion between formats quickly and losslessly. Let's take a look at these tools.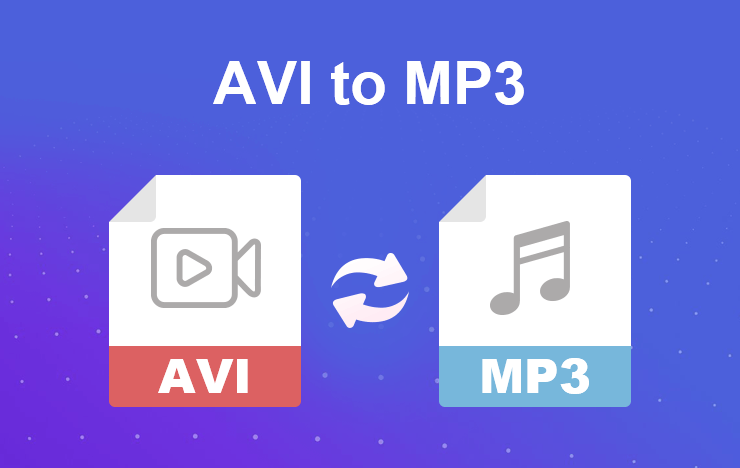 1What are AVI and MP3 formats?
1. What is the AVI format?
AVI is the acronym for Audio Video Interleave, a multimedia file format introduced by Microsoft in 1992. AVI files can contain both audio and video data in the file container, which allows the video and audio to be played synchronously. Like the DVD video format, AVI files support multiple streaming audio and video. AVI files can be opened by various video players, such as Microsoft Movies & TV and Windows Media Player.
The advantage of this video format is that it can be used across multiple platforms, such as Linux, Windows, Unix, and Mac, and most mainstream browsers support files in this format. Its disadvantage is that the volume is too large, and its compression standard is not uniform. The higher version of Windows Media Player cannot play the AVI format video edited with early encoding, while the lower version of Windows Media Player cannot play the AVI format video edited with the latest encoding.
2. What is the MP3 format?
MP3 is a popular digital audio coding and lossy compression format. It is called a "lossy" format because some original source data will be lost during the compression process, which theoretically reduces the quality of audio files. This can greatly reduce the file size compared to uncompressed audio.
After understanding what AVI and MP3 formats are, let's take a look at three methods to convert AVI to MP3.
2How to convert AVI to MP3?
1. Convert AVI to MP3 with ToolRocket Video Converter
ToolRocket Video Converter is a tool that integrates conversion functions, screen recording, and video production. The software supports most of the video and audio formats, such as AVI, MXF, MKV, MOV, MP4, M2TS, M4V, AAC and other formats, and supports free conversion between video and audio formats. How to convert AVI to MP3?
Please refer to the following simple steps:
Step 1: Download ToolRocket Video Converter. Compared with similar software, this software has great advantages. It can not only convert AVI format to MP3 audio format, but also other special video and audio formats.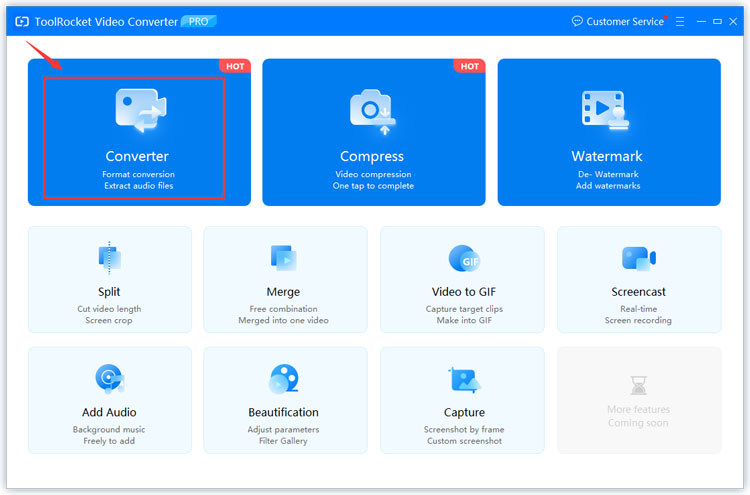 Step 2: After the software is installed, add the AVI video that needs to be converted to MP3 format. Click the "Add File" button on the homepage to add one or more files, or you can add the entire folder of videos.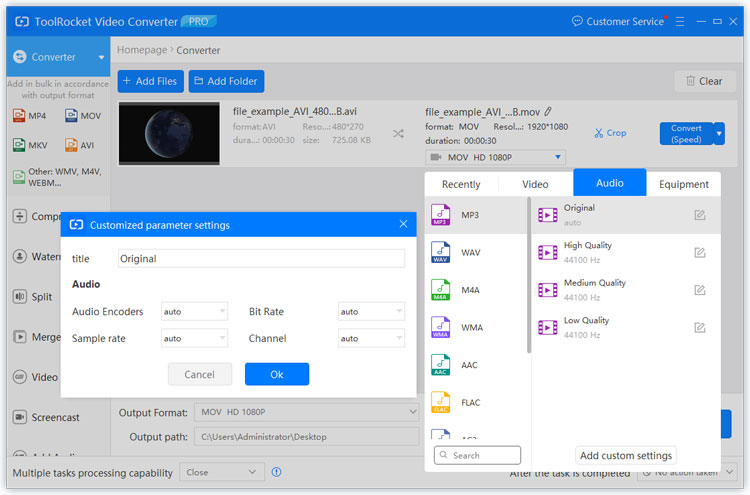 Step 3: Select the output format. There are many commonly used audio formats such as MP3, WAV, M4A, AAC, etc. in this function. Here we select "MP3" audio to convert AVI to MP3 format. ToolRocket Video Converter also supports multiple video formats, so you can also use this video converter to convert video formats.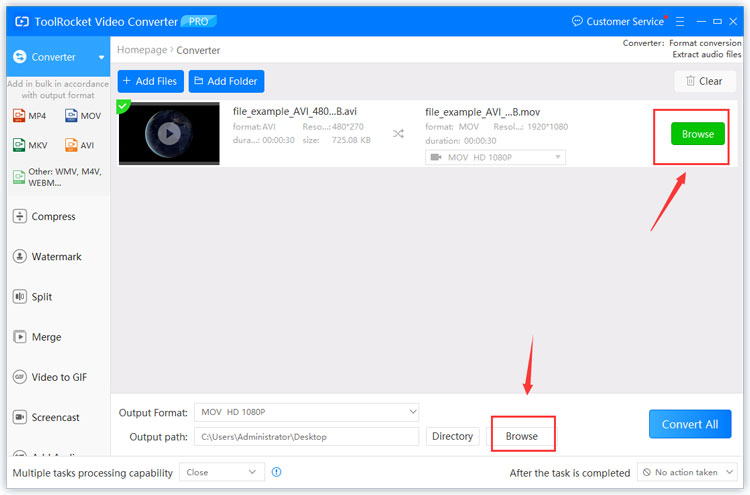 Step 4: Users can customize the specific parameters of the converted MP3 file, such as Bit Rate and Quality. Adjusting these parameters can improve the clarity and audio quality of MP3. Click the "Convert" button to enter the conversion immediately. After the conversion is completed, click to directly open the output directory for viewing.
2. Convert AVI to MP3 online with CloudConvert
CloudConvert is a free online format conversion tool that supports the conversion of multiple media formats, such as audio format, video format, image format, document format, e-book format, etc. It is also very simple to use the CloudConvert online tool to convert AVI to MP3 format. The specific steps are as follows:
Open the online operation URL of the CloudConvert online format conversion tool through a browser, and then click the "Select File" button to import the AVI file in the format to be converted to the webserver After the file is uploaded, the "Convert" button will appear on the page. If you don't need batch conversion, you can directly click the "Convert" button to start the command to convert AVI format files to MP3 format, which is very fast. This AVI to MP3 converter is free and can be used on any web browser.
3. Convert AVI to MP3 online with Wondershare UniConverter
As a one-stop video converter, Wondershare UniConverter enables you to convert more than 1,000 video and audio formats. It also supports multiple video conversions, such as WebM to MP4, AVI to MOV. Other new formats are constantly added to UniConverter for audio or video conversion. UniConverter supports multiple VR devices and 4K video formats, such as MP4, AVI, MOV, MKV, etc.
Please note: Wondershare UniConverter is a paid software.
3Conlusion
We just learned 3 ways to convert AVI video to MP3. Unlike the other two methods, the method of using the CloudConvert online format conversion tool is simple, but there are some drawbacks. For example, an unstable network environment may cause format conversion failure; uploading video files to a web server may cause the risk of data leakage; if you want to avoid the above drawbacks, it is best to use a more stable and safer local video editing software for format conversion.
ToolRocket Video Converter and Wondershare UniConverter are both desktop software, and both can achieve the purpose of converting AVI to MP3 or to MP4. You can choose according to your budget.