How to make an animated GIF from a video for Instagram/WhatsApp, etc.
When you browser Instagram or send messages in WhatsApp, you may find a lot of GIF animations with special effects. In comparison to video, GIF is much smaller and more attractive. In fact, many of the GIF stickers are made out of videos. For example, game GIF with special effects, movie video clips.
But how to convert a video to a GIF animation? In this post, I will show you helpful and efficient ways for that.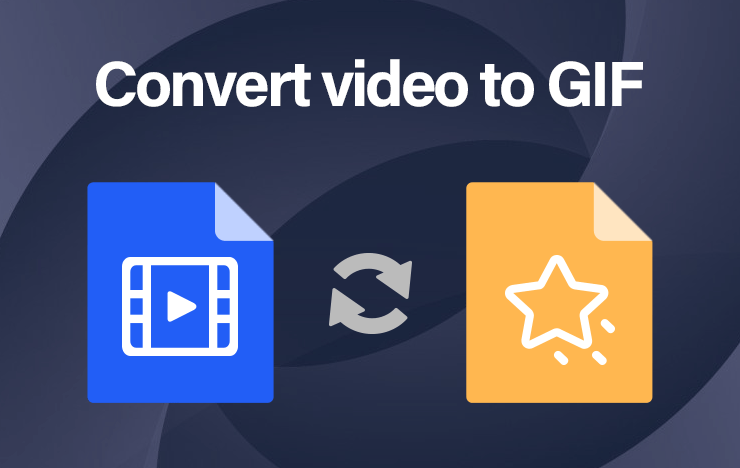 1 Convert video to GIF with ToolRocket Video Converter (PC software)
If you want to convert videos into GIF animations on a Windows computer, this software ToolRocket Video Converter will be necessary.
This is a professional free video converter software that converts almost all popular video/audio, and GIF formats. With this, you can easily convert a video to the GIF format with high speed and quality. Without compression and watermark, you can create your own GIF files and share them on your Instagram, Twitter, Facebook, or WhatsApp account.
Step 1: Download, install and run ToolRocket Video Converter for video converting to GIF.
Step 2: Select the function "Video to GIF" on the interface.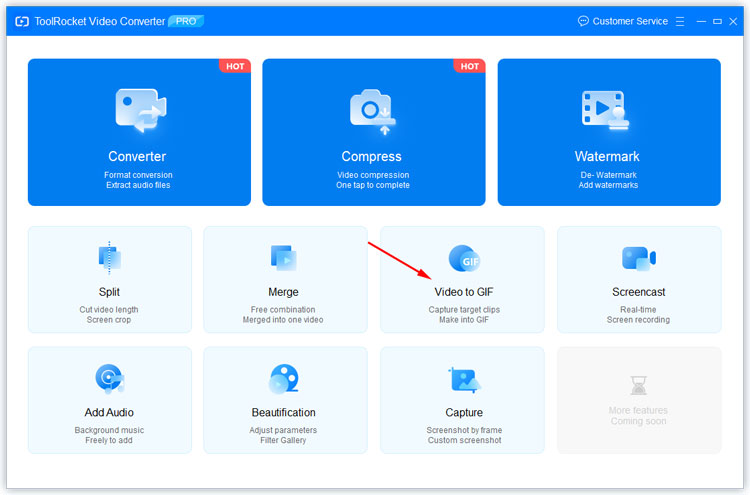 Step 3: Click "Add Files" or "Add Folder" to import your local video file(s) into the software. Alternatively, you can drag the video files directly into the software.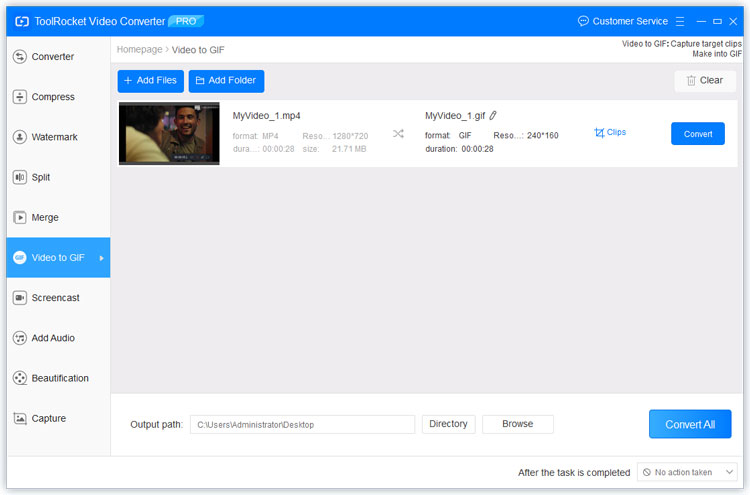 Step 4: Click the "Clips" button to set the length of the video clip. If you don't want to cut the video, just ignore this step.
Step 5: At the bottom of the software, set the output directory for the GIF file. After settings, click on the blue "Convert All" button to begin to change the video format to GIF. When the conversion process ends, you can open and view the GIF file in the folder.
If your original video file contains a subtitle/watermark, you can get the GIF file also with subtitle or watermark. But if you there is no watermark in the source video, there will be no watermark in the output GIF file.
ToolRocket Video Converter is a powerful video file converter that converts MP4, AVI, MKV, MOV, FLV, WMV, M4V, F4V videos. And if you want to extract the audio track, you can also use it to convert videos to MP3.
2 Create a GIF from a video with PDF2everything online tool
If you don't want to make GIF out of videos with any software, you can try this free online video to GIF converter – PDF2everything.
As an online tool, it can not support large video files. In this tool, you can only upload video file up to 20 MB of MP4, M4V, WebM format.
As long as your video file meet the requirements of this tool, you can create GIFs using it.
Step 1: Open the link of the PDF2everything Online Video to GIF: https://www.pdf2everything.com/video2gif/.
Step 2: Click the "Upload file" button, and select the video file. After that, you will see the width, and max width information.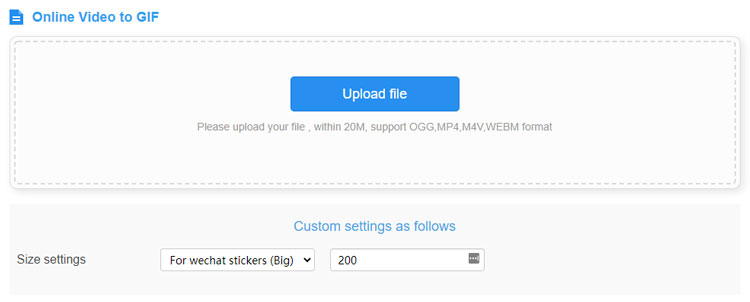 Step 3: Click "Extracting" to set the length of the video clip.
Step 4: Then click "Start converting" to save the video as GIF. Finally, click "Download Now" to save it on your computer.
PDF2everything is originally an online PDF converter. It helps you convert PDF to Word, Excel, PowerPoint, PNG, JPG and so on. And you can use this free online tool on your Windows or Mac computer, as long as you have a web browser such as Chrome, Firefox, Safari, Opera, Microsoft Edge, etc.
3 FAQs about converting video to GIF
Question 1: How can I turn a video into a GIF?
There are a lot of video to GIF generators that can turn a video into GIF, such as PC software: ToolRocket Video Converter; Online tool: PDF2everyting; App tools: Video to GIF – GIF Maker on the App Store, and GIF Maker – Video to GIF, GIF Editor on Google Play. First, you should import your video file to the application. Second, set for the output GIF file including file length, image quality, screen aspect ratio, etc. Finally, convert the video to GIF and save it on your device.
Question 2: How do I make a GIF from a video online?
If you want to make a GIF from a web video such as a YouTube video, Twitter video, or Facebook video, you can use Capture Screen Recorder. With that, you can record your screen content as GIF animations. And if you want to create a GIF with an online video to GIF tool, you can use PDF2everything. Just select the function "Video to GIF", you can easily upload and generate a GIF from the video.
Question 3: Can you convert a MP4 video to a GIF?
For converting MP4 videos to GIF, you can also use the tools above including ToolRocket Video Converter, Capture Screen Recorder, PDF2everything and Video to GIF iPhone and Android apps.
Conclusion
Do you know how to convert a video to a GIF animation? As a matter of fact, you can create a GIF not only with the PC software ToolRocket Video Converter but also the professional photo editing software Adobe Photoshop, HandBrake, or VLC. But they are actually not the easist way for changing video format to GIF. If you have any good ideas, please contact me.