How to convert MP4 file to M4A for free
As you already know, MP4 files contain both audio and video. For some purposes, you will come across the need to extract only the audio of it. This is where you should think about converting the MP4 file to M4A file. There are numerous methods available for you to convert MP4 to M4A free. Keep on reading this article as we are going to share some of the most effective methods with you. Once you are aware about the best methods to do conversions, you can stick to them and experience the positive results that would come on your way.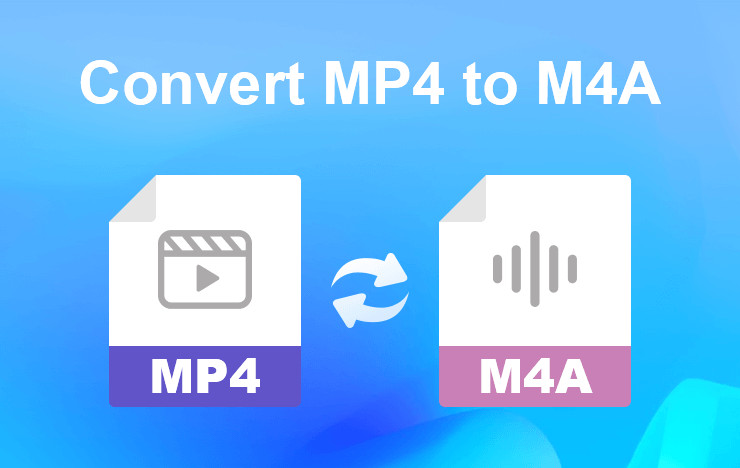 1 Convert MP4 to M4A with ToolRocket Video Converter
There are numerous tools available for you to use and proceed with MP4 to M4A conversion. Out of those tools, ToolRocket Video Converter holds a prominent place. If you are planning to proceed with MP4 to M4A for free, you may take a look at this tool. It will be able to deliver the best conversion experience at all times. Hence, you will never end up with regretting about anything.
ToolRocket Video Converter is a comprehensive video converter. It is possible for you to use this converter and access numerous file conversion tasks. The app interface is simple and user-friendly. Therefore, even a person who doesn't come from a technical background will be able to use it and get the job done.
Here are the prominent steps that you should follow in order to use ToolRocket Video Converter and convert MP4 to M4A. All these steps are simple, and you can follow them to get the job done on your own.
Step 1: Download and install ToolRocket Video Converter
Before you use this tool, you need to have a download and install it. The process of downloading and installing the software is not a complex one. You will be able to do it on your own. You just need to download the setup from the following URL and install as if you are installing any app on your computer.
Step 2: Add the MP4 file that you need to convert
Once you download ToolRocket Video Converter, you should first select the "Converter" function and then add the MP4 file that you need to convert into it. You can easily drag and drop the file. Or else, it is possible for you to use the file locator and select the file. Once you are done with adding the MP4 file, you may do some changes to it as well. For example, you can adjust the video volume.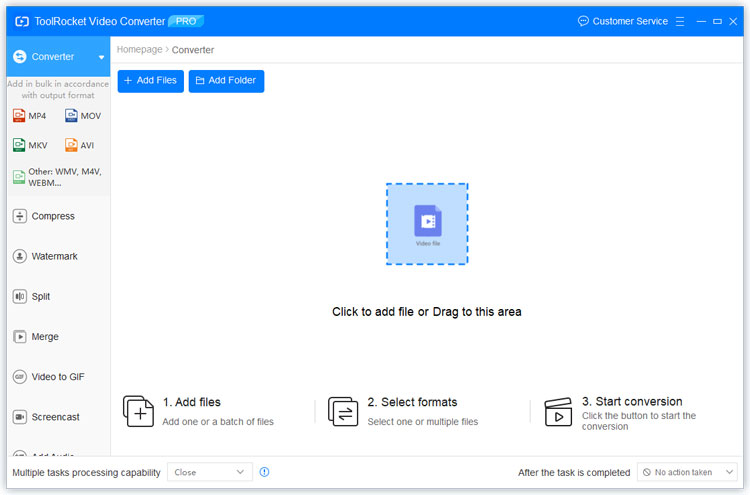 Step 3: Convert and save the M4A file
As the last step, you should convert the file through ToolRocket Video Converter app interface. As you do that, you will need to pick output file format as M4A. Then you will be able to get the file saved in M4A file format. You can set the location and save the file as well.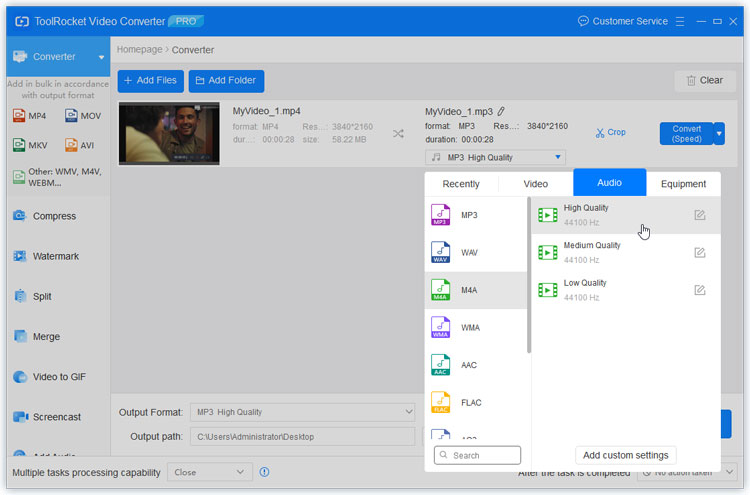 By going through these three steps, you can convert any MP4 file into a M4A file. In fact, this ToolRocket Video Converter supports multiple formats. If you would like to convert MP4 to MP3 or other audio formats, just select it in the list of output format.
2 Convert MP4 to M4A with cloudconvert MP4 to M4A converter
If you are looking for an alternative to convert MP4 to M4A, you can think about using cloudconvert online MP4 to M4A converter. This is a great online tool, which can help you to get the conversion job done without a problem. You should upload the MP4 file to the platform. Then you will need to pick M4A as the output file format and proceed with conversion. At the end of the conversion process, you will be provided with access to the converted M4A file. This is another quick and straightforward method available for you to get file conversions done.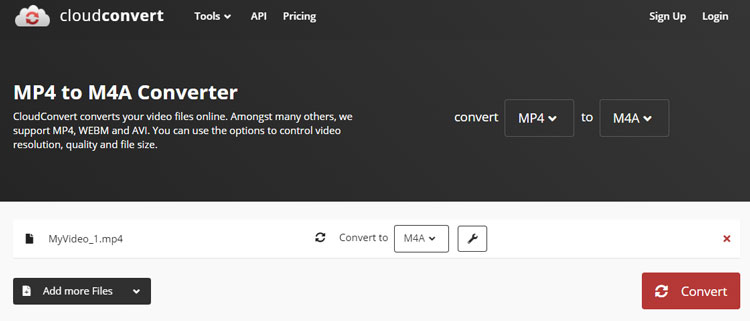 3 Convert MP4 to M4A by changing the filename extension
You will also be able to change the file extension and convert the file. To do this, you will need to open the Folder settings and then make sure that you enable the filename Extension view. By changing View settings on the Folder, you can do that. Then you can click on the file, press on F2 button on the keyboard. This will make the file name with the extension editable. Then you will need to remove MP4 and replace M4A. This is another great method available for anyone who wants to convert MP4 to M4A for free.
4 FAQs about converting MP4 to M4A
Question 1: How do I convert MP4 to AAC?
There are numerous methods available for you to convert MP4 to AAC as well. All the three steps that we shared above will be able to help you with the conversion. Therefore, it is possible for you to follow those steps and get the conversion process completed.
Question 2: Is M4A of good quality?
Yes, M4A file format is well known for the outstanding file quality offered. You don't need to worry too much about the sound quality that you can get out of an M4A file. It will deliver an excellent sound quality, which will make you impressed.
Question 3: How can I convert MP4 to MP3 online?
There are numerous online file converters available for you to convert MP4 to MP3 online. We shared details on one such file converter above. You will be able to discover many other similar file conversion tools. It is up to you to pick the best file conversion tools out of them and proceed with converting your files.
Question 4: How can I convert MP4 to OGG?
You will be able to use the three methods that we shared above to convert MP4 to OGG file format as well. We can ensure that you receive the best results with file conversion out of this process as well.
5Conclusion
As you can see, conversion of MP4 files to M4A files is not something difficult and you can do that on your own. Make sure that you follow the steps we share to end up with getting the job done with positive results. For extracting audio from video, I still recommend you the freeware ToolRocket Video Converter. Besides, there are also massive practical video editing features.