3 ways: convert FLV files to MP4 (online & offline)
FLV (Flash video) is a common video format. When you surf on the internet and watch web videos, these videos are often in FLV format. However, when you save the FLV file, it is likely that the video cannot be opened on your phone or other video player or editor applications. At this time, it is necessary to change the video format from FLV to a more frequently used video format such as MP4.
In this post, follow me and see how to convert FLV to MP4 with 3 different but effective ways.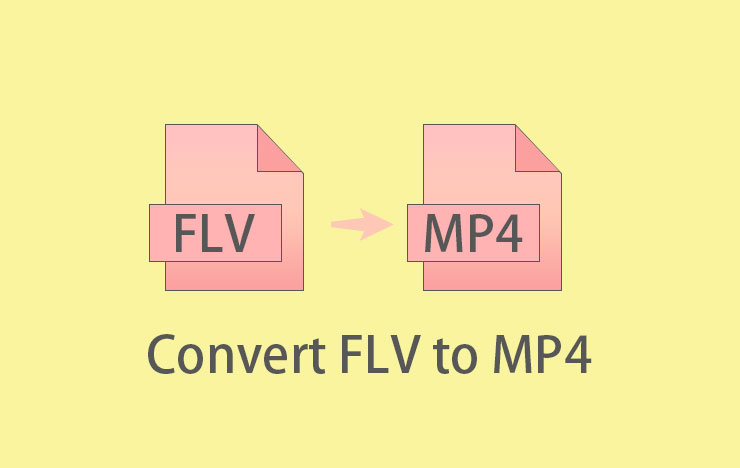 1 Convert FLV to MP4 with ToolRocket Video Converter
If you want to save FLV as MP4 for free, ToolRocket Video Converter is absolutely a good choice. It is a FLV to MP4 freeware that helps you convert FLV videos to MP4 format in different video resolutions including 4K UHD, HD 1080p, SD 720p and so on.
Now you can click the download link below to install it on your computer. And follow the easy steps.
Step 1: Launch ToolRocket Video Converter, and select "Converter".
Step 2: Click "Add Files" or drag your FLV file directly into the software. It will be listed in the software.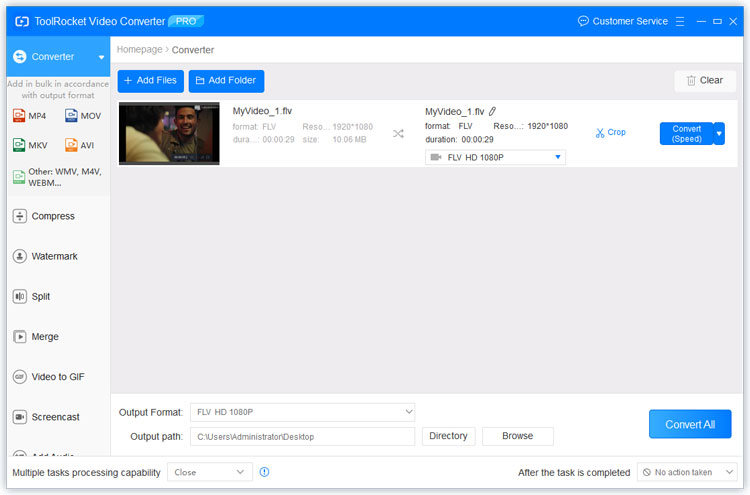 Step 3: Click the drop-down list of "Output format". Navigate to "Video" > "MP4". Here you can select a desired profile.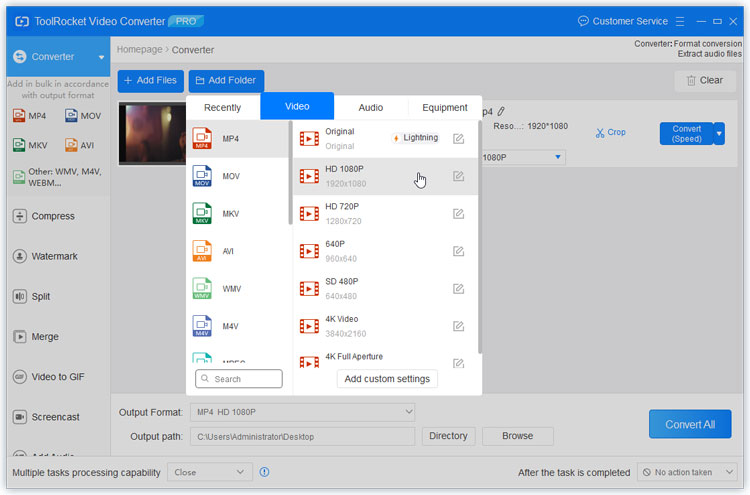 Step 4: Set the output directory by clicking the "Browse" button. And finally click "Convert All" at the right bottom corner to export the MP4 file. After that, you can open the folder and check the file.
Tips:
1. ToolRocket Video Converter is not only a FLV converter. It supports popular video formats such as MKV, MOV, WebM, WMV, M4V, etc. You can easily convert MKV/WebM/SWF/MOV videos to MP4.
2. Besides, this freeware provides you with practical video editing functions. You can also rotate videos, add/remove watermark, add filter to videos, record videos, crop videos, compress videos, etc.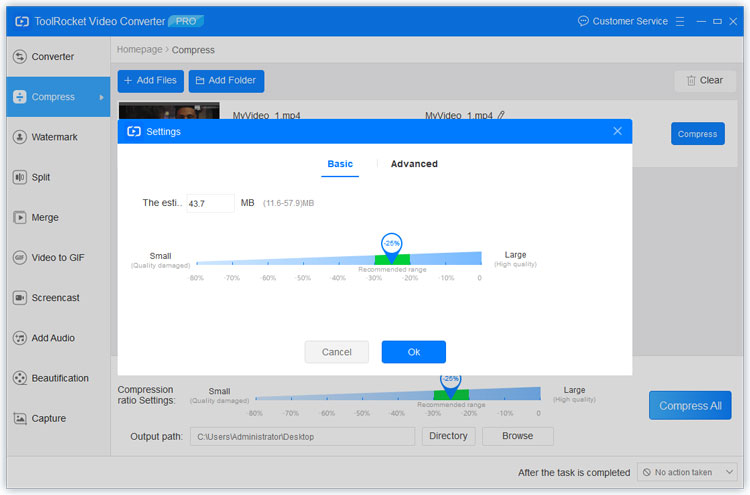 2 Convert FLV files to MP4 with VLC
Do you really know VLC media Player? In fact, it is not only a video player. When you convert and save videos in another format, VLC is also helpful. Now let's begin to convert the FLV file to MP4 using VLC.
Step 1: Launch VLC on your Windows or Mac computer. If you haven't installed it, go to the official website of VLC and download it.
Step 2: Go to "Media" > "Convert/Save".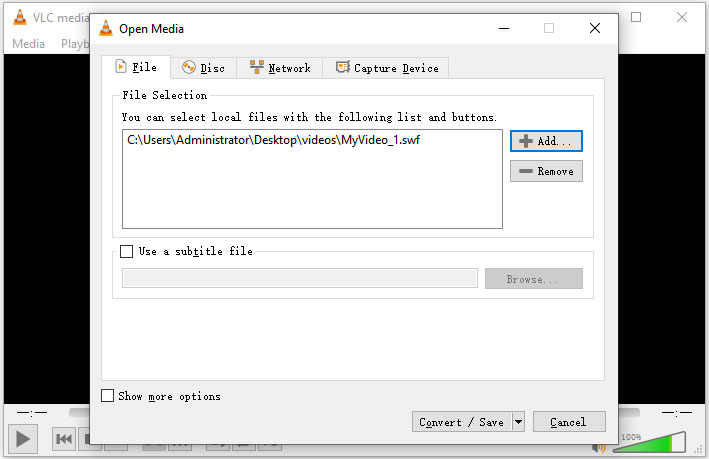 Step 3: Click the "Add" button and import your FLV video from the computer. Then confirm "Convert/Save" at the bottom.
Step 4: Click the drop-down list of Profile. You can select here a MP4 format with a desired encoder.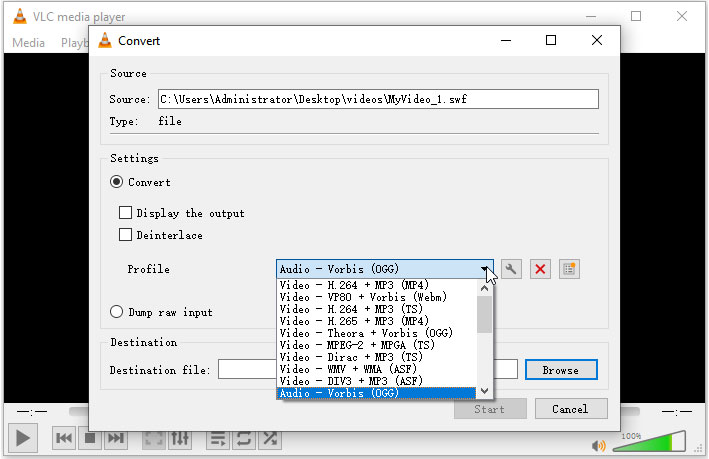 Step 5: Finally choose the output path, and click "Save" to change the video format from FLV to MP4.
3 Convert FLV videos to MP4 on PDF2everything online video converter
The online tool PDF2everything provides users multiple file format conversion functions. With that, you can convert PDF, edit PDF, convert videos, edit videos. It is totally free and easy to use.
Below-mentioned is the steps on how to use PDF2everything and proceeds with converting MKV to MP4.
Step 1: Open the free online FLV to MP4 converter page in PDF2everything.
Step 2: Click the button "Click to select file" to import the FLV file to this website. Please note that this online tool can only support files smaller than 100 MB. If your video file is over 100 MB, you can first compress it.

Step 3: After loading, click "Start converting". In seconds, the FLV video will be converted into MP4. Click the button "Download Now" and save it on your computer.

4 FAQ: Video conversion from FLV to MP4
Question 1: What is FLV format?
The full name of FLV is flash video, which is a streaming media format supported by Adobe Flash Player. Because the files formed by it are small (for example, a clear FLV video is about 1MB per minute, and a movie is about 100 MB, which is 1/3 of the size of a normal video file.), the loading speed is also very fast, and it is possible to watch videos online.
Question 2: What is FLV format converter?
The FLV video converter is a tool of software/web tool/app that can convert FLV videos to other formats such as MP4, MOV, MKV, AVI, WMV, M4V, SWF, WMA, MP3, M4A, AAC, etc.
Question 3: How do I open a FLV file on my PC?
There are many free and paid FLV video players that can load FLV files on the computer, such as VLC Media Player, Any FLV Player, FLV Media Player, KM Player, Adobe Flash Player.
5Conclusion
Now do you know how to convert your favorite FLV videos to the MP4 format and save it? With free FLV to MP4 converters such as ToolRocket Video Converter, VLC, PDF2everything, you can make it as you like. And if you also want to adjust the video effect and optimize it, the desktop software ToolRocket free video converter may be preferrable.