How to Play MKV on PS4? [Easy & Proven Solutions in 2021]
PS4 stands for PlayStation 4 which is a game console and you can use it to play videos, movies, and TV shows. If you also have a lot of videos and movies in the MKV format but are encountering the problem in playing them on PS4, there can be many solutions to this problem. But the fact is people want to know about the easiest solutions.
The easiest way to play MKV files on the PS4 is to convert them to PS4-friendly formats because PS4 does not support all video formats. Here in this article, we will guide you on how you can convert MKV formats to PS4-friendly formats, such as MP4 & AVI.
Without further ado, let's get started and see how you can convert MKV to MP4 and other formats.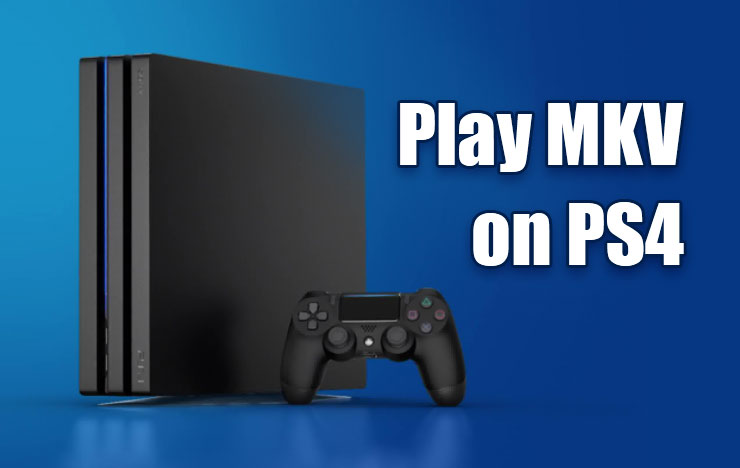 1Convert MKV Files to Play on PS4 with ToolRocket Video Converter
ToolRocket Video Converter is a professional and versatile video converter that is perfectly compatible with computers and allows you to download various formats of videos. It also allows you to convert MKV files to all video formats like MP4, WMV, AVI, MKV, MOV, M4V, VOB, WebM, FLV, F4V, SWF, without losing the quality. It is a better choice for unlimited video conversions because here you can convert MKV to MP4 and MKV to AVI.
The best part about this amazing software is that it is totally FREE and you need to follow a few easy and simple steps to convert MKV files to play on PS4.
Step 1: First comes the downloading process. You can download it for FREE to your windows device.
Step 2: After clicking the download link, the file will start downloading and you will get the .exe file. The installation will be immediately completed after your device's permission.
Step 3: Allow this software to make changes to our computer.
Step 4: After you have launched it, you will see the "Convert Video" option on the main interface. Click on this option on the main interface.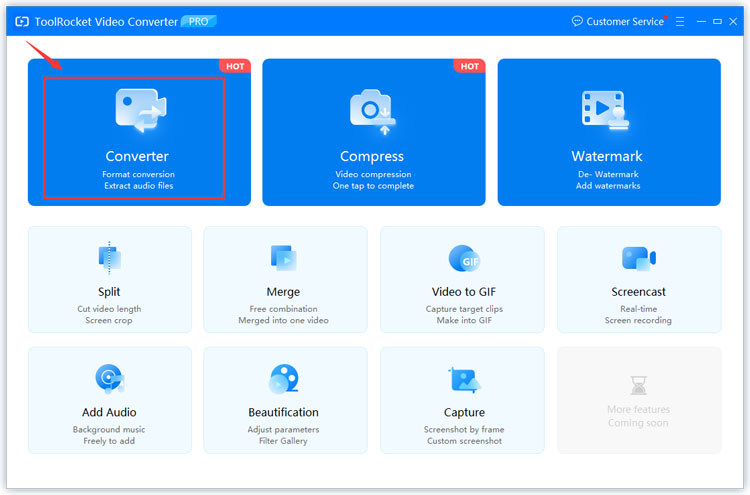 Step 5: Click on the "Add File" option and convert almost every video and audio format, edit and optimize your videos to your liking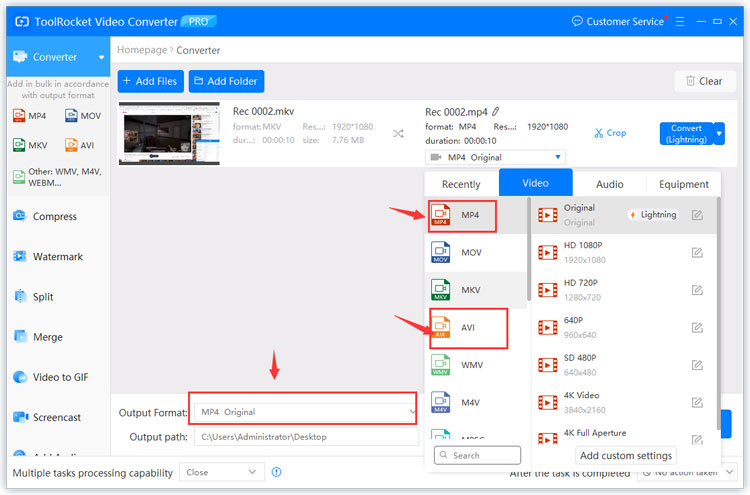 Step 6: Keep in mind that PS4 is very perfectly compatible with MP4 and AVI. But if you want to change this setting, click on the "more settings" option that will appear on the top right of the window. It will enable you to locate the output format in which you want to download your converted video. Here you can also change frame rate and other preferences. Click "OK" to close the window.
Step 7: At the end of the recording, you will see the preview window and then will be enabled to save the video. This saved video will directly store on your computer, and you can also play it on PS4 with a USB drive.
What sets ToolRocket Video Converter apart from its competitors? It is the free function of this fantastic software that allows you to convert MKV to MP4 and AVI without paying for it.
2Convert MKV Files to Play on PS4 online
If you do not like to install software on your computer, web tools are an alternative solution to convert MKV for playing on PS4. PDF2everything video converter is the best choice, you can process multiple MKV files without installing any software.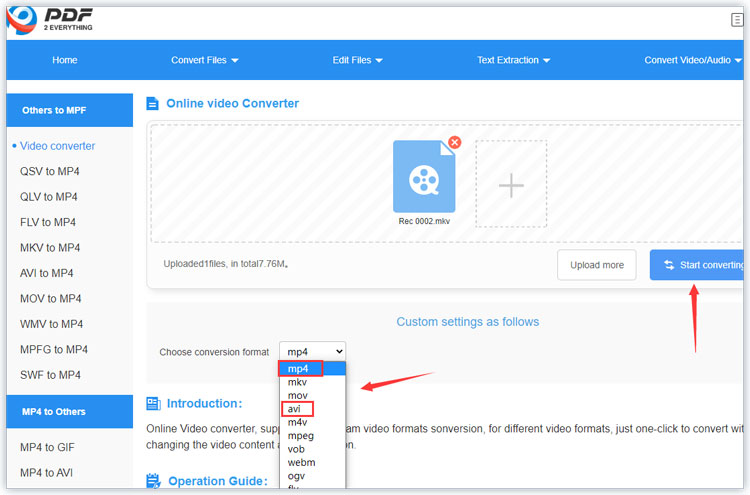 Step 1: Visit this online MKV converter in any web browser, and click the Add files to convert button to access the launcher.
Step 2: Then click the Add File button at the upper left corner of the launcher.
Step 3: Add the MKV files from your hard drive.
Step 4: In the launcher interface, head to the bottom area and choose MP4 or other PS4 supported video formats. Click the Convert button to start converting MKV for playing on PS4.
Keep in mind that online video converters may take some time in the conversion of the files from MKV to AVI, based on your internet connection. So even if the process does not happen initially, just check your connection.
3Final Verdict
In the above lines, you have read about two proven methods that you can use to play MKV on PS4. Basically, PS4 accepts the MKV files after some requirements, and you can't meet all of them. So instead of wasting time and effort in meeting MKV requirements, you should convert it into other video formats. Still, have questions on how to play MKV files on PS4? You can ask them in the comments section below. Do not forget to read the FAQ section for maximum clarity.
4FAQs about playing MKV on PS4
1. Is ToolRocket Video Converter compatible with Windows?
Yes, it is perfectly compatible with Windows.
2. How long does the ToolRocket Video Converter take in converting MKV to MP4 and other PS4-supported formats?
It is a quick video converter that will only take a few seconds, no matter how long the video is.
3. While using the online video converter, should I install any third-party software?
No, you do not need to install any third-party software with online video converter tools.