The 5 best image to PDF converter that you must know
"HI. I am having 100 images in png format in my local folder. Now i need to convert each image into pdf and save all 100 pdf files in another folder… is it possible" – From UI Path Forum
Would you like to convert your images to the PDF format but don't know how to make it? In fact, it is not an hard thing. With just an image to PDF converter, you can convert various images formats to PDF easily.
And you don't need to bother to look for a image to PDF converter tool on the internet. In this article you will learn the 5 best tools for converting images into PDF.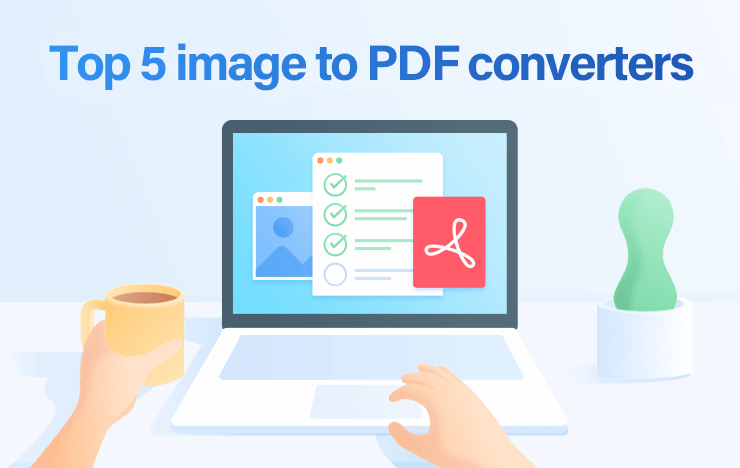 1 ToolRocket PDF Converter
ToolRocket PDF Converter is a free file format converter that supports various document types such as PDF, Word, Excel, Text, and image. In the software, you can easily convert images to PDF, save images to a long picture, or extract text from images. If you want to turn your image to a PDF document, ToolRocket PDF Converter will be an optical choice. Supported OS contains Windows 10, Windows 8, Windows 7, etc.
Features
1. Supports file converting in multiple formats, including PDF to image/Word/Excel/PowerPoint/TXT/HTML, image/Word/Excel/PowerPoint to PDF, CAD to PDF/image/DWF/DWG, PDF to CAD, DWG to DWF, DWF to DWG, image to JPG/PNG/BMP/icon, Word/PowerPoint/PDF to long picture.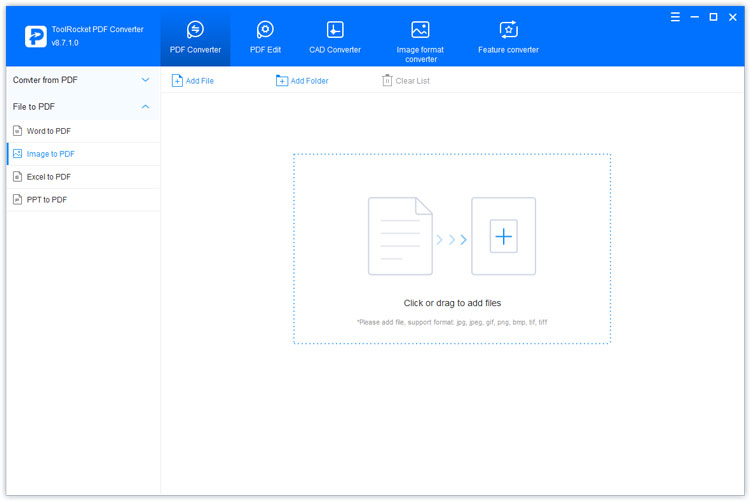 2. This software allows you not only to convert but also to edit PDF files. With this, you can split, or merge PDF files, compress PDF, extract text from PDF, rotate PDF pages, delete pages from PDF, encrypt or decrypt PDF, add watermark on PDF, etc.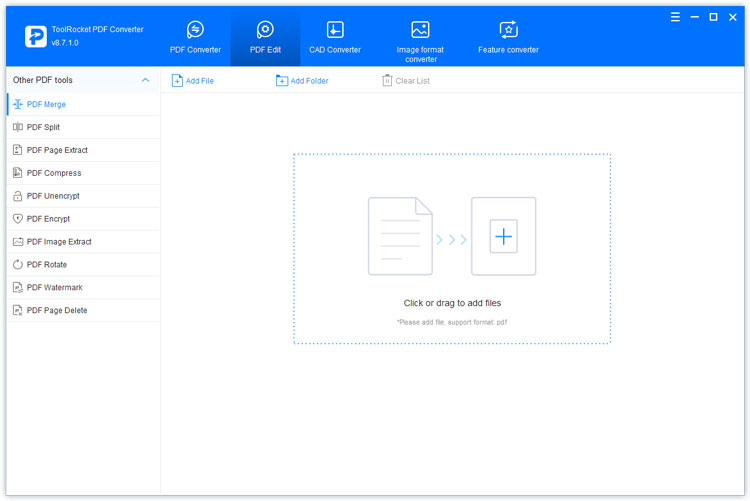 3. In addition, you can also extract text from a picture with the help of the OCR technology, save scanned PDF as Word, compress Word/PowerPoint.
4. Another feature of ToolRocket PDF Converter lies in the clear interface which is very user-friendly.
Do you believe that it is really a freeware? Have you found such a powerful yet free image to PDF Converter? Click the following link and download it right now! And turn your image of A4/B5 and other size into PDF.
2 PDF Converter app for iOS & Android
This is an PDF Converter app on iPhone. This company provides also an Android version named PDF to Word Convert PDF to Word Documents.
Like the desktop version, this PDF converter app is also helpful for converting image to PDF. Select the "Picture to PDF" function, and add your pictures from iPhone or take a photo in the app. Then select it, and you can have a preview of it or choose full image of high quality. Next, tap "Done" > "Export PDF".
Before converting, you have access to the settings. There you are able to choose the PDF page size from A3 to A4, and the orientation.
The function of the Android version is the same as the iPhone version. So, if you have an iPhone, you can open the link https://apps.apple.com/cn/app/id1424760349?l=en to check more information of it.
And if you have an Android phone, you can open the Google Play link https://play.google.com/store/apps/details?id=com.hudun.androidpdfchanger&hl=en_US&gl=US to download this Android APK on your mobile phone.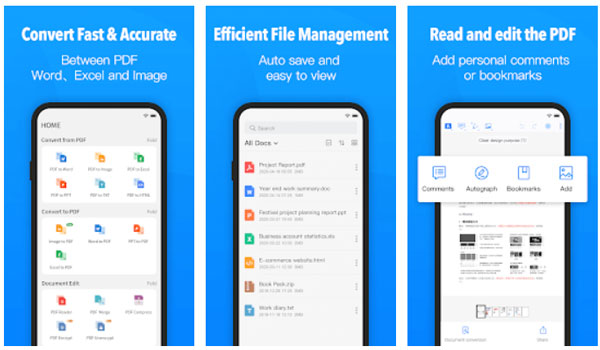 3 Image to PDF online converter
If you search for an image to PDF converter on the internet, you will find a lot of online tools which are very suitable for beginners and those who don't have too much images for converting. In this case, I find these 3 online image to PDF converter. You can try one according to your requirements.
The first one is Image to PDF (official website: https://www.imagetopdf.com/). The biggest feature of this tool is that the file conversion speed is very high.

As long as you load your images to this tool, it will automatically convert them to the PDF format. With the click on "Download", you can get it on your computer.
And if you upload several image files, you can also after converting to PDF combine them in a PDF document.
The only disadvantage is that there is no setting function with this online image to PDF converter.
4 IlovePDF JPG to PDF
IlovePDF is also a famous online PDF converter mark. The tool JPG to PDF (official website: https://www.ilovepdf.com/jpg_to_pdf) provides users with the converting function from JPG to PDF. So if you want to change your image to PDF format, don't forget to save your image as JPG format.
Open the website, and upload your images from your computer. Besides, you are also able to upload images from Google Drive or Dropbox. After uploading, you will see many options. For example, you can select the page orientation (Portrait, or Landscape), page size (A4, fit or US letter), confirm if there will be a margin. Similarly, you can also activate the function to merge all images in one PDF file.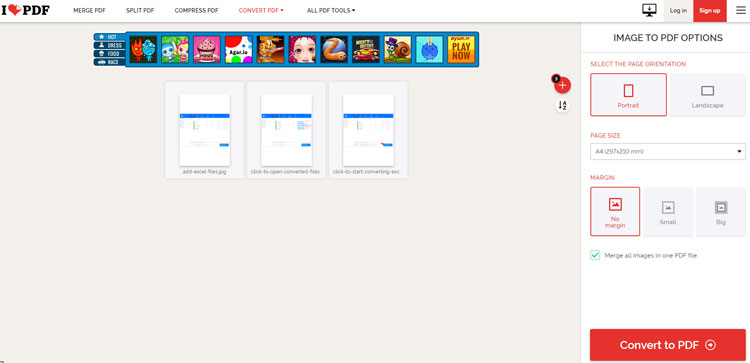 Finally, click on "Convert to PDF" > "Download PDF". At the same time, you can also continue to merge PDF, organize PDF pages, save to Dropbox, or share the download link with others.
5 PDF2Go Convert JPG to PDF
The last free online image to PDF converter is PDF2Go (official website: https://www.pdf2go.com/jpg-to-pdf). In comparison to the previous two online PDF converters, PDF2Go is more professional.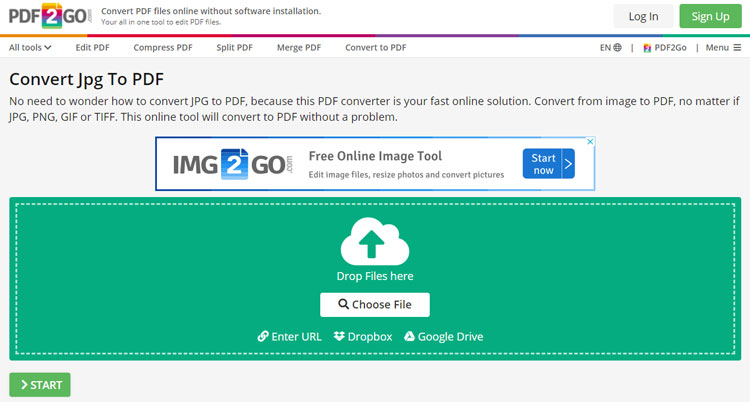 First, it supports more picture sources, such as computer, Google Drive, Dropbox, web pictures. Choose your local pictures, enter an URL, or select the images from Dropbox or Google Drive. Then, choose if you want to convert the file with OCR technology. If you don't want to recognize and extract the text from the image, you can just select "Convert".
Tip: With the OCR text recognition technology, you can set the source language of your file to enhance the accuracy of recognition.
Before converting, you can also enable this online image to PDF converter to fix crooked images. Finally, click "Start" and you can download this PDF file to your computer or upload it to Cloud.
Conclusion
Now I have introduced the 5 best image to PDF converter tools in 2021. Which one do you prefer? Do you like the PC freeware ToolRocket PDF Converter, the PDF converter app, or the PDF converter web tool? If you want to convert PNG to PDF or convert JPG to PDF, you can also search for the specific image to PDF converters or use ToolRocket.