How to Split PDF Files on My Phone/PC or Online?
Portable Document Format (PDF) is a file format that allows us to save a variety of content including text, graphics, fonts, raster images, etc. But remember that PDF files are non-editable and sometimes, when you need editing, you need other file formats. It seems quite a hectic task to convert the PDF files into different file formats such as Word, Excel, PowerPoint, etc. But now you can access various tools that help you in splitting PDF in various file formats in no time.
After extensive research, we have gathered some tried-and-tested tools and software that will assist you in learning how to split PDF pages.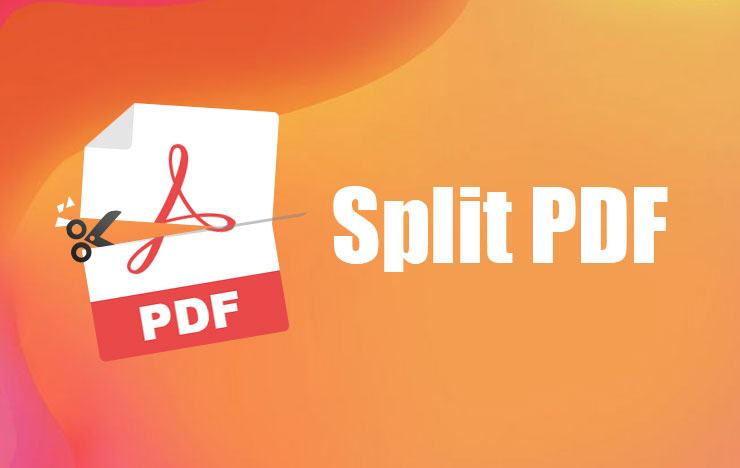 1Split PDF with ToolRocket PDF Converter
In the following lines, you will come to know of practical steps to split PDF using the given tools and software. ToolRocket PDF Converter is the fast, efficient and reliable way to split PDF. Being the powerful PDF converter software for windows, it deserves to be on the top of the list. It can convert PDF files into a wide range of formats including JPG/PNG images, Word, Excel, PowerPoint, TXT/HTML accurately.
The best part: It can compress or combine PDF documents easily. Moreover, you can also convert various file formats into a PDF format.
Here are a few easy and simple steps to download and use this tool.
Step 1: Download the product by clicking here. You will get the .exe file in the Downloads folder.
Step 2: After downloading it, you will find the install .exe file in the "Downloads" folder by default. Click Yes and install it on your computer. Keep in mind that the ToolRocket PDF Converter is perfectly compatible with computers.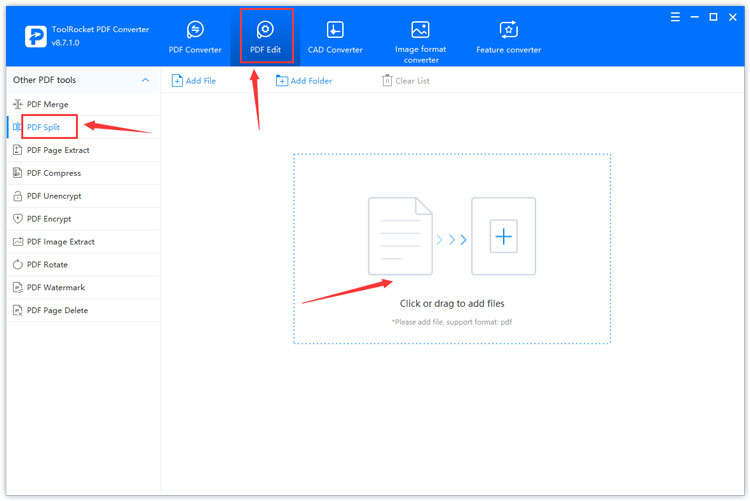 Step 3: Open the ToolRocket PDF Converter and open the file that you want to split.
Step 4: Select the PDF file to be split. As mentioned earlier, the software also allows you to download to PDF from other formats, so in this case, please select the file to split.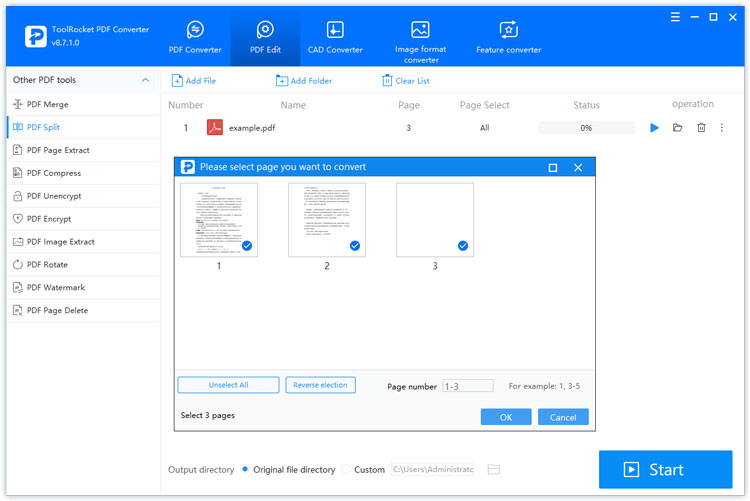 Step 5: Click "Start", you will get the desired PDF files within seconds. After splitting, you can access the file to download and view.
Here it is worth mentioning that the ToolRocket PDF Converter can easily be downloaded for FREE and you can keep it on your computer for instant file conversions. It is the perfect tool for all online businesses.
2Split PDF with PDF2everything
If you do not want to use the software-based system and want to instantly convert to or from the PDF format, you should use PDF2everything. It is a FREE online PDF split and you can use it to convert and split PDF pages to any number of files to various formats.
Let's understand how to use it.
Step 1: Go to the PDF2everything PDF Split page.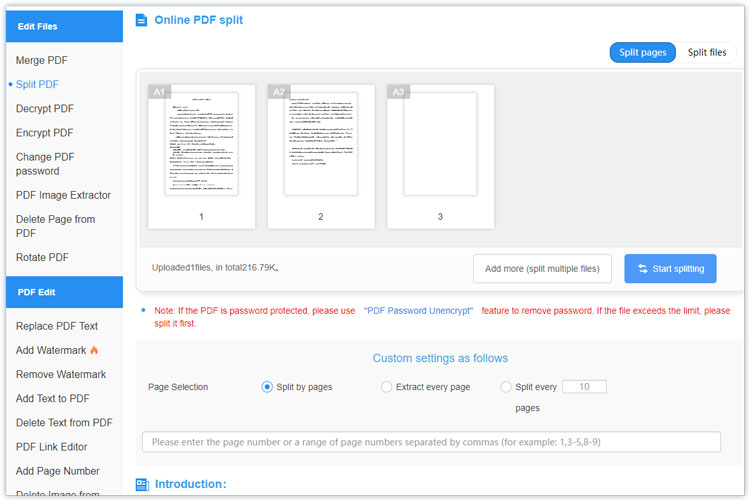 Step 2: Click or drag to upload the PDF file, and then customize settings: Split by pages, Extract every page, and Split every " "page.
Step 3: Click on the "Start splitting" button and the file will be automatically uploaded.
Step 4: You will get the split file within seconds.
3Split PDF on your phone
"PDF Converter – PDF to Word" is a professional PDF file converter app. With that, you can convert PDF documents from or to Word, Excel, PPT, JPG, PNG, TXT, HTML as many as ten kinds of key document format conveniently.
Step 1: Go to the Apple App Store or Google Play Store and install the PDF Converter app on your iPhone or Android phone. Simply click here for more convenience. This link will directly bring you to the app store where you will see the "Download" option.
Step 2: Install this app on your iPhone or iPad.
Step 3: Open the app, upload the file and convert with just a single tap.
Step 4: Here you can also see the real-time preview before conversion. So check out the preview and proceed if it is exactly according to the desired format.
Step 5: Select the desired page, split and export the PDF file in no time.
It is easy to use and has a simple interface, allowing you to split PDF files through your iPhone anytime, anywhere. If you want to enjoy more advanced features, you will have to buy the premium plans. Its paid versions are also available:
Month auto subscription: $9.99/month
Annual auto subscription: $49.99/year
4Final Verdict
1. Is PDF editing free?
On various occasions, you may need to edit the PDF file or need to convert it to other formats. But it is no secret that a lot of people do not know how to split the PDF pages. It may be due to the reason that dealing with PDF conversions was not that easy in the past, but now with the presence of various tools and online software systems, you can proceed with a variety of free and instant solutions and get the PDF conversions.
We recommend you to use the ToolRocket PDF Converter as the final solution because it is a long-term solution as you can save this software to your computer.
5FAQ
1. Does the ToolRocket PDF Converter Tool recognize the handwritten and scanned PDFs?
Yes, it can quickly recognize and convert handwritten and scanned PDFs.
2. Can I split the PDF in multiple files at the same time using the ToolRocket PDF Converter?
Yes, it allows you to proceed with multiple file at a time.
3. Can I manually split the files using the scissors on the dotted line?
Yes, the given software and tools allow you to proceed with the manual splitting as well.
4. Can I split PDF files online?
Yes, online sites like PDF2everything allow you to split PDF files online.