Best PDF to Text Converters: Convert PDF Files to TXT Files
PDF format files are files that we often use in work and life, but sometimes we find it a little troublesome when the content of the PDF file has errors because we cannot edit or modify them. You need to convert the PDF file into an editable file format, and then modify the content. Therefore, we can convert PDF files to TXT files for content copying or modification.
All users can complete operations related to CAD format conversion, including CAD to PDF, CAD to image, PDF to CAD, CAD to DWF, conversion between DWF and DXF.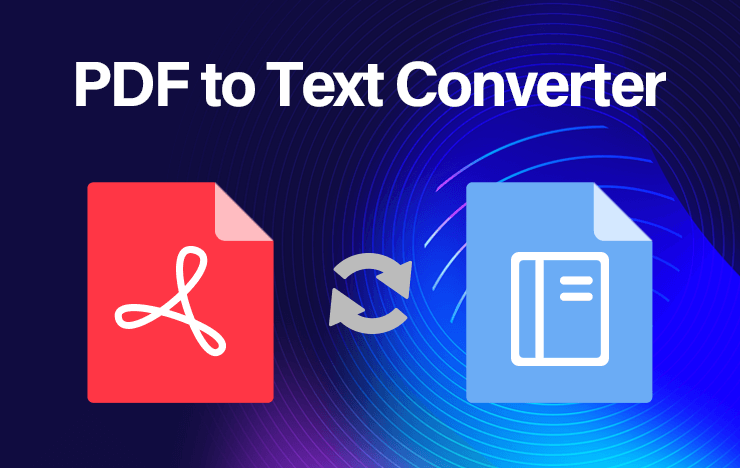 1What is the common file extension for text files?
Text files are universally recognized by all word processors and text editors. TXT is the most common file extension for text files. TXT files only store plain text: letters, numbers and symbols. You can open them with any text editing software on any computer. The TXT format is a common format for computers and many mobile devices. TXT files can be opened, saved and stored quickly at lightning speed.
Common PDF files are different from text format files. Text format files can be opened and read easily, while PDF files need to download a dedicated reader to browse. If you need to get a lot of text from PDF, the typing efficiency is very low. Therefore, it is the easiest way to directly extract the text of the PDF file. Save using a text file will lose all formatting, but retain all text information.
2How do I convert PDF to text?
ToolRocket PDF Converter is a powerful PDF file converter software on Windows. It also provides APP for Android and Apple users. It can meet the needs of all users on different devices.
1. How to convert a PDF to text on Windows?
Step 1: Download ToolRocket PDF Converter software, select the required conversion function on the function page on the left, and click the "File to TXT" button to jump to the add page.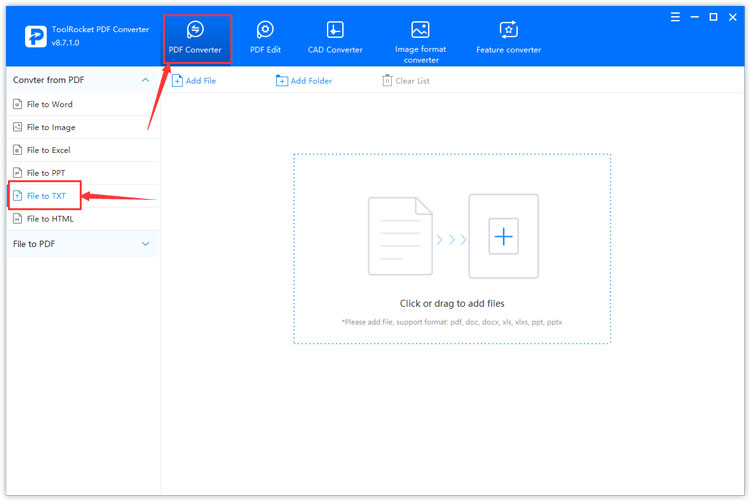 Step 2: Click the "Add File" button, and add the prepared file to be converted. There are three ways to add, namely drag and drop, click blank to add, and click "Add" to add.
Step 3: After the file is added, set the arrangement method and output directory at the bottom of the page, and click the "Start" button after the setting is complete.
Step 4: After the file conversion is completed, click the file icon under the open button to view the effect of the file conversion.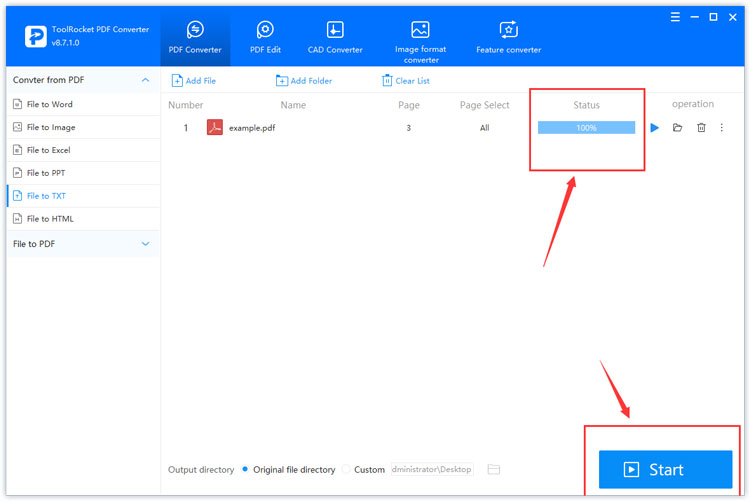 2. How to convert a PDF to text on my phone?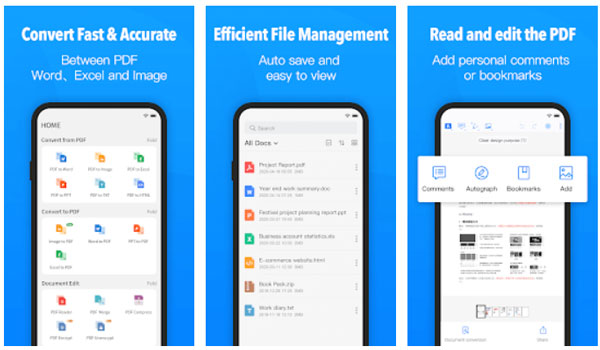 Download the PDF Converter APP on your Android phone or your iPhone.
Step 1: Download and Open PDF Converter APP on your phone.
Step 2: Click to enter the main page of "PDF to Other".
Step 3: Then click "PDF to TXT", then select and add the PDF file you need to convert.
Step 4: After the PDF file is added, click "Confirm Conversion".
3. How to convert a PDF to text online?
PDF2everything supports online conversion of PDF to TXT, can directly convert PDF files to TXT files, supports DOC or DOCX files, the converted TXT files can accurately retain all page elements and layout of the original PDF file. If it is a scanned image PDF, the converted TXT still contains the image.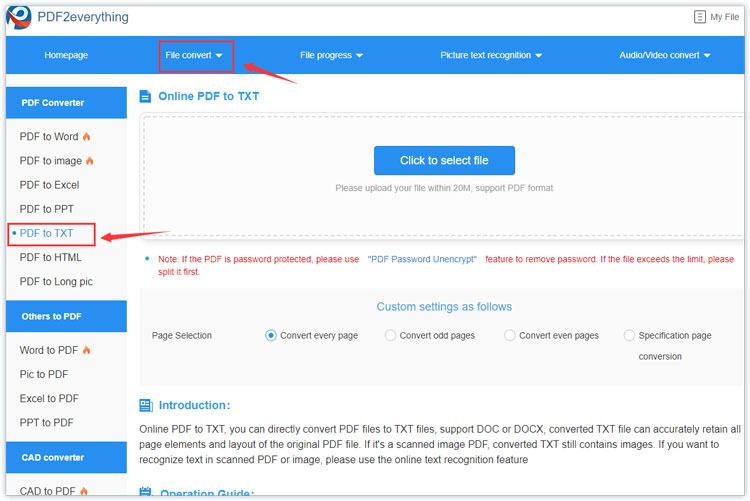 3What are the advantages of ToolRocket PDF Converter?
ToolRocket PDF Converter is a good choice for converting PDF to text. As a feature-rich PDF conversion software, it supports PDF to Word, Excel, PPT, TXT and other file format conversion functions, and also includes support for compression and splitting PDF, merge PDF, unlock PDF, etc., the one-stop service improves work efficiency in all aspects. All functions are very easy to use.
When you only need plain text, using ToolRocket PDF Converter will extract the text data in the PDF into .txt format. ToolRocket PDF Converter will get the text from the PDF and save it as a TXT file. If your PDF file does not allow you to copy the text in it, then run our PDF to Text Converter to get the text in your PDF file. The converted TXT file can accurately retain all page elements and typesetting of the original PDF file.
4FAQ about PDF to Text Converter
1. How can I extract text from a PDF file?
ToolRocket PDF Converter allows you to quickly extract text from PDF files. You can download this software on your computer or phones.
2. How to copy text from a PDF?
CYou can copy directly the text you want and paste it on another document. Another easy way is to use ToolRocket PDF Converter to extract the text you need or convert the PDF document into a TXT document, after which you can copy the text and use it in other applications.
3. How to convert PDF/image to text (OCR)?
With OCR, ToolRocket PDF Converter can automatically extract text from any scanned PDF document or image and convert it into an editable text format (DOC, DOCX or TXT).