Quickly Edit a PDF Document with Free PDF Editors
PDF files are very common file formats used across offices, colleges, and other workplaces to send and receive information. Since this method is so common and people often send files that need to be edited or require collaboration, it is important to edit a PDF file easily. This can be done in several ways and is usually done using a PDF editor such as a free online PDF editor that lets you add and change things on any PDF document. These tools can be free or paid and are widely available, given the popularity of PDF files.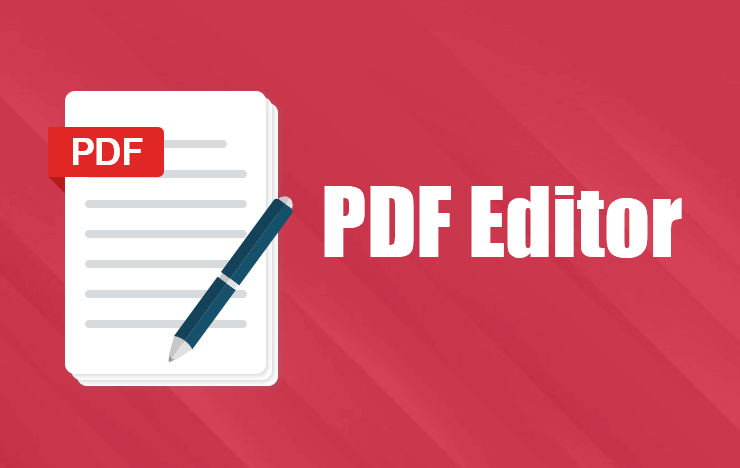 1ToolRocket PDF Converter: a free PDF editor for Windows
As far as PDF editors go, ToolRocket PDF Converter is one of the best ones out there. Not only can you convert DOCX files to PDF but using this, you can also edit your PDF files hassle-free and without any worry. The user interface is designed intuitively and makes altering and editing files so much easier than many other PDF editors.
You can easily upload your files and start editing them using this tool and get your work done much quicker than you would normally be able to. Another important feature of the ToolRocket PDF converter is that it can be used to format the document if you need to forward it. This means that it won't be an open-edit file and protects the elements in that file that are meant to be protected. This is an amazing quality of PDFs that you can make good use of Excel at your work and do things efficiently.
It's very easy to get to using this free PDF editor and convertor. Here are the simple steps you can follow to edit your PDF files with great ease.
Step 1: The very first thing you would need to do is go and download and install the ToolRocket PDF Convertor. If you have a low-end system, there's no need to worry as this program can easily run on it without sweating your PC whatsoever.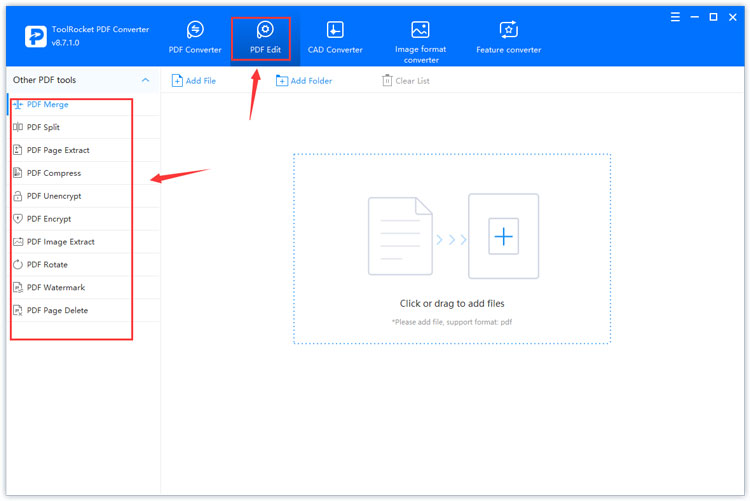 Step 2: You then need to upload the PDF files you want to edit, you can upload multiple files at once, and if they're in DOCX format, you can convert them all at once as well and save time.
Step 3: Once you've successfully uploaded and converted your files, you can then use the PDF editor feature to easily and quickly alter that PDF's contents and make any changes you want to make to get your work done. You can also format the file to protect certain elements, as we've mentioned earlier.
Step 4: You're all set! You've now easily and successfully edited your PDF file and can now export it.
2PDF2everything: a free PDF editor online
If you're looking to instead edit your files online instead of downloading software, the best option for you is most certainly the free online PDF editor provided by PDF2everything. This free online PDF editor is easy to use and gets the job done.
You are not required to download and install anything to use this PDF editor, as it's all online. However, if you're looking to upload and edit several documents and have a lot of work to do with editing, we would not recommend this method of PDF editing. This is beneficial if you do not have the memory space to install a program or use it on a small device such as a phone and quickly change a PDF file.
Here's what you need to do to make use of this free online PDF editor tool.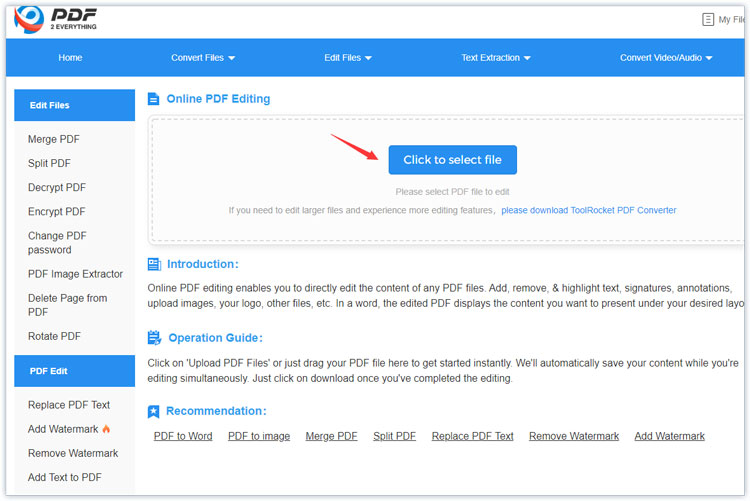 Step 1: Go to the PDF2everything website.
Step 2: Of course, the first thing you will need to do is upload the files you want to edit. The website also has a converting feature in case your files are DOCX or other formats.
Step 3: Once you've added your file to be edited, you're all set to use the built-in editing features on the web-page to edit and change elements of your PDF file.
Step 4: After you're done editing and altering the PDF file using this free online PDF editor, you can easily download and export the file and get your work done.
3PDF editor on your phone
Given how much work we need to do and how important our phones are, it's no surprise that we'd at some point need our phone to edit a PDF file. If that's the case for you and you're looking for a solution, you don't need to look further since it's really simple to edit a PDF on your phone.
To do this, you would only need to go to either the Apple store (if you're running on iOS) or the play store if you're running on android. There you can download the apps that can edit your PDF files.
Here are the steps you would need to follow to edit PDF's on your phone:
Step 1: You can use the app by downloading it through Google Play Store or the Apple store. Go to the store and download the applications such as the following
Step 2: Once you have installed the application, open it and import the PDF file that you wish to change.
Step 3: Use the built-in editing features of the application to edit and alter your PDF's contents, after which you can download and export the file.
4FAQ about the PDF editors
1. Is PDF editing free?
If you use the right editor, it can be completely free. Using PDF editors such as ToolRocket PDF converter means that your PDF editing will be absolutely free.
2. Can I edit PDFs online?
You definitely can. You simply need to use the PDF2everything online PDF editor tool to edit your PDFs online and get the job done.
3. Is it hard to edit a PDF?
Not at all. If you use a good editor, you can edit files very easily and efficiently. ToolRocket PDF Converter has a nice and intuitive design if you're looking for a hassle-free experience. It will let you easily edit your files; anyone can do this!