2 Best MP4 to MKV Converters Online/Offline to Convert MP4 to MKV
Videography has become a rising trend in today's world. Capturing moments, filming Videography tutorials, or recording a lecture, everything has come down to video making. Consequently, almost everyone has a basic idea of video editing: cropping, adding effects, adding music, etc. Of all these skills, one crucial one to know is how to convert your video between different formats. Two commonly known formats are MP4 and MKV, and you can at any time require your video to be in any one of them. That is why we have listed down the two most straightforward ways you can convert your video from MP4 to MKV.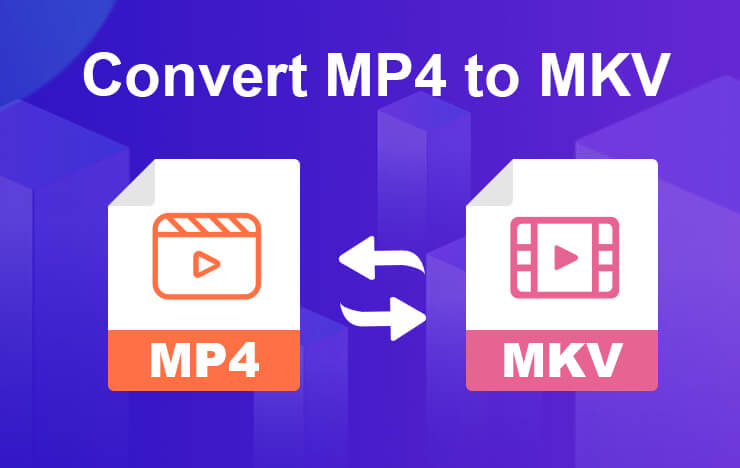 1Convert MP4 to MKV with ToolRocket Video Converter
The easiest-to-use option out there for video converting and editing is the ToolRocket Video Converter. The best thing about it is that it is not just a video converter; it has all the editing tools you need to make your video a masterpiece. And the best part? The converting options and the editing facilities are all present in one place, so you dont have to install anything else. Whether you are a beginner or an expert, the numerous features available on the software make it the perfect choice for everyone. You can do anything from cutting videos to stitching them together using the ToolRocket Video Converter. You can even record your screen and remove and add watermarks on your videos using this software.
Furthermore, like every other editing software, you can add effects, music, adjust the brightness and hues and make your video look like something out of a professional movie. ToolRocket Video Converter also supports 4K UHD and 1080p HD videos, which give you a high-quality visual experience. You can use it to watch 4K Ultra HD movies and shows if you have a 4K video player available at your service.
Now that you know the various shenanigans you can pull off in your videos using this software, let us look at the steps you should follow to convert your video from MP4 to MKV. By following these five simple and easy steps, you can convert your MP4 videos to MKV using ToolRocket Video Converter, the best MP4 to MKV converter for PC.
Step 1: Download and install ToolRocket Video Converter from the link here. You can install it as long as you have Windows 7 or above.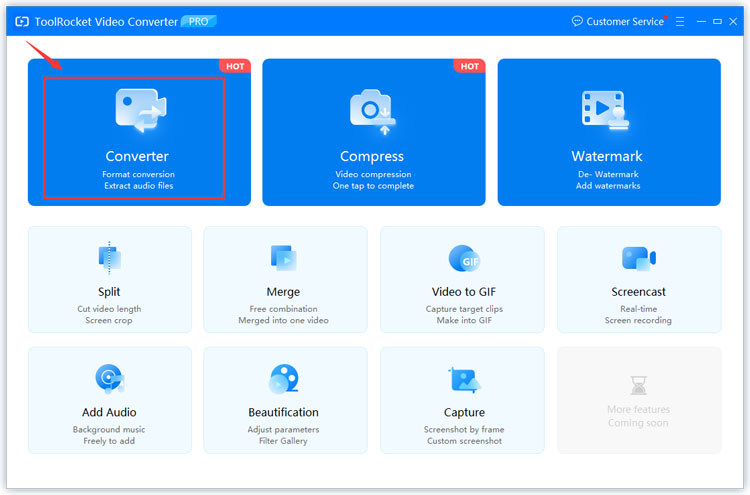 Step 2: As the menu screen displays in front of you, go to the 'Converter' option.
Step 3: The Converter menu will display on your screen. Select the 'Add File' option from the left half of the screen to import the MP4 video files you want to convert. The files you import will display on the interface.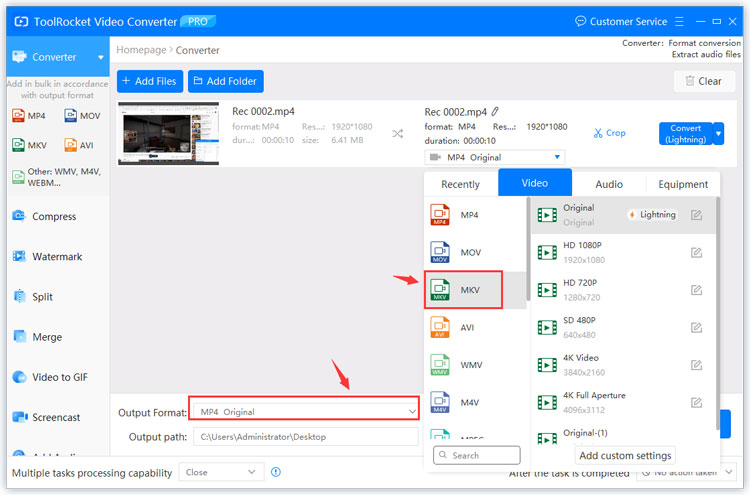 Step 4: In the bottom half of the screen, you will see an option to choose the output format. Click on it and select the MKV format option or whichever one you want from the drop-down menu. You can even select MP3 to convert your video to audio.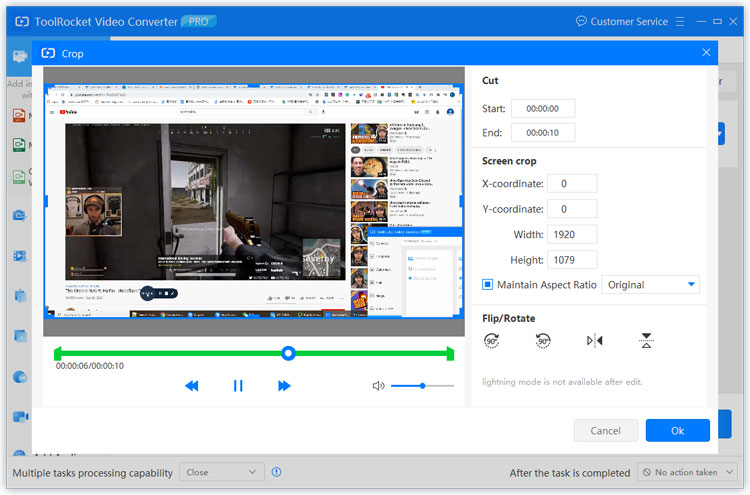 Step 5: Select the output directory path for the converted file and then click the 'Convert All' button. And voila! Your video will be converted from MP4 to MKV in a moment. If you want, you can play around with the editing features too and edit your converted video as you like before exporting it.
2Convert MP4 to MKV online with PDF2everything
Users who find it challenging to download the ToolRocket Video Converter software or their operating system do not support it. We have the option of a free MP4 to MKV converter. Yes, you heard it right. You can convert your MP4 videos to MKV free of cost and online using the PDF2everything online website. It is a pdf converter in its basics, and you can use it to convert your word files to pdf as well. They provide you with cloud storage security; your files are automatically deleted after 24 hours on the site, or you can manually delete them as well. No one can read or open your files except you. This is a significant reason why the PDF2everything converter is commonly used online video converters out there. Let us now take a look at the easy-to-follow steps to convert MP4 to MKV online.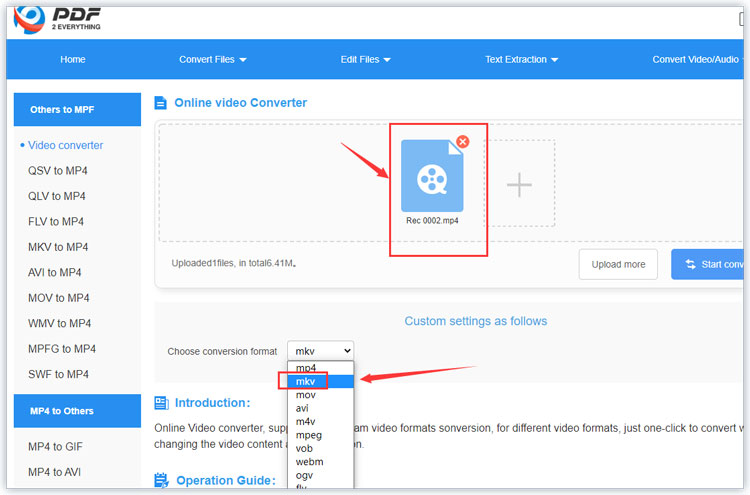 Step 1: Open the PDF2everything website for converting MP4 to MKV online.
Step 2: Upload your MP4 file by clicking on the button labeled 'Click to Select File.' You can only upload files with a size of up to 100 MBs.
Step 3: When the file finishes uploading, the conversion will automatically start. At the end of the conversion process, you will be given the download URL to download your converted video to your device.
You can use this PDF2everything MP4 to MKV converter online in just three steps and have your video converted in less than no time. If you want multiple editing features and the converting tool (all in one place), you can download the ToolRocket Video Converter on your pc and start converting!
3FAQ about converting MP4 to MKV
1. What are the audio and video formats supported by ToolRocket Video Converter?
You can convert videos between all formats, including MP4, MKV, AVI, MOV, WMV, WEBM, M4V, and many others. For audio, the software supports conversion between WMA, MP3, M4A, WAV, AC3, FLAC, AAC, M4R.
2. What devices can I use to import videos on the ToolRocket Video Converter software?
You can import your videos from Samsung/LG/SONY/HUAWEI/Oneplus/HTC/Xiaomi phones and your iPhone and iPad as well.
3. What editing features can I use on the ToolRocket Video Converter software?
You can do anything from adding a watermark to removing one. You can also merge videos, crop out unwanted parts, and edit your video's brightness, hues, and colors. You can add music to your video and select several filters, transitions, and overlay effects to add to your video from the software library. You can choose the music you want to add from the vast songs library the ToolRocket Video Converter software gives you.