How to convert MP4 to OGG file using VLC and an alternative
Many people have MP4 videos and want to change them to the OGG format to listen it on them device. But when it comes to converting MP4 to OGG, the professionals can convert MP4 into OGG with FFmpeg. But it is not so easy to operate for beginners and universal users.
Under this circumstance, I will show you effective ways to convert MP4 to OGG. You can select one and follow the steps.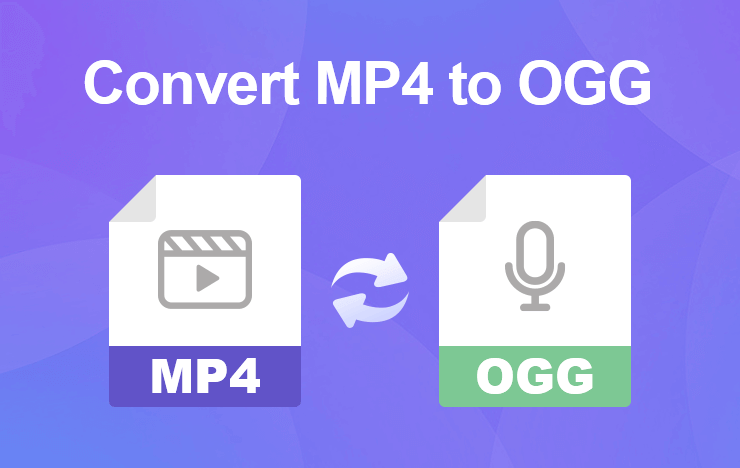 1 Convert MP4 to OGG using VLC
As we all know, VLC is a powerful freeware that can play multimedia. In fact, it also converts video and audio files of various formats. If you change the video format MP4 as OGG, then you can use VLC media player.
Step 1: Run VLC on your Windows or Mac computer. Go to "Media" > "Convert/Save".
Step 2: Click the "Add" button to import your MP4 video to VLC, and confirm "Convert/Save" at the bottom.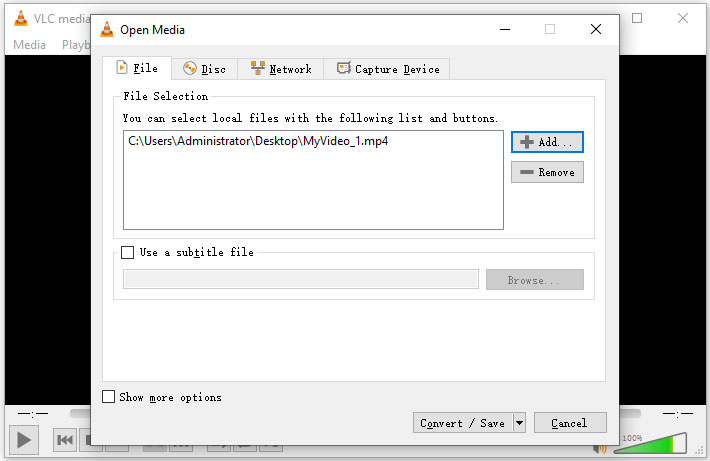 Step 3: Select the output format "Audio – Vorbis (OGG) ". Then set the output directory. Finally, click "Start" to convert MP4 to OGG.
With VLC, you can simply convert MP4 videos to OGG. But if you want to edit the video or adjust the volume, you can use a professional video converter software. Read the second method for more information about it.
2 Convert MP4 to OGG with ToolRocket Video Converter
ToolRocket Video Converter is a free but professional video file converter software that runs on Windows computer. It supports almost all popular video formats including MP4 and audio formats such as OGG.
It will be a better choice, if you convert MP4 videos to OGG using ToolRocket Video Converter, because it also provides users with practical video editing functions. With it, you are able to cut and merge video clips, compress video, adjust video volume, add external audio track to videos, etc.
Now, let's begin to conduct it with the free MP4 to OGG converter.
Step 1: Download, and run ToolRocket Video Converter on your Windows 10, Windows 8, or Windows 7 computer, and choose the "Converter" module.
Step 2: Click "Add Files" or drag your MP4 video directly into the software, and it will be listed in the interface.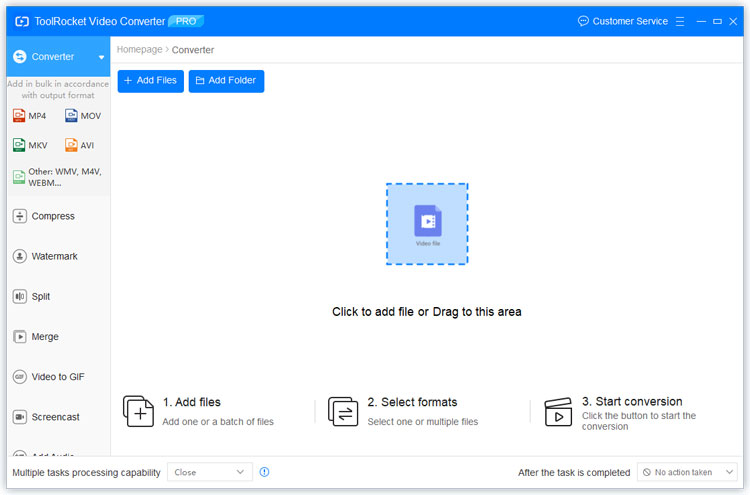 Step 3: Click the drop-down list of output format. Select "Audio" > "OGG". You are able to choose a profile with different audio quality. And when you click the "Edit" button, you can also custom the audio bitrate, sample rate, and channel. Confirm "OK" to save your modification.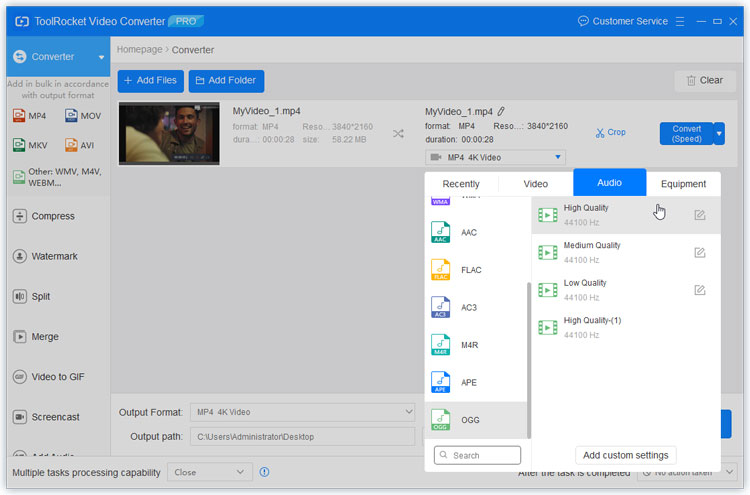 Step 4: Finally click at the right bottom button "Convert All" to convert the uploaded file(s) into OGG and save it(them) on your computer.
This video converter tool supports 4K videos, so it is also a 4K video converter that converts 4K videos to 1080p or others.
3 Convert MP4 to OGG with an online tool
If the video size of your MP4 video is smaller than 50 MB, you can use an online tool for converting MP4 to OGG.
Next, you will learn a short guide of converting YouTube videos to MP3 with this free online video to MP3 converter.
Step 1: Run Zamzar MP4 to OGG online tool in a browser on your computer. The web page of it is: https://www.zamzar.com/convert/mp4-to-ogg/.
Step 2: Click the green button "Add files" to upload your MP4 video.
Step 3: Confirm OGG as the output format. Besides, it supports other formats such as 3GP, AVI, FLV, WebM, MP3, AAC, AC3, FLAC, etc.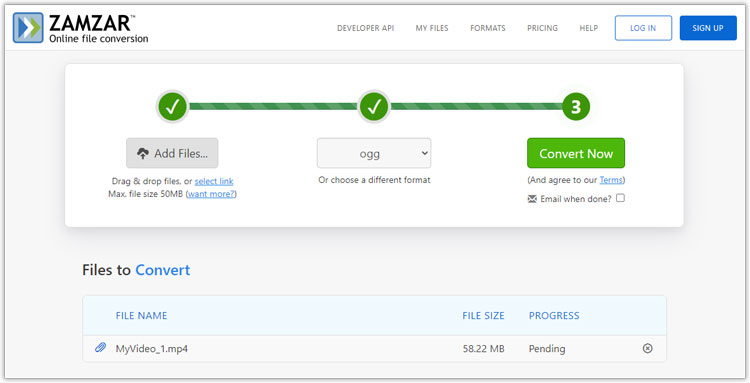 4 FAQs of converting MP4 to OGG
Question 1: Is OGG a video format?
OGG is not a video format but an audio format. It is the short name of OGG Vorbis. As a compressed audio format, it is similar to the MP3 format.
Question 2: Can VLC play OGG files?
OGG is a popular and common audio format. Many audio players such as VLC, Windows Media Player, MPlayer is compatible with OGG. Drag the OGG file directly into VLC, and it will be played automatically.
Question 3: What does the OGG file format mean?
OGG (OGG Vorbis) is a totally free compressed audio format without any limits. In terms of audio quality, it can be comparable to MP3. But compared to FLAC format, OGG is relatively inferior.
Conclusion
In this article, I have recommended you three effective ways to convert MP4 to OGG file format, to save the audio track on your computer. All the tools ToolRocket Video Converter, VLC, and Zamzar online tool are available for you. But if you want to edit or compress your MP4 file, the professional video converter may be preferable.