How to Convert WebM to MP4 on Windows and Mac?
Sometimes we have videos in WebM format that we want to convert in MP4 as MP4 is a versatile video format and is compatible with almost all the devices and requires a small amount of storage. We often get confused and try to figure out how to convert your WebM video into MP4 format. Well, you don't have to worry about it anymore as, in this method, you are gonna learn about the two different methods that can be used to convert WebM to MP4, which are explained below.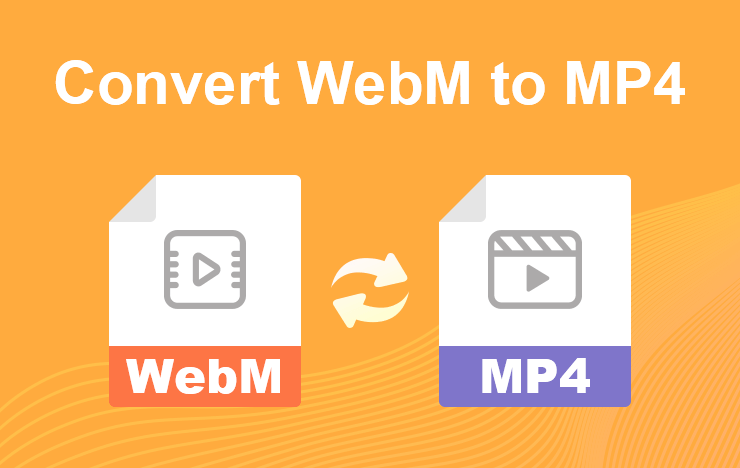 1Convert WebM to MP4 with ToolRocket Video Converter
Suppose you want to convert any WebM video into MP4 or other desired format. In that case, you can use ToolRocket software as it is an effective video converter that can assist you in altering your video format in simple and easy steps. It also has plenty of other features that can be utilized according to your own choice.
Steps to Convert WebM to MP4:
ToolRocket Video Converter is a simple and easy to use software that will easily effortlessly convert your videos; here are the steps to convert your video from WebM to MP4.
Step 1: First of all, download ToolRocket that is free and easy to use the software. You can simply visit their website or download the software from here.
Step 2: After downloading the software, you can install it in your system as it supports windows 10, windows 8, and even windows 7. After installing ToolRocket, you can now operate it successfully for video conversion and other features.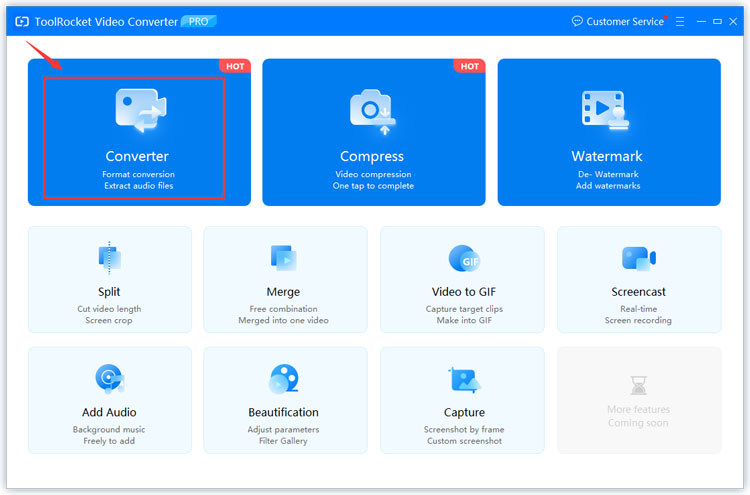 Step 3: When the software is installed, and you run it, an interface will appear with different options available in it. Click on the "Add Files" option or simply drag and drop the file to upload your video to the interface. Your video will be uploaded after a few moments then will appear in the Convert editor.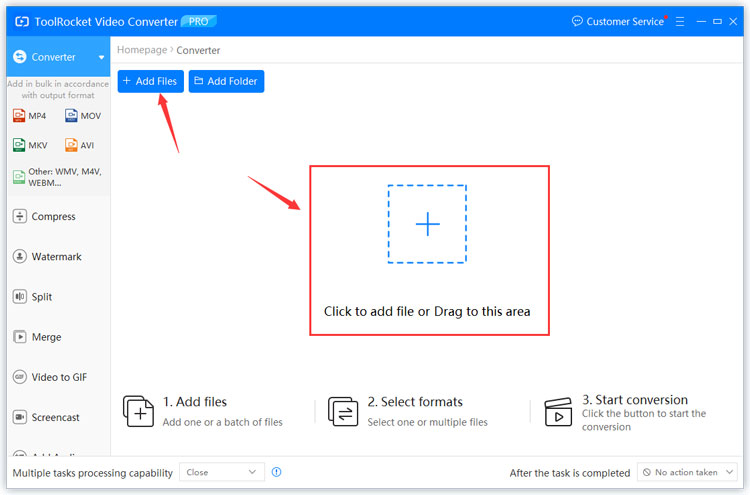 Step 4: After adding your WebM video into the converter interface, choose the format in which you want your video to be converted (In this case, it is MP4). If you only want to convert a section of your WebM, you can use the Trim Video option available on the screen to select a specific segment of your video.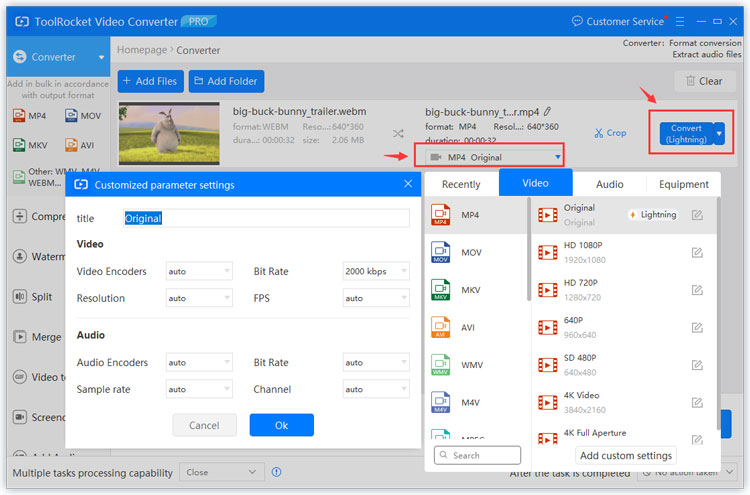 Step 5: After selecting the MP4 format, click on the "Convert" option available at the bottom right corner of the interface to convert your video from WebM to MP4 and save it on your computer.
2About Tool Rocket Video Converter
ToolRocket Video Converter is a useful and extensive video converter that enables you to convert your videos into almost all types of video formats such as MOV, M4V, AVI, WMV, 3GP, VOB, WebM TO MP4, and other audio and video formats. With the help of this amazing software, you can convert your videos and edit them with different tools and features present in them. Here are some interesting features of the ToolRocket Video Converter.
Features:
1. Supports All Kind of Formats
ToolRocket Video Converter is an innovative and all-rounder video converter because, with the help of it, you can convert your video into any kind of desired video format such as MP4 or audio formats like OGC. This converter is easy to operate as it converts your videos into simple and easy steps.
2. Video Editing Functions
ToolRocket Video Converter is more suitable for converting WebM to MP4 because you can use the editing feature of this tool during the conversion if you want to make any changes in your video. This converter contains different tools and options that can be useful in video touching and editing. With its help, you can perform different operations like cutting and merging video clips, compressing video and adjusting video volume, adding external audio tracks to videos, etc.
3. Video Personalization
If you want to personalize your video, you can use the ToolRocket Video Converter to add background music or a unique watermark to the video. You can also use this converter to remove any watermark from a video.
4. Video Adjustments
It can also be used to adjust the settings of the video; for example, if the video file is too large, you can compress it with the help of this converter. It also enables you to add filters, RGB effects and adjust brightness, volume and play speed, etc.
3Convert WebM to MP4 with Any Video Converter
Any Video Converter is the most popular video converter software for converting WebM files to MP4. If you want to convert your video from WebM to MP4, you can simply use Any Video Converter software as almost all video converter software has the feature to convert WebM to MP4. You can use modern versions of Mozilla Firefox, Google Chrome and Safari to open WebM files. The main problem is that it may take more than an hour to convert the file. Converting too many files will inevitably lead to a delay in progress.
Step 1: First download Any Video Converter and install it on your PC.
Step 2: Just click the "Add Video" button to import WebM video files from your computer. The software supports batch video conversion and merges video.
Step 3: Click "Output Profile", and then select "Customized MP4 Movie" in the profile drop-down list.
Step 4: Click the "Convert Now" button to start converting WebM video to MP4 format. After the conversion is completed, you can right-click the file and select "Open Destination File Location" to get the new MP4 file.
4Conclusion
For people who often have to work with videos frequently and need to convert them into different formats, then ToolRocket is the most suitable software for them. This software can alter your video formats and modify them without losing the quality of the video. It is really an easy-to-use and suitable software to convert, edit or personalize your videos simply and efficiently. Visit the ToolRocket website to learn more about their innovative software, or you can download it simply from here.