The best 10 HD video converters to converter from or to HD videos
Are you looking to convert your raw video files from one format to another? Or looking to reduce the file size of you're videos? Then don't worry, you've come to the right place.
There are hundreds of video converters out there to convert the videos from one format to another. But to choose the right HD video converters that save your converting is essential.
Here is the list of the top 10 free HD video converters with their pros and cons that will help you convert your videos without compromising the quality.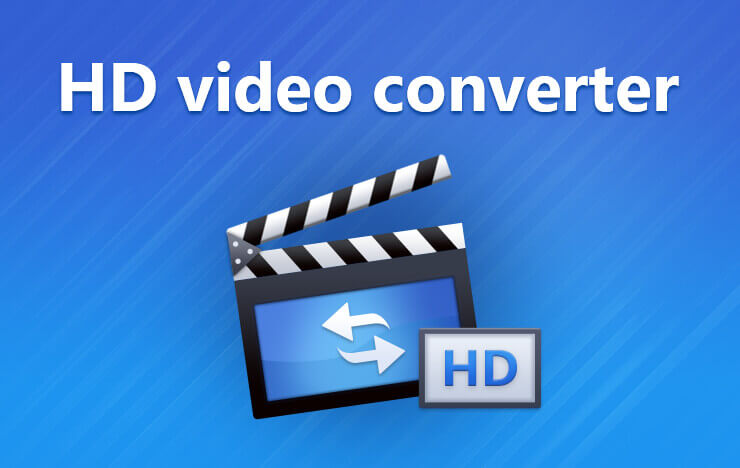 1. ToolRocket Video Converter
ToolRocket Video Converter is the best HD video converter freeware out there through which you can convert into various multimedia formats. You can convert your files into 4K UHD, HD 1080p, SD 720p, and more with ease.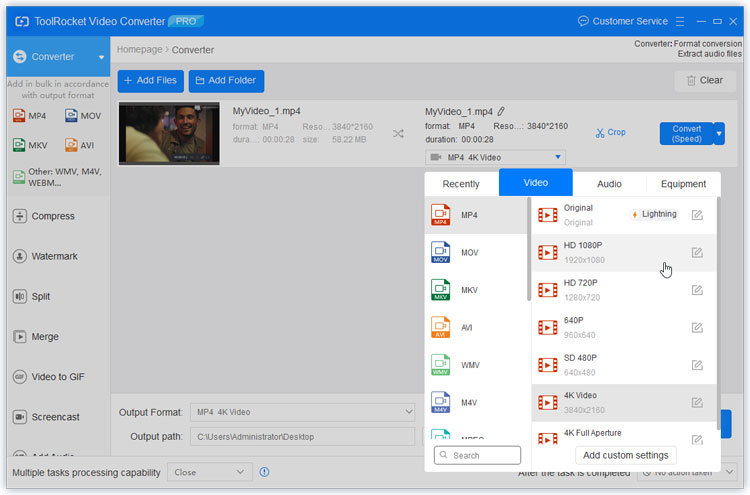 This versatile video converter is excellent in solving all your converting problems and it will deliver 100% lossless quality which makes this tool stands out from the crowd.
You can use this converter to change your video files into a compatible software or add an unique watermark to your video.
Not only you can convert your video but also you can enhance your video quickly by using its prime and stunning features.
With ToolRocket Video Converter you can:
√ Convert video
√ Convert audio
√ Optimize video
√ Edit video
√ Record video
√ Cut and merge video
Pros
√ Allows you to convert in 14 multiple formats
√ It helps you to compress and capture your videos with its editing tools
√ Quickly convert your audio and video with ease
Cons
√ Supports less formats than other HD video converters
2. Handbrake
Handbrake is a free HD video converter that lets you convert your videos into multiple formats, including H.264/H.265, MPEG-2, MPEG-4, Theora, and VP8/9.
It is a multi-platform converter that is compatible with Windows, macOS, Linux. You can convert any format with the help of widely supported codecs.
Handbrake is especially recommended for those who love to work on different platforms. All in one, it is an open-source and free video converter with a simple and easy-to-use interface.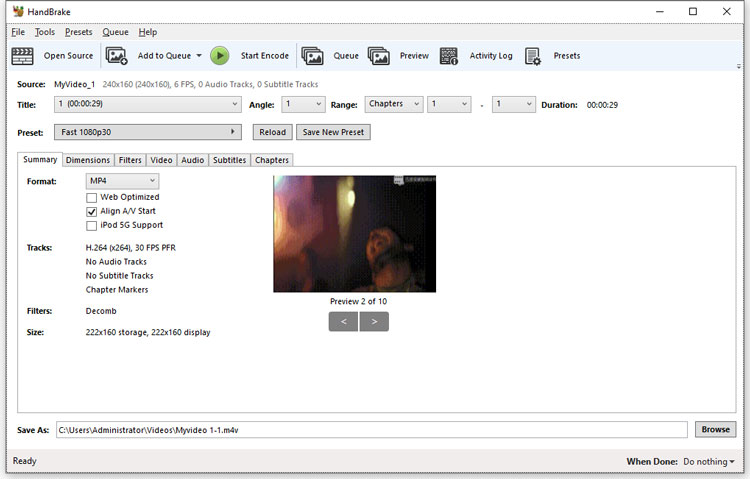 Pros
√ Multi-Platform converter (Windows, MacOS and Linux)
√ It helps you to convert your videos into multiple formats
√ Free and open source video transcoder
Cons
√ The format support of video file is limited
3. Freemake Video Converter
Freemake Video Converter is known for its stunning editing tools, ease of usage and variety of format support. It helps you convert your video and movies with its 500+ formats and gadgets for free.
It is loved by 103 million users, and recognized as the #1 video converter for ten years. Using Freemake you can download your favorite videos from popular streaming websites like Vimeo, YouTube and DailyMotion.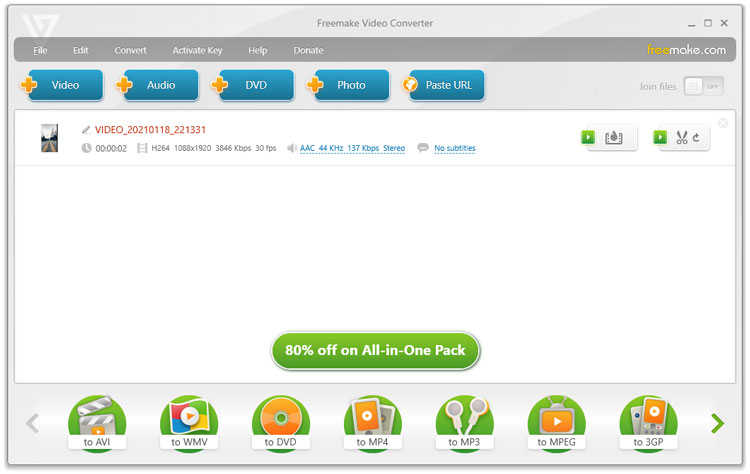 With this free online video converter you can:
√ Embed videos to websites online
√ Convert movies with subtitles
√ Convert 4K and Full HD online
√ Cut, join and rotate clips and more
Pros
√ It supports 500+ formats
√ Download and alter streaming clips from Vimeo, YouTube, and more
√ Edit and burn videos to DVDs
Cons
√ Takes a long time to convert large and HD videos. So if you want to find an efficient HD converter, you can read this Freemake Video Converter alternative.
4. Any Video Converter
Any video converter is designed to cost free with no limitations, which means you can convert any videos to any format for FREE.
If you're a beginner and looking for a simple tool for your conversion, Any Video Converter is the right tool for you. All you want to do is:
√ Upload the video
√ Choose your format from the presets
√ Add effects or rotate video if you want
√ Click on the "Convert Now button
It supports more than 100 formats by delivering 100% lossless quality. This converter also helps you to burn your audio from DVDs and CDs.
You can even customize the video codecs, dimension, bitrate, frame rate, sample rate, channel, video/audio quality, and more.
Pros
√ You can even download videos from 100+ sites
√ Highest HEVC/H.265 to enjoy faster converting speed and video quality
√ 4K conversion
Cons
√ The process of converting takes a long time
5. NCH Prism
NCH Prism is the most unique and comprehensive multi-format video converter that makes it easy to use while converting.
It supports all popular video formats and helps you to edit your videos before converting. With few mouse clicks Prism will let you convert your DVDs to digital files.
You can set frame rate, encoder rates, change resolution, and much more in terms of optimization. Prism also has a feature of previewing the output video and some video editing tools like brightness, cropping videos and many others are available in this software.
Pros
√ Preview original videos before converting
√ Supports everything from HD to high compression
√ You can even split or trim your videos
Cons
√ Prism supports limited video formats
6. Wondershare UniConverter
UniConverter is one of the best 4K to HD converter that enables you to convert all your videos with ease. It comes with a 30x faster conversion speed which means you convert multiple media files at once.
The advanced editing features let you customize your videos. With the click of a mouse you can compress 8K videos and preview your files before compression.
You can even share your compressed videos on social networks or send emails on your mobile devices.
Pros
√ 30X faster conversion speed
√ Supports more than 1000 videos and audio formats
√ Compress up to 8K videos
Cons
√ The user-interface is quite confusing
7. VideoProc
VideoProc lets you edit, convert, resize and adjust large 4K/HDR videos, audios and DVDs easily at a fully accelerated speed.
It is a fast video converter that comes with video editing, downloading and recording features. VideoProc encompasses 370 input codecs and 420+ output formats.
It will compress your large video files by 90% with merely any difference in picture quality. No matter if you're a professional or a beginner, the 4K video converter and editor will help you with all editing tools covered in Toolbox.
Pros
√ It comes with No 1 fast processing speed
√ Compress large video file size by 90%
√ You can add watermark, remove noise and make Gif with VideoProc
Cons
√ Currently, this software does not support on Linux
8. Movavi video converter
Movavi video converter comes with a user-friendly experience that lets you convert your video to deliver high-end quality results.
Besides converting, you can even use these as an audio converter, image converter, or audio to video converter. This tool lets you trim and merge your video creations and also insert subtitles with ease.
This software supports any format for all devices, right from Apple to Xiaomi. You don't need any technical knowledge. Just download this converter on your Windows or MAC and you're ready to go.
Pros
√ You can convert clips using any device
√ Delivers high-end quality results in converting
√ Convert your media files to 180+ formats
Cons
√ Not built for professional editors
9. Zamzar
Zamzar is one of the most popular online video converting tools that lets you convert audio, video, images, and sound. Founded in 2006, this online tool has successfully converted over 510 million files making millions of customers happy.
The best thing about Zamzar is that it will help you to convert your file within 10 minutes by supporting 1200+ file formats which are a lot more than any online converter out there.
If you got stuck while converting or you have a file that is getting difficulty while converting, then don't worry, just email them, and their dedicated engineers will take a look and help you to convert your file.
Pros
√ It lets you convert your file up to 2GB
√ Helps you to convert your video 5x faster
√ You'll get an email when converting is finished
Cons
√ It does not allow bulk conversions
10. Gihosoft
Gihosoft allows users to convert videos and more at a fast speed with ease. It also serves users with its powerful editing feature simply by moving your mouse.
Besides converting videos, you can also transfer your converted videos from PC and Mac to your mobile devices. When it comes to downloading, conversion and transferring, Gihosoft is a must-use tool.
Pros
√ You can cut, enhance and audio with its powerful editing features
√ Transfer your videos from PC to mobile devices
√ It helps you to burn numerous videos
Cons
√ Larger files take longer time to convert
Conclusion
With these free HD converters, you can make your converting easier and happier. They will save your time by keeping the quality in mind. So which video converter did you liked the most? Let us know in the comment section below.