Freemake Video Converter review – The information that must not miss in 2021
Videos have become a predominant way of reaching out to people. Due to its compatibility with many gadgets today, this mode of communication is now used by people from all corners of the world.
With just a click, you can stream or watch a video from anywhere in the world. Videos can serve many purposes and as a result, we often want to save them on our gadgets.
However, most video files are either inaccessible without an internet connection or too large and incompatible with our devices. None of this is a problem when you have a Freemake Video Converter on your device. Would you want to learn what Freemake Video Converter is as well as the advantages and disadvantages? You can read this article to have an idea of the review of it.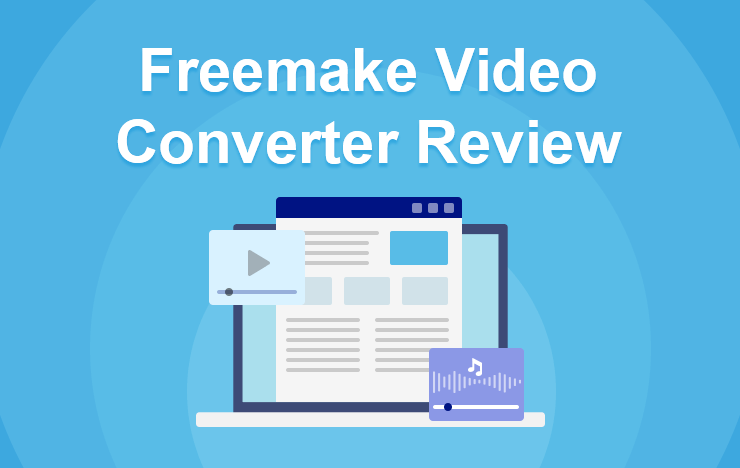 1 What is a Freemake Video Converter
Freemake Video Converter is simply a tool that allows you to convert videos from the internet for free. You can convert videos to your preferred size, formats, and type without stress.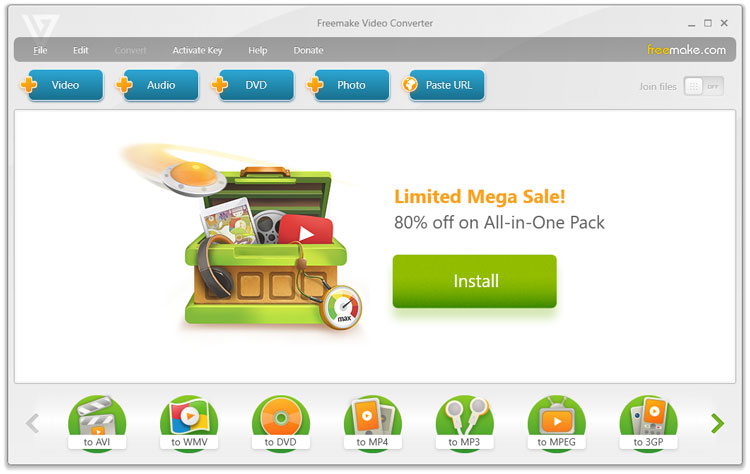 It supports up to 500+ different formats. With a Freemake Video Converter, you can convert clips on any device that has media playback capability.
The tool uses a user-friendly interface and a drag-and-drop feature that allows conversion of multiple amounts of the input file format.
You can trim videos, add subtitles, and even burn files directly to a disc with a Freemake Video Converter. And you don't have to worry about spending a dime on any of these features.
Freemake Video Converter can also serve as a TikTok video editor, all you have to do is import your video. This converter can also provide you with an opportunity to explore and formulate great TikTok video ideas.
2 Pros of Freemake Video Converter
Using a Freemake Video Converter makes things a whole lot better. Here's a list of advantages of using a Freemake Video Converter.
● Convert 4K and full HD videos without worrying about quality loss.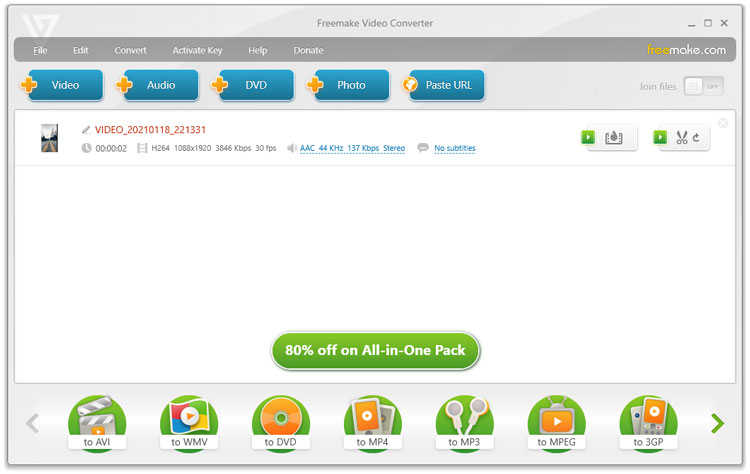 ● It supports many input formats and works with modern windows versions.
● Suitable on most mobile devices.
● Allows you to add subtitles to videos.
● Allows you to cut, join, and clip before conversion.
● Embed video to website online.
● Allows you to upload clips to YouTube.
● Burn file directly to a disc and merge video files.
3 Cons of Freemake Video Converter
Freemake Video Converter also has its disadvantages. Some of them include:
● Conversion speed may be very slow.
● No added feature since 2017.
● It may not work well with long videos.
4 How To Convert Videos With Freemake Video Converter
The first step to take in a video conversion process is selecting the video you want to convert. Identify the file and where it is stored, whether it is a video, audio, DVD, or photo. Freemake Video Converter allows you to add more than one video for conversion using the join-file icon.
Step 1: Open The File You Want To Convert
Select "Converter" at the interface. Click "Add Files" or drag your MP4 directly into the software.
Step 2: Edit The Video
This feature is optional. You can edit the video using the scissors icon on the right of the file. Then, press OK as soon as you've finished making the edits.
Step 3: Select Format
After making all the necessary changes, the next thing is to select the format you want to convert the file to. Use an arrow on either side of the list of formats to make this happen.
Step 4: Save The Converted File
Press the save to box icon to choose where the file will be saved after conversion. You are allowed to choose where you want the file to be saved, and how it should be named.
Step 5: Start Conversion
Click the start conversion process and wait until it is complete. Press OK as soon as the conversion is completed.
5 The Best Alternative To Freemake Video Converter
There are many video converters you can use. However, not all of them can meet your everyday needs. Some video converters are better than others. Like the Freemake Video Converter, only a few video converters can do all the tasks you want. A good alternative to the Freemake Video Converter is the ToolRocket Video Converter. Like the Freemake converter, the ToolRocket supports most multimedia format conversion.
This video converter is better and faster. You can convert up to 10 videos in one or two minutes for free. You can learn how to make top-quality TikTok videos by using this converter. You will get to know what video size, and format is most suitable for TikTok.
The ToolRocket Video Converter is an advanced software that allows you to convert videos from and to all video formats including MP4, WMV, AVI, MKV, MOV, FLAC, etc. With the ToolRocket Video Converter, you can optimize, dub, and watermark your video. It also allows you to remove watermarks from videos you download on the internet. That's not all.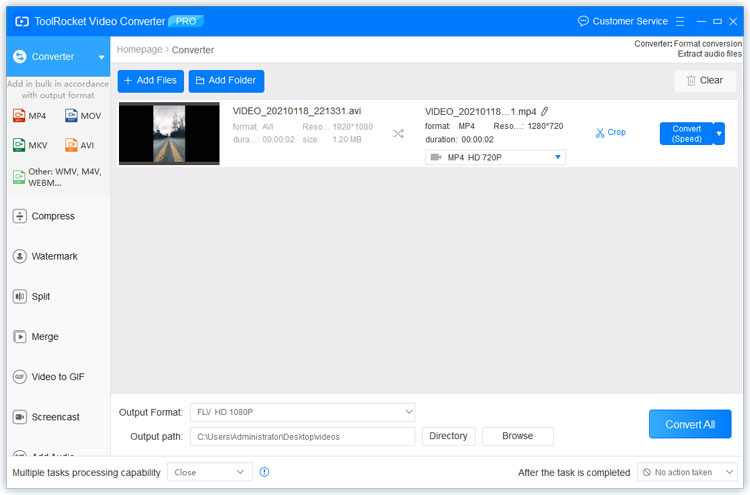 ToolRocket Video Converter comes with an additional feature that supports 4K, UHD, and HD, providing a top-quality visual experience. With a 4k video player, ToolRocket enables you to convert and watch 4k videos from anywhere.
For more adventure, you can also explore the GIF animation option. All you need is to switch to GIf format and save it on your device.
ToolRocket Video Converter also comes with a highly recommended video editor software. You can create or recreate a video with only a few steps.
It allows you to be very creative. You can cut a video file into several clips, add new contents and remove what you don't need.
For personalized videos, ToolRocket has you covered. Also, ToolRocket can serve as a complementary tool to other video editing software. It allows you to change your videos to compatible files that can be worked on by Adobe premiere Pro, Virtual Dub, etc.
It also helps you process and compress a video. You can merge several video clips at a go.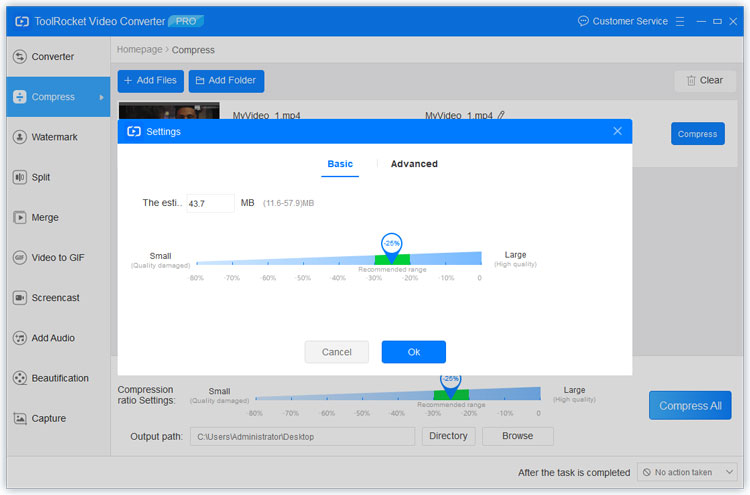 ToolRocket Video Converter comes with a screen recording feature meaning you can record any window or area of the screen HD format.
For the best video conversion results, the Freemake Video Converter and ToolRocket Video Converter are your best pick.
6Conclusion
A good video converter can do almost everything you need. And in this article, we have been able to discuss two great converters. Download, import, convert and save your videos for free. You can start optimizing your videos today.