How to convert a MP4 file to the WAV format
MP4 is the most frequently used video format on almost all devices such as TV, iPhone, Android, etc. But you maybe only want the audio track to save it as ringtone. WAV is a lossless audio format. You can enjoy excellent audio experience with a WAV file.
The question is how to change MP4 to WAV. Can I turn an MP4 video file to the WAV audio file? Absolutely yes!
In this post, you can learn 2 ways to convert MP4 to WAV for free.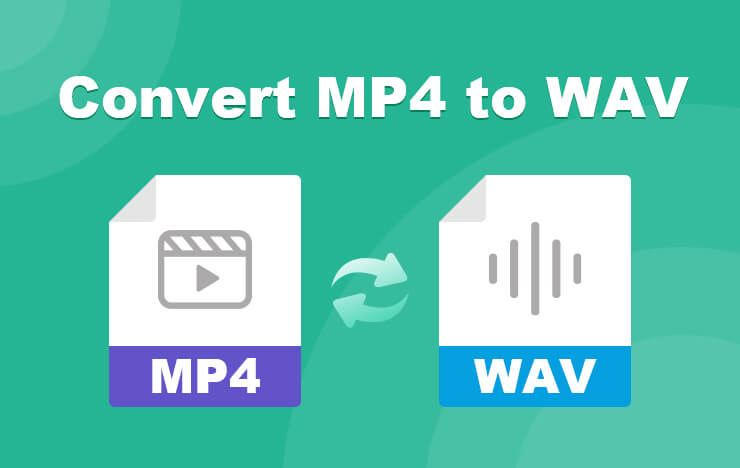 1 Method 1: Convert MP4 to WAV with ToolRocket Video Converter
For converting video and audio files, an efficient video converter tool is necessary. ToolRocket Video Converter is a free MP4 to WAV converter that enables you to convert videos. Besides, it is also a useful video editor, video compressor and video optimizer. With only one tool, you can easily adjust video effect, such as make a video brighter, add a video filter, rotate video, compress video, add watermark to video, convert video to GIF, record video, merge/split video, etc.
Now you can download this freeware on your Windows 10, Windows 8, or Windows 7 computer, and run it to begin with the steps.
Step 1: After launching the software, select "Converter" on the interface to run the video converter feature.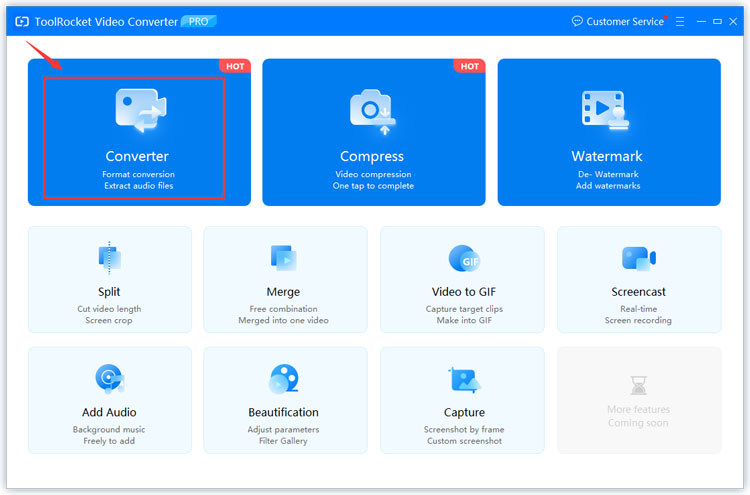 Step 2: Click the "Add File" button, select the MP4 file on your computer to import it to the software.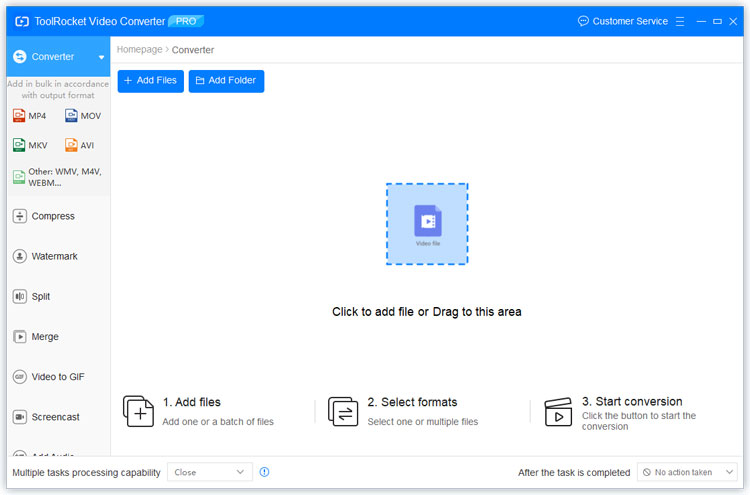 Step 3: Click the drop-down list of "Output Format". Navigate to "Audio" > "WAV". There is only one audio profile. Select it.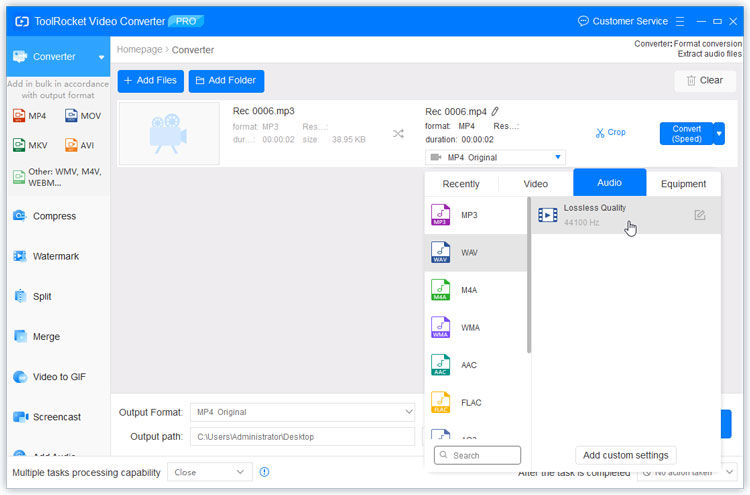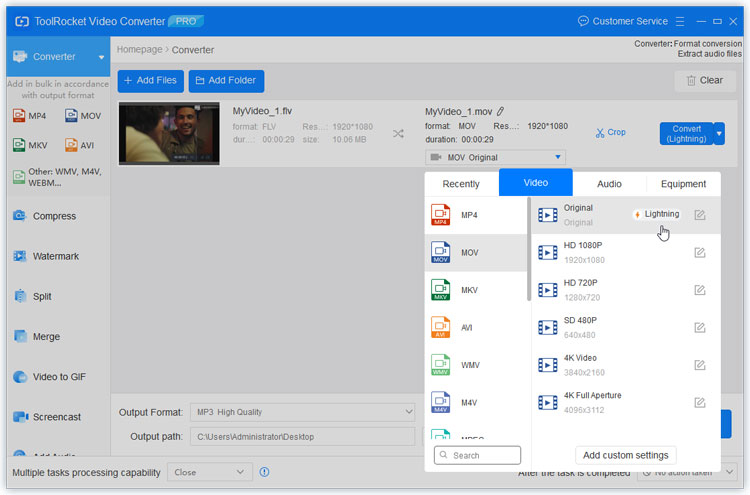 Step 4: Set the output path by clicking the "Browse" button. Choose one folder to save the converted WAV file.
Step 5: Finally, click the "Convert All" button to convert the MP4 video to WAV. Once completed, you can open the output path to check the WAV file or transfer it to your phone.
In the same way, you can also convert MP4 to OGG, M4A, MP3, and other audio formats.
2 Method 2: Convert MP4 to WAV with CloudConvert online video converter
Many people like using an online tool to convert video or audio, while it is easy to use and you don't need to install it on your computer. Just open the web page, everything will be very clear and simple.
Here I take the online tool CloudConvert as an example to show you how to convert MP4 to WAV.
Step 1: Open the CloudConvert MP4 to WAV converter.
Step 2: Click the button "Select File" to upload an MP4 file from your computer or URL, Google Drive, OneDrive, Dropbox.
Step 3: Click the "Settings" option, you can change the settings including audio codec, audio bitrate, volume, set the video length. If you don't need to reset them, you can just ignore this step.
Step 4: Click the "Convert" button, and wait for the uploading and processing process. Finally, click "Download" to save the WAV file on your computer.
3 Frequently Asked Questions of converting MP4 to WAV
Question 1: How do I convert a file to WAV?
By using ToolRocket Video Converter you can convert many files to WAV. Just upload your video file to Video Converter, and set WAV as the output format. Then click the Convert All button to convert the file to the WAV format.
Question 2: Is WAV better than MP3?
The two audio formats WAV and MP3 have their own advantages. MP3 is the most frequently used audio format. You can easily play an MP3 file on your audio players. But it is a compressed audio format, while WAV is a lossless format. For the same file length, the file size of WAV is larger than that of MP3. But you can enjoy a better audio experience with WAV.
Question 3: How do I convert M4A to WAV in Windows 10?
Although the software ToolRocket Video Converter is a video file converter, it also supports audio files including M4A and WAV. So you can convert M4A to WAV on a Windows 10 computer using ToolRocket Video Converter. Select video converter and import the M4A file. Set WAV as the output format. Finally convert it by clicking the Convert All button.
4Conclusion
These two ways to convert MP4 to WAV are both effective and efficient. But if you have large and multiple MP4 files, the freeware ToolRocket Video Converter will be preferable. CloudConvert as on online tool has a limit to the file size.