Easy ways to convert OGG files to MP3 on Windows or Mac
The problems may arise while dealing with the OGG file format because various media players do not accept the files with .OGG extension. The benefit of using the mp3 files is that you can easily play them on various media players and they play very smoothly without any pauses or errors. Mp3 files are not only playable on iPhone, iPod and Windows Media Player but also compatible with stereo and car music systems. In this article, we will guide you in detail about OGG to MP3 conversion. Let's study how you can convert OGG to MP3.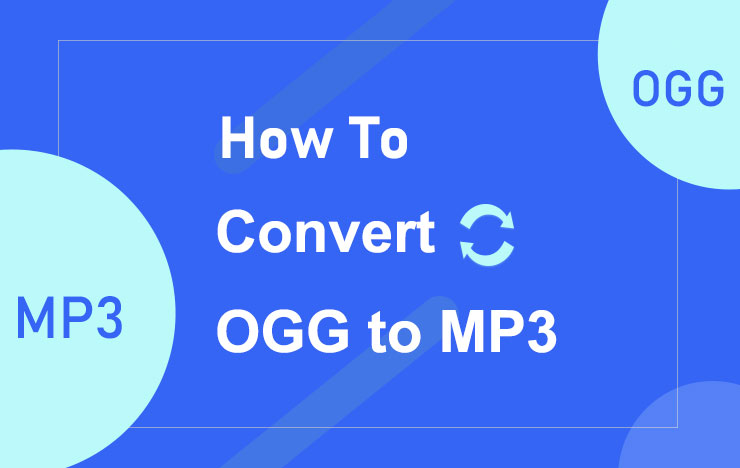 1 Convert OGG audio Files to MP3 Format Using These Quick Methods
Here are three legit and easy ways to convert OGG to MP3.
1. Free Convert OGG to MP3 Using ToolRocket Video Converter
ToolRocket Video Converter is a professional and versatile video and audio converter that is perfectly compatible with computers and allows you to download and convert various formats of videos and audio.
It also allows you to convert OGG to MP3 without losing the quality.
It is a better choice for unlimited OGG to MP3 conversions in simple steps.
The best part about this amazing software is that it is totally FREE and you need to follow a few easy and simple steps to convert OGG files to MP3.
Step 1: First comes the downloading process. You can download it for FREE to your windows device.
Step 2: After clicking the download link, the file will start downloading and you will get the .exe file. The installation will be immediately completed after your device's permission.
Step 3: Allow this app to make changes to our computer.
Step 4: After you have launched it, you will see the "Converter" option on the main interface. Click on this option on the main interface. Choose OGG to MP3 conversion from the given options.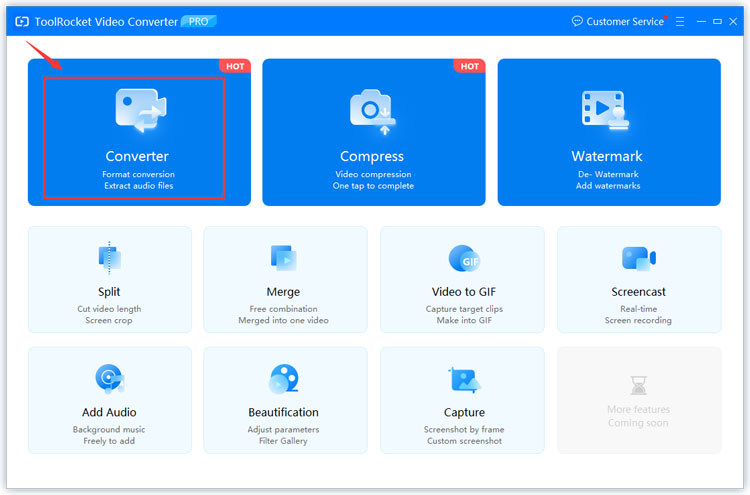 Step 5: Click on the "Add File" option and convert the OGG file for which you want to change the audio format.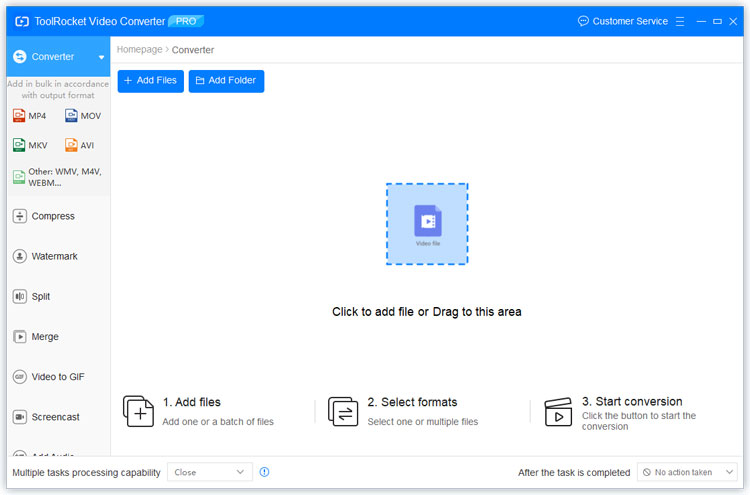 Step 6: Locate the output format in which you want to download your converted audio. Here, in this case, we are going to proceed with the MP3 audio format. Click "OK" to close the window.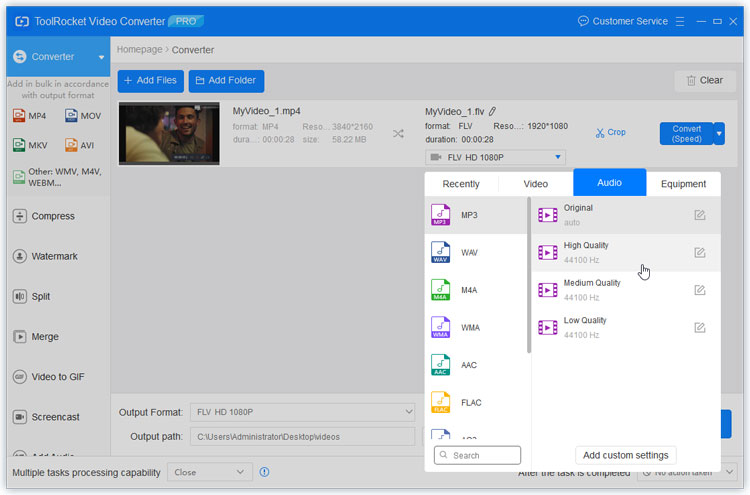 Step 7: At the end of the conversion, you will see the preview window and then will be enabled to save the audio. This saved audio will directly store it on your computer, and you can also play it.
What sets ToolRocket Video Converter apart from its competitors?
It is the free function of this fantastic software that allows you to convert OGG to MP3 without paying for it.
Moreover, once you have downloaded this tool, you can use it as an OGG to MP3 converter offline. Thus, even if you do not have an internet connection, this tool makes it possible for you to proceed with the OGG to MP3 file conversions.
Pros
• It is a free OGG to MP3 converter. No hidden charges.
• Can help you to convert files without internet connection.
• No watermark.
• Available in more than 2 languages.
Cons
• The software may take a bit longer to download and install.
• You need a strong internet connection to download it.
2. Convert OGG to MP3 online with PDF2Everything
Online solutions are also available for people who do not want to use any specific tool. It is an online free file conversion platform that is not only fast but efficient and powerful.
It is a widely used and easily approached online tool and has the name PDF2everthing that also has OGG to MP3 file conversion options available.
Here are some simple steps that will help you to convert the desired OGG file to MP3 without any distress.
Step 1: Open the PDF2everything online OGG to MP3 converter.
Step 2: Click on the select file option or simply drag the OGG file. After the uploading of the file, a start button will show up.
Step 3: By clicking the start button you will initiate the process. After a successful ending, you can download the file in ready condition within a few seconds.
Thus, you can see that PDF2Everything is an online audio converter OGG to MP3.
Pros
• It is an instant and free online file conversion tool that you can use to convert OGG to MP3 format.
• It is a reliable tool that is easy and simple to use.
Cons
• You cannot convert files without internet connection.
3. Convert OGG to MP3 using Winamp
Winamp is the media player for Microsoft windows which also has the functionality of OGG to MP3 conversions.
Here are the steps to convert OGG to MP3 using Winamp.
Step 1: Download the Winamp media player.
Step 2: Open the main interface. Right-click an OGG file that you want to convert and then select Send To: > Format Converter from the pop-up menu.
Step 3: On the Format Converter screen, click on the Encoding Format option to choose a format. Click OK to start transcoding your selection.
Within a few seconds, you will get the desired MP3 file.
Pros
• Great developer tool that is easy to use.
Cons
• Some of the library functions are clumsy.
• Odd crashes.
2 FAQs On OGG to MP3 file conversion
Question 1: What is an .OGG file?
.OGG is the video and audio format that can play video and audio files. However, it is more commonly used for the streaming of audio files.
Question 2: What program can play Ogg files?
You can easily convert multiple videos to MP3 using the ToolRocket video converter. For this purpose, drag or upload multiple files at the time of conversion.
Question 3: Can iTunes play OGG?
No, iTunes cannot play OGG files.
Question 4: How do I convert OGG to MP3 in Windows?
Winamp is the developer tool that you can use to convert OGG to MP3 in windows.
3Conclusion
Almost everyone of us have encountered issues in playing audio files. The fact is, only MP3 files can work best for all kinds of players. So we have come up with 3 easy methods to convert OGG files to MP3. If you still have questions, you can ask them in the comment section below.