How to convert MP4 to MP3 in one minute
The diversity of media formats increases with each passing day. We are living in an age of digitalization. Some devices do not run specific formats, and we rush to the internet for a solution. The video department faces interoperability issues sometimes. Having a tool that migrates the video stream from one format to another can prove to be a great asset in your arsenal.
Sometimes you need just the audio of a fantastic video to relish it later or find an original song from YouTube that you need in MP3 for your music player. This article will discuss just that. We will discuss three major programs that will allow you to convert MP4 to MP3.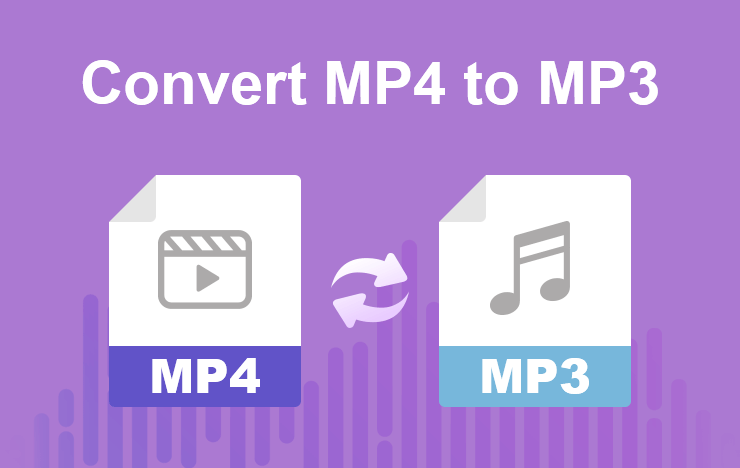 1 Convert MP4 file to MP3 with ToolRocket Video Converter
ToolRocket Video Converter is a free yet powerful tool capable of catering to all your format conversion needs. It is a complete package that allows you to split, merge, or watermark your unique content. It has an intuitive interface that provides all the desired tools at a glance. It supports a wide range of video formats for both input and output.
Ease of accessibility is one of the hallmarks of this application and it becomes quite obvious right from the beginning of the launch. ToolRocket Video Converter supports up to 4K video conversion. You get the flexibility to manually adjust the resolution, bit-rate, frame rate, and audio to achieve the best possible results.
Main Features
1. Efficient video conversion from one format to another, including MP4, AVI, WMV, M4V, FLV, MKV, MOV, MP3, etc.
2. Support batch conversion that boosts the speed at which video is converted in the form of batches.
3. Basic and advanced video compression function. You can compress a video by adjusting the video compression rate or video parameter.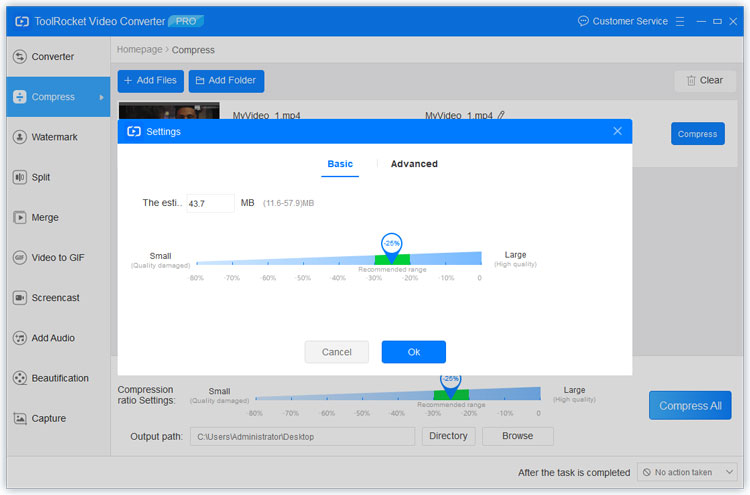 4. A built-in screen recorder that is extremely useful for creating step-by-step tutorials and gameplay recordings.
5. Completely free video converter and editor with more features than a paid solution would have to offer. For example, you can cut/split the video, adjust screen ratio, add watermark to video, adjust video brightness/saturation/hue/contrast, add filter to video, etc.
If you are looking for a free video converter that can handle many input formats, ToolRocket is your go-to software. It is packed with extra features allowing you to perform numerous operations on your MP4 video.
Let's now discuss how to convert MP4 to MP3 using this super software. First, please download the software by clicking the download link below. Then, install and launch it.
Step 1: Select "Converter" at the interface. Click "Add Files" or drag your MP4 directly into the software.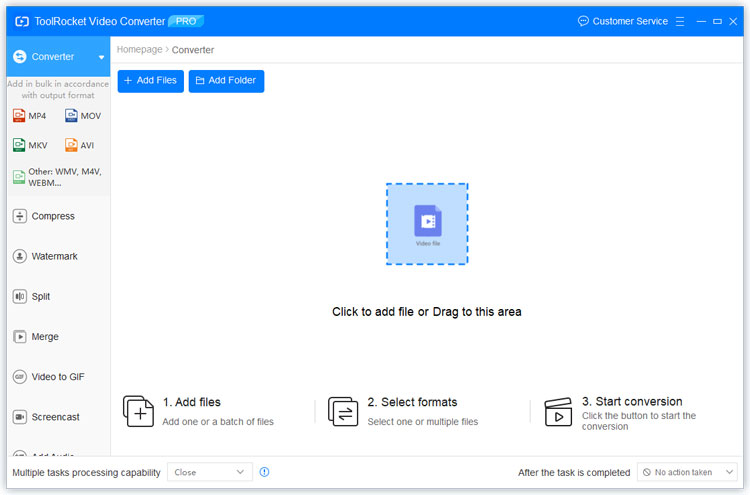 Step 2: Click the drop-down list of "Output". Select "Audio" > "MP3" as the output format. If you wish to edit the MP4 video, ou can edit it using the cutter and optimizer tool.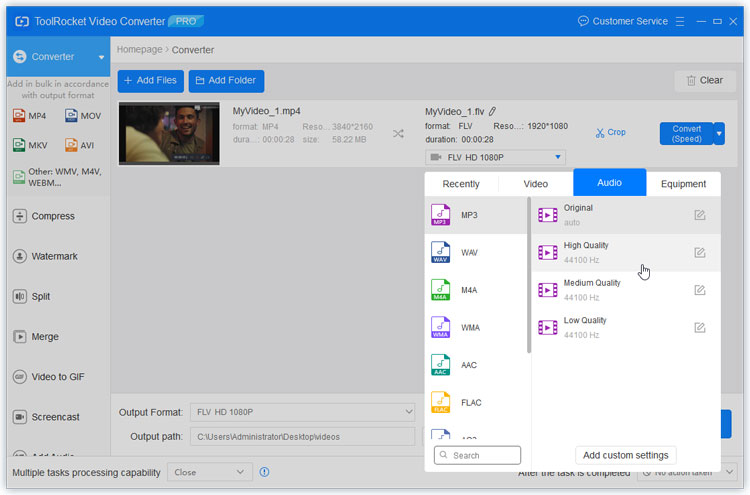 Step 3: Once satisfied with the changes, set the ouput directory, and click the button "Convert All" at the right bottom corner. The video conversion process will begin automatically.
Step 4: After finishing converting, open the target folder and you will see the MP3 file converted just now.
If your audio player or device supports OGG, you can also convert MP4 to OGG for better audio experience.
2 Turn MP4 into MP3 using VLC Media Player
VLC is a flexible media player. It is famous for providing support for many audio and video formats. It is available for android, iOS, Windows, and Linux.
In addition to playing many formats, VLC can interconvert many formats. It is a tremendous upside to this fantastic tool that many people are not aware of.
Let us discuss the steps to convert MP4 to MP3 using VLC.
Step 1: Open VLC and select Media. Click on Convert/Save.
Step 2: In the window that opens, click Add and browse to the location of the MP4 file. Select Convert/Save.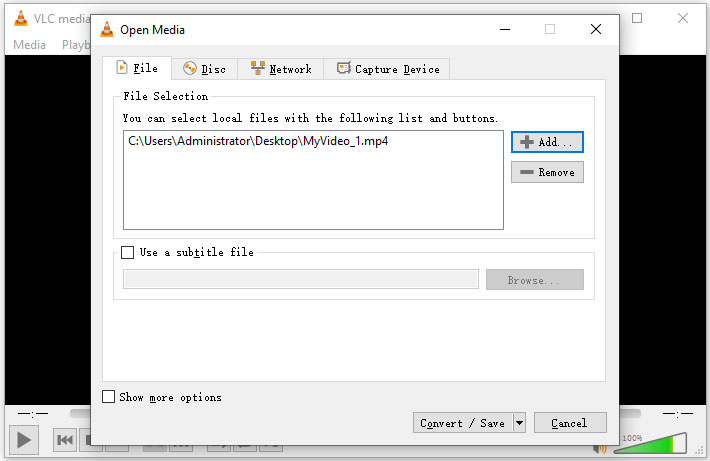 Step 3: Select the destination of the output file by clicking on Browse.
Step 4: From the explorer, select the location and label the filename with an MP3 extension.
Step 5: From the Convert Window, click on the Edit Selected Profile button. Go to the encapsulation tab and from there select WAV.
Step 6: Go to the Audio Codec tab and select MP3 codec. Select the appropriate bitrate, channels, sample rate, and click Save.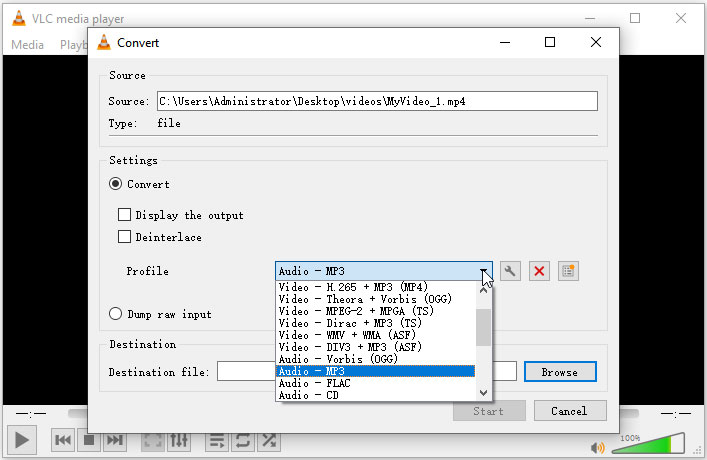 Step 7: Click Start to begin the process. You will see a countdown timer. The file will be saved at the destination.
In the same way, you may convert almost all videos to MP3 using VLC.
3 Transfer MP4 to MP3 with Zamzar online video converter
Zamzar is an online tool that converts MP4 to MP3 on the fly. It is a free tool that provides conversion to many sound formats.
One major constraint is the limitation to upload files less than 50MB. However, the quality of transform is immaculate, and the website has been in action for the past 15 years.
Let us now discuss how to use this tool.
Step 1: Open the website https://www.zamzar.com/convert/mp4-to-mp3/. Click on the "Add Files" button and add an MP4 file less than 50MB in size. You can upload a file by selecting a link as well.
Step 2: From the audio formats, select "MP3". Click on Convert Now. And you are done. This is the most user-friendly option amongst the others that we have mentioned.
4 Frequently Asked Questions
Question 1: Can you turn a video into MP3?
Yes, it is possible to convert a video into MP3. There are many online and offline tools available that help you to extract the audio of a video.
Question 2: How do I convert MP4 to MP3 on Android?
There are many applications available on the play store that can achieve this feat. The top-rated app for this purpose is Video to MP3 Converter – mp3 cutter and merger.
Question 3: What is the best MP4 to MP3 converter?
There are many free and paid FLV video players that can load FLV files on the computer, such as VLC Media Player, Any FLV Player, FLV Media Player, KM Player, Adobe Flash Player.
5Conclusion
Now have you understand and followed the steps to convert your MP4 files to MP3? Which method is preferable to you? All the methods are free for you. So just choose a favorite MP4 to MP3 converter. If you have any questions, please contact me.