How To Convert MTS files to MP4
Camcorders were the devices that served us for a very long time because they were able to shoot videos at high definition resolutions. However, now their time has gone as most of the mobile phones these days can shoot video even at 4K and better resolutions with a lot of features as well.
But there is still one issue, this is viewing the videos that you captured back then on our camcorder. Those videos are mostly saved in MTS format and most of the devices are unable to play these videos. So, here we will discuss how you can convert MTS videos to MP4.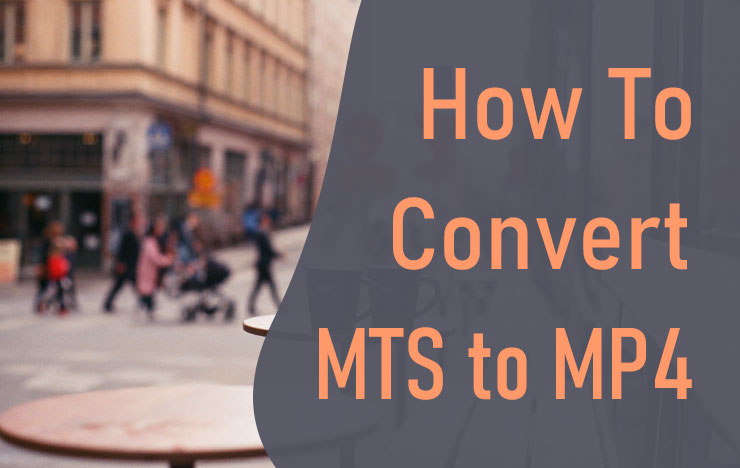 Some of the best ways to convert MTS to MP4
As better devices with more optimized software are being made, the format of saving files is also changing. The MTS file format used to be a common thing back in the camcorder time, but it is not like that now. It is because most of the users use phones and tablets and these MTS files are unable to play on them. So, what can you do in this case?
One of the best things that you can do is to convert the MTS files of the AVCHD format into MP4 format. In this way, those files will be playable on most devices. Here are some tools that you can use to do the whole process.
ToolRocket Video Converter
Although there are a lot of file converters that you can use, most of them lack one feature or another. On the other hand, ToolRocket Video Converter is a free platform that makes sure that we do not have to go anywhere. Whatever file format you have, this platform will let you convert it in your desired format without the need for any complex procedures or tools.
With this platform at your hand, you can simply convert your desired files in a matter of a few clicks. Not only this, but you get some amazing features and benefits for using it as well.
The step-by-step guide to convert MTS files to MP4 files
The following are the steps that you need to follow after you have downloaded and installed this tool on your PC for converting your MTS file into MP4 files.
1. Download the ToolRocket Video Converter software by clicking the button below, then install and open it.
2. You will see different options on the interface. Click "Converter" to open the video converter.
3. Now select the MTS file from the storage, not your computer, and wait for it to load on the tool. This will take only a few seconds.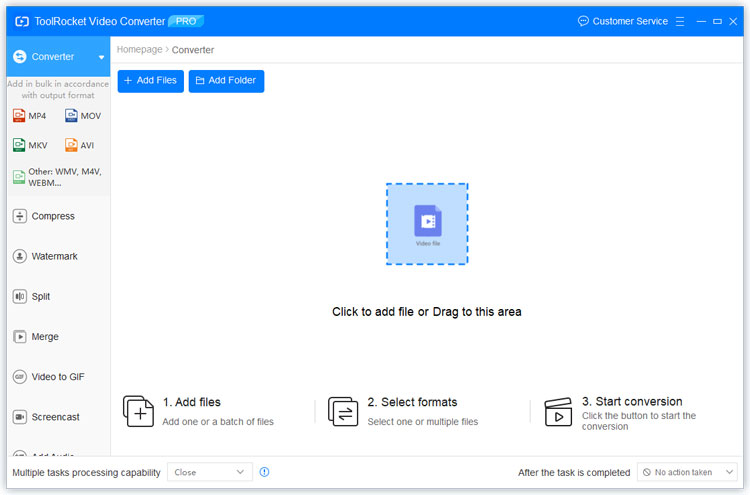 4. Select the output format as MP4 and convert the file. Your converted file will be automatically saved on the computer storage target folder.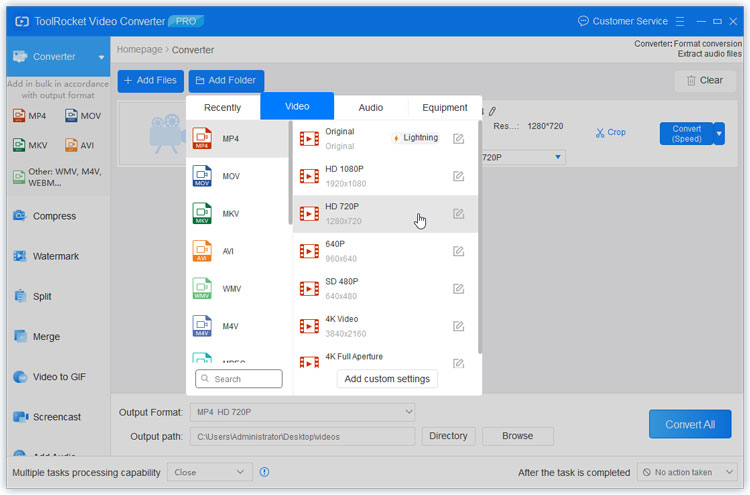 These were the steps that you need to follow for the conversion of your files. You can already see how efficient this platform is for converting the files from one format to another.
Handbrake
Another video conversion tool that you can use for converting MTS to MP4 is Handbrake. This is an open-source tool that can be used for converting multimedia files. However, apart from the simple conversion, it comes with some amazing features like being able to convert videos from almost any video format.
One thing that you need to keep in mind is that this tool only works for video conversions and you cannot deal with any other file type.
The steps to convert MTS to MP4 files
1. Download and install Handbrake on your PC.
2. After opening the tool, select the MTS file that you need to convert.
3. Select the output destination and set the file format as MP4.
4. Click on "Convert".
Just by these simple steps, your video will be converted from MTS to MP4 file.
Frequently Asked Questions
As a lot of people are looking to convert their MTS files into MP4, most of them get some issues related to this problem. So, here we have answered some of the most common questions asked in this regard.
Question 1: Can VLC convert MTS to MP4?
Yes, VLC is an amazing media player with support for a lot of file formats. It can also Convey the MTS files into the MP4 files without any issues. Amazingly the process is extremely short and simple for doing Because you can do the whole process in a matter of a few clicks.
Question 2: Is MTS better than MP4?
If we talk about the present-day world, most of the devices and tools support MP4 file format and MTS is not supported. On the other hand, the video quality of both of the video formats is almost the same. So, considering the device compatibility of the devices these days, we can say that MP4 is better than MTS.
Question 3: What is the MTS video format?
When Sony and Panasonic were making camcorders, they introduced a video file format. This was known as the MTS format. Here the video was saved in Advanced Video Coding High Definition format or AVCHD format. It was amazing to see that this video format supported 720p and 1080i HD resolutions.
Question 4: How can I play MTS files on my PC?
Although the era of MTS files has passed and now is the time of MP4 videos, you can still use your PC to play the MTS files without converting them. All you need is a media player that supports the MTS format for videos. Most commonly, you can use the built-in Windows Media Player that comes with Microsoft Windows.
Conclusion
Having a video that reminds you of your beautiful past is more than a video so keeping that video with you in a playable form is important for most people. As the MTS files have become unplayable on most smart devices because of incompatibility, people face issues. As a solution to all of those issues, here we discussed different ways to convert MTS files to MP4 files. You can use any of these methods to convert your precious memories and keep them with you so you can play them whenever you want.