Complete Guide On How To Convert AVI To MP4
Converting files to different formats can be tricky, especially when you don't know the best format you need to convert to. However, some of the more popularly used formats are MPEG, AVI, and MP4.
If you're wondering why people convert AVI to MP4, one significant reason is the better compatibility options and flexibility that it gives.
Microsoft created AVI, and so it has built-in support in all of the platforms that Microsoft media has. This article gives you a complete guide on how to convert AVI to MP4.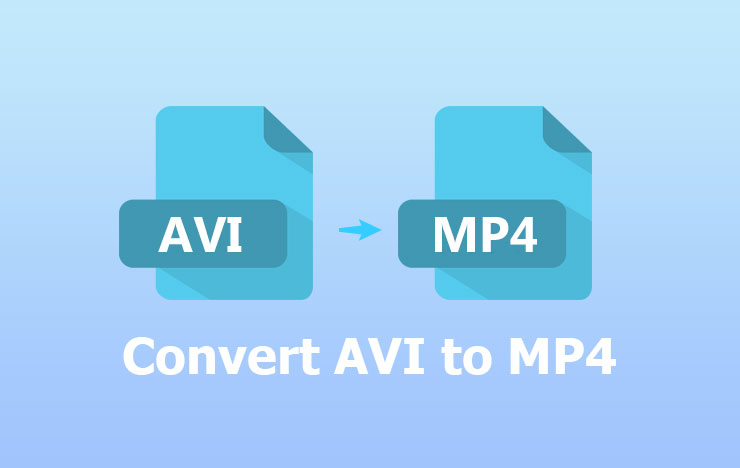 1 What Is AVI Format and Why Should You Convert To It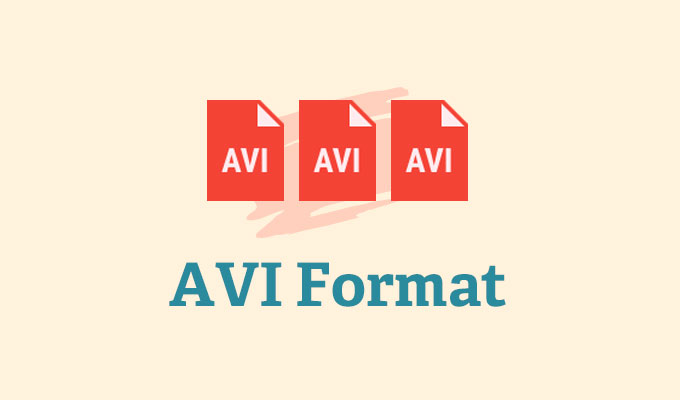 The AVI format is an acronym for Audio Video Interleaved, and it was developed by Microsoft in November 1992. It is a type of file format with a combination of video and audio into a single file for simultaneous playback.
Because of widespread usage, the AVI format has almost become a standard for people looking to store their video and audio information on their computers. Nowadays, the AVI format is used in the transfer of files and the storage of audio and video tracks.
AVI format is highly compatible, and so they are supported in operating systems like Windows, Unix, Linux, Mac, and some media players. Due to its large size, AVI file is hardly used for video streaming websites.
2 Pros And Cons Of AVI Format
Even with its high compatibility, AVI has some cons as well as pros. Here are some of the advantages and disadvantages of this file format:
Pros
AVI is widely accessible to more users because it doesn't need any special software or hardware for it to run.
From AVI format files, you can make DVDs and discs that are not only playable but can be used to store audio and video information.
It has a high quality for both video and audio.
The AVI format is a popular video format choice for short movies, promo videos, and advertisements.
AVI maintains and retains the quality that is perfect for master files. This makes it easier to create different files in different formats to meet different needs.
Cons
If you compress an AVI format file above a certain level, there's the danger of it losing its high video quality.
There's a lot of codecs available, and this may mean that you need to experiment to get your ideal compression and quality.
AVI formats cannot support softsubs when it comes to subtitling.
Uncompressed AVI files are larger when compared to the other file formats.
Compressing AVI files using certain codecs will require the installation of the same codec on the machine to be able to retrieve and play the AVI file.
3 Methods and Steps In Converting AVI To MP4
When you want to convert an AVI format file to another format such as MP4, know that the file types have differences. The format's codecs or supported video formats, supported devices, media players, and available audio formats are just some of what may differ.
To convert AVI to MP4, there are certain steps you ought to take to have a hitch-free conversion. However, these steps may differ, depending on the conversion method you use, whether online or offline.
#1. Convert AVI To MP4 With ToolRocket Video Converter
ToolRocket Video Converter is a fast multifunctional, and versatile tool used for video conversion. With ToolRocket, you can convert all video formats like MP4, MKV, WMV, MOV, WebM, AVI, VOB FLV, SWF, F4V, and M4V.
Besides, this free video converter allows you to convert audio formats like MP3, M4R, WMA, WAV, ALAC, M4A, AAC, AC3, FLAC, and OGG. Whether you choose to convert AVI to MP4 on android or convert AVI to MP4 on Windows, ToolRocket Video Converter is that versatile.
It provides you with brilliant video editing tools as well as help with video compression and video capture. ToolRocket also supports 4k UHD and HD1080p videos as well, with no loss of video quality after conversion.
To convert AVI to MP4, you need to download the ToolRocket Video Converter tool or program. After that, follow through with the following steps:
Step 1: Run the video converter program on your computer, select "Converter".
Step 2: Once opened, click any available Add File button. Select the particular AVI file you want to convert from their location in your device.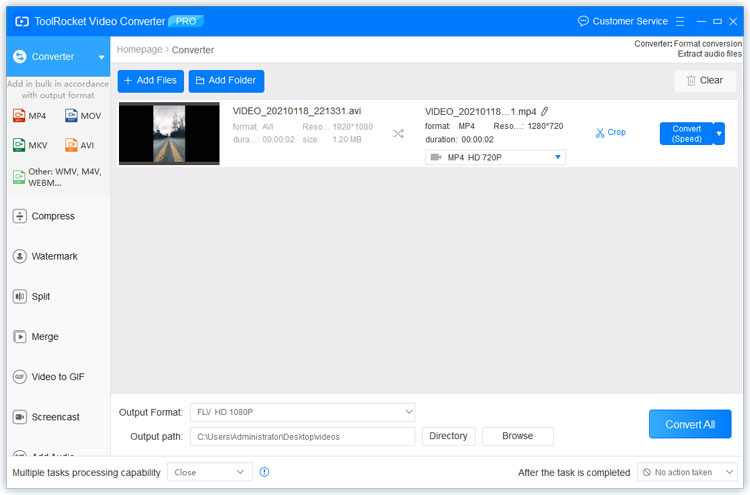 Step 3: Select MP4 as the output format.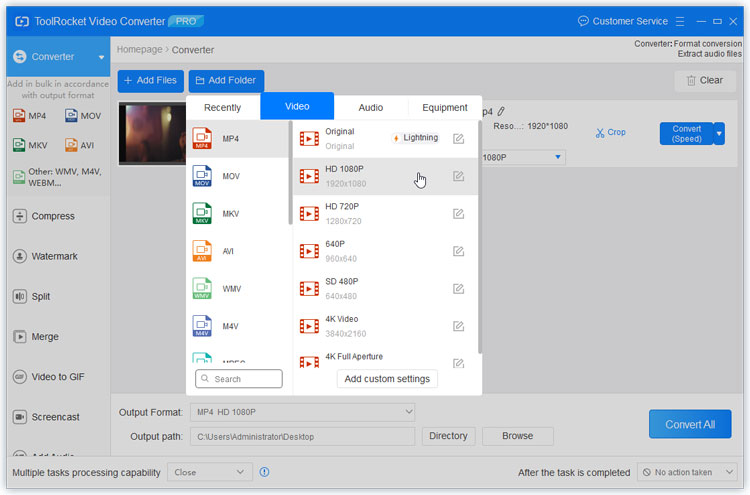 Step 4: Click on a Save button or a Convert button to begin the conversion. A progress bar should appear.
#2. Convert AVI files to MP4 Via VLC Media Player
Some media players can also convert AVI to MP4. One of such media players is the widely used VLC media player. To convert AVI to MP4 on Windows, you need to have VLC installed on your windows device.
With the following steps, you can convert AVI to MP4.
Step 1: The first step to converting to MP4 from AVI is by clicking Media on the top bar, then convert and then save.
Step 2: To pick the video you want, click on the Add button.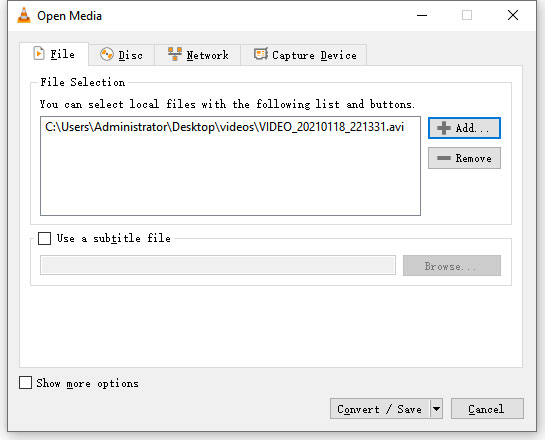 Step 3: Next, pick a name for this new video file you're converting, and a destination folder as well.
Step 4: For the "Profile" prompt, choose MP4 from the list of formats that come up.
Step 5: Click on Start to begin converting your AVI file to MP4. A progress bar will gradually fill up as the conversion process completes. Your file will be saved to the location you previously selected.
#3. Change AVI to MP4 With PDF2everything
PDF2everything is a free online program that helps convert AVI to MP4 and lots of other formats. It is one of the easiest and more versatile online tools to use.
In addition to converting from AVI to MP4, you can also use PDF2 everything to convert lots of text files. Files like pdf, word, Mobi, excel, and Html can be converted on their online site.
Also, you can use it if you need to do an edit on these files, like adding a watermark, encryption, or decryption. What's more, you can even extract text from images as well as convert a host of available audio formats.
Follow these easy steps if you wish to convert AVI to MP4 with PDF2everything:
Step 1: Click on Click To Select File to access your AVI format file. Select the particular file you wish to convert to add it.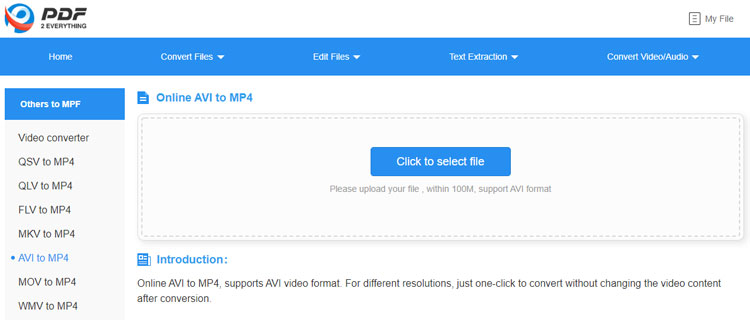 Step 2: Set the output to MP4 format.
Step 3: To begin the conversion, click on the Start button. The converted file will be automatically uploaded for download.
4Conclusion
In the world of audio/video file conversion, AVI is one of the better-known formats. But converting it to MP4 makes it more accessible for different users with different needs because of the file's compatibility and flexibility. It also helps because most media players are unable to support it. However, converting to MP4 makes things much easier for you.