How to convert MOV videos to the MPEG format with pictures
Do you get an MOV video from your friends and can't open it? In fact, the MOV format is developed by Apple Inc. People can open it with QuickTime player. But many people complain that they can not open and play MOV file in their applications or playback devices.
In this case, you can change the video format from MOV to MPEG. What is the MPEG format? And how to convert MOV to MPEG?
You will acquire the information as long as you read the following parts.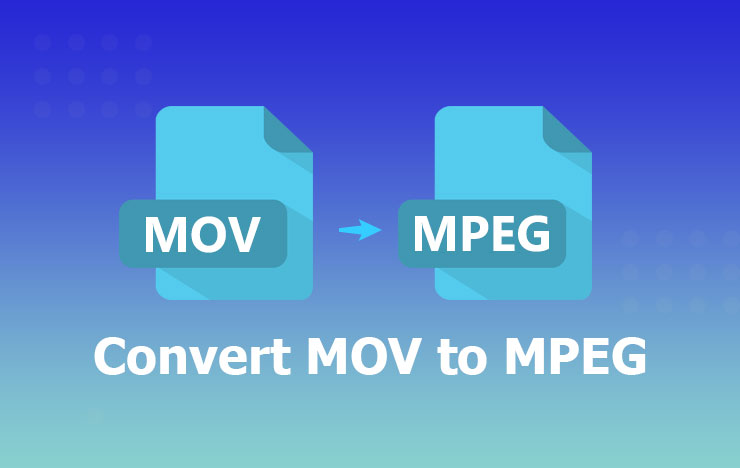 1 Was is the MPEG format
Seriously speaking, MPEG (Moving Picture Experts Group) is not a video format. It's an international standard especially for moving pictures and compressed audio. There are 5 standards including MPEG-1, MPEG-2, MPEG-4, MPEG-7, and MPEG-21.
MPEG-1 is often used in VCD with a low video resolution 352*288. MPEG-2 is used in DVD, the video resolution of it is 720*576. MPEG-4 (MP4) has been used most frequently. Our portable devices such as iPhone, Android phone, iPad, tablets, Xbox One, PS4, TV, etc. all support MPEG-4.
2 How to convert an MOV file to MPEG
If you want to convert an MOV file to MPEG with the easiest way, you must not miss the freeware ToolRocket Video Converter. It is a versatile video converter and editor software on Windows. As a powerful video conversion program, it supports abundant video and audio formats incl. MOV and MPEG.
In the following part, you can follow my steps and learn how to turn MOV format to MPEG using ToolRocket Video Converter.
Step 1: Download, install, and run the application on your Windows 10, Windows 8, Windows 7 computer. Then select the "Converter" function.
Step 2: Click the "Add Files" button or drag your MOV file(s) directly to the software. If you have more than one files to convert, just upload them together. Because of the bulk conversion feature, you are able to convert them at one time, which increases the video conversion efficiency extremely.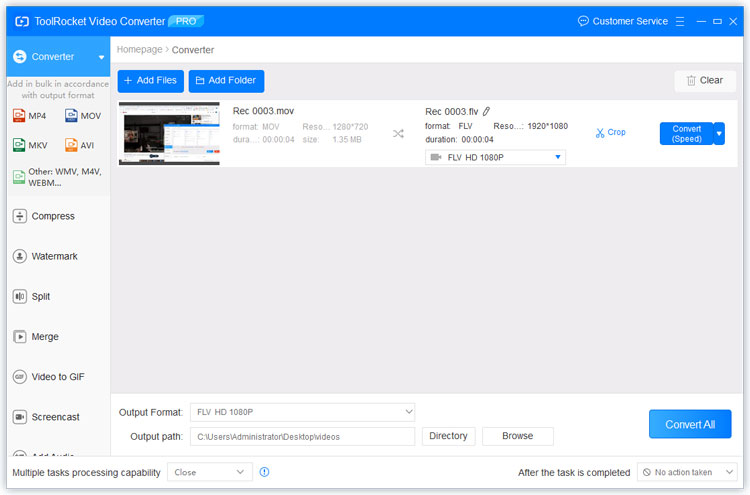 Step 3: Click the drop-down list of "Output format". Then select "Video" > "MPEG". Here you can choose MPEG-1 or MPEG-2. If you want to convert MOV to MPEG-4, you need to choose "MP4" format.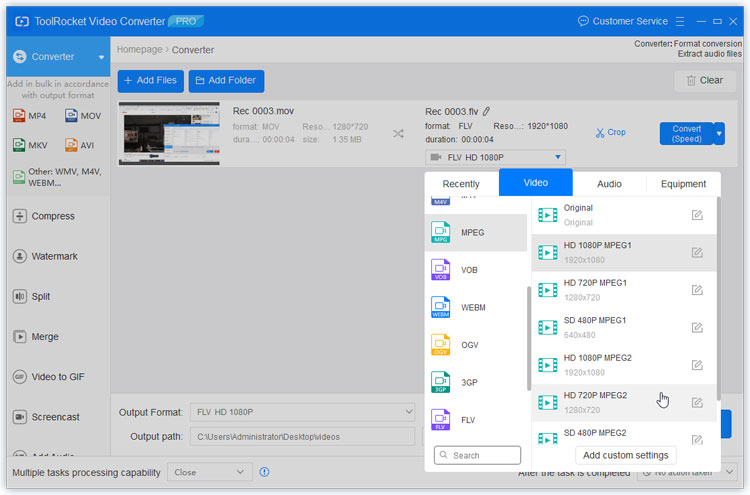 Step 4: Click the "Browse" button next to "Directory". Then you can set the output path for the MPEG file. Finally, click "Convert All" to export the video to the hard drive of your computer.
Note:
1. ToolRocket Video Converter supports plentiful video formats. If you don't want to change MOV to MPEG, you can also convert MOV to MP4, AVI, FLV, MKV, etc.
2. When you open the software, you may find there are various features available to you. For example, compress video, add watermark to video, split video, merge video, convert video to GIF, record video, add background music to video, optimize video effect, take a screenshot, etc.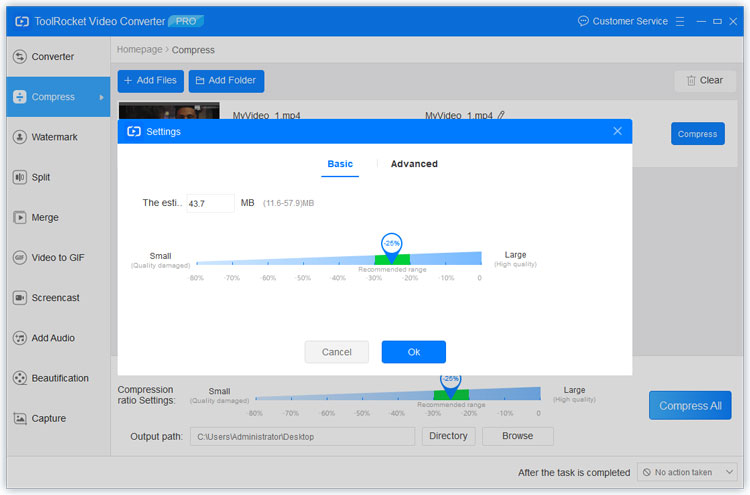 3. While setting the output format, you can also enter the format name or select one for your device.
4. In video converter, there is a built-in video recorder. If you want to record the computer screen, you don't need to install any other screen recorder applications on your computer.
If you don't want to download any desktop software on your computer, you can also use an online MOV to MPEG converter, such as convertio, zamzar, cloudconvert etc. Usually, the online tools are very easy to use but have a limit to the video size. So if your MOV video not too large and less than 100 MB, you can use these online tools.
3 Frequently Asked Questions
Question 1: How do I convert MPEG to MOV?
In this article, you have known the freeware ToolRocket Video Converter. It can not only help you convert MOV to MPEG but also save MPEG as MOV.
Question 2: How do I convert iPhone video to MPEG?
For converting iPhone videos, you must install an iPhone video converter from the App Store. The Video Converter, Media Converter – video to mp3, and so on. As long as you install one video converter app on iPhone, import the video to the app, and choose MPEG as the output format, you will get the target MPEG video on your iPhone easily.
Question 3: Can Windows Media Player open MOV files?
Certainly, you can open MOV files in Windows Media Player. According to the references of Microsoft, the Windows Media Player software supports 12 types of media formats. As officially mentioned, it supports QuickTime Movie File (MOV). So you can open and play MOV file in Windows Media Player.
Question 4: Can I just rename MOV to MP4?
No, you can't change the video format from MOV to MP4 by renaming the file extension. When you come up to this question, in fact, you don't understand the principle of video encoding. When it comes to changing the video format, it means that the video encoder should be verified. In order to turn MOV to MP4, you should change the video codec rather than renaming the file extension simply.
4Conclusion
Have you experienced the software ToolRocket Video Converter for converting MOV files to MPEG? What do you think of it? If you already installed it, you can also try the video editing functions. As a matter of fact, it supports 4K UHD, HD 720p, SD 480p videos. So you can easily change video resolution with it.