The best free Birthday video maker – Create happy birthday with easy steps
Are you looking for an effective way to wish someone on the upcoming birthday? Then you should go ahead and take a look at the best birthday video maker. It will help you to create a unique and interesting wish, which you can use to wish anyone you want without a problem. You will be able to deliver a perfect impression along with the birthday wish.
There is no need to use a complex tool to create your birthday video wish. All you have to do is to start using a simple birthday video maker. That's where VidClipper Video Editor can help you.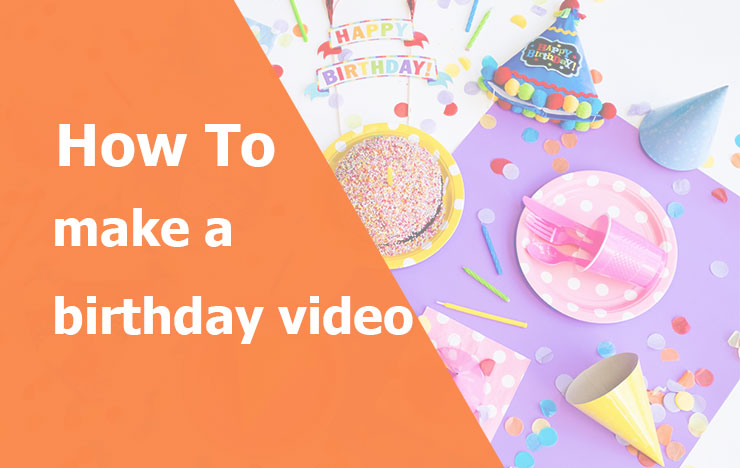 1 What is VidClipper Video Editor
VidClipper Video Editor is one of the simplest video editors available out there for you to use as of now. You can use this video maker and create birthday videos according to the birthday video ideas that you have in your mind.
There are numerous amazing benefits that this video maker can offer. The most prominent benefit is that it can help you to create that perfect birthday video according to the specific requirements that you have in your mind. Hence, you will be able to end up with creating a perfect video, which can impress anyone.
Features
1. Edit videos: adjust video effect, crop video size, add mosaic to video.
2. Make videos: Create a video from pictures, audio, and video clips. You can add text/filter/overlay/animation/transition to video.
3. Convert videos: As long as you import a video file to the software, you can save it in multiple formats including MP4, AVI, WMV, GIF.
You can download this freeware by clicking the button below to have a try.
2 Why should you use VidClipper Video Editor as the best birthday video app
Numerous reasons are available for you to continue using VidClipper Video Editor as the best video maker app. Here are some of the most prominent reasons for them. You can go through this list of reasons and see whether they are appealing to you. If you find them appealing, you can start using the video maker without keeping any doubts or second thoughts in mind.
This video maker is simple, but highly powerful. You will be able to gain access to some outstanding features while you are using it. Therefore, you can have the freedom to create many different types of videos, including birthday video greetings.
Even if you want to make a YouTube video, it can also help you.
Let's take a look at some of the key benefits that you will be able to experience by using this app.
✔ It is easy to use
You don't need to be a professional video editor or have any technical skills to use this tool. It is one of the simplest birthday video makers available for you to use as of now. Therefore, you can keep peace of mind and start using the video maker to get the desired results as per your expectations. The steps on how to use VidClipper Video Editor are self-explanatory. You will only need to go through three simple steps to get the job done as well.
✔ It can deliver a professional outcome
VidClipper Video Editor will help you to create a professional birthday video as well. The person who receives the birthday video created by you would assume that it is created by an expert. Most of the work is done by this app and you just need to play around with the functionality. Then you will be able to get most of your challenges sorted when creating a professional video. You can also call this a perfect tool for a reliable video maker.
✔ It can help you to create any type of video
VidClipper Video Editor is not just a birthday video maker. You will be able to use this tool for creating many other types of videos. You will be provided with the chance to create videos professionally. Hence, you can keep peace of mind and proceed with the video creation process. This can deliver outstanding returns to you in the long run.
✔ There is a massive collection of templates
You will be able to find a massive collection of video templates in VidClipper Video Editor. By using those templates, you can create any video as per your preferences. You can also use this collection of resources to find that perfect birthday video song according to your needs as well. No more to think of the birthday video ideas, just choose a template, then you will make the video fluently.
3 How to use VidClipper to make a birthday video
Now you are aware about the reasons to use this birthday video maker. Along with that, it is worthy to understand the steps that you should follow to use it as well. Here's a quick overview of the steps that you will need to follow in order to use the birthday video song maker. First, download and launch it on your PC.
Step 1: Open the app and pick a template
The very first step of using VidClipper Video Editor is to open up the app and pick a template. It might be an overwhelming task for you to go through the collection of templates and pick the best one. However, you will eventually be able to locate that perfect template that you should be using.
Step 2: Customize the templates
After finding the template for your birthday video, you can proceed to customize it. it is possible for you to customize many different aspects of the video, including the text overlays transition templates, and the background song. There are some outstanding animations and transition templates offered to you during this stage to get the maximum returns.
Step 3: Publish the video
Once you are done with making all changes, you can preview the video. If that matches with your preferences, you can simply go ahead and publish the video. You will then be able to start using the video for any given purpose as per your needs. For example, you can upload it to Facebook or share to your friend via an email.
Conclusion
As you can see, VidClipper Video Editor is the best birthday video maker available out there for you to use as of now. Instead of downloading complex software, you can stick to this simple and convenient software. It will help you to get the desired outcome without going through any major challenges. Hence, you can get VidClipper Video Editor and create that perfect video wish to your loved one. You will also be able to use this for any other video creation purpose based on its versatility. If you want to save the video as GIF, just select GIF as the output format, you will then get a funny GIF animation on your computer.