Best Video Makers to Create a Video Montage
Suppose you want to make a collage of different video clips and pictures for your upcoming anniversary or a close friend's birthday. What do you do? Professional video editing software and Apps are not easy to understand, and you want to make a masterpiece in a small amount of time. You want something which has really simple and easy-to-understand controls. You also want tons of features to make your montage stand out and a library full of songs to add to your montage. We are here to introduce you to two free video montage makers: VidClipper and Qshot. Let's look at each one of them.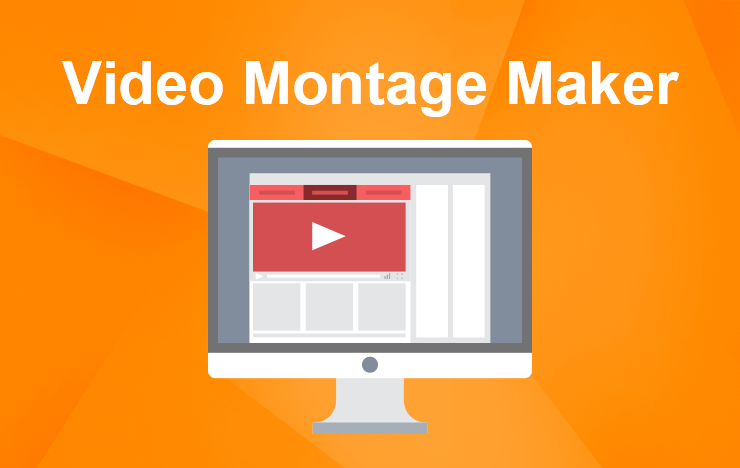 1 VidClipper is your video montage maker on Windows
The answer to your question of how to make a video montage is the software VidClipper. VidClipper is your perfect go-to video editing software, whether you want to give your montage a professional touch or just beginners video, this software is the best for every need. Apart from helping you make your dream video collage, it also comes with 60+ filters, 100+ text styles, 70+ overlay effects, and 100+ transitions. Moreover, it has 200+ animations as well and 600+ songs in its song library. All of these make your video as attractive as you want it to be. There are numerous features like the slow-mo and zoom feature available on the software to help you make your montage stand out. Now let's talk about the steps you are advised to follow to make your video montage using this software.
Step 1: Download the software from here and open it.
Step 2: After the software has finished installing, it will display the aspect ratios in front of you. Select the one best suited for your montage and click 'okay.' The primary and widely used aspect ratios are 1:1, 4:3, 16:9, 3:4, and 9:16. 16:9 is the standard screen ratio, 9:16 is for a vertical phone screen, 3:4 and 1:1 are for Instagram videos, and 4:3 is the traditional TV screen ratio.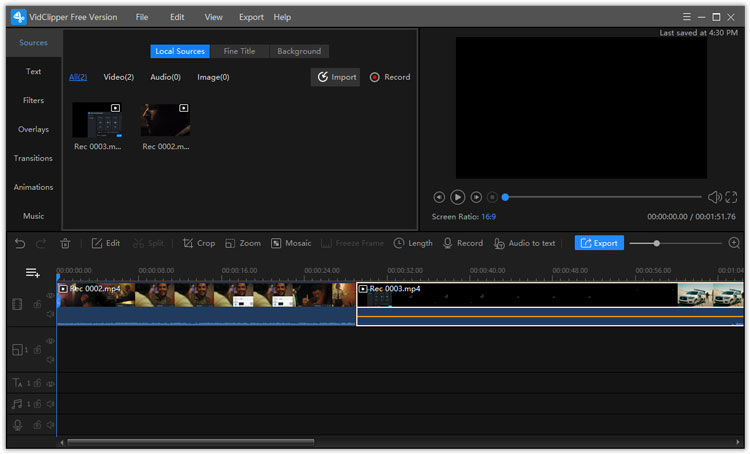 Step 3: The main menu will be in front of you. Click the 'import' button in the left half of the screen. Import all the videos and pictures you want to include in the montage to the software.
Step 4: Drag the video clips and pictures to the timeline in the order you want them to appear in the montage. Or drag them together and rearrange them later on.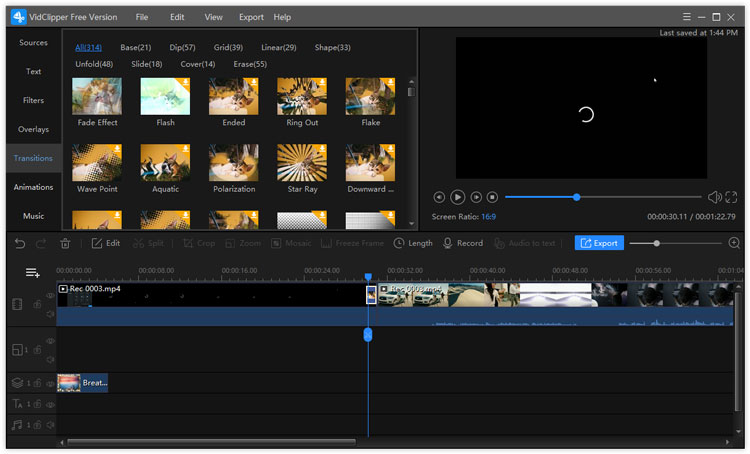 Step 5: Use the various features, transitions, and effects on the videos to make it to your desired standard. The software also has a range of intros, subtitles, stickers, and GIFs to add to your videos.
Step 6: Add songs to your video using the song library already present in the software. Or you can import your audio to the software through the same method you used to import the clips.
Step 7: After you are satisfied with your montage, export it to your desired folder and quality by clicking the 'export' button on the screen.
In 7 simple steps, you can make a professional-looking video montage on your own!
2 Qshot is a video montage maker on your phone
Out of all the Apps to make video montage, Qshot is the most trusted and commonly used App for phone users to make video collages. Since VidClipper is not available for phones, Qshot is the preferred software.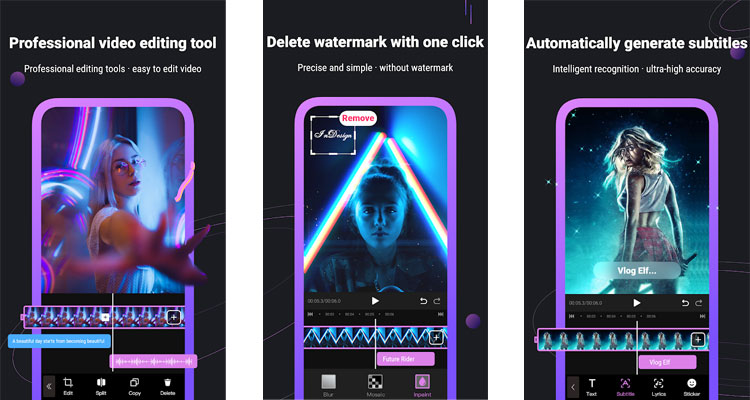 Step 1: Download the App on your phone. For android users, download it from the GooglePlay store. And for iPhone users, download it from the App Store.
Step 2: When the App has finished installing, open it on your phone. You will see a pink 'edit' button in the top left of your screen. Click on it, and it will display in front of you your gallery. Select the video clips and pictures you want to include in your montage. They will be loaded into the App.
Step 3: There will be various features and tools you can use displayed at the bottom of your screen in a toolbar. There will be editing options, cropping, merging, and cutting options, amongst many others. You can add music, filters, and text to your montage by using the tools present. Moreover, you can also add your watermark to whatever video you are making. By using all of these features, you can make your video look professional and charming.
Step 4: When you are done playing around with the montage, you can export it by clicking on the 'export' button. From there, you can select the quality of your montage as well and save it to your phone's gallery.
In four simple steps, you can make your video montage quickly and make it look attractive as well. All your worries about making a video collage are solved by these steps. These video montages act as great gifts for your special occasions. Your question of how to make a video montage on iPhone and Android is now answered.
3 FAQ
1. What Operating Systems support VidClipper?
VidClipper is a recent and advanced video editing software, and hence, it is supported by Windows 7, 8, and 10.
2. What video, audio, and image formats does VidClipper support?
For video, VidClipper supports all standard formats, including MOV, FLV, WMV, MKV, MP4, AVI, etc. In audio, MP3, M4A, WMA, MP2, OGG, WAV, AAC is supported by the software. The commonly used PNG, JPG, GIF, BMP, JPEG, and TIFF are all workable with the App for images.
3. What features do you receive with the Qshot video editor membership subscription?
Customers who subscribe to Qshot video editor get access to features like exporting video without a watermark, video compression, a diverse range of video effect templates and high-quality video export.
4. What type of videos can I make using Qshot or VidClipper?
You can make every type of video, including vlogs, music albums, YouTube videos, Instagram Videos, Tik Tok videos, Snapchat content, tutorials, transition videos etc. The various features enable you to make your desired video for every platform and every purpose.