Take a look at this Blender video editing review and see whether it's the best software available
Finding a user-friendly video editing software that offers impressive functionalities will never be an easy thing to do. However, you shouldn't give up your hopes because Blender is there for your rescue. This is one of the top-notch video editing software applications available for you to download and use as of now.
You will be able to take your video editing efforts to the next level with the powerful 3D modeling and 3D animation creation features offered out of it. Continue to read this Blender video editing review and we will share more details about the software.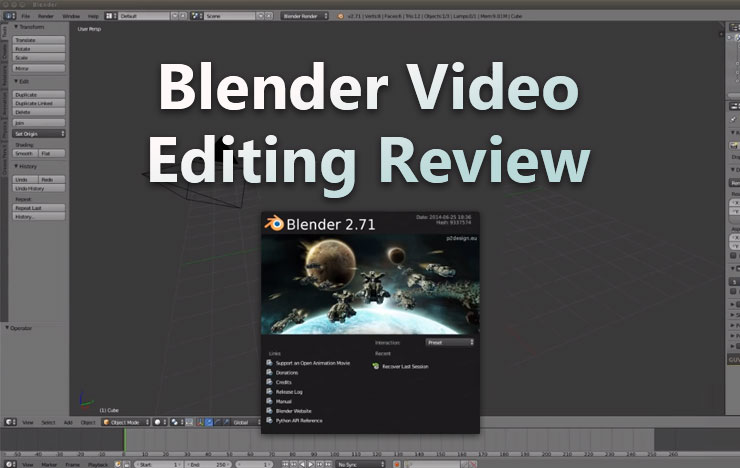 1 What is the Blender software
Blender is a video editing software that focuses more on 3D video editing. In other words, you will be able to find how Blender is offering powerful 3D modeling, 3D animation making, and sculpting features. There is an in-built video editor in Blender, which will help you to edit videos without going through any challenges. It will be able to deliver a versatile video editing experience when compared to other similar options available to try out there.
You can find all the basic video editing functionalities available in Blender. Hence, you can simply go ahead and use it for the video editing needs. But if you are looking for powerful 3D editing capabilities, you can see how Blender is offering advanced functionalities to ensure your convenience.
Advantages of Blender
● It comes with a user-friendly interface
● You can get advanced 3D video editing functionalities
● You will be able to add different effects into the video clips
● Blender delivers three different types of editing visualization capabilities
Disadvantages of Blender
● Blender might be too heavy for your computer
2 5 alternatives to Blender
Based on this Blender software review, you can figure out whether it is the best tool available to try or not. If you are not happy with Blender, here are few of the most prominent alternatives available for the Blender video editing software as of now.
1. ToolRocket VidClipper
If you are looking for a lightweight alternative to Blender, you may take a look at ToolRocket VidClipper. Regardless of your computer specifications, you can use this tool. It would never consume too much of resources on the computer as well. On the other hand, you can use it to get better video editing capabilities. That's because the interface of ToolRocket VidClipper is extremely user-friendly. When you have quick video editing needs, you can take a look at this tool, instead of going for a heavy application such as Blender.
2. Adobe Premiere Pro
Adobe Premiere Pro is one of the highly reputed video editing applications. If you are working on professional-level video editing projects, this would be the right option to consider. However, you need to make sure that you have an appropriate computer, where you can run Adobe Premiere Pro.
3. MAGIX Video Pro X
MAGIX Video Pro X is capable of offering some basic 3D visualization capabilities. Hence, we can also consider it as one of the Blender alternatives that you may consider. This software is also designed to function on your computer without extensively using resources. You can go through the user reviews to get a better picture of this software.
4. Silhouette Studio
Silhouette Studio is offering some excellent designing capabilities. If you want to be creative with your video editing efforts, look no further before you get your hands on this tool. You will be impressed with the creative features that come with it.
5. Art of Illusion
Art of Illusion is more of a 3D modeling software. Anyone who is looking to get a Blender alternative that offers 3D modeling capabilities will be able to go ahead and download Art of Illusion. You will be impressed with 3D modeling features that this software is offering.
3 Frequently Asked Questions of Blender Video Editing Software
Question 1: Is blender good for video editing?
Yes, Blender 3D software is good enough for video editing. No matter whether you have basic or professional level video editing requirements, you may use this tool and get the features offered out of it.
Question 2: Is blender worth learning in 2021?
The Blender animation software Windows is user-friendly and functional. Hence, you will never regret the decision that you are taking in order to download and install this software. The time taken for you to learn this software can deliver a variety of benefits to you. That's because you will never come across the need to go through any challenges with editing a video.
Question 3: Is blender video editing easy?
Yes, if you can understand the basics of Blender, you will be able to proceed with using it to edit videos. This is the main reason why most people prefer to buy this, regardless of Blender software price. However, you should also take a look at the alternatives and make a decision.
Question 4: Is blender better than Premiere Pro?
Once you learn how to use Blender software for video editing, you will call it a better option than Adobe Premiere Pro. However, it doesn't offer all the advanced functionalities that Premiere Pro is offering.
4 Conclusion
All in all, you may call Blender as a decent and a fully-functional video editing software available for use as of now. However, you should focus on all the features offered by this software and understand whether it is worthy to invest your money on the software or not. Then you will be able to confirm whether Blender is the ideal solution available to try or you can find any better tools than that.