How to make YouTube videos with music and pictures on your computer
Do you like to record videos in your daily life and share it on your social network Facebook, Twitter or Instagram? If you are good at making videos in a specific field, such as travel, food, fitness, reading, playing game, you can create you own YouTube channel and make YouTube videos.
But how to make a YouTube video. If you a beginner, it is unneccessary to create professional videos and learn complex video making and post-production courses. Just follow the easy steps here, you will understand the complete process of making YouTube videos.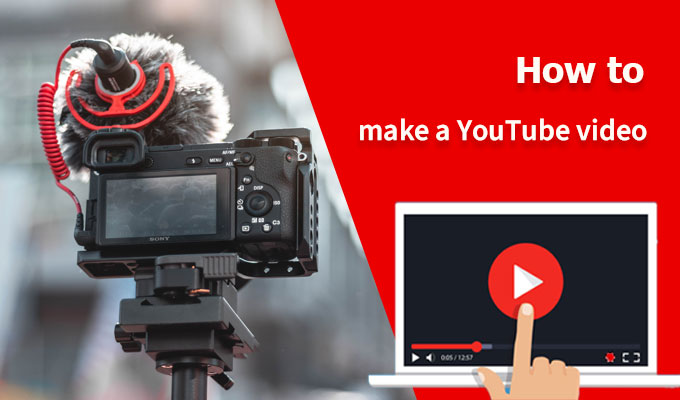 1 Confirm the category of your YouTube channel and target audience
If you a YouTube fans and often surf on YouTube, you will know there are many popular video categories, such as entertainment, music, film, education, news, sport, gaming, technology, etc. The first thing before creating a YouTube channel and making videos is that you should select a category in which you are interested.
How to choose a category, if you don't know clearly your interested field? You can watch videos of Top YouTube video contributors, and learn which type of videos they share and how they organize them.
And how to set your target audience. It depends also on the category. For an education video, the target audience should be primary school students, middle school students, college students, and the white-collars. And if you want to generate gameplay videos, your target audience must be game fans who often play and watch gaming videos. You should select a group of the people for promoting your YouTube videos.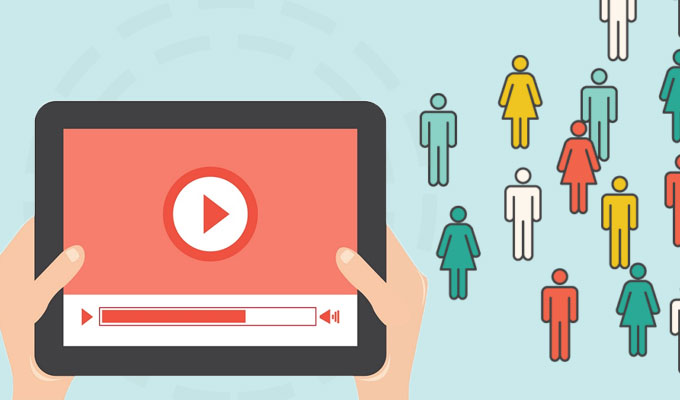 2 Plan your YouTube video content and releasing schedules
YouTube video marketing is not a very simple thing. When you establish your video channel, you must be patient with your releasing plan. Before sharing videos, you have to make a sustainable video releasing plan. The most important thing for that is to plan your video content.
How to find popular themes? A video keyword research is necessary. And YouTube is the best tool for that.
Open YouTube on your computer or phone. Enter a keyword that you interested in. Here I will take "education" as example. In the drop-down list, you will find a lot of recommended keywords, such as education video, education videos for toddlers, educational printables, educational psychology, educational exchange, education technology, education speech, education in China, etc.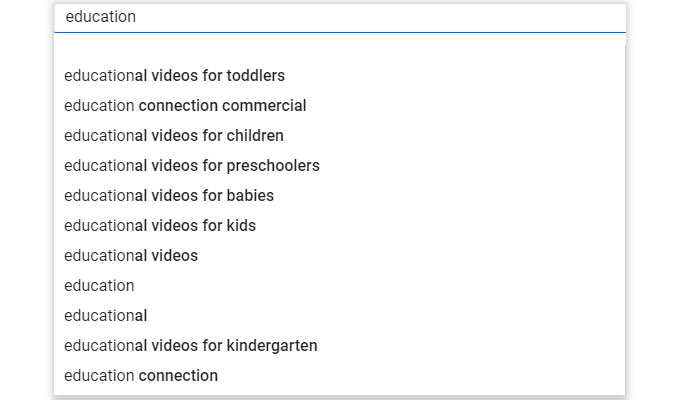 Do you have an idea of how to plan your content? According to the recommendation, you can divide the words into different groups. Then, a video content will be generated.
However, YouTube will not show all the keywords that people search. With an effective keyword research tool – keywordtool.io will simplify your work. Navigate to the YouTube platform, and enter a keyword. It will then display all relevant keywords. In this case, it will be convenient and easy to plan your YouTube content.
After planning the themes, you can make a video publishing schedule. How often? Release date, etc.
3 Prepare video materials for YouTube marketing
Now it comes to the step to make YouTube videos. It's very important to prepare the materials. Video clips, pictures, music. These are the essential elements for a video. Most people will record video clips as the main materials. Thus, a digital camcorder or a phone will help you. As a beginner, it is not suggested to pay attention to selecting a camera. A high-quality video makes people comfortable. But it is absolutely not a necessary and important thing.
For education videos, you should record the training scenarios with/without showing your face. If you only record the desktop, you can use a screen recorder tool. For travel videos, you can take some photos and record videos with your explanation and comments.
Besides, background music is also important for a YouTube video. If you want to dub the video, just record your voice. Otherwise, you may prepare a local music file. You can download a song from music download websites or streaming music platforms such as Bandcamp, Free Music Archive, Jamendo Music, Last.fm, SoundCloud, Spotify, YouTube, etc.
You can prepare the complete music, or cut it with an MP3 cutter tool for usage.
4 Make a YouTube video on a computer or phone
After preparing the video materials, now you can make a video. It is possible to create a video on a computer or a phone. According to my experience, it is more convenient to operate the software and edit the video on the computer. In fact, it depends on your custom. If you often edit videos on an Android phone or iPhone, it doesn't matter. Just select a proper youtube video maker app.
Here I will introduce the operations of making a YouTube video on the computer and recommend you a free YouTube video creator – VidClipper.
Although it is a freeware, it works well and helps you enough with YouTube video creating. Download, install, and run it on your Windows computer. Select the screen aspect ratio 16:9 for YouTube. Then import your video materials to the software by clicking the "Import" button.
Drag the video elements to the video/audio track orderly. Then, you have to set the video length by removing the unnecessary video clips. Move the pointer freely, and click it to cut a video into two clips. In this way, you can cut the unnecessary clips down and remove them. After that, you will get a new video clip.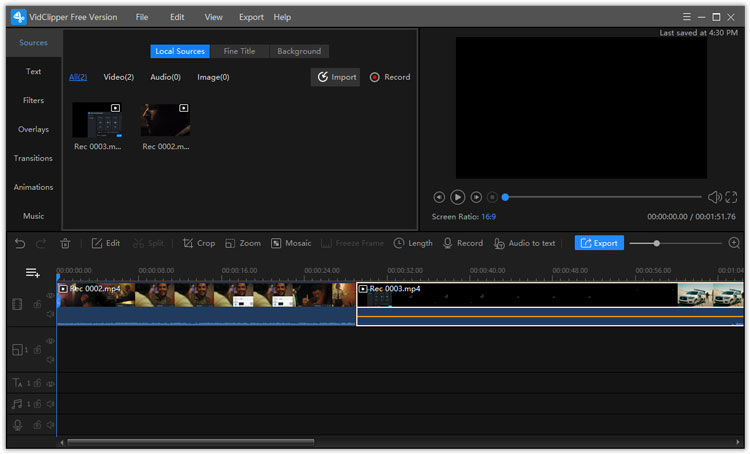 Next, you can edit the video clips for better effect. For example, click "Text" at the left side. You are able to add subtitle or title to the video. There are various styles for you to choose. Similarly, add your favorite filter, overlays, animations to make the video more attractive. To make different video clips continuous, the transitions are helpful. Select a transition effect and drag them between two clips. At the same time, you can set the length of the transition animation.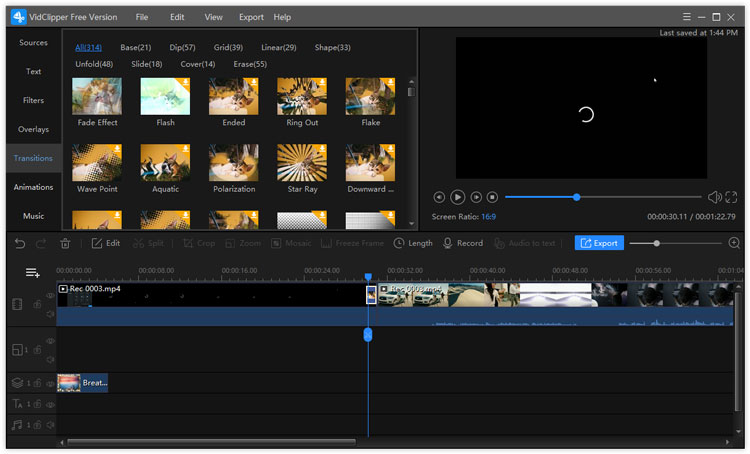 Then add your background music. You can use the prepared audio file or download one from the software. And if you have a voice file, drag it to the voice track. After loading them, please audition it and adjust the volume.
As a matter of fact, this software enables you not only to make a YouTube video but also edit videos. For example, you can crop the video size, adjust video brightness, contrast, hue, saturation, and RGB parameters, to add mosaic to a specific screen area, to rotate videos, and so on, as well as to record voice with the built-in audio recorder.
When you finish to create the video, go to "Export" at the menu bar. Select an output video format MP4, AVI, WMV, MKV, MOV, or GIF, output directory, video definition, length. Finally, click "Export" to generate the video on your computer. After generating, open the output folder and watch the video to check if there is any problem. If ok, then go to the next step.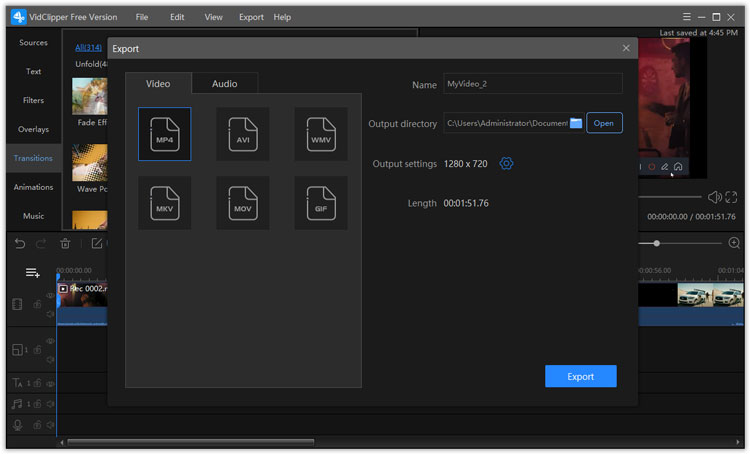 Note: If your play device doesn't support the video formats above, you can use a video converter to convert it to a compatible format.
5 Create a YouTube channel and upload the video
If you have a Google account, open YouTube and sign in with your Google account. If not, please create a Google account at first. Then click on your avatar and select "Your channel". You can first customize your YouTube channel by setting the layout, branding information and basic info.
Next, click on the "Upload video" button to add the video made to your channel. During that, you have to enter the title, description, upload thumbnails, target audience (if it's made for kids). Then, set the visibility among Private, Unlisted, Public, set the date to make your video public. Finally, click "Save" for uploading.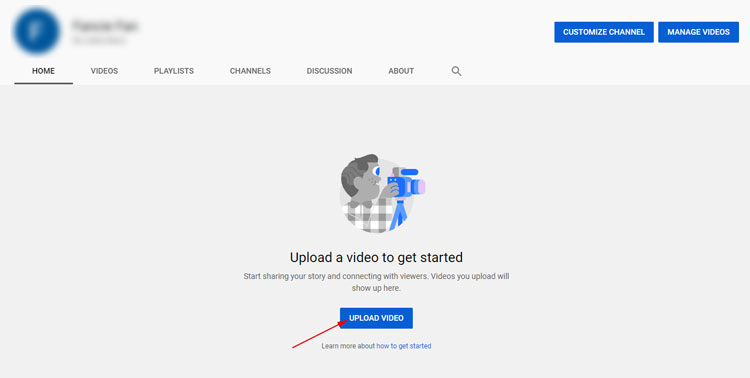 Once uploaded, you can find the video on YouTube. You can try to search the video with a specific keyword. For getting more views from your target audience and post good videos, YouTube SEO is useful. The information such as title and descriptions are very important, and you need to insert one or more keywords into them. For more information and learn factors that influence YouTube video ranking, please read the article from Backlinko.
Conclusion
Have you now have a clear thought of making a YouTube video? With just 5 steps, you as beginner can create your own YouTube channel and post videos. For making YouTube videos, the freeware VidClipper could be a productive YouTube video maker. With that, you can create various types of videos for YouTube, Instagram, Twitter, Facebook, Tik Tok, etc.