Best 4 MOV Editors for Windows/iOS/Android/macOS Users
MOV is one of the most common media formats. It was originally designed as a video format for macOS, with a high compression rate and image quality. MOV can be used not only on macOS but also on Windows systems. More and more media players are compatible with MOV, so it is as widely used as MP4 and other video formats. Nowadays, iPhone and many other devices save recorded videos in MOV format. But still, many video editors do not support the MOV format unless you convert it to other formats. In this article, we have chosen 4 easy-to-use MOV editors for different users.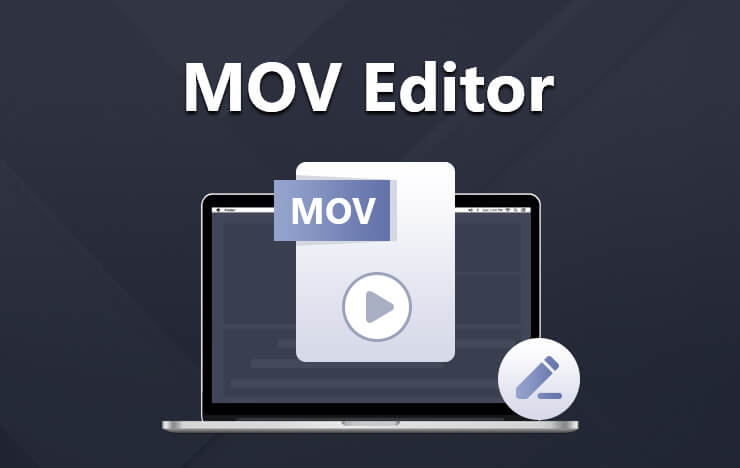 1ToolRocket Video Converter is your MOV editor on Windows
If you are unable to open or edit MOV files on Windows systems, two solutions are recommended to solve this problem. Convert MOV to a file format that can be opened, or use a MOV video editor. ToolRocket Video Converter is your best choice. In addition to powerful video editing tools, it can also help you convert MOV videos.
1. Steps to convert MOV:
Step 1: Download ToolRocket Video Converter from ToolRocket official website or the link above.
Step 2: Install and open ToolRocket Video Converter, click the Converter function on the homepage to start the conversion.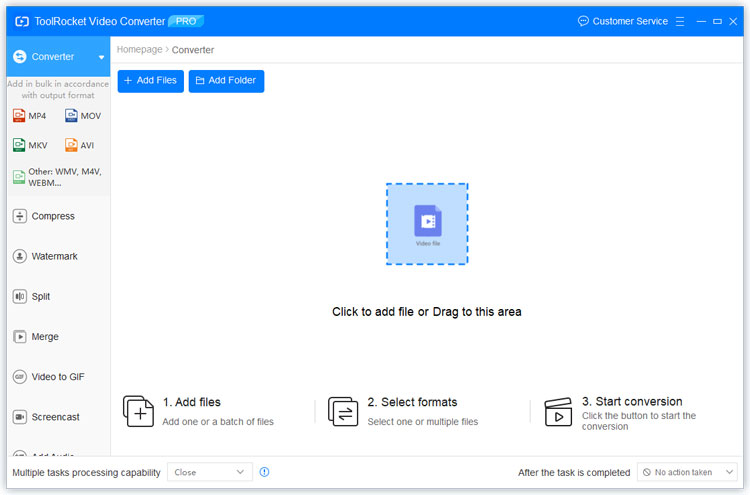 Step 3: Click to add your MOV file, or you can add MOV files in batches. Set other options such as output format and resolution.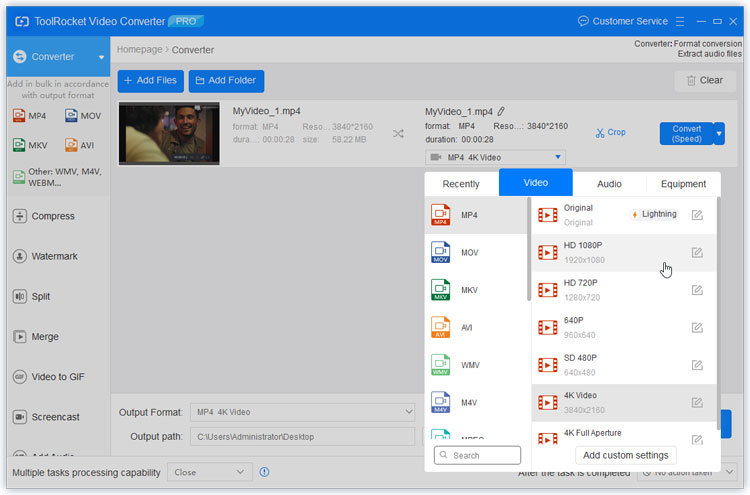 Step 4: Click Convert to get the files you want, such as MP4, MKV, etc.
2. Steps to edit MOV files:
Step 1: Go to the main interface of ToolRocket Video Converter. Here you can find different video editing options, including Split, Merge, Compress, Add watermark, Optimize, Crop. Select one function that you would like to use.
Step 2: ToolRocket Video Converter supports users to split, merge and crop MOV video, add background music, watermark, and apply filters to the MOV video, rotate MOV. Just follow your needs to operate.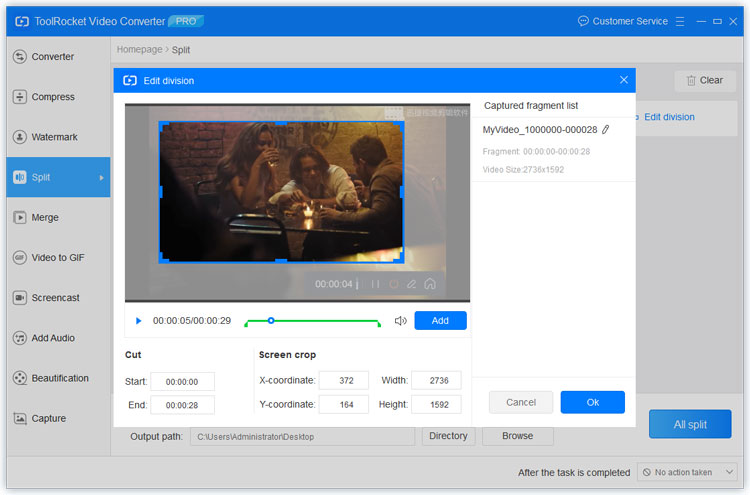 2VidClipper Video Editor is your MOV editor on Windows
VidClipper is one of ToolRocket's products. As a video editor suitable for beginners and professionals, it is also the best free MOV editor for Windows. There are 60+ filters, 100+ text styles, 70+ overlay effects, 300+transitions, 200+ animations, 600+ songs in VidClipper. VidClipper also supports MP4, AVI, WMV, MKV, FLV and other video formats, and MP3, MP2, WMA, M4A, AAC, WAV, OGG and other audio formats.
For all users, especially beginners, you can edit your MOV video in just 3 steps.
Step 1: Download VidClipper and import MOV video.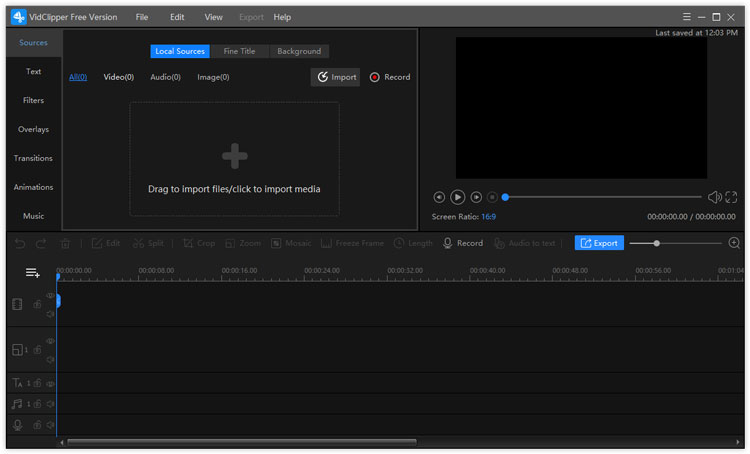 Step 2: Edit the video. You can trim, cut, merge, crop and perform other editing functions, applying a large number of functions to different video needs. There are a large number of libraries and templates available on VidClipper, including transitions, filters, animations, pictures, music, text, etc. You can easily add overlays, filters, text styles, etc. to the video and make a video with pictures and music.
Step 3: Export the edited MOV video.
3Qshot Video Editor is your MOV editor on phone
Qshot Video Editor supports editing MOV video: merge, crop, split, adjust speed, reverse, add watermark, compress, add music, add mosaic, adjust sound effects, etc.
Step 1: Download Qshot App from Google Play Store or App Store.
Step 2: Open Qshot and add your MOV video. Then you can edit the MOV video according to your needs.
Step 3: After all is done, just export your MOV video. Qshot allows you to share videos to Youtube, Tiktok, Instagram and other platforms.
4QuickTime is a MOV editor on Mac
When Mac users record a screenshot in Quicktime, it will be saved as a Quicktime file or .MOV file. QuickTime is a MOV editor for Mac, but it offers few functions for free, only basic video editing functions (such as trimming, rotating or combining video clips), and the paid version has more functions. The specific operation process can be seen here.
Step 1: Click File/Open MOV File, and then open the video you want to edit.
Step 2: Click Edit/Trim.
Step 3: Save or export the trimmed MOV video.
5Conclusion
This article shares the MOV video editors available for Windows, Android phones, iPhone/iPad and Mac OS X. Some of these functions are paid, but most of the basic functions are free. In addition, we also show you how to use these MOV video editors to edit MOV videos. You can choose your favorite tool according to our introduction to start editing MOV video.
6FAQs
1. How to edit a MOV file on PC?
ToolRocket Video Converter and VidClipper Video Editor allows you edit MOV file on Windows PC, QuickTime allows you edit MOV file on Mac.
2. How do I convert MOV to MP4?
ToolRocket Video Converter allows you convert MOV to MP4, and other format.
3. How do I edit MOV files on Android?
If you want to open or edit MOV video on your Android phone, you generally need to convert it to MP4 and then operate it. Qshot Android allows you edit MOV files easily.