Best 4 Webcam Recorders (Free or Paid) in Different Devices
With the world's current state, a webcam has become an integral part of everyone's workflow, whether they are students or creative professionals. In these use cases, there might be many times where you will need to capture larger parts of your screen effortlessly. For example, if you are a teacher, you might need to record your lecture screen alongside your Webcam at the same time. For this purpose, a user-friendly Webcam Recorder or Webcam Recording Software is needed.
Generally, plenty of webcam recorders claim to be useful enough to meet the user's requirement, but they cost money, or many have ads, some have malware, etc. Here are all the methods that you can use to record Webcam with Capture Screen Recorder.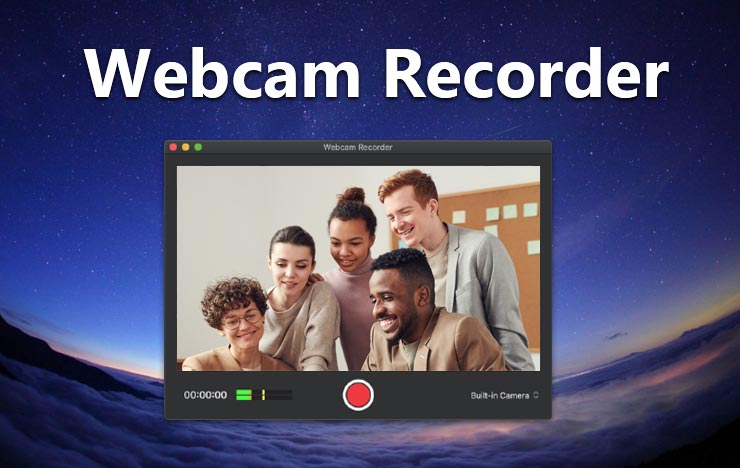 1 Record Webcam with Capture Screen Recorder
ToolRocket Capture Screen Recorder is a native software that you need to install on your computer. You can use it as a webcam video recorder and a method to record your screen or audio.
Suppose you simply have to make webcam recordings. In that case, a short webcam recorder may work. Yet, if you are making item demos, preparing recordings, or different sorts of directions, you need to have the option to catch everything on your screen, including the Webcam. For these reasons, using a professional webcam recorder that can record more than just the Webcam just makes more sense.
Using the Capture Screen Recorder is super easy. Here are the steps to record Webcam with this software:
Step 1: For downloading, go to ToolRocket's website and click on the link present. No sooner than you click on the above link, a screen will pop up showing you a file to be saved on your hard disc. Since this is a lightweight application, it can easily be installed on even a low specification system running windows seven or above.
Step 2: When the installation finishes, you will see a blue color icon on your main desktop screen with the name 'Capture Screen Recorder', and this is the software to use. Upon clicking on the Capture Screen Recorder icon, the main screen of this software will appear.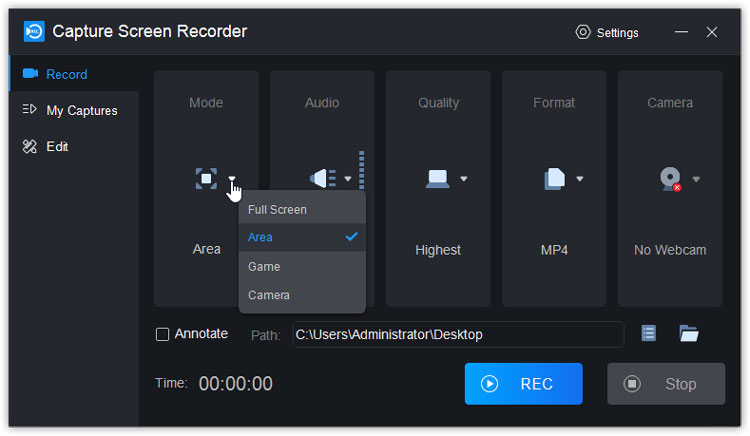 Step 3: On the left side, there is a panel showing three main categories, i.e., Record, Main Captures, Edit. While you click on each class, it offers multiple options on the right side, e.g., if you click on Record, it shows screen mode, audio, quality of the video, file format, and camera, which shows how to record Webcam.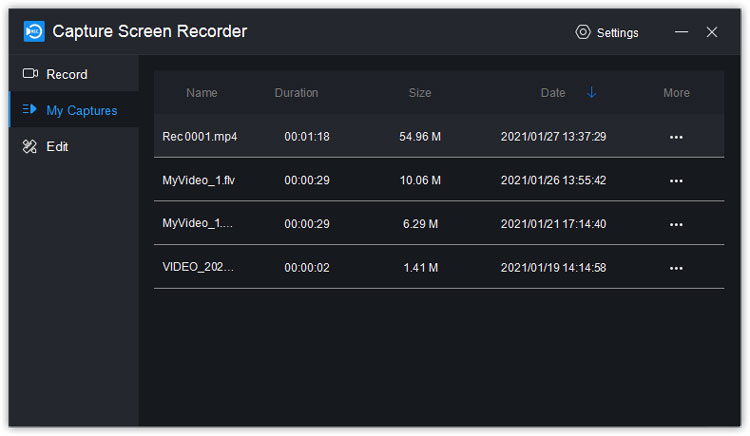 Step 4: While clicking on the Camera bar, the camera video screen appears. By clicking on it, you will find the video files you have saves. This option shows the name of the video file, duration of each video file, its size, recording or capturing date, etc.; on the More thumbnail, it gives the further options of Play, Rename, Trim, Show in a folder, and Delete the file.
2 Record Webcam on iPhone
RecorderPro is proficient in recording your Webcam, which permits you to record from any video gadget, including USB webcam cameras, video catch cards, and camcorders. With RecorderPro, you can catch webcam recordings with sound and transfer the recorded webcam recordings to YouTube.
The main advantage of recording on your iPhone or mobile phone, in general, is the fact that you can use your phone as a second monitor per-say which is especially useful for vloggers/streamers.
Here are all the steps you need to follow in recording the Webcam with the RecorderPro on iPhone:
Step 1: Open the RecorderPro iOS and connect it to your PC or Webcam directly via a USB or Bluetooth link (whichever one your Webcam supports.)
Step 2: You need a webcam or catch gadget (equipment) to utilize the 'Gadget Recording' method of RecorderPro. The application supports a large majority of webcams.
Step 3: Your files will be saved to camera roll after you are done. You can open your RecorderPro to check your recording by tapping the little thumbnail picture in the base right corner of your screen.
3 Record Webcam on Android
If you need to record a video directly from your phone, you can utilize an online video recorder like RecorderPro Android to make your video. Like the application on iPhone, you can use this application if you have an Android phone. Both of them mainly have the same functionality. Here is how you can record Webcam with online video recorders:
Step 1: RecorderPro is a free webcam recorder. To utilize it, you need to sign up. You can register using your Facebook or Google account or using your email address.
Step 2: To record a video utilizing your Webcam, head over to the online video recorder and snap-on. Make a recording. It will request consent to use your mic and your camera. When you are prepared, hit Record and record your video.
4 Record Webcam with Windows Camera
The Camera application's perfect interface makes it very simple to utilize, while the "professional" mode gives you a tad of additional command over your video quality. Here are all the steps you need to follow in recording the webcam with the camera:
Step 1: Most Windows PCs accompany a chronicle application called Camera. To begin, open up the Camera application. The least demanding approach is looking for it (the pursuit bar is in the base left corner of your screen in Windows 10). If this is the first occasion when you're terminating it up, you may have to give the application a few authorizations.
Step 2: When the software is all set, your camera will connect with, and you'll see a live feed of yourself looking astounded, in addition to the camera and video catches on the privilege of the screen. To begin recording, click the video catch to choose video mode; at that point, click it again to start recording.
Step 3: Your files will be saved to camera roll after you're done. You can open your Camera Roll to check your recording by tapping the little thumbnail picture in the base right corner of your screen.
5 FAQs about Webcam Recorders
1. Can you record your Webcam for free?
Depending on the software you use, webcam recording can be completely free. If you use ToolRock Webcam Recorder, you can easily record thousands of hours of webcam footage for free without losing quality whatsoever.
2. How do I record Webcam online?
You can use websites that are providing online video recorders. The method is straightforward and completely free. Moreover, it does not require you to download any additional software.
3. What is the advantage of recording a webcam?
There are significant advantages to record a webcam. Firstly, you get to have complete control over the recording. You can make it shareable and editable, which gives you complete freedom. Moreover, webcam recording through good software has much higher quality. So, you can expect your images and videos to look extremely clear and sharp.
4. How can I open a webcam recording after shooting it?
Almost all PCs have the option to play videos. You can use any open-source software to play the video or use the default Media Application. After you have played the video, you also have the option of editing them to your heart's content.