Best Camtasia Alternatives for Mac and Windows (2021)
Camtasia is considered one of the best all-in-one screen recorders and video editors in 2020 because of its easy-to-use application environment that allows the consumer to create high-quality videos on a Mac and PC with all the features they need to start making professional quality videos in a split second.
It provides users with hundreds of valuable features that capture and edit videos by adding different recordings, audio GIFs built-in templates. Simple drawing edits are now a breeze. It's a common saying that every good thing comes at a cost. Still, we have managed to find the best alternative for Camtasia, the Capture Screen Recorder for Windows, which allows the same valuable features but completely free of cost. If you find this product interesting, look no further and read the article below.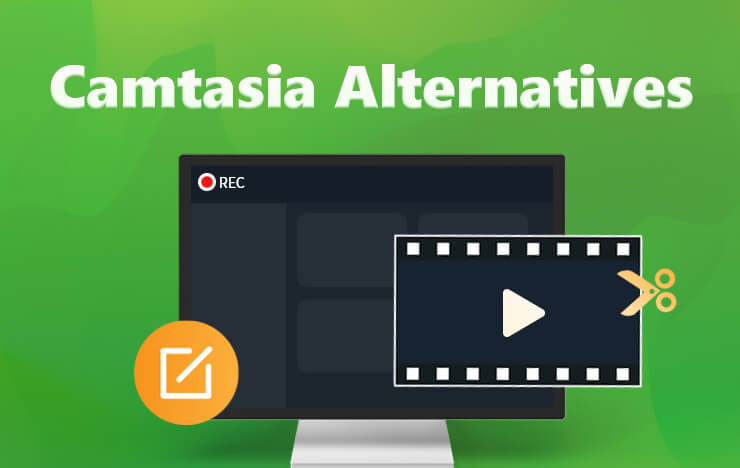 1Features of Camtasia
Camtasia is an all-in-one screen and video recorder or editor which allows users to make high-quality professional-looking videos for Windows and Mac. Providing users with a plethora of features, Camtasia is easy to use, compact, and powerful.
It provides pre-built templates to reduce time while editing. This application can also make custom templates, and consumers can rapidly access a useful tool while saving styles and configurations. Users can record anything on their computer screen, including the website's software, video calls, PowerPoint presentations. Furthermore, it allows the user to add, remove, trim, and move sections of audios with its drag and drop editor. This also enables users to add their web camera video into their video editing and microphone voice, even if it's external or from the PC.
The thousands of songs to be chosen from their library and integration with Microsoft PowerPoint making effective slides and presentations become a breeze. You can even connect your iPhone directly to your Mac to record the screen on your mobile phone. It even records the gestures and taps on your screen. To view the product, kindly visit the product page provided here.
2Camtasia Alternative for Windows
Capture Screen Recorder, a useful freeware, and a Camtasia alternative for Windows 10 help users save their streams or some other kind of video instantly and conveniently. Other than all the benefits of Camtasia, it is entirely free and has even more benefits. It allows users to download or record videos in a range of video quality choices, including HD, SD, and the website's original video quality. They are using the steps below to screen capture videos.
Step 1: Install the executable file after downloading the software and capturing the screen recorder from this connection. Visit the product page or download this fantastic application click here or download it directly.
Step 2: After completing the installation, a pop-up for the best Camtasia alternative for PC will show, which contains the initialization menu. After that, you will select your preferred video quality. If you want the audio in the recording or not, it also gives you an option for the recording quality and whether you want the whole screen or partial screen to be recorded.
Step 3: After your preferred settings have been selected, click the REC button at the bottom right of the screen, and after a countdown display of three seconds, the recording will start.
Step 4: Go to the website where you want the video to be recorded, sit back and relax. Capture Screen Recorder will record the footage on its own.
Step 5: After the capture is complete, go back to the application and click the stop icon. You can go to the captured tab on the left column to access the captured video.
3Camtasia Alternative for Mac
Capture Screen Recorder for Mac is an easy way to frame your favorite videos, sports movies, video calls, or other media. The consumer can do a lot more than just recording with this Camtasia alternative for Mac. This compact application is a powerhouse that helps you make professional-quality and uncompressed photos. Furthermore, allowing you to trim, add audios and create GIFs fit create ease. This software is free of cost, and the bonus point is that it doesn't have a watermark. To capture any video of your choice on Mac, follow the following steps.
Step 1: Download the software from the link provided below and install the DMG executable file.
Step 2: After the installation has been completed, a pop-up screen for the Camtasia alternative for Mac will show up. Select your preferred options and click the REC button, and after a countdown, the recording will start.
Step 3: Go to the website from which she wants the video to be captured and sit back and relax. The rest of your work is being done by this fantastic application.
Step 4: After the capture has been done, go to the capture tab and access here according to had enjoyed.
4FAQs about Camtasia Alternatives
1. Does this recorder change the quality of the video?
No, it doesn't. The application provides the option for selecting the quality of the video being captured. You can choose these qualities in the pop-up screen that shows up in the application.
2. How am I sure that this application doesn't contain any virus and is entirely safe?
A very trusted company makes this software, and developers and users thoroughly check it, so rest assured it is entirely safe for your system. Use it freely.
3. Are there any hidden charges for this application?
The capture screen recorder, otherwise known as the best Camtasia alternative for PC, is completely free of cost and doesn't contain any hidden charges. The creators have been so generous that they didn't even include the video recorder's watermark to give you a crystal-clear experience.
4. Where do you need this application?
The officers can use this application in schools and entertainment to capture a stream that you want, whether it's grabbing a presentation or catching a lecture given online. This compact powerhouse does it all.