Top 5 Voice Recorder Apps for iPhone
A good voice recorder app for iPhone or iPad offers flexibility to students, audio note-takers, podcasters, interviewers, singers, etc. Not just that, when you are just starting with the mentioned professions, then a voice recorder is a cost-effective option.
If you want to know how to record voice on iPhone then we have got you covered. In this article, we will provide you with the review top 5 best voice recorder apps for iPhone and a step-by-step guide of our recommended app that will help you record your voice on iPhone.
Moreover, the apps mentioned in the article are free or relatively low-cost apps.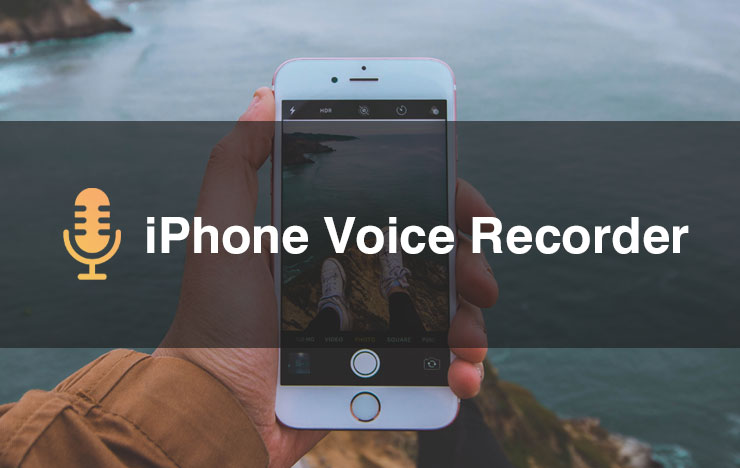 1. RecorderPro
RecorderPro is our top recommendation on the list of the best voice recorder apps for iPhone. This is one of the most comprehensive and versatile apps that you can use to record your voice. With RecorderPro, you cannot just record your voice but also, make GIF, accurate video cropping, add video dubbing and record 1080p HD video.
This is a paid app, however, the subscriptions are affordable, where a monthly subscription will cost you around $7.99 and a yearly subscription will cost you $39.99. What we like the most about RecorderPro is that it has a lot of exciting features to offer such as record high-quality or even uncompressed videos, customize resolution, record in both landscape or portrait mode, etc.
Check it in App Store: https://apps.apple.com/US/app/id1473244324?l=en
How To Use RecorderPro
1. Download and open the RecorderPro and on the default interface, tap the "Record Now" button.
2. Next, check whether the microphone is On or Off.
3. When you want to start recording, tap "Start Livestream", and after 3 seconds your recording will begin.
4. When you want to end the recording, tap the "Stop" button.
Voice Memos
Voice Memos comes pre-installed on your iPhone and this could be an ideal option for people who are looking for a free voice recorder app. This is a super simple and easy-to-use app. It allows you to choose compressed or uncompressed audio format, you can trim and edit your clip, and share recordings via messages, emails, or AirDrop.
However, as the app is free, it does not offer you as many advanced features as the paid ones do, and there are certain drawbacks of using Voice Memos that you acknowledge if you are willing to use this app for large production.
Voice Memos only offer you basic audio editing tools and you cannot share large audio files. So if these drawbacks do not affect you then you can go with Voice Memos.
How To Use Voice Memos
1. Open the app and set the parameters before you start recordings.
2. Tap the "Record Button" in red to start recording.
3. You can pause or resume the recording whenever you want.
4. You can also sync to iCloud to access your recording on all your devices.
Voice Recorder Lite: Record HD
Here's another free voice recorder app for iPhone. Compared to the above app, this voice recorder app offers slightly better features to record your voice. Voice Recorder Lite comes with built-in editing features and multiple playback options. Another good thing about this app is that it provides you with external input device support.
The app is available in 11 different languages and it allows you to auto-upload or share recordings via iCloud, iTunes, Dropbox, and AirDrop. Whether you want to record your meetings or lectures, this app will ensure that you get the best quality recording.
This app is super easy to navigate, hence you will have no problem using it.
How To Use Voice Recorder Lite
1. Download and open the app.
2. Tap the "Red" button to start recording.
3. You can also pause or resume the recording in between.
4. When you are done with recording, tap the "Stop" button above the "setting" option.
5. You can trim the unwanted part and save the recording.
Voice Recorder Pro
Continuing with the theme of versatility, here is another advanced voice recorder app for iPhone. Voice Recorder Pro is a paid app, and it offers you a lot of exciting features so that you can record your voice in the best quality.
The best thing about this voice recorder app is that it can directly record into compressed formats like MP3, MP4, etc, along with uncompressed formats. Besides, you get a convert function for all supported formats. In addition to all these amazing features, there are tons of other features as well that you can use and produce the best voice recording of yourself.
How To Use Voice Recorder Pro
1. Download and open the app.
2. On the default interface, click the "Rec" button in red.
3. You will have to first set the parameters and then press the "Start" button on the top right corner and it will begin recording.
4. Stop the recording by pressing the "Stop" button and you will be given options where you want to save your recording.
5. Choose your desired location where you want to save your recording.
AudioShare
Lastly, AudioShare‬ is another paid app that you can use to record your voice on your iPhone. Particularly, if you are a DJ, beat producer, or musician then it is an ideal voice recorder app to have.
It offers you great features such as audio editing, file management, trim, convert, zip, unzip, and much more.
How To Use AudioShare
1. Tap "Record" mic.
2. In the popover window, set your desired parameters and hit the "Record" button.
3. When you are done recording, tap "Stop" and your recording will be saved automatically in the library.
Frequently Asked Questions
Question 1: Where is the voice recorder on my iPhone?
Go to the "Extras" folder to find the voice recorder on your iPhone.
Question 2: How can I record a call on my phone without an app?
When you go on the call with someone, you will see a 3 dot menu option, click on it, and in the drop-down list, you will see the option "Record Call", tap on it, and call recording will be started.
Question 3: What is the best app for recording lectures?
RecorderPro is the best app for recording lectures because it allows you to record video in 1080P quality. You will not face problems with blur video or low quality video with RecorderPro. Besides, it provides you numerous options to edit the video the way you like.
Question 4: How do I record online classes on my phone?
You can use any of the above mentioned apps to record online classes on your phone.
Conclusion
This was our review of the best voice recorder apps for the iPhone. We hope that you liked our recommendations and you find the app you were looking for. Besides, you can visit the official page of these apps to get in-detailed information about them. Having said the, our review ends here. Thank you for taking out your precious time and reading our article. You can leave us your feedback as we appreciate it.