OBS Alternative for Windows and Mac: Capture Screen Recorder
The pandemic has forced us into an online web in today's world, and everything has shifted online. Whether it is a class, a meeting, a get-together, or a birthday party, you can now do everything via videography. That is why it becomes increasingly important that the basic video editing skills are familiar to everyone, including learning how to record a video and live stream it. Recording a video can become very useful when you want to save it for your students or colleagues or see that football match later. Therefore, we are here to tell you of the commonly used software for video recording and live streaming.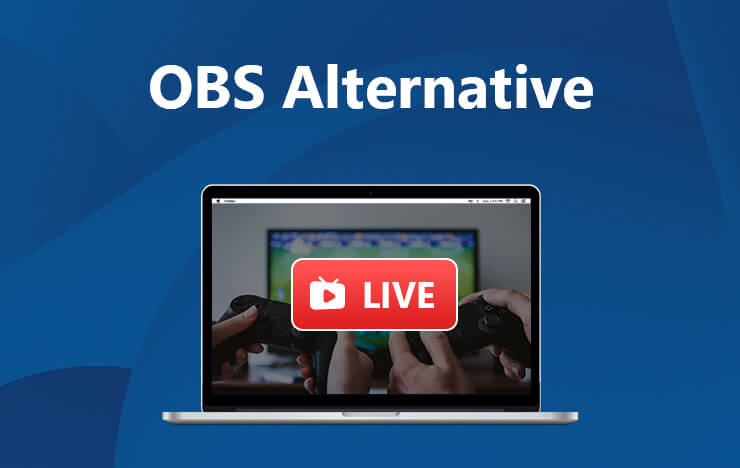 1Features of OBS
OBS studio is the most commonly used software on Windows, LINUX, and Mac for recording videos and live streaming them. It has gained popularity because of its free of cost features. It allows you to work on an unlimited number of screens simultaneously and switch between them easily. It gives you expert-level tools to capture and mix videos and audios and an audio mixer with filters like noise suppression, noise gate, and gain. The streamlined access panels allow you to work with a broad table of configuration options to edit your recordings. There are also several transitions available that you can choose from and add to your video. The 'studio mode' allows you to preview your screen and videos before you go live.
2OBS Alternative for Windows
We understand some people might have trouble downloading OBS or might not understand how to use OBS. That is why we are introducing to you an alternative for OBS: Capture Screen Recorder. It is, yet again, free software to record videos, and the best part about it is that it is easily understandable, making it the perfect alternative option.
It supports recording games, live streams, and tutorials as well. You can customize the recording area or record your entire screen. There is no time limit, so feel free to record your screen whenever you want to. The sound is synced with the video while recording, so you don't have to worry about lags or breaks. You can also change the output video format to MP4, FLV, or AVI, according to where you want to use the recorded video. Especially for teachers is the feature where you can add lines, arrows, notes, and text to your video while you are recording it, and it will show in the recorded video as well. The recorded video is at an SD or HD quality, making it the perfect visual experience. These reasons make Capture Screen Recorder the best alternative to OBS. Let's take a quick look at the measures you need to follow in recording videos with Capture Screen Recorder.
Step 1: Download the free software from this link and run it on your Windows.
Step 2: When the installation finishes, the software will open in front of you. On the menu page, you will see different options to customize your video recording settings. You can select the mode, the audio, the recording's quality, and the output format.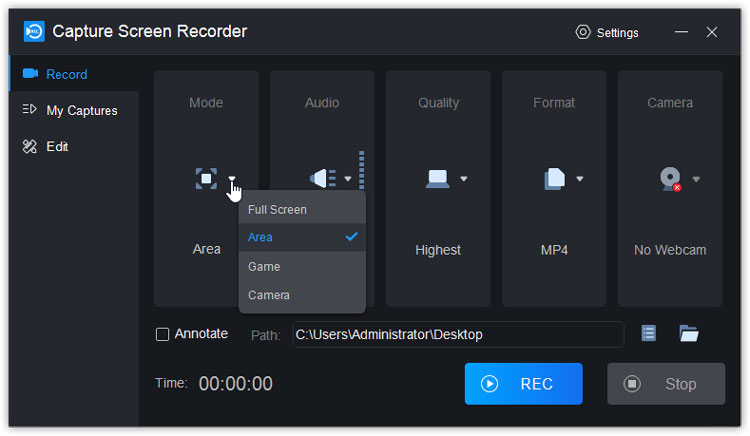 Step 3: Specify the path directory where you want the software to save your video.
Step 4: Click on the 'REC' button to start recording. You have up to 33.4 GB of space to record each video.
Step 5: When you have completed, click the 'STOP' button next to the 'REC' button. The software will save your recording in the path you specified.
In just five simple to follow steps, you can easily record your videos on a PC for free.
3OBS Alternative for MAC
Capture Screen Recorder for Mac is also the OBS alternative for Mac users. People who use Mac can download it free of cost too and avail all features of the software. To record a video, they need to follow the five simple steps, which are the same for Windows users.
4OBS Alternative for phone
Till now, we have given you substitutes in place of OBS Studio for Windows and Mac. However, phone users may not worry, as we have the perfect solution for them: RecorderPro App. Its features make it the best suited OBS alternative for android and IOS. After recording, you can edit your video too; you can crop them, trim them, add music to them or convert them to any other format of your choosing. You can record high-quality videos watermark-free and at a custom resolution with just one click
Step 1: For Android users, download the app from here. And for iOS users, this is the download link.
Step 2: When the app opens in front of you, click the 'Record Now' button to start recording. You can choose to turn your microphone on or off during the recording as well.
Step 3: If you want to live stream, tap the 'Start live stream option, and the stream will begin after 3 seconds. This feature makes the app the alternative to OBS for streaming as well.
Step 4: After you have done recording, tap the 'STOP' button to stop recording. Your gallery saves the video.
In four steps, you can record and live stream your videos on your phone.
5FAQs about OBS alternatives
1. What are some other features of Capture Screen Recorder?
It offers the option of floating frames, which you can activate with a single click, screen drawing tools to make notes and highlight key points, hotkey settings to make controlling the recording easy, and a mouse movement recorder as well.
2. Where can I use the screen recorder tools?
You can use it to record games and entertainment videos and films or educational purposes and business meetings. It can be used in any way you want to and can record anything.
3. Is OBS better for use than Capture Screen Recorder?
It is up to you and which software you prefer to use. Capture Screen Recorder is perfect for beginners and is very easy to use and understand. The OBS studio is more inclined towards experts and has features experts would be comfortable using, but first-timers won't understand.