Top 10 Free Video Capture Software for video recording
A free video capture software is very useful for capturing high-quality videos that you performed on your device like a computer, mobile phone, or tablet, and meanwhile, you don't want to spend much money on buying a paid recorder. This free video capture software is not limited to only a few features but, you can also perform various activities like editing, recording video in a different format, and much more.
You may wonder how can I find an excellent video capture software right now? Well, don't worry.
To make a job simple for you, here are 10 best free video capture software lists and comparison tables that will help you in your daily life.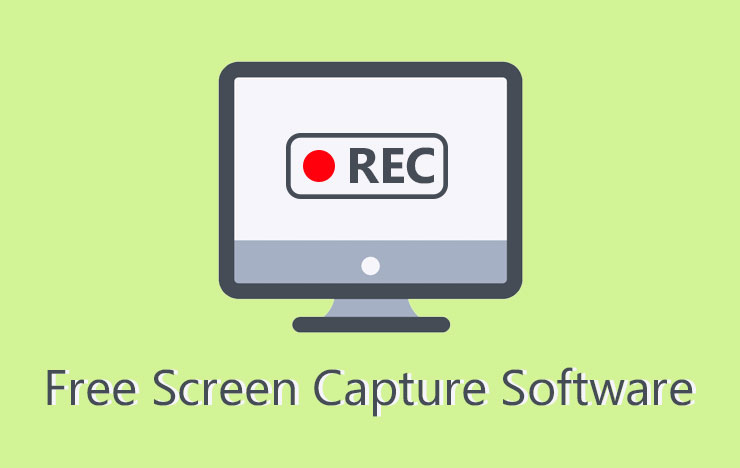 1 ToolRocket Capture Screen Recorder
We are starting this list with the best screen recording software out there. ToolRocket Capture Screen Recorder provides you with more value than any paid recording software would. It is absolutely free and provides the advantages of having the ability to capture videos in standard as well as high definition. The recording can be adjusted to match the requirements with accurate synchronization of the audio and video. Best of all, there is no limit on recording time. You can capture the video for as long as you want.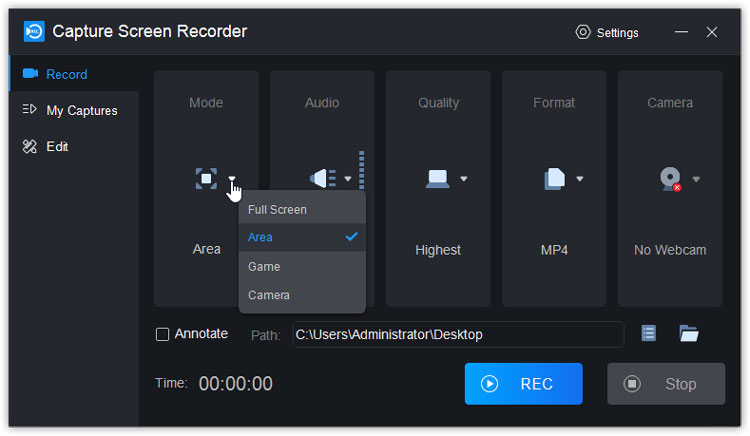 You also get multiple recording modes along with a wide spectrum of output formats. The brush tools allows you to annotate the screen which is helpful for teachers and students alike. So do you want to use it for making a tutorial video?
2 Windows 10 Game Bar
Windows 10 comes with various features to make your life easier and convenient. The built-in screen recorder is one of them. By using this built-in feature users don't need to install a third-party application. Though this free screen recorder is designed for Xbox, you also can use it to capture any activity on your screen.
Windows video capture for free is equipped with modern technologies, which allow us to record any type of heavy games with one click technique.
This tool is very easy to handle, and any non-professional can easily use this tool. Another great feature for screen capture is that you can record the object on the screen in the background.
It doesn't record the cursor while you are capturing Screen objects, so it might be a little bit annoying when you want to stand your cursor out.
3 CamStudio
This video recording software is developed by Rendersoft. CamStudio is one of the best free video captures to record screen objects and create them in AVI format. This piece of software consists of various powerful features, which make your life easier. It offers a variety of features like high definition Screen recording, video compression, and much more.
With its simple and compact interface, CamStudio can help you record and create videos like a pro. You can download it for free from its official website.
It is very easy to use. Any layman can easily use this recorder without any problem.
CamStudio is currently only available for Windows operating systems. There is no editing feature in this application.
4 Free Cam
Free Cam is a very simple free screen recorder with a built-in audio/video editor. The attractive and intuitive interface allows you to create screencasts with the ease of a professional. Even though this software is free, it doesn't place any watermark and is ad-free.
With this amazing tool you get:
• No watermark, time limits, or ads
• Records voice-overs and computer sounds
• High-quality resolution
• Users can save videos as WMV or upload them directly to YouTube
• Easily deletes unwanted video fragments
• Removes background noise
• Wide selection of audio effects
5 Share X
ShareX is an open-source ad-free tool that boasts almost as many custom features as some paid software screen recorders. ShareX is mostly targeted toward developers and power users, so an average customer might get lost in the many advanced tools and editors.
Some of its features are:
• Records full screen, window, monitor, region, freehand, or scrolling
• Incorporates hotkeys for easier and quicker navigation
• Supports many URL sharing services
• Imports existing videos, music, or photos
• Allows custom watermarks and color effects
6 Fraps
Fraps is a good choice for game players. It is a good free video capture tool that allows you to record almost any video on your computer. It provides the FPS setting, so you can adjust it according to the image quality.
Main features are:
• A preferable one for game players
• Allows you to create small-sized files
• Quality options available for output video
Still looking for an alternative to Fraps, please read continuously.
7 SnagIt
SnagIt is a popular video recording software that is specially designed to help users make amazing step-by-step instruction videos and how-to guides. If that will be your main goal when using this kind of tool, then you may find this app is exactly what you're looking for.
In a nutshell, SnagIt gives you the ability to capture a video of your computer screen or, using your webcam, a video of yourself, and share the result with whomever you wish.
A license to use this tool costs $49.95 and can be installed on up to two different computers.
8 Debut Video Capture
Debut Video Capture (DVC) is a powerful and free (for personal use only) video recording software that can be used for a variety of purposes. For example, DVC can be used to capture video of your computer screen as you work, which is great for explaining processes.
While the interface is unattractive and dated, the functionality of this app is great and the main reason why it's secured a place on our list. It should be noted, however, that use of this tool for non-personal related reasons will cost your company $39.95.
9 GoPlay
GoPlay is a screen recording app that allows users to easily create high-definition videos, edit them in a jiffy, and then export the final product to social media with the click of a button.
Some might find the picture in picture (PIP) option especially useful. This feature will let you record both your computer screen and yourself (via a webcam) at the same time. Once your video has been created, editing options include trimming, cropping and various filters.
GoPlay is mainly geared towards those who plan to publish their work on YouTube and other social media channels. But if you use a Windows computer, there's no reason why this app can't also be used for more traditional business video projects. Prices start at $4.90 a month.
10 Screencastify
It's perfect for those using the Chrome web browser and looking for a basic video recording software — especially if they're on a tight budget.
Screencastify gives users a few different options when recording. Do you want to capture your entire desktop, one specific browser tab, or yourself via a webcam? Each option is available. In fact, you can record your screen and yourself at the same time and embed the webcam feed in the screen recording.
Finished recordings can be edited with annotations and mouse highlights (so viewers always know what you're clicking on), and then cropped and trimmed to perfection.
When it comes to cheap video capture software, Screencastify is a solid option at only $49 a year.
11 FAQs of free screen capture software
1. Does Windows 10 have a video capture software?
There is no built-in software. If you want to record video on a Windows 10 computer, you need to download one video recording software.
2. Is CamStudio free?
Yes it is a free software.
3. What program do YouTubers use to record?
Majority use a combination of the above mentioned options, such as ToolRocket Capture Screen Recorder, Camstudio, Fraps, Bandicam Screen Recorder, ShareX, etc.