How To Record and download Netflix Videos
Netflix is everyone's entertainment love. From its unique classic movies, original Netflix shows, and new movies, Netflix offers all-time entertainment for you.
However, you might not want to watch a movie from Netflix at the moment online. You just might want to quickly download or record a movie from Netflix into your device and watch it later on.
Having your movies downloaded or recorded on your device enables you to share or watch them at a later convenient time with loved ones. However, Netflix does not generally allow downloads of its video streams, removes titles, and has downloads that expire.
In this article, you are presented with comprehensive guides on how to record Netflix movies on Windows 10 PC, Mac, iPhone, and Android devices.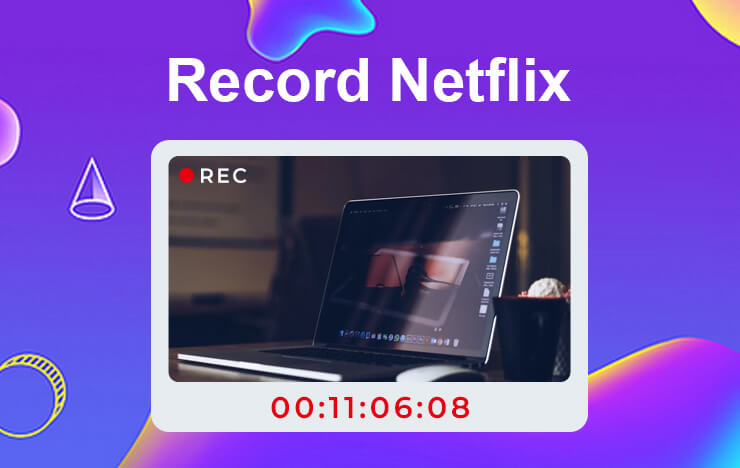 1 Record Netflix On Windows 10
ToolRocket Capture Screen Recorder is a high-quality screen recording tool that records detailed content of your screen. It could be your videos, audio, and browsers that are displayed on your computer screen.
When playing your favorite movie on Netflix, you can capture or record the live videos with this screen recording tool. Here's how to record videos from Netflix on windows 10. First please download the freeware on your computer.
Step 1: From your browser, open Netflix and then the video you wish to record. Ensure it's not already playing, then launch the Capture screen recorder and click the record screen option.
Step 2: Select the full-screen option on the option "Mode" and then switch from the system and mic option to just System. You can control the recording duration by setting up a task stop time on the task scheduler.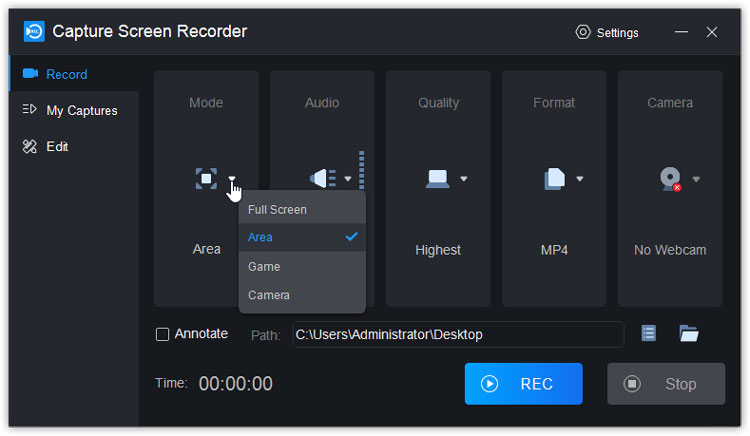 Step 3: Then you click on the record button and it immediately starts recording Netflix.
Step 4: While recording the Netflix movie, you can use the brush tools to mark the picture. After recording, click the "Stop" button. Then it will be saved to the output path, which you can before recording customize.
By the way, we also provide PDF converter and video converter tools.
2 Record Netflix Movies On Mac
In the case of Mac, we recommend using the Mac version of Capture screen recorder for a clear and high-quality video result. You can install this screen recorder for Mac to record Netflix on your Mac device.
Step 1: Open the video you want to capture or record. Then you can launch the Capture screen recorder to acquaint yourself with its interface on your Mac system.
Step 2: Click on the "Custom" and "Screen" options on the video tab to adjust your screen recording area. Then, select the "System Sound" option on the Audio Sources after which you're done, you click on the red download button to begin the record.
Step 3: When you're done recording, click on the Stop Recording button in the Capture screen recorder. You can then watch the recorded video when you click on the stop button.
Step 4: You can choose the "MP4" option to export and save it on your Mac.
3 Record Netflix videos On iPhone
You can record Netflix on your iPhone using a free and easy method which is the iOS screen recorder. For iOS 11 or later versions, you can record your Netflix videos following these steps.
Step 1: Open the Netflix video or movie you want to record.
Step 2: Swipe up from the bottom of the screen, locate the Screen Recorder icon and select it. Your video then starts recording.
Step 3: To stop the record, click on the red button in the floating recording control to stop recording.
4 Record Netflix videos On Android Devices
For smart phones with Android 10 or later versions, you can record your Netflix movies with the in-built screen recorder. Otherwise, you download an Android screen recorder app.
Step 1: Download and install an Android screen recording app on your Android device, then open your Netflix video.
Step 2: Open your installed screen recorder and click "Recording" then "START NOW" to begin recording.
Step 3: To stop recording, you click the stop button.
5 Record Netflix videos on Chrome
If you prefer not to install any software to capture your Netflix videos, you could use a browser tool. You can use a Chrome browser extension like Screen Recorder App to record your favorite videos through your browser.
Step 1: Install the Chrome extension and open Netflix in your browser. Select the video you wish to record and start playing it. Then select the Chrome extension to prepare to record.
Step 2: Choose Screen, system sound, and then select the Start recording button. You can choose the Chrome Tab to avoid any distractions on your screen.
Step 3: You can stop recording and save your video on your computer. Ensure that you configure the sound correctly so the video won't lack sound.
6 FAQs of recording videos on Netflix
1. How Do You Take Clips from Netflix?
You can capture or record clips from your favorite shows on Netflix by using screen recorders such as Capture screen recorder. You simply install the screen recorder and select the video you wish to download, then click on "Start Recording".
2. How Do I Permanently Download Netflix Movies?
You can download your favorite Netflix shows on Netflix but you stand a chance of not getting access to it after it expires. The time duration in which you can keep a downloaded Netflix video varies from title to title. If you like to keep the download permanently, you can use a third-party tool. A tool like a Capture screen recorder to screen record it and save it to your device.
3. What Can I Use to Record TV Shows?
To record your favorite TV shows, you can use installed screen recorders on your devices. A recommended screen recording tool is the Capture screen recorder. Its unique features include a video and audio sync system, various output formats, Power-brush tools, etc. this enables you to easily record and watch any Tv shows of your choice at your convenient time.
How Do I Rip Movies From Disney Plus?
Disney Plus offers its viewers lots of movies, animated series, and series options. However, the streaming service tends to remove some of them on the platform as more and more shows are produced. Now, you might want to have a recording of a movie but don't know how to. You can simply use a good Disney+ downloader that captures and records the video like a Capture screen recorder while it's playing on your PC. Download and install a good Disney+ downloader recorder like Capture screen recorder. Playback the video in Disney+. Save your recorded video on your device.
7Conclusion
When it comes to watching your favorite movie series, Netflix offers the best. With unlimited movies ranging across various genres, you've got your entertainment covered for life. However, your movie time could be short-lived when you lose a download of a video you love the best. A Capture Screen Recorder, with its diverse features, helps you record those shows and save them thereby, making you relive every bit of the show.