Fraps for Mac Alternative to Record Mac Screen
When your game, have you ever thought of being provided with the game's exact benchmarks that you're playing? If yes, then this fantastic product that we are going to tell you does it all. Fraps is a Windows-only application that uses direct X or OpenGL graphic technology to provide you with the details regarding your gaming application. It provides you with the exact FPS, allowing you to screen record your stream or the game that you're playing to show off those fantastic moments. If you're interested in this amazing product, look no further and read the article below.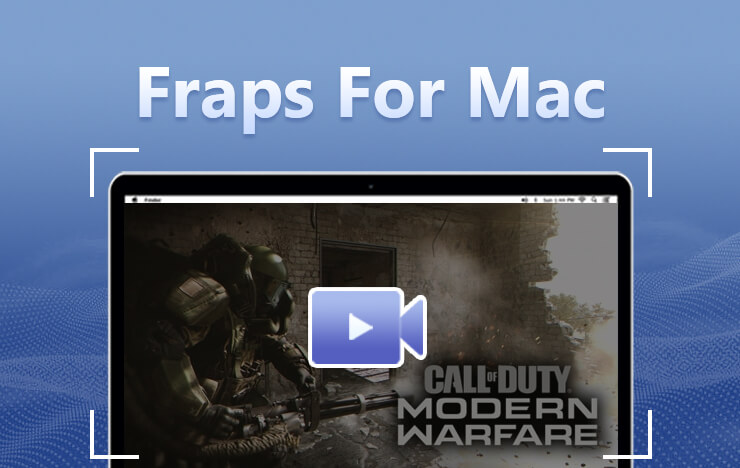 1Fraps is your screen capture software on Windows
Fraps is a fantastic Windows-only software that does three main jobs:
1. It shows the exact frame per second of the game in the corner of your screen, plus it also provides the user with custom benchmarks and allows comparison between 2 frame rates between two points. It also allows the user to save those stats into the system memory, which you can later use to review the game or the application.
2. If you don't have this unique application, you would probably use the paint application to take the screenshot of the whole game, but now that is as simple as a simple Press of the key but this application. The added benefit is every time you take a screenshot, the capture is named and timestamped automatically by the application.
3. Last but not least is also allows you to video record game streaming that you're doing in real-time, so you will be able to see all your progress and even share it with your friends and the gaming community. To find out more and download this fantastic product, click on the link here.
However, Fraps only works on Windows, so how to download Fraps for Mac?
2Fraps Alternative for Mac
Some people search on the Internet to download Fraps for Mac; however, being a Windows-only software, you cannot download it on a Mac. However, we have something better for you.
This Capture Screen Recorder for Mac helps you with everything. Whether these are your gaming needs or education, or even business needs, this software has it all. With editable recording, for example, adding arrows, brushes, or any kind of effects, this software has given the user permission to everything and make the impossible possible. Download this fantastic product. Please look at the following steps:
Step 1: Download the Capture Screen Recorder from the link provided below.
Step 2: After the download is complete, choose the video quality, microphone, and if you want to record the screen entirely or partially for your game.
Step 3: After you've selected your preferred options press the record now command, and after a countdown of three seconds, your recording will start.
Step 4: Now, just play the game until you are done.
Step 5: Go back to this tool and click the stop button. The recording would show in the capture tab. You can share it, view it, and review your progress.
3Fraps Alternative for Windows
The Fraps alternative for Mac works on Windows tool – Capture Screen Recorder for Windows lets you do so much with this software as we have a zero-time limit. Still, synchronized sounds and recording videos adding audios to your recordings and with adjustable recording areas, this application is an all-in-one. To download the Fraps alternative for Windows, look at the steps provided below:
Step 1: Click on the download link provided below.
Step 2: After it has been downloaded, installed by clicking on the executable file, the application pop-up screen will show up.
Step 3: Click on the button after choosing your selected options: video quality, microphone settings, or partial screen, and after a countdown of three, the recording will start.
Step 4: Go back to your streaming or your video. If you're gaming, continue with the gaming, or just have to download a video sit back and relax.
Step 5: After your gaming is done, go back to this application and click on stop Recording. The video should be available in the capture tab.
For more details on this unique product's features, click on the product page here, which will redirect you to its website.
4FAQs about Fraps Mac
1. Why should we use Capture Screen Recorder rather than Fraps on Windows?
Perhaps it might be known for its specific gaming functions, but Capture Screen Recorder pro does it all and is entirely free of cost. It has an unlimited recording time. It doesn't give a watermark for its company, providing the user with a clear recording and the ultimate experience and the added benefit of zero distraction. This application is nothing but a compact powerhouse.
2. Can this tool provide the same functionality as Fraps for me?
Yes, but even more, the Capture Screen Recorder pro gives you the option to save videos according to your personal needs, for example, the original video quality, SD, or HD quality. It also allows you to set the output format to your desire, for example, MP4, AVI, or FLV, to open you're recording in different video players suitable for your need. But this easy-to-use application now you don't even need to move your mouse. Just set your hotkeys, and with a single click of a button, you can start are stop, or annotate the recording.
3. Is this tool's functionality only limited to games?
No, this screen recorder allows you to screenshot, record, annotate, edit everything on your computer screen, whether it's a game or video or if you're doing a command and want to show some steps. This application is available on Mac and Windows, making it a universal application. After being tested thoroughly by the technology experts and the users, many have recommended it. It is an entirely safe screen recorder that caters to the user's need giving them a plethora of options to edit download, making it as easy and user friendly and universal as possible.