3 Proven Methods to Convert PDF to Image with PDF Converter
You might agree with me, despite the availability of tools whether online or offline, PDF to image conversion is still not a no-brainer task. That is why; very few people tend towards this activity. However, due to increasing research in IT and software, the activity became simpler than ever. It takes only a few seconds to complete the task. Yes, you're right.
Let me repeat, it only takes less than 1 minute. In this regard, we will present you a PDF to Image Converter tool. Let's get started. In the following lines, we will discuss some ways that help you in your office or homework.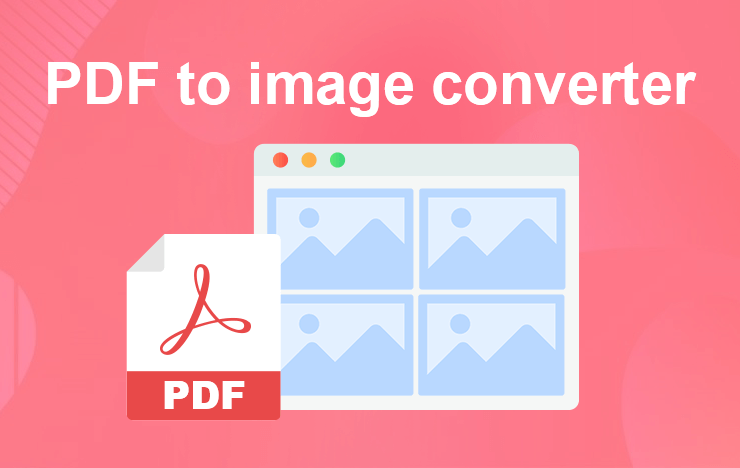 1ToolRocket PDF Converter is your PDF to Image Converter for Windows
With the help of this device's friendly software, you can easily convert a single PDF or a batch with convenience. Moreover, this tool is multi-purpose, as you can switch between different formats with great ease. As we have seen, that during such conversions, the quality becomes an issue. Most of the time the converted file changes to symbols or image quality becomes ruined. This great software helps you to convert complex and detailed images without a little shatter to its quality. You will find superior quality resulting in images.
What sets Toolrocket PDF Converter software apart?
Without creating further suspense, we will jump to the steps involved during the conversion task. This software has some powerful features like it is smaller in size and yet performs the tasks efficiently and with great superiority. So you should not be worrying about cleaning your storage space. As ToolRocket PDF Converter software, only uses a few hundred MBs of your hard disk.
Quick Steps to convert PDF to Image: Please follow the swift and easy steps to convert PDF to image format.
Step 1: Download ToolRocket PDF Converter. Firstly you need to have ToolRocket PDF Converter. You can download it from here with a single click.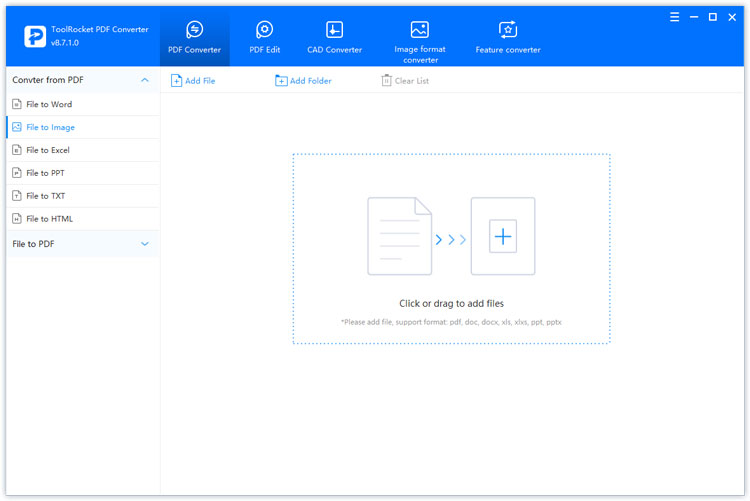 Step 2: Open the .exe file and Drag your files. After successful installation, you can now open your program. You will find the main screen in front of you. Here click on the plus sign to add files or you can simply drag over them.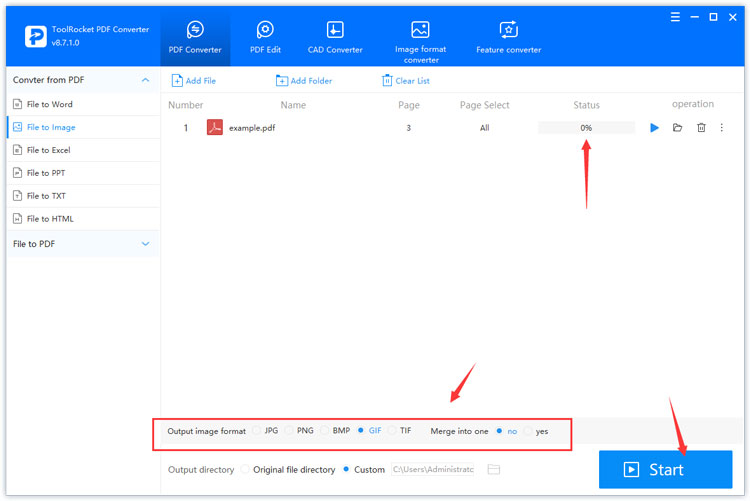 Step 3: Conversion Format Selection. It is the customizable format select area, on your left a panel can be seen from which you can select different options. Moreover, before finalization of conversion, you can also adjust some parameters.
Step 4: Click on START to Initiate the Process. When you're done with your settings, click the start button appearing on the bottom right corner. As per observation, the process usually takes a few minutes. However, the size of the document decides the ETA of completion. You can access and download your converted copy from your provided location once the process is completed.
2PDF2everything is your online PDF to Image Converter
There are some situations in which we do not want to use proper software or we do not have much time to do that. In such cases, we are presenting an online method to easily convert your PDF files into Image Formats. It is a PDF to Image Converter Online tool, basically a website that helps you to convert your PDF documents into a variety of image formats swiftly and accurately. You will also have the option of previewing your document before finalization. Online conversion is also widely used and it is a choice of working people.
Quick Steps to convert PDF to Image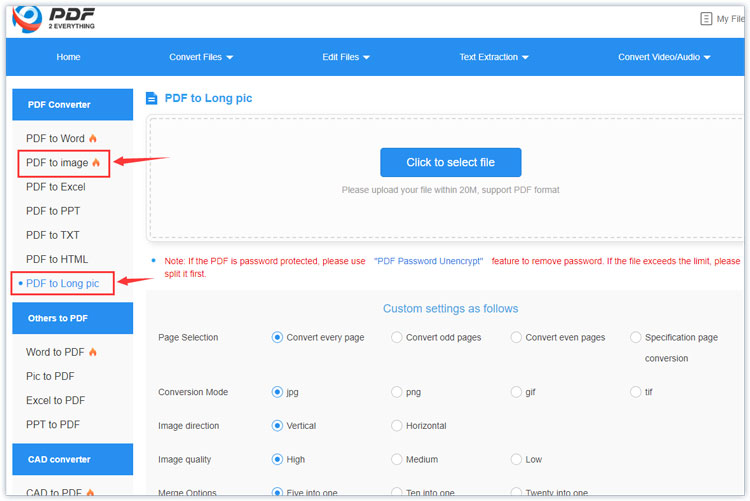 Step 1: First of all, open up the PDF2everything website and drag your files there.
Step 2: After uploading a start button will appear. Click on start to initiate the conversion.
Step 3: Only a few minutes are needed after conversion is completed. You can download the file.
3PDF to Image Converter on your phone
Your smartphone is your big helper; some great applications serve the need for document conversion. So do not bother to boot up your PC for this simple task. The simple application is available for the users of Google Play Store and Apple Store both. There is no compromise on quality so be ready to follow these steps and get your work done with suitability and accessibility.
Quick Steps to convert PDF to Image
Step 1: Download the app from your respective platform. Open the application, and choose the convert from PDF option.
iOS users can download it from here quickly.
Google Android Users can download it from here with few clicks.
Step 2: Select the files which you will need to be converted. Choose PDF to Image converter option.
Step 3: Click on convert, and after a few minutes, your file will be ready. You can then save and download the files as per your requirement.
4Final Remarks
In the preceding paragraphs, we have presented you with the best PDF to Image converter to help you out with any type of document conversion. The methods of conversion discussed will make your tasks easier and hustle-free.
5FAQ about PDF to image converter
1. What is the easiest way to convert PDF to JPEG, PNG, or other images' formats?
By default, the ToolRocket PDF converter allows the output in PNG format, however various other formats can be selected before finalizing the conversion.
2. How to choose a multi-page TIFF Format?
For TIFF conversion usually, a single page is supported, but instead of a single page, a multi-page pdf option needs to be selected.
3. Can we create grayscale images?
By default, the output is RGB, however, you can set the software to use color mode as "gray".