2 Best Ways to Convert PDF to GIF Online and on Windows
How to convert PDF to GIF? Although PDF file has many advantages, one of the biggest disadvantages of using PDF files is that they usually end up hurting image quality to save file size. Many people don't know what GIF is. GIF is an image file format.
This article will introduce how to use the free and easy-to-use PDF converter to easily convert PDF files to GIF files. The detailed conversion steps and frequently asked questions from PDF to GIF animation are given below.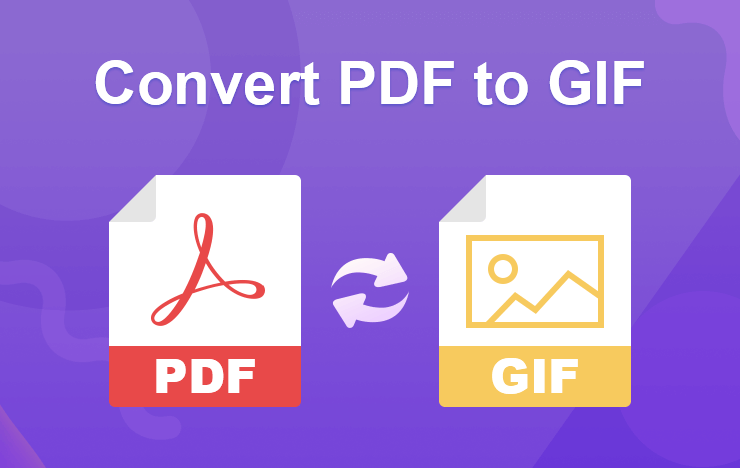 1Convert PDF to GIF on Windows with ToolRocket PDF Converter
What is ToolRocket PDF Converter?
ToolRocket PDF Converter is a free software for PDF conversion and editing for Windows systems. The software supports the following functions:
PDF Converter: ToolRocket PDF Converter supports the conversion of PDF files with images, e-books, office documents, etc.
PDF Edit: You can use ToolRocket PDF Converter to edit PDF files. The software supports merging or compressing PDF files, deleting or extracting pages of PDF files, unlocking or encrypting PDF files, adding watermarks and rotating PDF pages.
CAD Converter: It converts all versions of CAD to PDF, images, and supports the conversion between DWG and DXF. The one-key conversion makes your work easy and efficient.
Image Format Converter: This function supports the conversion between various image formats.
OCR Text Recognition: ToolRocket PDF Converter helps you recognize text through advanced OCR technology. Whether it is handwritten text, paper documents or scanned PDFs, it can be quickly and accurately recognized as text.
How to use ToolRocket PDF Converter to convert PDF to GIF?
Step 1: Click the button above to download ToolRocket PDF Converter, and then install it on your computer (supports Windows system).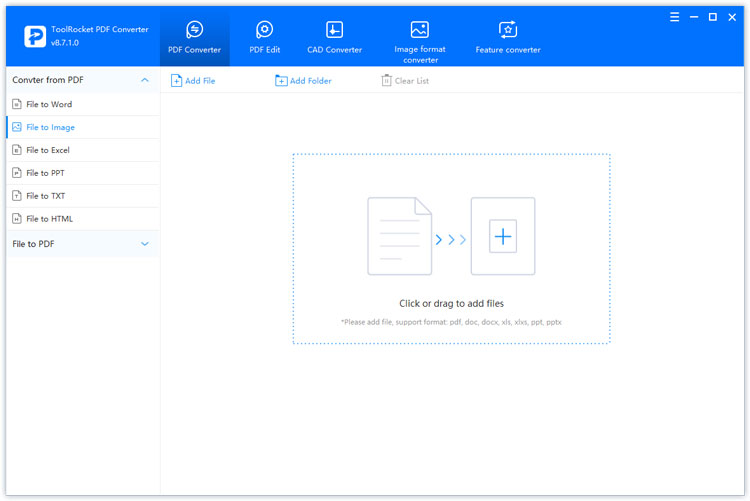 Step 2: Open ToolRocket PDF Converter and click "File to Image" in "PDF Converter". The supported file formats are pdf, doc, docx, xls, xlxs, ppt, pptx.
Step 3: Add the PDF file to be converted to the software, select the output image format as GIF, and then select the PDF page(s) to be converted.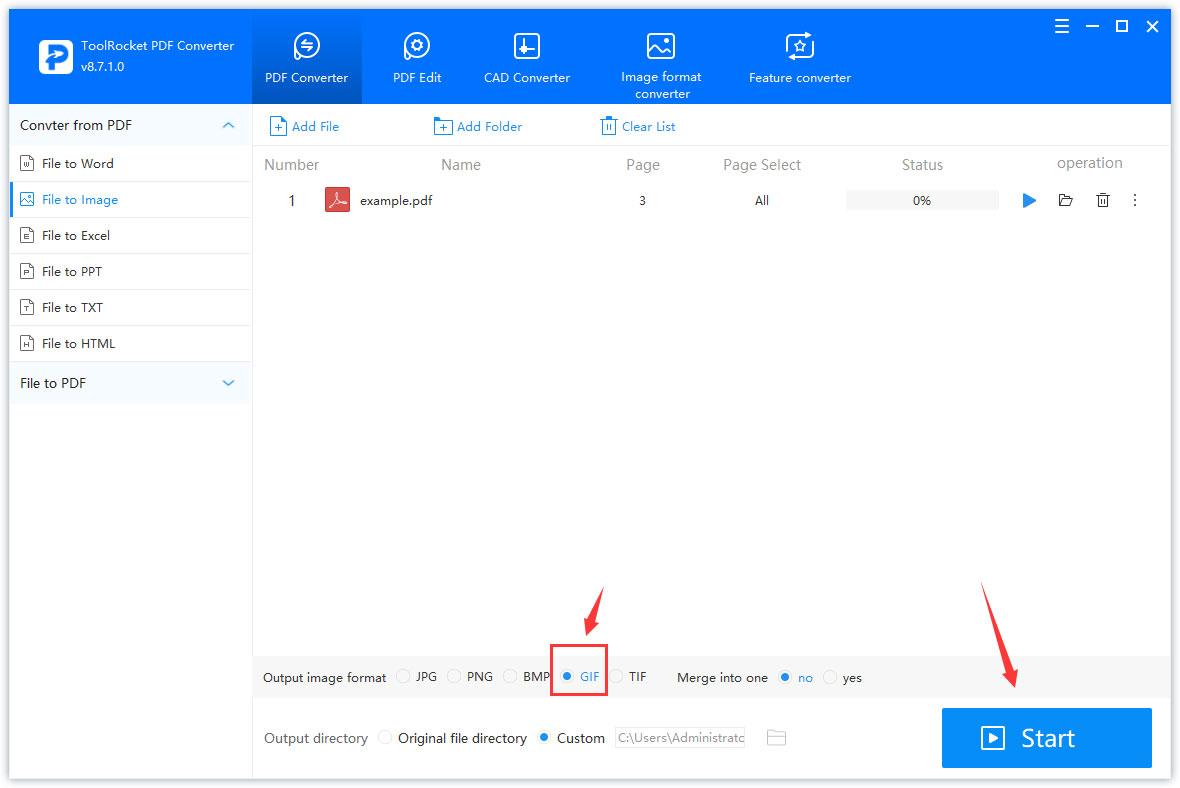 Step 4: Click "Start" and wait for the status to be 100%, it means that the PDF has been successfully converted to GIF.
2Convert PDF to GIF online with PDF2everything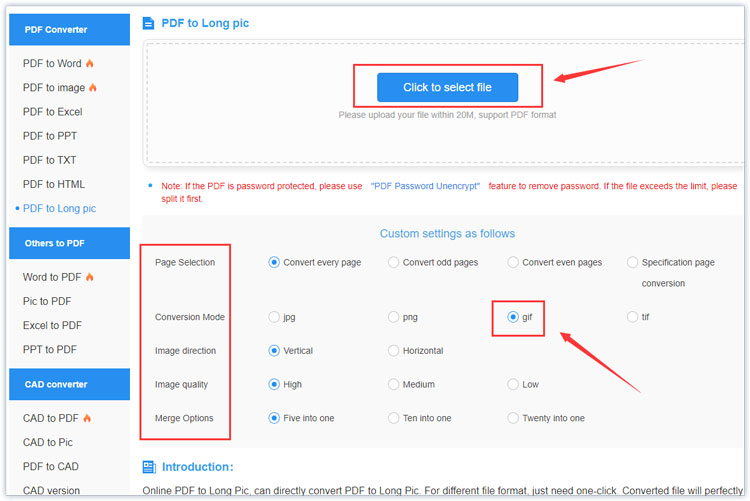 PDF2everything is a free and easy-to-use PDF converter(online), it can not only convert PDF format into multiple types of file formats, such as document format, image format, e-book format, etc., but also supports conversion of video and audio. Let's take a look at the specific steps of using the PDF2everything online format conversion tool to convert a PDF document into a GIF image.
Use a browser to open the online URL where the PDF2everything PDF converter is located, and upload the PDF file that needs to be converted to the web server through the "Click to select file" button. Note: The maximum file size cannot exceed 20MB. After the upload is complete, click the "Start converting" button on the right to execute the conversion command. The converted GIF is automatically saved in "My File".
3Comparison of two methods to convert PDF to GIF
The above introduced two tools that can convert PDF files into GIF images, compare the applicability of the two tools and hope to help you choose the method that suits you.
ToolRocket PDF Converter is a professional free PDF conversion and editing tool for Windows systems. The software does not take up much memory space, runs fast and has more comprehensive functions; ToolRocket PDF Converter is also equipped with advanced OCR technology, which can improve conversion The recognition rate of the content. This conversion method is more secure than online conversion and does not rely on the network, and you can complete the operation of PDF to GIF in an offline state.
PDF2everything is a free online PDF converter, you can convert PDF files to Word, PowerPoint, PNG, JPEG, Excel, etc. The file will be automatically deleted after 24 hours, no one can read or download the file you upload, 100% protect your privacy. This conversion method allows users to not be limited to devices, as long as they have a browser, they can complete the operation of converting PDF to GIF.
4FAQ about converting PDF to GIF
1. What is the definition of a GIF?
GIF uses lossless data compression technology, which can reduce file size without compromising quality. GIF images are dynamic, they will be played in a continuous loop, which allows them to show details and actions that are simply not possible with still photos.
2. How do I convert PDF to GIF without paying?
ToolRocket PDF Converter and PDF2everything allow you convert PDF to GIF for free on Windows and online.
3. How do I convert a PDF file to a GIF on a Mac?
With PDF2everything, you can convert your PDF files to GIF on Mac or on any other device, because PDF2everything is an online PDF converter. This online converter supports the conversion between PDF and GIF, and there are many other formats that can be converted.