4 Ways to Convert GIF to PDF Online or on Windows, Mac, Phone
Sometimes we will view images in PDF files, but what should we do when we only have GIF images? At this time, you need to convert the GIF images into PDF format. Converting GIF to PDF is the conversion of images to PDF. The conversion of these two files is to make the pictures better displayed in front of our eyes, and multiple pictures can be opened for viewing at the same time. We can use some professional PDF conversion software or online website to convert GIF. The following article will introduce how to convert GIF images into PDF files.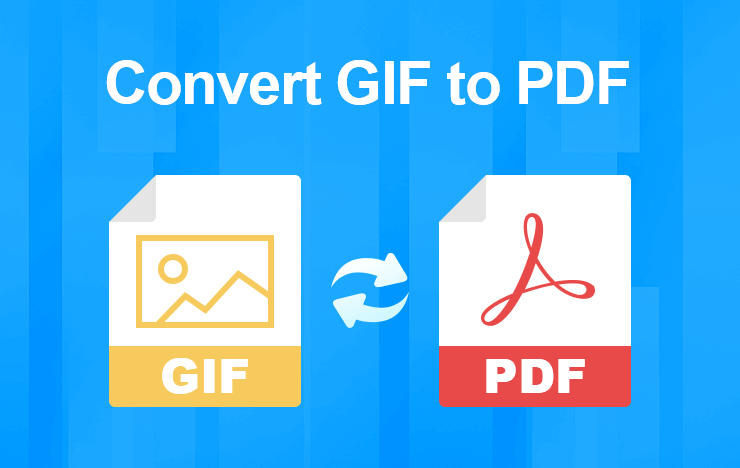 1Why convert CAD TO PDF?
GIF is an image format that supports animated images. As a public standard, many platforms support the GIF format. It is very popular on social media on Facebook, Twitter and Instagram. The file format supports up to 8 bits per pixel, so the image can adapt to 256 colors, and uses lossless compression technology to contain the image. GIF is divided into static GIF and animated GIF. GIF contains text. It can contain small size image animation. Therefore, it is often used in Web publishing.
So how to view GIF images? GIF images can be viewed in Adobe Photoshop, Apple Preview, Corel Paint Shop Pro and Microsoft Windows Photo Gallery Viewer.
2Convert GIF to PDF
1. ToolRocket PDF Converter – Convert GIF to PDF on Windows
Step 1: Download ToolRocket PDF Converter and install it on your computer.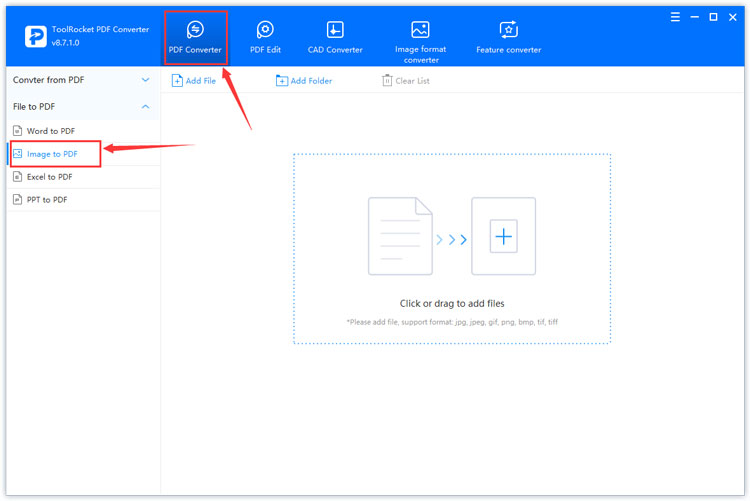 Step 2: Click "PDF Converter" on the top menu bar, and then select "Image to PDF" in "File to PDF".
Step 3: After selecting, click the "Add File" button at the bottom left of the interface, and add the GIF image that needs to be converted into the software.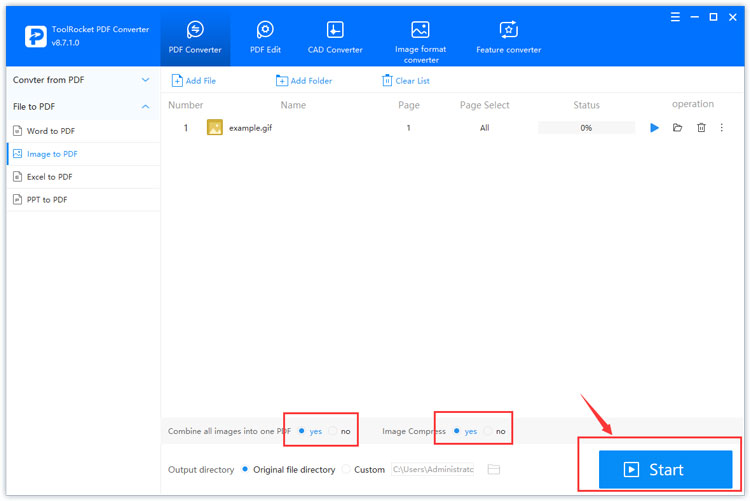 Step 4: After adding the file to the software, the interface will display the approximate information of the file. "Page Select" defaults to "All", and you can also set the page number you need to convert. You can also choose the storage location of the converted file. There are two options: "Original file derectory" and "Custom". Whether Combine all images into one PDF and Image Compress can also be selected according to personal needs.
2. Mac Preview – Convert GIF to PDF on Mac
GIF images can be saved as PDF files on Mac Preview.
Step 1: Select all GIF images you want to convert and right click on them. Select "Open with" on the menu, and then select "Mac Preview" as the open application.
Step 2: Set the direction or rearrange the order of the GIF images.
Step 3: Save the GIF image as a PDF file. Go to the "File" menu at the top of the Mac Preview and select "Print." In the pop-up window, you can customize the size of the PDF and change other output PDF settings. After setting, select your storage location, and enter the file name of the converted PDF in the newly opened window, and then click the "Save" button, you can get a new PDF file.
3. CloudConvert – Convert GIF to PDF online
CloudConvert supports online conversion of your GIF files and also supports PNG, JPG, WEBP and HEIC. You can control the converted image resolution, quality and file size. You can set the mode to adjust the image size online.
4. Convert GIF to PDF on iPhone/Android Phone
PDF Converter-PDF to Word for Android phones and iPhone supports converting GIF images into PDF files. Convert PDF, Word, JPG, etc. with one click. This PDF Converter APP supports document preview function. You can preview the file in real time on your phone so that you can decide whether to convert the file. As long as you confirm that you want to convert this file, you will immediately get the output file and share it with your colleagues or friends.
3Why choose ToolRocket PDF Converter?
ToolRocket PDF Converter supports free batch conversion of GIF to PDF, and images such as JPG/JPEG, BMP, PNG can be converted to each other with high resolution. Not only can you use it to easily convert between different Office files, you can also edit PDF files efficiently.
As a powerful PDF Converter software on Windows, in addition to the GIF to PDF function, ToolRocket PDF Converter also has other special conversions: CAD Converter and Image format converter. Through advanced OCR technology, ToolRocket PDF Converter can help you realize Image to text and Scan PDF to Word, and help you combine and compress PDF, PPT and Word files.
4Conclusion
This article introduces several methods to convert GIF to PDF on different user systems and devices. These 4 methods are simple and fast to operate. If you choose to use the website for online conversion, you need to note that in the case of a poor network, the conversion will take a long time, and uploading files to the online server has the risk of data leakage. If you need to edit or convert the format of the file, it is recommended to use the software to operate offline. And ToolRocket PDF Converter is not only a PDF converter, it also has complete editing functions, including splitting, merging, optimizing, adding watermark and format conversion functions, and supports offline operations.