Get the Best PDF to CAD Converter to Convert PDF Files to CAD
ToolRocket PDF Converter is a powerful Windows software that will help you quickly and easily convert PDF files into usable and editable CAD files. Convert the entire PDF document, a series of pages or one page into a single CAD/AutoCAD file. Specify the output file type and file version as needed set the output folder and set other options.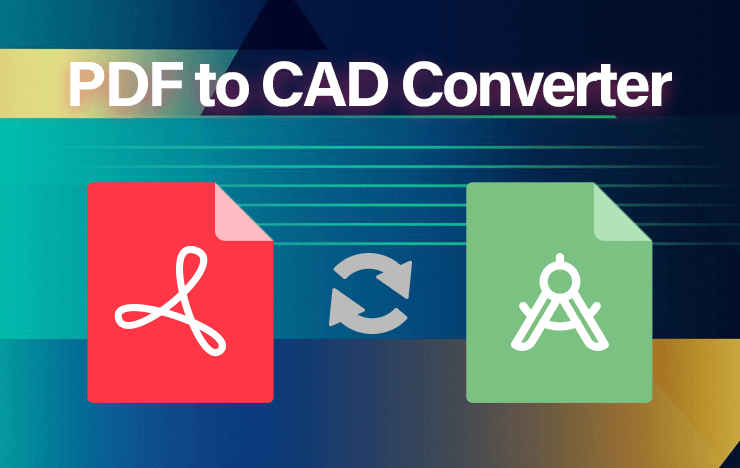 1What is CAD and how does it work?
CAD (Computer-Aided Design) is a general term for engineering and technical personnel use computers as tools to design, draw, analyze and write technical documents and other design activities for products and projects. First of all, CAD is a visual drawing software. Many commands and operations can be realized through menu options and tool buttons. It has rich drawing and drawing auxiliary functions, such as entity drawing, object capture, and annotation. The application of knowledge greatly improves the "design" function of the CAD system and the level of design automation greatly enhances the degree of support for the whole process of product design and promotes the innovative development of products and projects. CAD can reduce the labour of designers, shorten the design cycle and improve design quality.
CAD systems can not only replace manual drawings. It brings new possibilities, engineers can use it to create better products with fewer errors faster.
2The advantages of CAD files
Improve productivity: When you use CAD software, it will save your time, and you can make better and more effective designs in a shorter time. CAD software enables designers to visualize their designs and test them against actual variables.
High-quality design: CAD has the ability to produce very accurate designs; because the software uses some of the best tools, the percentage of errors caused by manual design is greatly reduced. In addition to having additional functions, it can also generate beautiful graphics. It provides users with many tools to create engineering drawings as they can imagine.
Effective cooperation: CAD tools make it easier for you to save and store files so that you can use it and send it again and again without any trouble. CAD drawings are digital files that are easy to share among team members using the same product. Sharing is instantaneous. Therefore, even remote employees can keep up to date with any development without any problems.
There are many advantages to using CAD, but few disadvantages. Due to the development of other technical fields, CAD will continue to develop in the future, providing new innovative design and engineering methods for many different industries. This will help make the user experience of CAD equipment more intuitive and simpler than they think.
3Why convert PDF to CAD?
When we receive a PDF file, we need to convert it to CAD file when opening it or convert a single page drawing in the PDF file to CAD file. One of the output formats of CAD is DWG, which is a proprietary file format used by CAD software AutoCAD and AutoCAD-based software to save design data. Generally, it can only be opened in specific software. Under normal circumstances, people in the architectural design industry convert CAD to PDF format, which is convenient for printing and also convenient for opening and viewing drawings on various terminals. But sometimes people also need to convert the design drawings in PDF format to CAD format to facilitate editing and modification.
The benefits of converting PDF to CAD drawings: Users can access all the latest software and tools; It is convenient for experienced design engineers to modify engineering drawings.
4How do I convert PDF to CAD?
Step 1: Open ToolRocket PDF Converter in your computer and enter the software interface.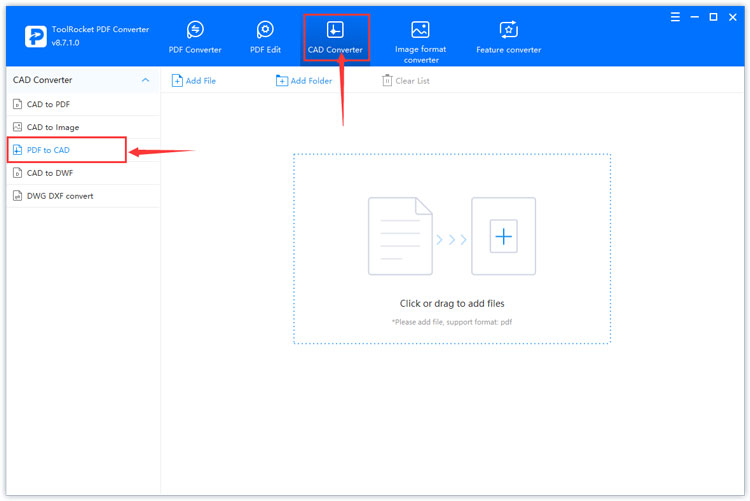 Step 2: After entering the operation interface of the software, you can see a row of options on the left, you can select the appropriate conversion tab according to your conversion needs, and select "PDF to CAD" . You can click to add or drag the file to be converted to the conversion page.
Step 3: After adding the PDF file to the conversion page, you can modify the format of the output CAD drawing, and then click the Convert Now button. When the status bar shows 100%, the conversion is complete.
Step 4: After the conversion is completed, it is saved in the original storage location of the PDF file by default. Open it to view the converted CAD drawing.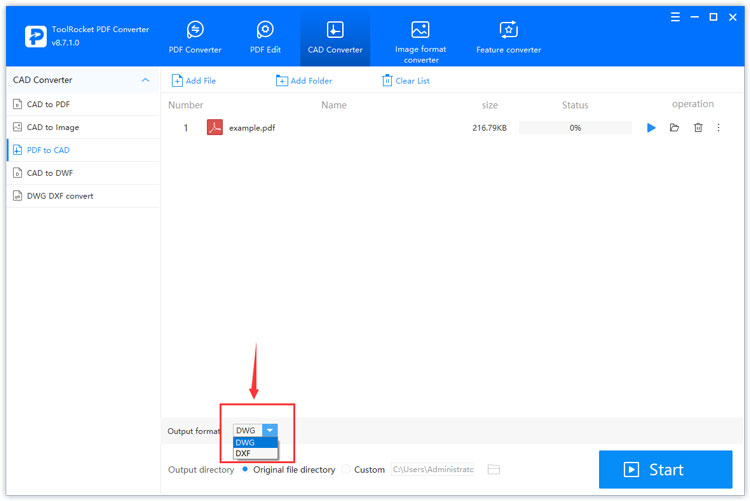 Convert PDF to CAD online with PDF2everything: you can directly convert PDF files to CAD files, the converted CAD files can accurately retain all page elements and layout of the original PDF file. If it is a scanned image PDF, the converted CAD still contains the image. If you want to recognize text in scanned PDFs or images, please use the online text recognition function.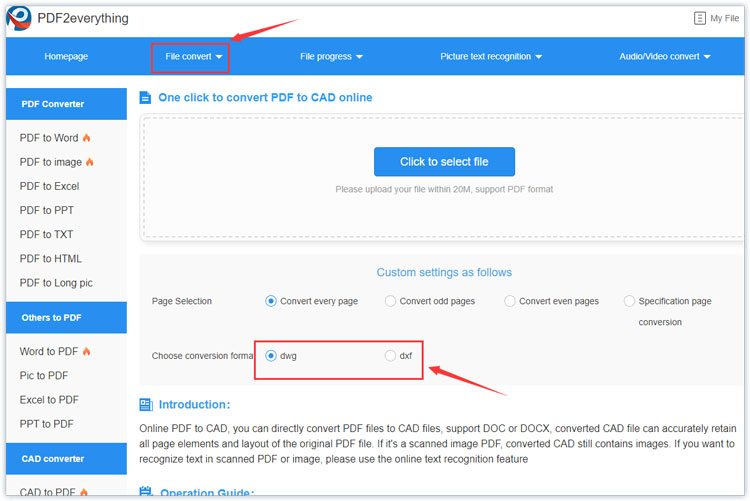 5FAQs about the PDF to CAD converter
1. Why does the conversion fail?
Check whether the file is damaged, whether the network is normal, or perform the conversion again.
2. Why is there a freeze during the conversion process?
Check whether the file is large, the larger the file, the longer the conversion time will be.
3. What is DWG and DXF?
The commonly used formats for CAD are DXF and DWG. DWG is compatible with any CAD system. It is used to realize data interoperability between AutoCAD and other CAD programs and is sufficient to meet the data exchange requirements of AutoCAD and other CAD systems. DXF is a standard text file, often used for the exchange of CAD designs, and also often used by professionals in the CAD industry to read and write DWG files. You can also convert CAD to PDF with ToolRocket PDF Converter.