How to use ToolRocket PDF Converter
ToolRocket PDF Converter is an effective and multifunctional file format converter that enables you to convert PDF files to Word, Excel, PNG, etc. and edit PDF documents.
Ⅰ

Starter Guide of ToolRocket PDF Converter
1

Menu

1.1 Settings

When you launch the software, you can click the Menu symbol > Settings. At this window, you can set when you launch the software, what the software do after you shut down the window, and output directory.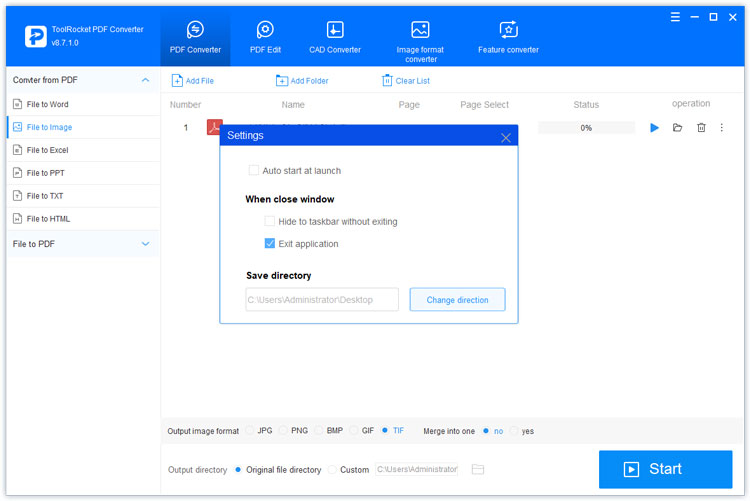 1.2 About Us
While using the software, you can go to "About Us" to know the company and application information such as version number.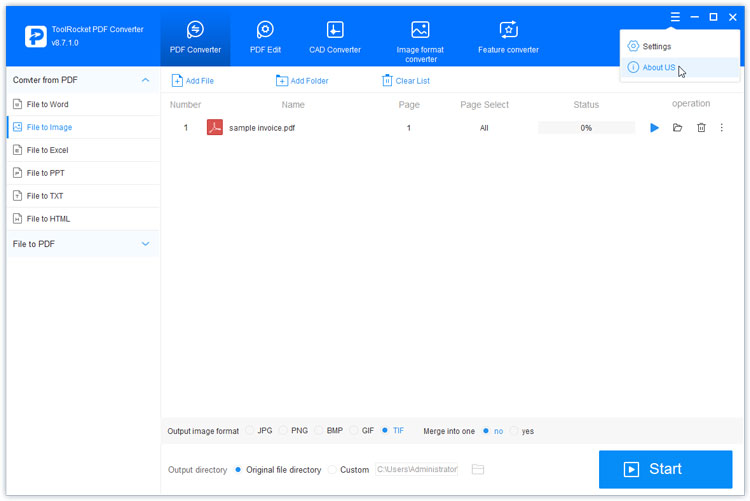 Ⅱ

Functions of ToolRocket PDF Converter
1

PDF Converter

1.1 Convert PDF to other files

After launching the software, select "PDF Converter". At the left side, you will see two different functions, "Convert From PDF", and "Convert To PDF". The functions above are allowed you to convert various file formats to PDF including XLS, XLSX, PPT, PPTX, DOC, DOCT, respectively File to Word, File to image, File to Excel, File to PPT, File to TXT, File to HTML.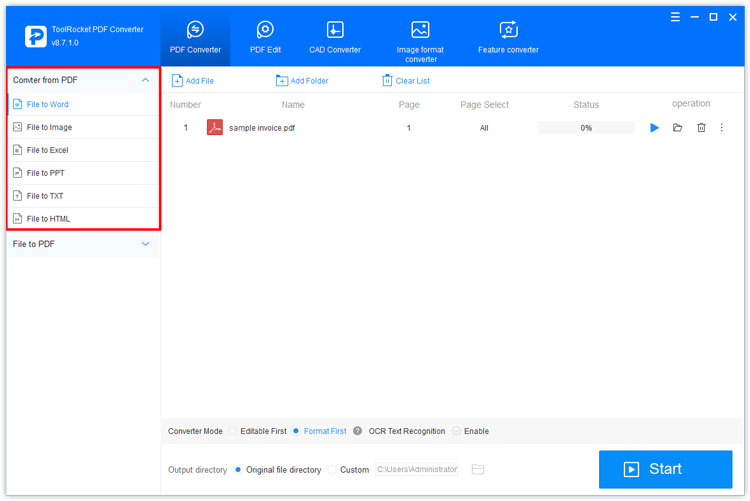 1.2 Convert files to PDF
The functions Word to PDF, Image to PDF, Excel to PDF, PPT to PDF are supported. Select the function you need, and upload your file(s) to convert the file(s) to PDF.
2

PDF Editor

Navigate to the function "PDF Editor". At the left side, you can merge, split PDF documents, extract specific pages from PDF, delete PDF pages, compress PDF, encrypt/decrypt PDF, rotate PDF, add watermark to PDF, extract images from PDF.

Add you PDF file to the software, confirm the output directory, and click "Start" to begin to edit your PDF file.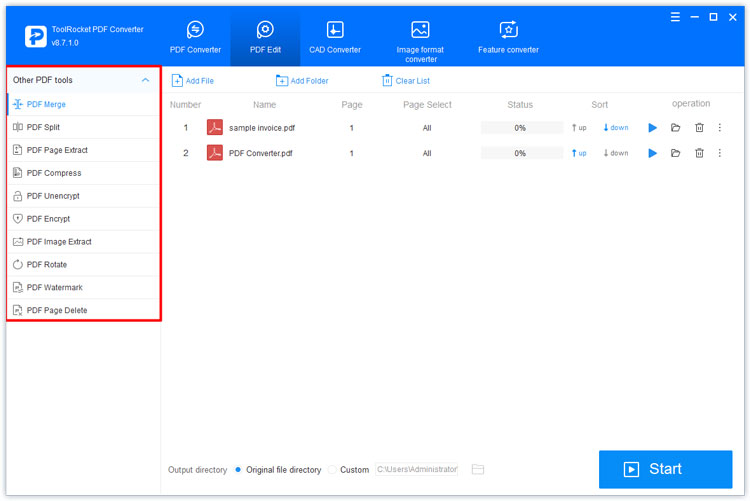 3

CAD Converter

This PDF Converter supports not only PDF file conversion but also CAD conversion. If you have a CAD file of DWF or DXF format, you can convert CAD to PDF, image, convert PDF to CAD, convert DWG to DWF, DXF, or convert DXF to DWG.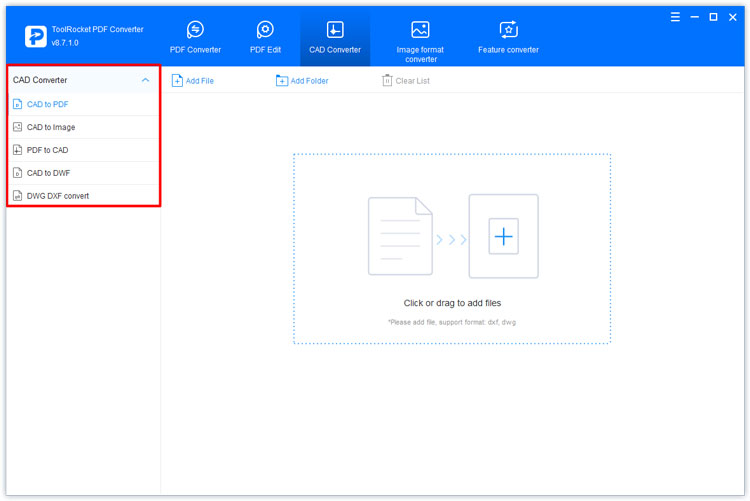 4

Image format converter

Navigate to "Image format converter". Here you can convert images of HEIC, JPG, JPEG, GIF, PNG, BMP, ICO, TIF, TIFF formats to JPG, PNG, BMP, or save them as an icon. It's also possible to save DOC/DOCX Word documents, PowerPoint, PDF as a long picture. And you can also compress and reduce the image size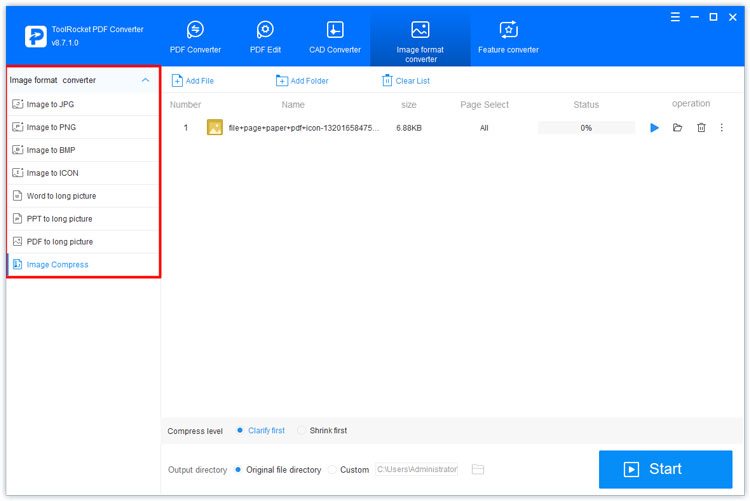 5

Feature Converter

There are some featured converter functions that can distinguish ToolRocket PDF Converter from others. It enables you to extract text from image, or scan PDF as Word with the advanced OCR text recognition technology. Besides, it can help you compress a PowerPoint or a Word document.
Ⅲ

Start to convert/edit files
1

Add a File

You can add a PDF or other file to the software by clicking the button "Add File" or "Add Folder" or dragging your file directly to the application interface. You can add several files together for bulk conversion.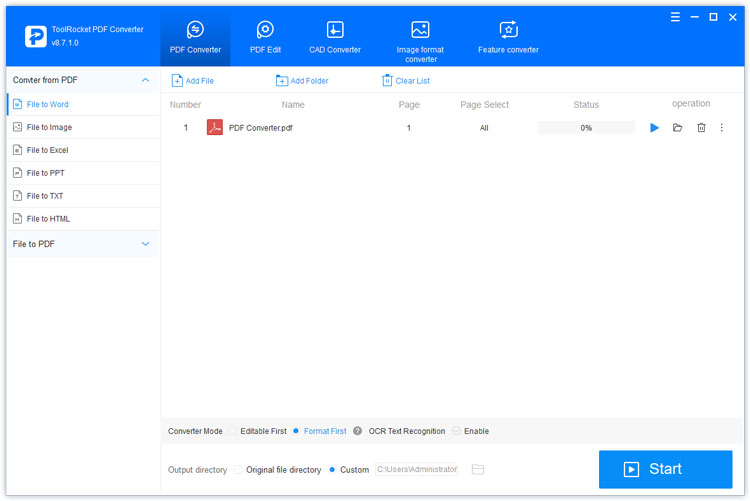 2

Output parameter

After loading your file, you can set the parameters for personalized file processing. The settings are different for different functions.
3

Output directory

Click "Original file directory" or "Browse" to define the path of the output file, in order to save it on your computer after converting or editing.
4

Start to convert files

Click at the right bottom corner on the "Start" button to convert or edit the files added.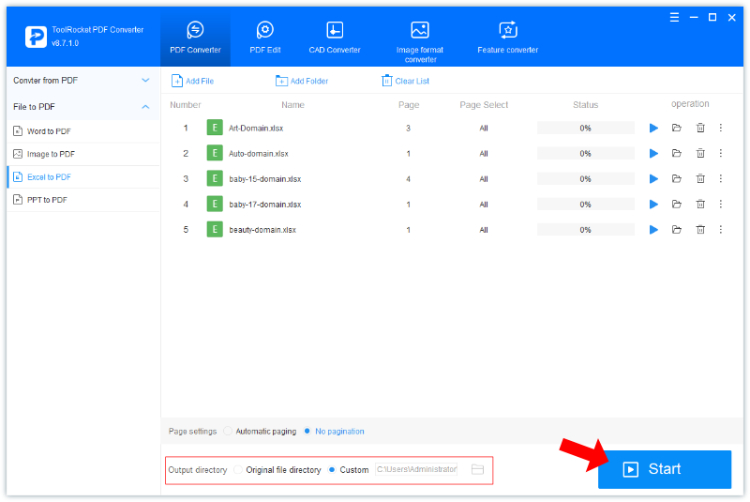 5

Actions after converting

At the file list interface, click on the three point symbol. Then you can start to convert, open the file or clear the file list.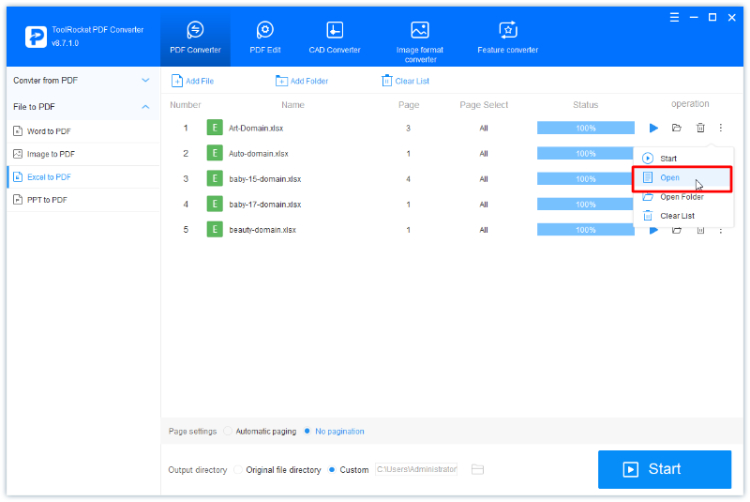 How to use ToolRocket PDF Converter